Air Max 95 and Air Max Tailwind
Hot Dog PRESS January 25 1997.
It wasn't the January issue because it was a biweekly issue. The popularity of magazines at that time can be seen in the fact that magazines are released every other week. It is also the 400th commemorative issue.
Advertisement for Pioneer's MD component system. "You can make a remix MD that looks like it was made by a DJ."
A reader present for the 400th anniversary. The fact that the Air Max 95 and Air Max Tailwind stand out first is probably the two most popular models.
F1 driver Michael Schumacher model Air zoom turf. It had a pretty premier price. Toshiba laptops with Windows 95 make us feel a lot of times.
Nissan Terrano. Favorite design.
The shoes of the brand TREMP are square toes that were popular at that time.
Bridgestone advertisement is Miho Kanno. The movie Space Jam starring Michael Jordan was popular at the time.
Bad Boy had sneakers! You had a contract with Judo player Ryoko Tamura. I did not know.
Ghost in the Shell database CD-ROM.
The crepe sole is cool
The main feature is "'97 Popular & Trendy Breaking News 131".
Super break talent.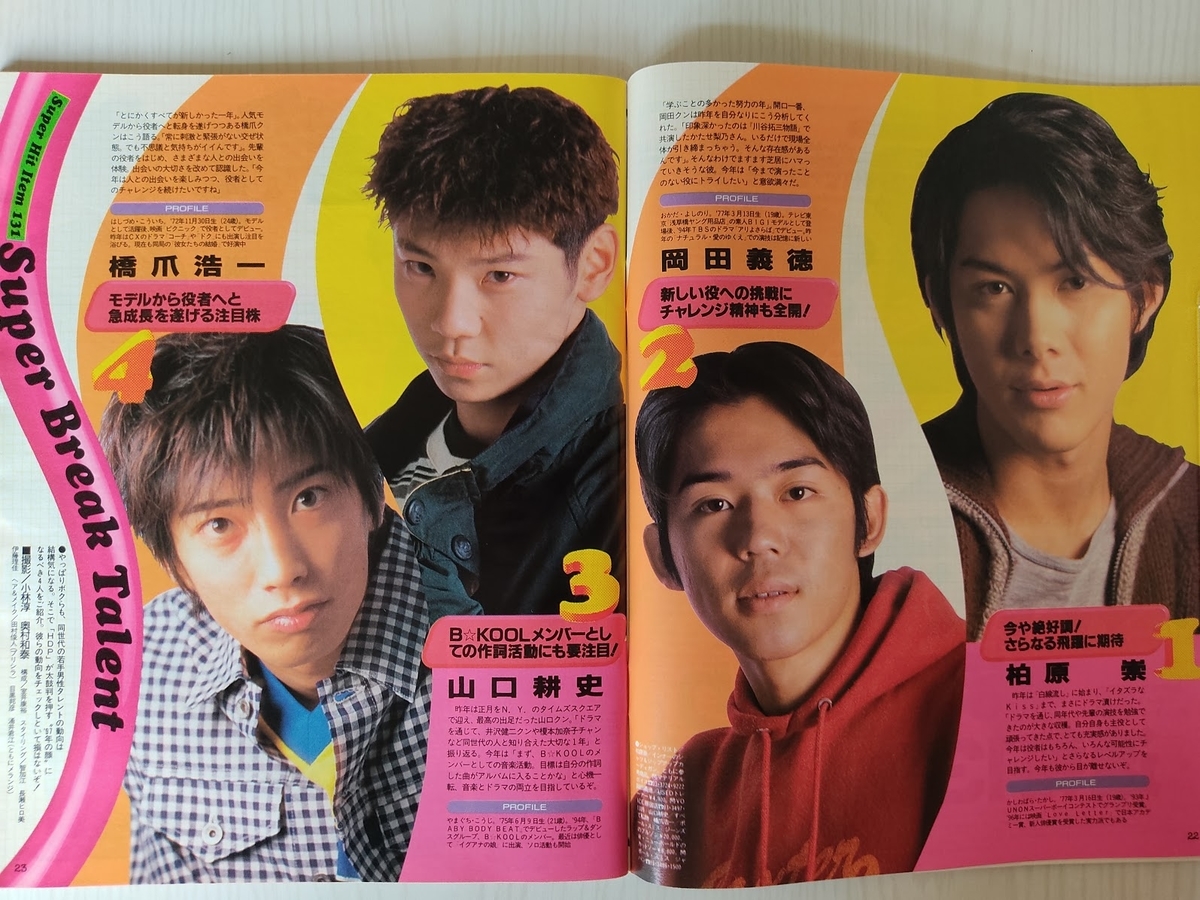 Mr. Koji Yamaguchi. Currently, it seems that he is active under the name of RABBIT SHOT, and the state of DJ is uploaded on YouTube.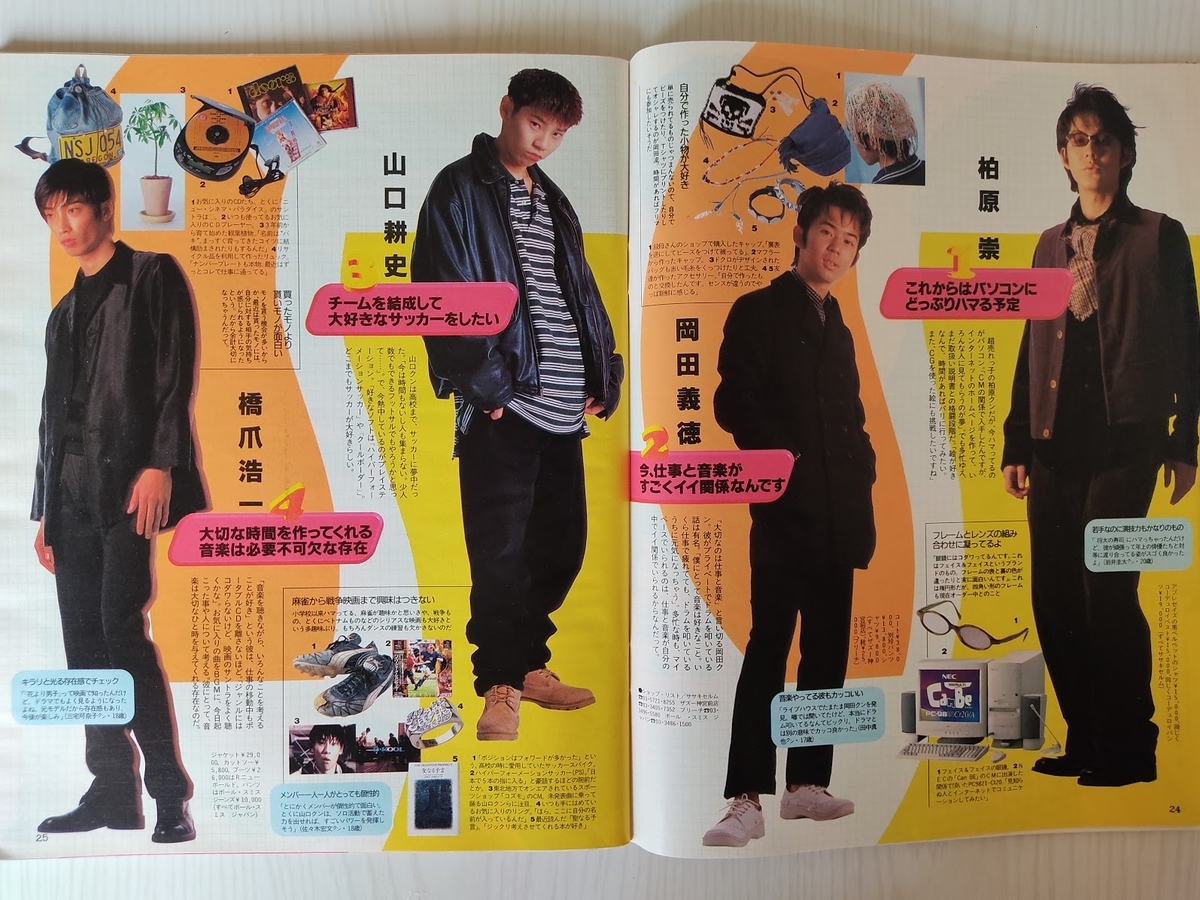 Vans seems to have had a big break in sneakers.
And the leather shoes are "No matter what, this. The crepe sole is cool", so mainly Clarks wallabies, desert boots and rubber soles. Well, about two years later, I was wondering whether to buy George Cox or Clarks, and I bought Clarks Desert Trek at a shop under the Sannomiya viaduct.
Converse was also popular. I also wore Puma Suede at that time. I remember that California was popular with girls.
The skater brand "Supreme" started by those who were originally active in Stussy
Fashion brand pages are mainly street fashion.
"The skater brand" Supreme ", which was originally started by those who were active in Stussy, is addicted to not only skaters but also all street style coordination! Check early!"
"It seems that popular NY rappers also love Supreme clothing. I'm already addicted to checking that area." (Hideyuki Kurata, 21 years old) "
"Seesaw is the hottest brand around HF(Hiroshi Fujiwara)!"
"Michael's new brand," Fifty Fif Deal, "which was the face of former Stussy, has two lines of design, street and basic, and there are many items available. It is becoming so popular that it sells out quickly in the shop. "
Street style continuation.
"Legendary AFFA is back. A 2-month limited shop appears in Harajuku!"
Fashion item page.
"The outerwear with the highest approval rating is decided to be a stadium jacket!"
"Aim for a varieties-rich cow chin sweater"
Outerwear, which I haven't seen much recently, is popular.
Fashion item continuation.
"Bead accessories that are slowly squeezing around Harajuku! It's about to break!"
After that, Bead Access certainly seemed to be popular.
The power of W & LT is unabated
Mr. Yoshihara of the current District, who was a press of UNITED ARROWS at that time.
"The first thing that stands out is the excitement of G-SHOCK and W & LT. Especially the power of W & LT is unabated."
"Another attention of Mr. Yoshihara is a group of designers called PPCM." The design that fuses their individuality independent of Garson is very fresh. ""
"Very popular artist Fugees is coming to Japan!"
US Art & Design. Mike Mills, Stash, Futura.
Snow board. The design of the wear like this may be good now.
Tamagotchi that is likely to become a boom in the future
CM girl. Sayaka Yoshino said, "Get the Tamagotchi that is likely to become a boom in the future." Foresight.
Rena Komine. "The stadium was given by the ELT staff. The wallet was given by NIGO."
Fresh girl talent. Chiaki Asakura bought the Air Max 95 Yellow Gradation for 34,000 yen.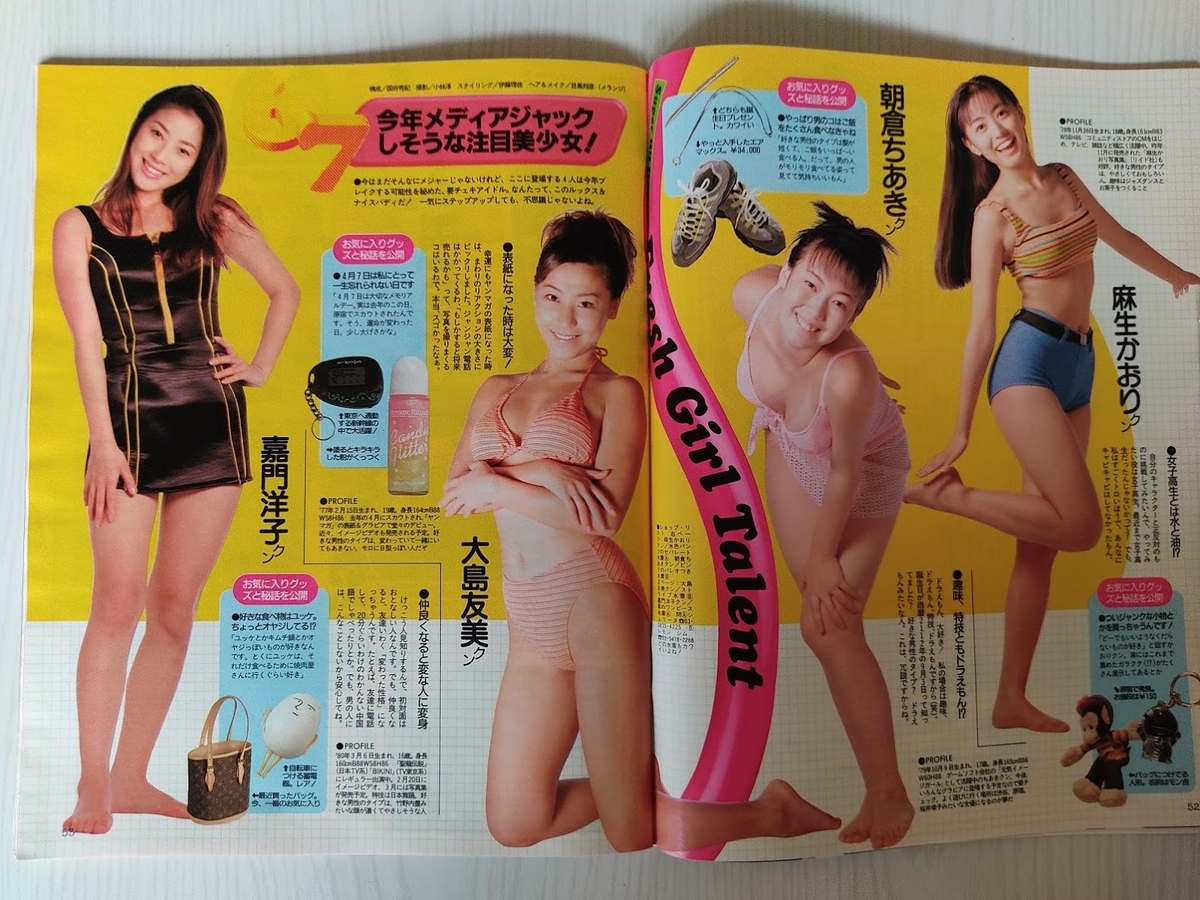 The era of pagers and PHS
A trendy thing for high school girls.
"Leave it in the hands of professionals, original PHS"
"Pitch with nail color and stickers ☓ Bell art"
The era of pagers and PHS.
Comedians and athletes.
Grooming. I feel like I had the Jerade eyebrow set at the time.
Asian boom. I want to go to Thailand.
Sports. K-1 was popular.
Musics. Was the relaxation machine really effective?
Toy. Gundam and Bruce Lee figures.
game. An era when online games are still rare. I like the design of PaRappa the Rapper.
Post sweetie
Food.
"Post Sweetie Fruit Calamansi"
There was a sweetie boom. Lotte's gum also had a sweet taste.
Media player. Portable record players are likely to become popular again. This is the end of the special feature.
Le Mans.
Kenzo Kitakata's "Trial Horizon", familiar with "Go to Soapland".
Otsuki newspaper.
A part-time job diary of Gokuraku Tombo.
Microsoft Advertising. I like the color scheme.
Interview with DRAGON.
I didn't know that I was in charge of designing accessories and other small items as a staff member of the fashion brand "Super Lovers".
"Mr. Sato, a jagged 10-yen coin collector"
"YOU's Law of Broken Heart". I also saw "Gottsu e kanji", but I also liked YOU as a singer and listened to it a lot.
Overseas in search of shortage sneakers
"You can get those super thin sneakers!"
It's a plan to seek high-tech sneakers overseas, which was soaring in Japan. The Air Max Triax had a lot of color variations.
Internet and overseas mail order. Eastbay is the era of catalogs.
Domestic shop. Well, every sneaker has a nice design ... Eastbay bespoke pump fury is 39,800 yen.
The Air Max Tailwind also had a lot of color variations.
"NIKE popular 8 model bargain ranking best 5"
After all Air Max 95 is the highest price.
Sold exclusively to readers.
Shibuya & Tokyo suburbs shop guide.
Vintage sneakers. Dead stock Air Max I is 29,800 yen.
The latest model. Adidas fee-to-wear has recently been regaining attention, such as in collaboration with Hyke
ハイク✕アディダス、インソールにあいつが! pic.twitter.com/kjryfofpau

— 山田耕史 書籍「結局、男の服は普通がいい」発売中! (@yamada0221) 2020年10月15日
I feel that Puma's cell-equipped model is likely to become popular now.
Incomprehensible Shinohara's Mysterious World
"Why do girls yearn for Shinohara, Puffy, and Esumi?"
"History of female charisma in the '70s and' 90s"
Amuro is still innocent.
"Unintelligible Shinohara's Mysterious World"
"Sinohara is Miki Imai's ballad ballad and muhi"
"Sudden outbreak! Thorough study of Puffy women !!"
"This is the duo Puffy who kicked the red and white song battle."
You're wearing North Wave. I personally like women dressed like this, so I want them to be popular again lol.
"Smirer longing for a natural way of life"
I don't remember hearing about Smirer at that time ...
"Jamirer who likes adidas and big hats"
"Byorkrer whose creed is the danger of balance"
Forcibly.
Coolio interview.
"Bariomo! Manma no Suppin Talk Sarina's" Ah, I'm sorry ""
Mail order page. You can feel the trends at that time in terms of colors and patterns.
Ura-Harajuku fashion in a saturated state
Street snap. Ura-Harajuku fashion such as Good Enough and Undercover are in full swing.
"Ura-Harajuku fashion is saturated in the streets. Why don't you find your own style?"
The girls are completely puffy.
Music page.
"Japanese high school singer strongly supported by Cloudberry Jam"
Movies and books. I would like to read Yasuharu Konishi's column book.
Games and events.
New products & events.
NTT's service that "distributes information to the Internet by fax". Was there a need for this service ...
Mazda Familia.
"Start with your friends!"
Long boots are popular.
Next issue notice.
Nissan 180SX.