This is the December 1999 issue of Men's Non-no.
Men's Magazine Bimonthly
1999 events, hits, movies
At that time, I was 19 years old. From Wikipedia, I will pick up the events of 1999 that I was personally interested in.
・ I-mode service started
・ Hiroyuki Nishimura opens 2channel (currently 5channel)
・ Ryoko Hirosue, a female idol who passed Waseda University and was absent from the entrance ceremony while enrolling, went to school for the first time on this day.
・ Rock band GLAY holds "MAKUHARI MESSE 10TH ANNIVERSARY GLAY EXPO'99 SURVIVAL"
・ Noriyuki Makihara arrested for violating the Stimulant Drug Control Law
・ Nostradamus's prophecies and the boom at the end of the century
・ Uniqlo boom
・ Charismatic hairdresser ・ Charismatic clerk
・ Platform sandals, ganguro, yamamba
A 1999 Japanese hit song. The heyday of J-POP.
aiko "Hanabi"
Ringo Sheena "Kiss me here. "
Dragon Ash"Grateful Days"
Hikaru Utada "First Love"
19 "That Paper Hikoki Cloudy Sky"
Ayumi Hamasaki "Boys & Girls"
Ami Suzuki "BE TOGETHER"
Morning Musume. "LOVE Machine"
The movie is also a masterpiece that will remain in posterity.
Matrix
Star Wars Episode 1 / Phantom Menace
Six sense
Fight club
Moncler worn by KJ
The cover again. BECK.
Shiseido's men's cosmetics, Gatsby. I also had an eyebrow kit at that time.
Adidas advertising. Rugby All blacks.
Advertisement for Marui's original brand, Visaruno.
Nissan Wingroad Advertising. The appearance of BMX in advertisements also makes us feel the times.
Left page "World Trend Communication".
Special feature at the beginning "Winter preparation of masters: Examples of 25 outerwear". Kenji Furuya of Dragon Ash, who became famous this year. He is wearing a Moncler down jacket. The inner is probably the T-shirt of Grand Canyon, a popular brand at the time that stylist Takashi Kumagai worked on.
Arata, this is amazing dreadlocks.
Asami Ishikawa is cute.
Daisuke Iga will make a big break a few years later.
Saint Laurent by Hedi Slimane
"Seasonal outerwear carefully selected style by keyword". The outerwear brands that have been picked up are mode brands such as Paul Smith jeans and ato.
I have a strong impression of the minimalist influence of Helmut Lang and Prada at that time, such as color usage and design.
The right page is a fleece. UNIQLO's break seems to have an effect.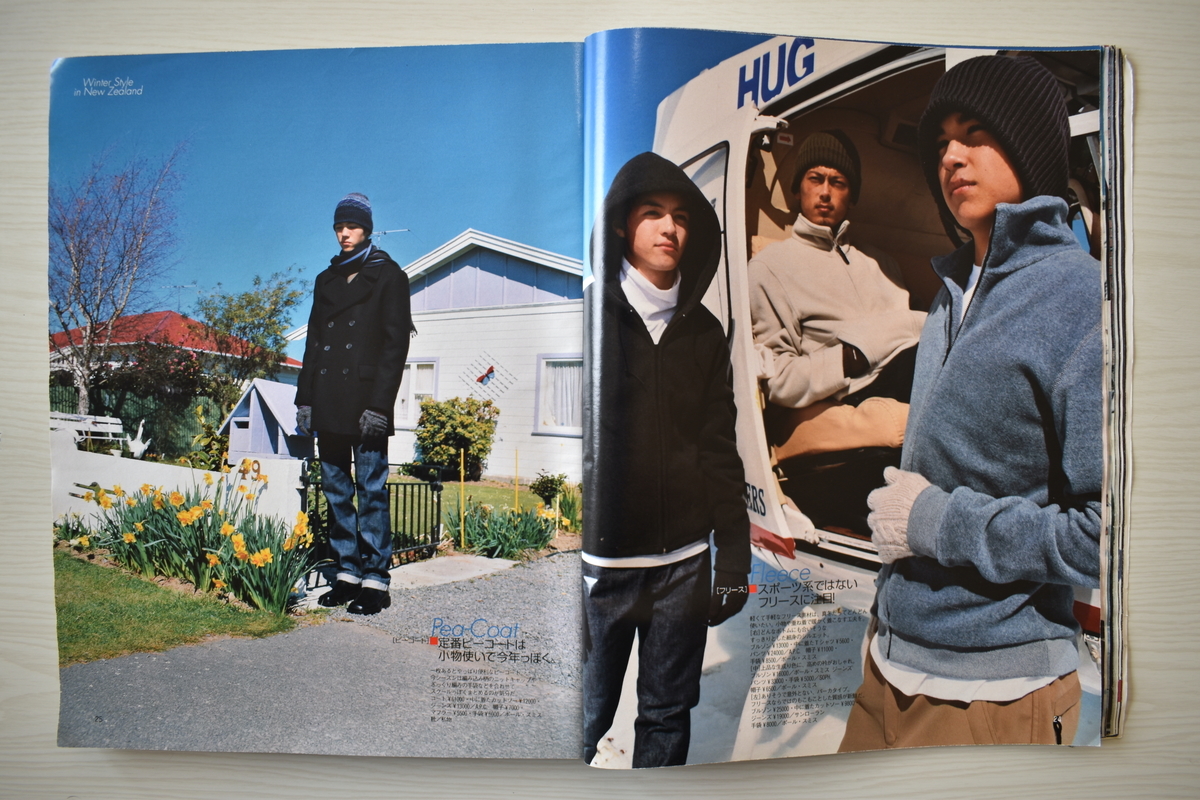 The jeans on the left side of the right page with the hem folded back are Saint Laurent by Hedi Slimane.
"Run on the outerwear of sports and outdoor brands !!".
I think Moncler has a stronger impression as a luxury brand now.
Patagonia, Karimor.
The light purple color scheme on the back of the collar is wonderful.
Adidas, The North Face, etc.
Minimal & avant-garde late 90s mode style
"I want it because it's the ultimate must-have item! Black pants".
The minimal and avant-garde atmosphere is like a mode system in the late 90's. At that time, it was my fashionable youth, so I think this kind of atmosphere is still cool.
Helmut Lang was good at incorporating military, outdoor and sports into the mode. The clothing on the left side of the left page is all Helmut Lang jeans.
Helmut Lang at that time is very popular as an archive now, so I'm hoping that the atmosphere of late 90s mode will be restored in the future.
Fly flont sneakers are also like those days.
The pants on the right are Andrew Mackenzie, whose deformed jeans were popular at the time.
Leather shoes are square toe.
Although it is colorful, it has a minimalistic impression overall. On the right side of the right page is Martine Sitbon, who hasn't seen the name for a long time.
501 remake that was popular
Catalog.
0044, original brand of Number 44 ,a select shop that was popular at the time. At that time, these remake items made by applying coatings to Levi's 501 were popular.
"Public! Model's strongest pants".
Rihito is picking up Saint Laurent by Hedi Slimane. It was really popular at that time. Hedi Slimane began working on Dior Homme in 2000, the following year, and made a big break after that.
Special feature "Good quality & reasonably priced clothes are here."
It's kind of like a special feature on items with high cost performance.
GAP is the first to be picked up. Of course, at that time, it was a product that was normally lined up in Gap stores, but nowadays, used clothing has added value as "90s GAP".
Looking at it like this, it looks good. No wonder it's popular now.
Next is MUJI. The atmosphere is quite different from now. At that time, the minimal mode style proposed by Helmut Lang and Prada was popular, but it seems that the influence will spread to MUJI.
The origin of UNIQLO's advance
Next is select shops such as American Rag Cie and Journal Standard. Nowadays, fast fashion brands will be the first to be featured in these special features, but at that time, fast fashion brands had not yet been born.
"Aim for your own shop for unique and good things". That's right. At that time, there weren't many products called select shop originals. Also, the current select shops have a strong image (for me) that they are designed with moderate trends, but at that time, there were many products that the shop staff said, "We made what we wanted!" I have an impression.
"Clothes and accessories you searched for for less than 4,900 yen, all in one"
And the yellow jacket that stands out is the UNIQLO fleece. The 1998 fleece was the beginning of UNIQLO's breakthrough. At that time, I was working part-time at UNIQLO, and the word enthusiastic fits perfectly, and it sold tremendously.
The Harajuku store opened on November 28, 1998, which is said to have triggered the UNIQLO break together with the fleece. In other words, when this issue was released, UNIQLO's popularity was almost zero compared to now.
1998年11月28日、フリースが日本全国に広まるキッカケとなった今はなきユニクロ原宿店がオープンしました。

20年前...あなたはどんなことをしていましたか?https://t.co/ZsjyEj7qfw #FleeceNow #平成最後の冬 pic.twitter.com/rPZreQjkJS

— ユニクロ (@UNIQLO_JP) 2018年11月28日
Sony vertical DVD player advertisement.
Sony MD advertisement is Hikaru Utada.
COMME CA DU MODE advertising.
Kanebo hair wax advertisement. Shingo Katori.
Marui brand, Jun men advertisement.
Nakano wax that is still on sale
Right page, Toyota sports car MR-S advertisement ... It's a great sense ...
The monochrome page features hairstyles. At that time, it was the heyday of wax. I also used Nakano's hair wax that appears on this page.
When I searched on Amazon, I was surprised that the same one as at that time was still sold! 
I remember using the F-in500 series on the left page as well.
But I haven't used any hair styling products for the last 15 years because I have short hair.
Comme des Garcons in the Kawakubo and Tanaka eras
"Designer Encyclopedia". Many designers have stopped seeing it now.
Christophe Lemaire. Obviously, you are young. I never imagined he would later work on Uniqlo.
Comme des Garçons. Men at that time were a private golden duo of Rei Kawakubo and Keiichi Tanaka.
Helmut Lang.
Reader posting page.
Left page, Triceratops advertisement
Vincent Gallo's era
Toyota Celica advertisement. Vincent Gallo. It was this year that Buffalo '66, directed and starred by him, was released. It was explosively popular at that time, as it says, "The charisma of young people that the world is paying attention to." His clothes are also attracting attention, and I think it was a very popular time at that time.
Nike ads. Model Takahiro Okazawa.
Fashion clips.
On the right page, the advertisement for Sony headphones is Kenji Furuya of Dragon Ash. On the left page, Wyolica's vocalist azumi. Produced by Shinichi Osawa.
"Kaze wo Atsumete" is a collaboration with Kenji Furuya.
After snowboard sneakers
The left page is after snowboard sneakers. Since it is sold by major companies such as Adidas, Vans, Reebok, etc., you can see how popular snowboarding was at that time ... but I didn't like snowboarding, so I didn't know that there were such sneakers at all. After this, I think that after-snowboard sneakers were rarely talked about.
However, the design of this Converse and Puma can go through.
Right page, Sanyo Shokai's Burberry Classics advertisement.
The right page is an advertisement for Takeo Kikuchi's licensed brand.
The left page is a special feature on fashion sites. Again, this was unthinkable, but at the time the Internet was not yet a popular tool. That year, I entered university and bought a computer, but it wasn't until the following year that I started using the Internet at home, and at that time I was using the Internet exclusively in the computer room of the university. think.
Culture. A solo exhibition by graphic designer Hibiki Tokiwa, whose name was often seen in fashion magazines at that time, is being held.
 

 

 

View this post on Instagram

 

 

 
The advertisement for canned coffee at Nescafe is pacific Sanma Akashiya.
Presents are compilation albums and cube-shaped audio. There was such a thing.
Marui's tie-up page where Marui brands such as Takeo Kikuchi and Men's Melrose are introduced.
Left page, Sony Vaio.
This purple x gray color scheme is still fresh.
Saint Laurent during the Hedi Slimane era
Nike ACG Advertising. 
The touch of the illustration makes you feel the times. A model called Air Crested Butte. It seems that Gore-Tex material is used. It looks good.
Gaultier Homme Object. It is a licensed brand of Onward Kashiyama.
Saint Laurent Advertising. Hedi Slimane, who later had a great influence on men's fashion at Dior Homme, worked on it.
A brand called cleaning ... Hmm, I wonder if there was something like this ... I can't remember it just a little ... With a brand with such a general noun, it's hard to find information even if I google it ...
The page on the right is Nautica, which is currently being developed under the direction of Akio Hasegawa.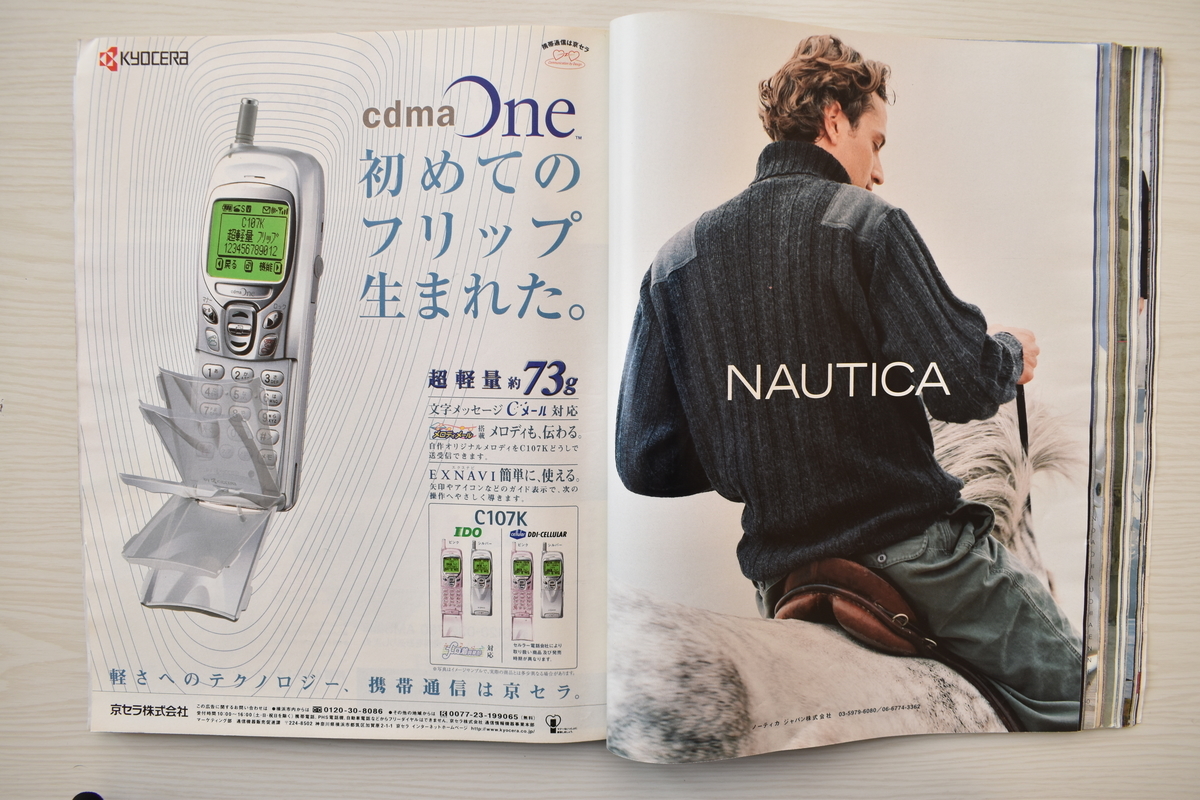 Kyocera mobile phone advertisement. It seems to be the "first flip".
Left page, Haruta advertisement.
I loved Christophe Lemaire
"The New World of Christophe Lemaire". Now it's a special feature of Christophe Lemaire, who works on Uniqlo U. Before UNIQLO, he was also the director of Hermes, a long-established French luxury brand that is neither pushed nor pushed.
Christophe Lemaire himself is styling. At that time, it was a brand with a strong image of an elegant sports taste, like wearing a nylon outerwear on a shirt, like the styling of ↑. Well, not only Christophe Lemaire, but this kind of atmosphere was the trend these days, so it was the same image of any brand.
The shirt worn by Lemaire himself, the brown fabric has purple stitching. I really loved this stylish color scheme at the time.
Therefore, I visited the Daikanyama shop introduced on the left page when I traveled from Kobe, where I lived at that time, to Tokyo. I remember walking in Daikanyama for the first time in my life and feeling that it was a fashionable city.
In an interview, he said, "I like Japan and I experienced success for the first time in Japan (laughs)", so I think it was selling quite well in Japan at that time.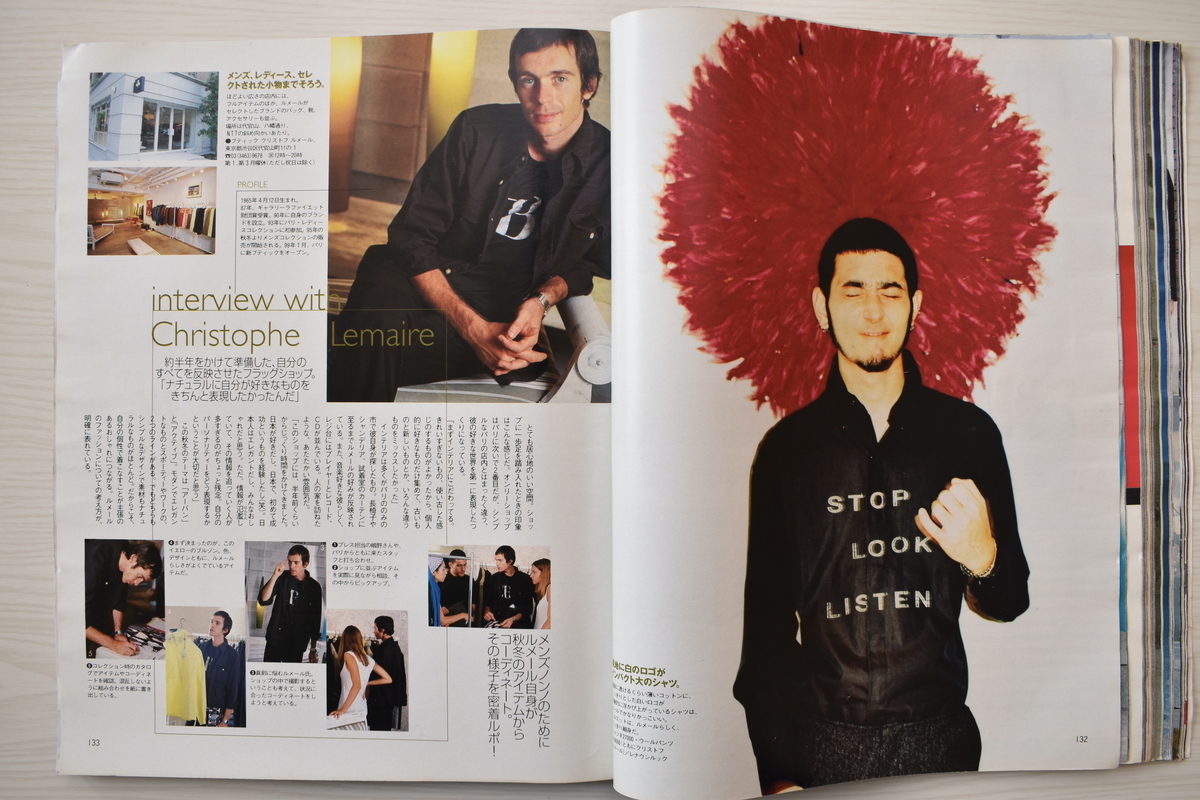 Good Enough with frustration that is difficult to obtain
"Invincible real brand" "Good Enough new work". The central brand of the Ura-Harajuku boom that swept Japan in the 90's. Currently, its popularity as an archive item is rekindling, and it is traded at high prices not only in Japan but also in the overseas Instagram market.
The duffle coat made of mouton material on the right page is 195,000 yen. On the left page, items such as ventilation and mesh that show the commitment to functionality are lined up. At that time, I was just struck by a designer brand like Christophe Lemaire, and I wasn't really interested in Ura-Harajuku, but when I look at it now, I find it interesting clothes, and maybe I'm completely into Ura-Harajuku. I think there was a possibility.
It is introduced as "a special brand with an identity that is not the face of a designer", but from the design and color scheme, you can feel the feeling of Hiroshi Fujiwara completely. However, it's interesting that the magazine clearly says "Frustration that is difficult to obtain."
The studded belt on the left page is a stylist's personal item, but is it from Wolf's Head?
The styling of the above page is Tall Eye. He was a core member of GOODENOUGH along with Hiroshi Fujiwara and SKATE THING.
Good Enough Dealer List. Only 9 stores nationwide. The dealer in Kobe is TWICE.
As it is the December issue, a special feature on brand accessories.
A turning point in the luxury brand business
Hermes, Louis Vuitton. The wallet with the Hermes stripe pattern is fool toe. At that time, the Fool Toe series tote bags were very popular. Vuitton is a checkered pattern Damier is an item that feels like a CD case. When Marc Jacobs became a men's designer, he was trying to rejuvenate. Come to think of it, it was also a turning point in the luxury brand business at that time. Verni, which has a strong luster, was also popular at that time.
Prada and Gucci. At that time, Gucci was creative director by Tom Ford.
Dolce & Gabbana, Miu Miu, Jil Sander.
I liked Miu Miu at that time. At that time, a Miu Miu shop was opened in Kobe, and I visited there several times. No, I happen to have a party, and even though I'm not a related person or a customer, I got in and had a little drink and snacks, which I don't really understand.
A catch phrase for Clarks that looks too good
The advertisement for L'Oreal's bleach is Yusuke Iseya.
Peugeot's advertisement is attacking.
EZ by Zenia, a licensed brand of Sanyo Shokai.
Right page, Clarks advertisement.
"The Originals, which means that it was heretical at first, but it has become orthodox before you know it." ... This catch phrase is too cool.
Another gift feature.
Accessories.
bag. The fur material stands out.
Goods.
Advertising on Fujitsu computers. "Digital communication is easy".
Beck in plain clothes
Beck interview.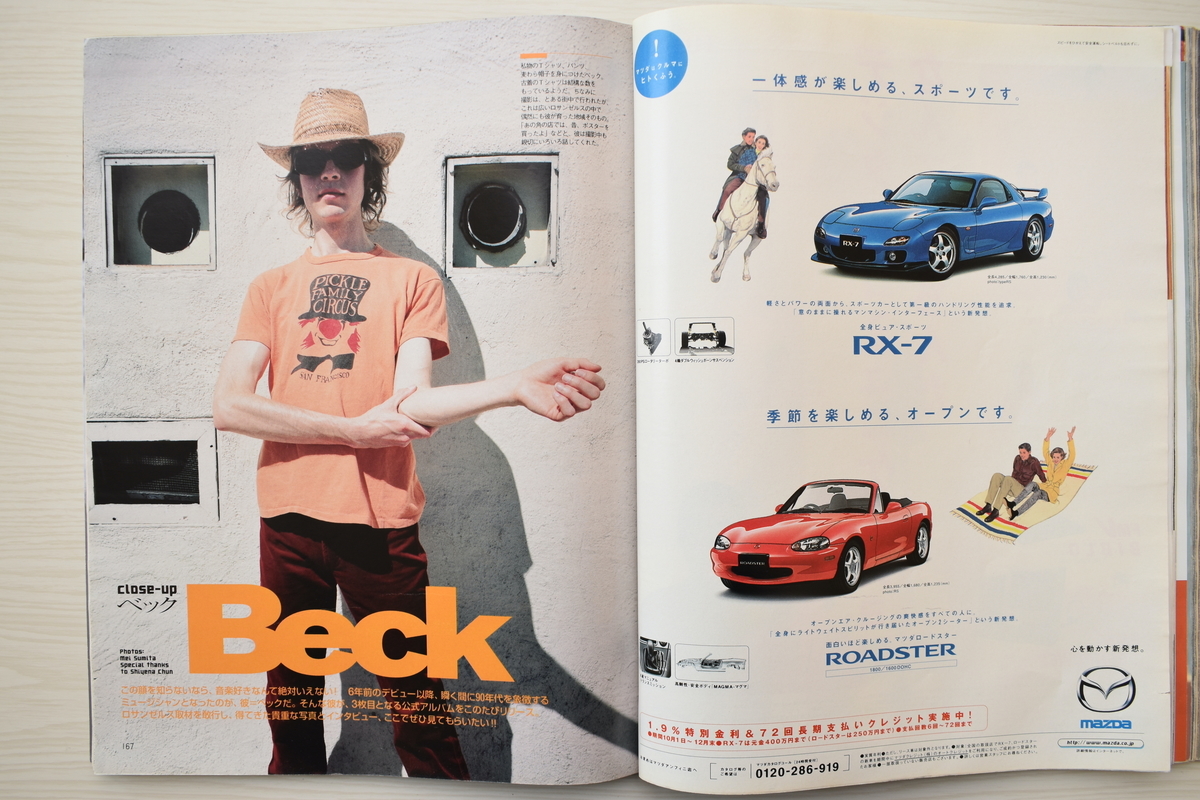 The main content is about the album "Odelay".
The hat and T-shirt he wears are his personal belongings.
Right page, Pioneer MD component system. A little cyber design. I also remember using a component with such a design at that time.
Left page, Megumi Okina's gravure.
Right page, TBC advertisement of Takuya Kimura. Left page, T-shirt special feature.
There are many street brands such as Silas and X-Large.
At that time, I was also able to see the color of the short-sleeved T-shirt worn underneath from the hem and cuffs, as shown on the right page.
You can feel the times not only from the print motif but also from the color of the body. I think brown and gray are especially impressive. The white x beige on the right page is quite fresh when you look at it now.
The plain Lagran T-shirt is also good now.
An advertisement for Kai's shave.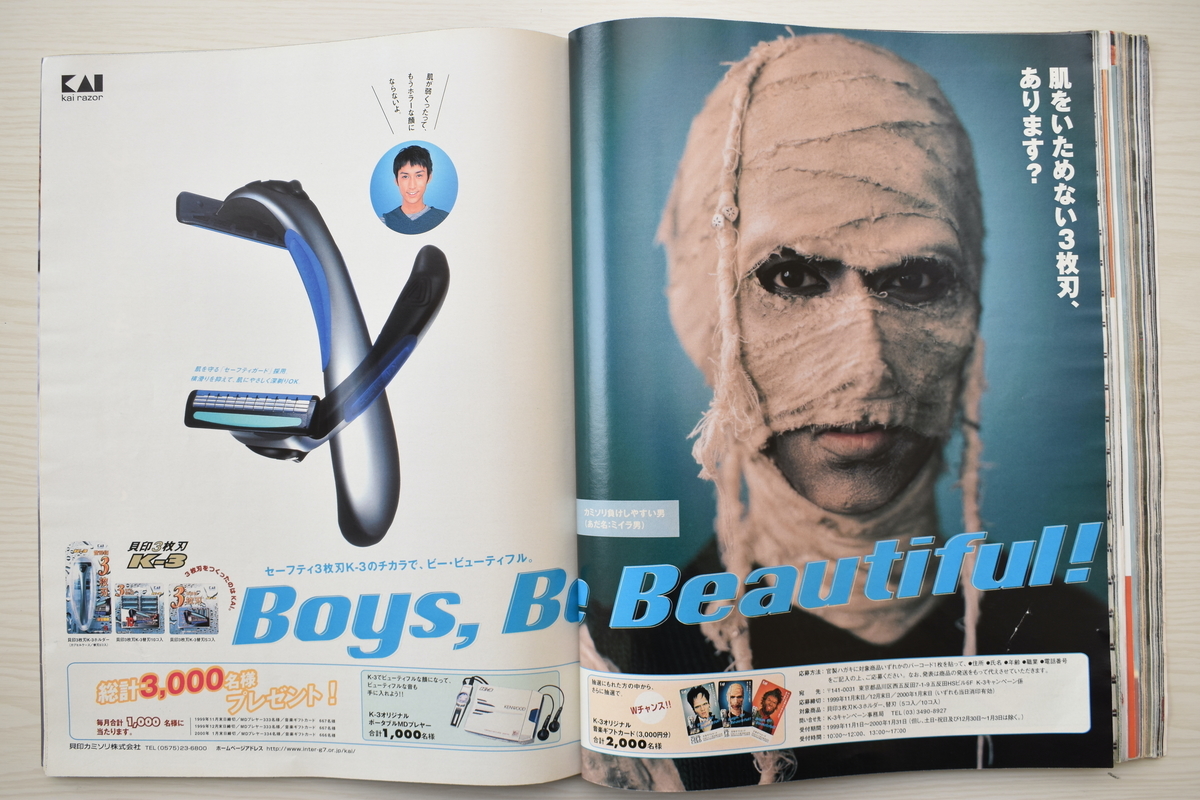 Advertisement for Shiseido's men's cosmetics, Geraid. I didn't have this nail care set, but I remember having an eyebrow care set.
Left page, Gunze underwear brand, Body Wild advertisement. Ryoko Shinohara. It's been a few years since she made a big hit as a singer, but I remember that this ad, which Ryoko Shinohara appeared in men's underwear at that time, had a considerable impact.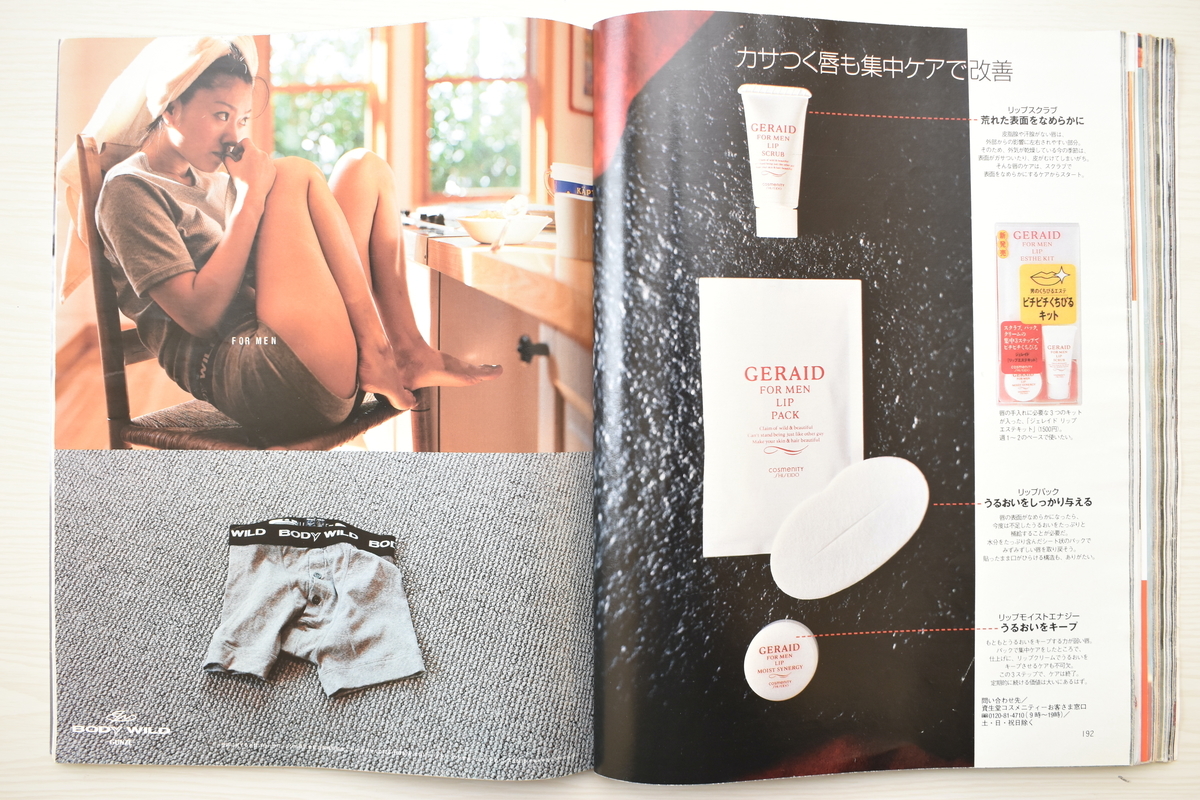 Seiko Advertising.
Burberry Classics Advertising, a licensed brand of Sanyo Shokai.
Domon, a Marui brand developed by Jun.
Les muse, a brand developed by Aoki.
I'm Product Men, which was developed by A-Net, a company affiliated with Issey Miyake.
This is also a Marui brand Pazzo. There are some items that attract you when you look at them, such as the compressed wool rider's jacket at the bottom right of the left page.
This is also probably a Marui brand Apres Seize.
Left page, Asby advertisement. Not only original products, but also London shoe brand Acupuncture is introduced.
A design with a solid red line detail on the sole, which symbolizes Prada sports, which was very popular at the time.
Accupuncture is a good design even now.
Shueisha advertisement. Hideki Togi.
"Aderans begins" hair beauty treatment salon ""
If you think something like "It's just right", it's an advertisement that "use it systematically".
A Christmas gift chosen by the model.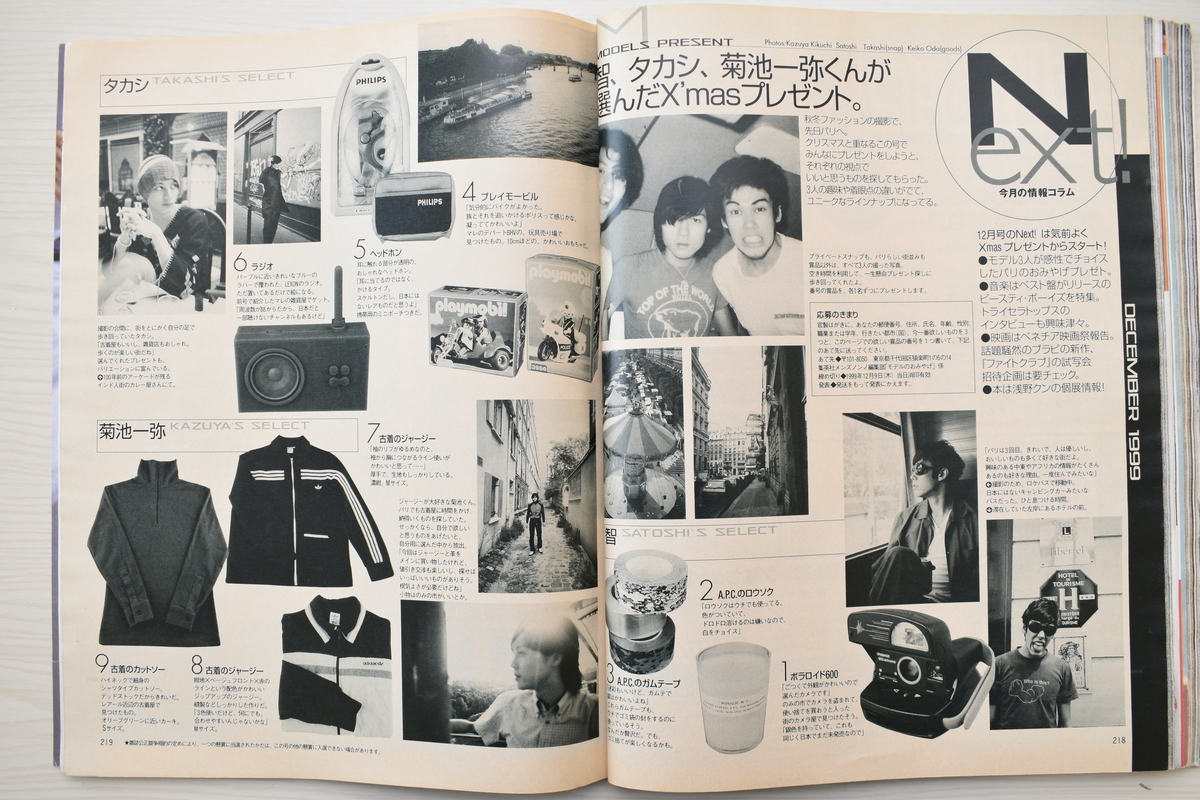 Music page. Beastie Boys, Triceratops.
A 1999 Pocari Sweat commercial featuring Triceratops songs.
Zeppet store that remembers what hide recommended. Gay Dad. This month's new disc is Rage Against the Machine's Battle of Los Angeles.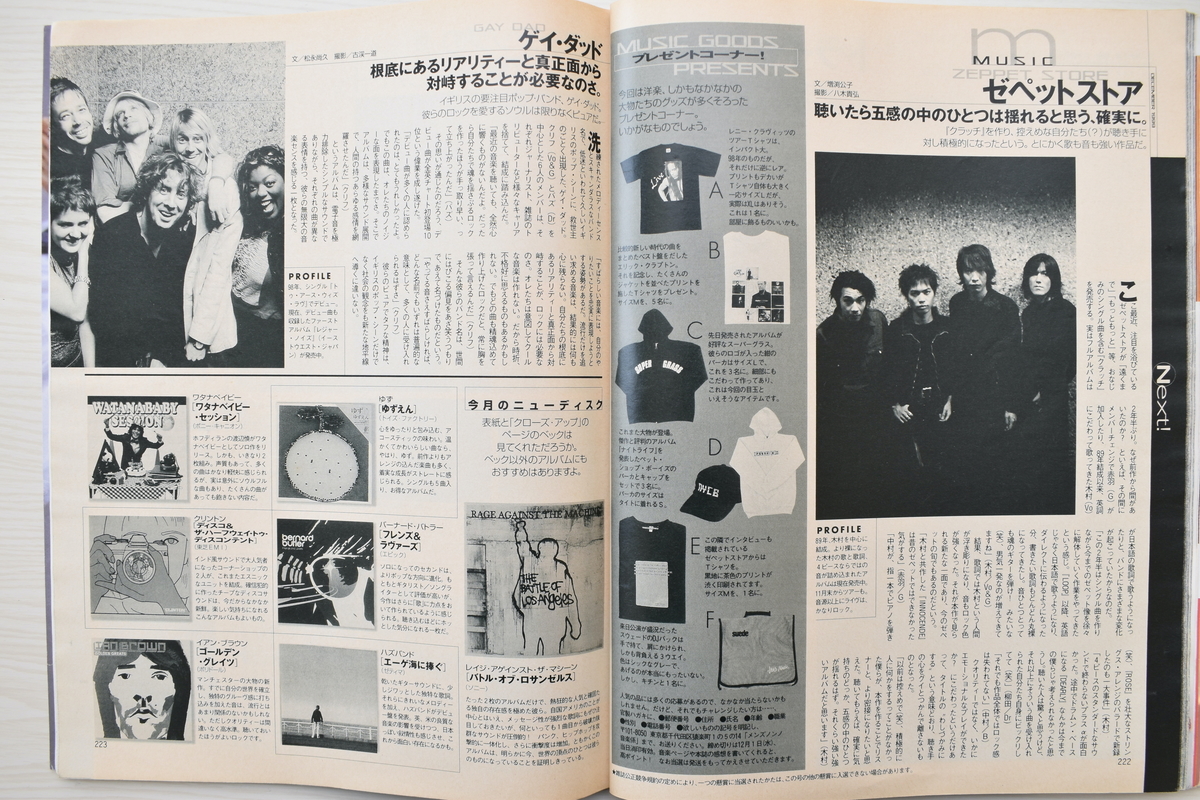 The movie is Brad Pitt's Fight Club.
Antwerp designer Lieve van Gorp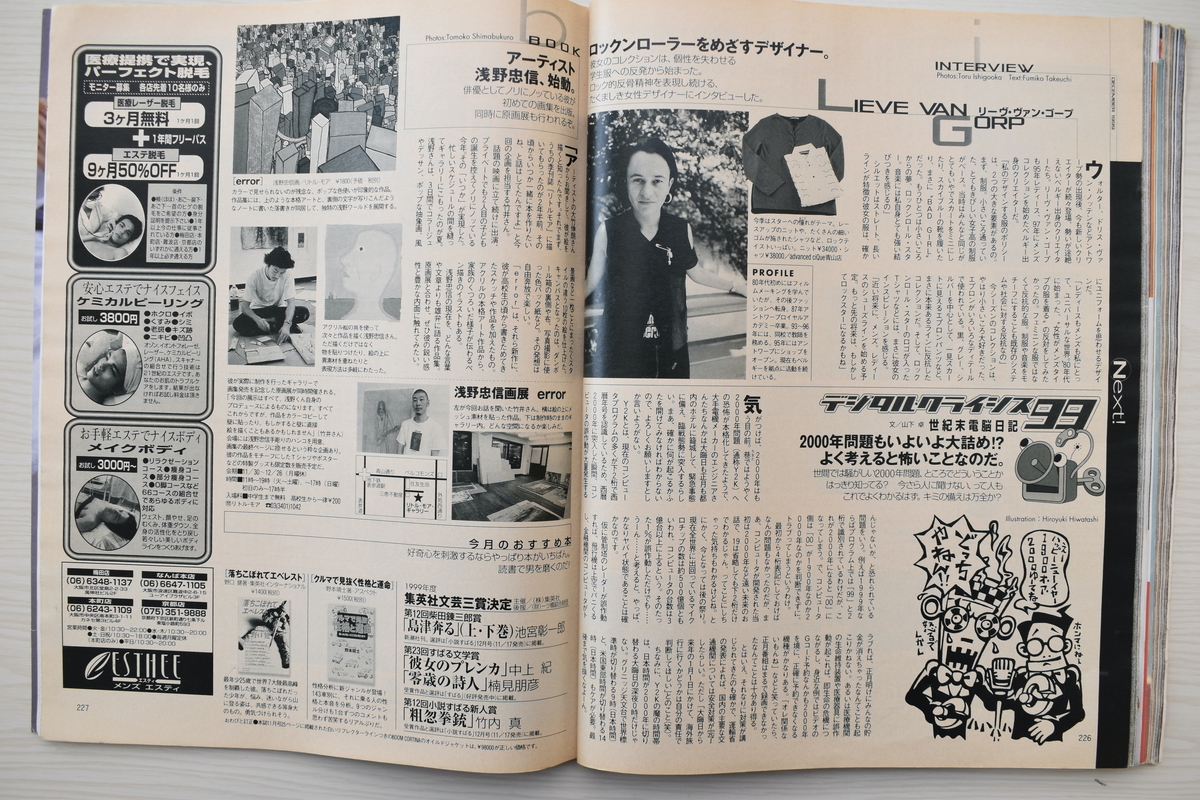 Interview with Lieve van Gorp, a designer from the Royal Academy of Fine Arts in Antwerp, Belgium. As you can see from the title "Designer Aiming for Rock'n Roller", the style was quite rock-colored. By the way, when I thought that I hadn't seen the name for a long time, it seems that the activity ended in 2001.
If you look at this page, you can easily understand the world view of the brand.
Reader posting page.
Left page, Dr. Martens advertisement. A simple design with a black sole.
Special feature on the movie "Taboo" directed by Nagisa Oshima.
"We love cycles!" Bikes and bicycles.
Later nonnative
"Creative space for creators".
"THAT NONNATIVE PRODUCTION", a creative group "launched" by Satoshi, a model who has appeared in this issue with two friends from high school. The offices lined up. At the end of the sentence, it says, "I'm looking forward to seeing what happens to this room two or three years from now."
THAT NONNATIVE PRODUCTION is the parent company of the popular fashion brand nonnative. In other words, this office is the beginning of nonnative.
 

 

 

View this post on Instagram

 

 

 
It seems that Satoshi is still active as a brand owner.
NIGO Star Wars collection collected over 10 years
Next is "NIGO, the director who presides over the select shop" NOWHERE "and the brand" A Bathing Ape "."
Speaking of NIGO, I have a strong image of this super-dreadnought collection warehouse in later years, which is also posted on YouTube.
Compared to the contents of YouTube, it is still small in 1999. That said, it's great enough. "It's been four months since I moved in, and it's the Star Wars figures that decorate my office. It's a hobby collection I've collected over 10 years."
"Working surrounded by things I like is an important theme for him." The guitar is said to have been given by the Beastie Boys.
The last is illustrator Kosuke "Amore"Ueno.
It seems that he is still active as an illustrator.
Right page, a deck where you can create a CD-R. At that time, PCs were not yet widespread, but there was something like this.
From the left page, Vendome Aoyama jewelry.
The Christmas gift page follows.
Contact lens advertisement by Shigeru Joshima.
Kenwood MD component system. Actually, I feel nostalgic for this kind of thing rather than fashion. Somehow, the atmosphere of those days is revived.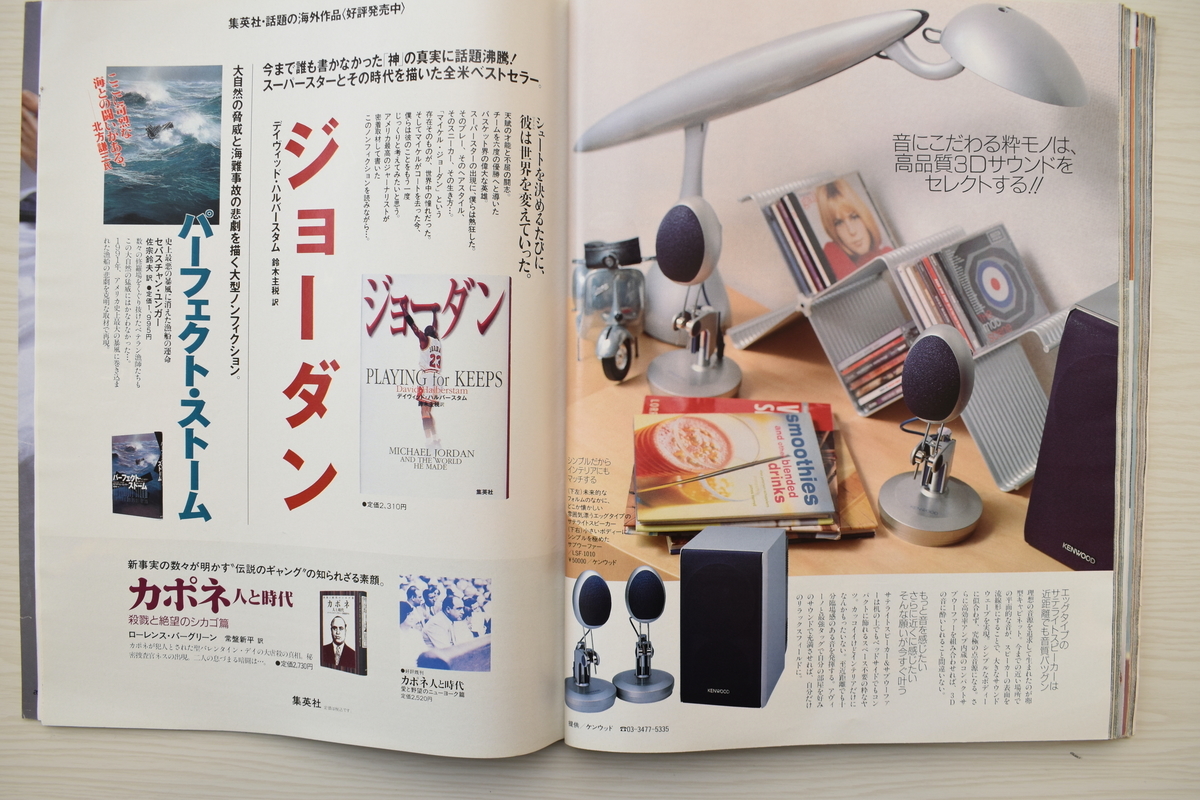 An advertisement by Pirates saying that you can email on your mobile phone.
Pirates.
Hair loss ads.
Good Enough x Maxell
Hiroshi Fujiwara's serialization, "A Little Knowledge". By the way, what was Hiroshi Fujiwara paying attention to in 1999?
Nike's Cross Trainer II model ... Is there something like this ...?
A card-sized audio player will be released by Maxell.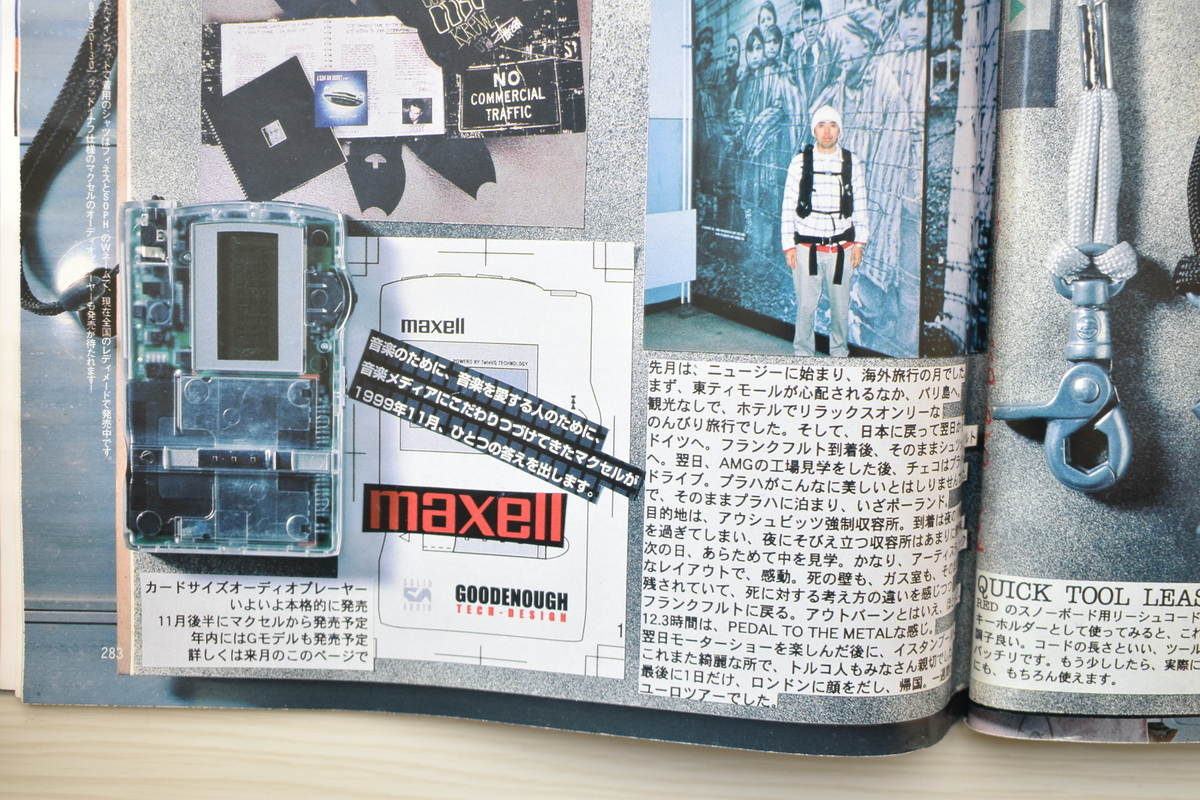 When I looked it up, it seems that it was a product called music Bit !. It seems that each company had made various trials and errors until the iPod appeared and took the hegemony.
The final episode of Tomoki Sukezane's serialization. The pink shirt is Eric Bellger, who used to work for Hermes. I still have the Eric Bellger cardigan I bought at the time.
The horse racing advertisement is also Kimutaku.
On the right page, Daido's advertisement is by Kazue Fukiishi and Etsuko Ichihara.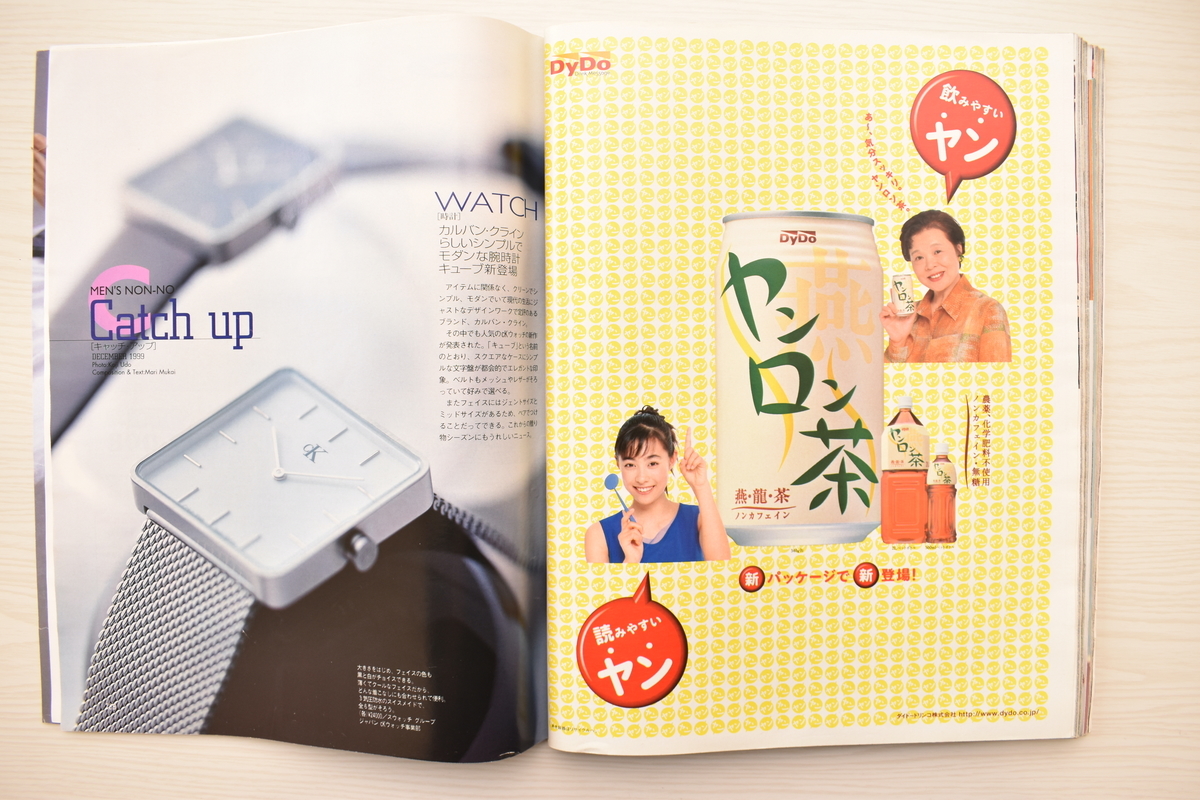 "One Ueno man".
1999 when avant-garde popularity had subsided
Fashion snap. Sapporo. It's pretty simple overall.
Avant-garde designer brands such as Vivienne Westwood and Masaki Matsushima were very popular at Checkmate's 1998 street snaps, which mainly deal with mode-related items like Men's Non-no. However, one year later, in 1999, the fact that it became so simple suggests that the popularity of avant-garde systems had settled down considerably in 1999.
Next issue notice.
Edwin Advertising. Brad Pitt.
Back cover. "Buy jeans and meet Brad Pitt!"