This is the December 19, 1990 issue of POPEYE. 
What kind of year is 1990?
First, let's take a quick look back at what kind of year 1990 was.
International affairs
・ Chairman of the Supreme Council of Mikhail Gorbachev becomes the first president
・ Iraq invades Kuwait
・ Germany reunification
After World War II, the Cold War was a conflict between the capitalist and liberal camps headed by the United States of America in the western countries and the communist and socialist camps headed by the Soviet Union in the eastern countries. The Berlin Wall, a symbol of the Cold War, was destroyed, East and West Germany were unified, and the Soviet Union collapsed in 1991, the following year. Also, in 1991, the Gulf War broke out.
It can be said that it was a year when the political system changed drastically and the values changed globally.
Japanese economy
The highest ever Nikkei average closing price in 1989 was the peak of the bubble economy. The following year, in October 1990, the stock price fell below 20,000 yen and the stock price was halved.
However, since the peak of the business conditions index was in October 1990 and the peak of land prices was around the summer of 1991, the atmosphere of the bursting of the bubble was not so much, and I think that the feeling of floating unique to the bubble economy remained. I will.
Culture
It was also the year when content that represented the 90's appeared later.
・ Slam Dunk, YuYu Hakusho is serialized
・ Launched Super Nintendo
・ Heaven and earth
・ Inamura Jane
・ Die Hard 2
・ Ghost
·Pretty Woman
Top 5 hit songs of the year
1st place B.B. Queens: "Dancing Pompokorin"
2nd place Kome Kome Club: "Roman Flight / Jet Stream Roman Flight"
3位 LINDBERG:『今すぐKiss Me』
4th place Tama: "Goodbye humanity / Ranchiu"
5th place Princess Princess: "OH YEAH!"
Perestroika for fountain pens
Now, let's start introducing the magazine.
Shiseido colon advertisement. Hiroshi Mikami.
table of contents.
Honda advertising. As with Mazda above, it's interesting to see only the back photo in the car advertisement. Was the hatchback an appealing point?
Panasonic phone. It is a home appliance. Cordless and answering machines were still new technologies at that time. However, it's a visual that makes you feel like you're floating.
Seiko brand, Alba advertising.
Panasonic portable CD player ads.
Wink.
"Perestroika for fountain pens". Perestroika is the name of the Soviet reform movement.
"<Dark Bikkembergs>was born in Belgium and was the chief designer of Gaultier ".
Bickenbergs became very popular in the late 90's with his uniquely designed boots, but I didn't know he was the chief designer of Gaultier.
This outerwear is a product of Harajuku Cassidy.
メンクラ、キャシディ八木沢さん。さすがええ事言わはる。 pic.twitter.com/sVKz4cuaDA

— 山田耕史 書籍「結局、男の服は普通がいい」(KADOKAWA)発売中! (@yamada0221) 2021年1月26日
Isn't it Shibu-cazi that "double gold buttons are popular in the city these days"?
"Let's go funky".
Kangol hat.
New York report. "On average daily, 5 murders, 12 rapes, 300 robbers, 1700 thefts"
"The police can't handle incidents other than murder, so almost anything like robbery or thieves is left unchecked."
"Even if the criminal is caught, the prison is full, so the criminal will come back soon."
New import catalog
The special feature is "New Import Catalog".
"Heisei Nippon is an import paradise"
"New import shops can be created more and more"
"Should I grab a card or withdraw my savings?"
From the expression, you can feel the atmosphere of the bubble economy.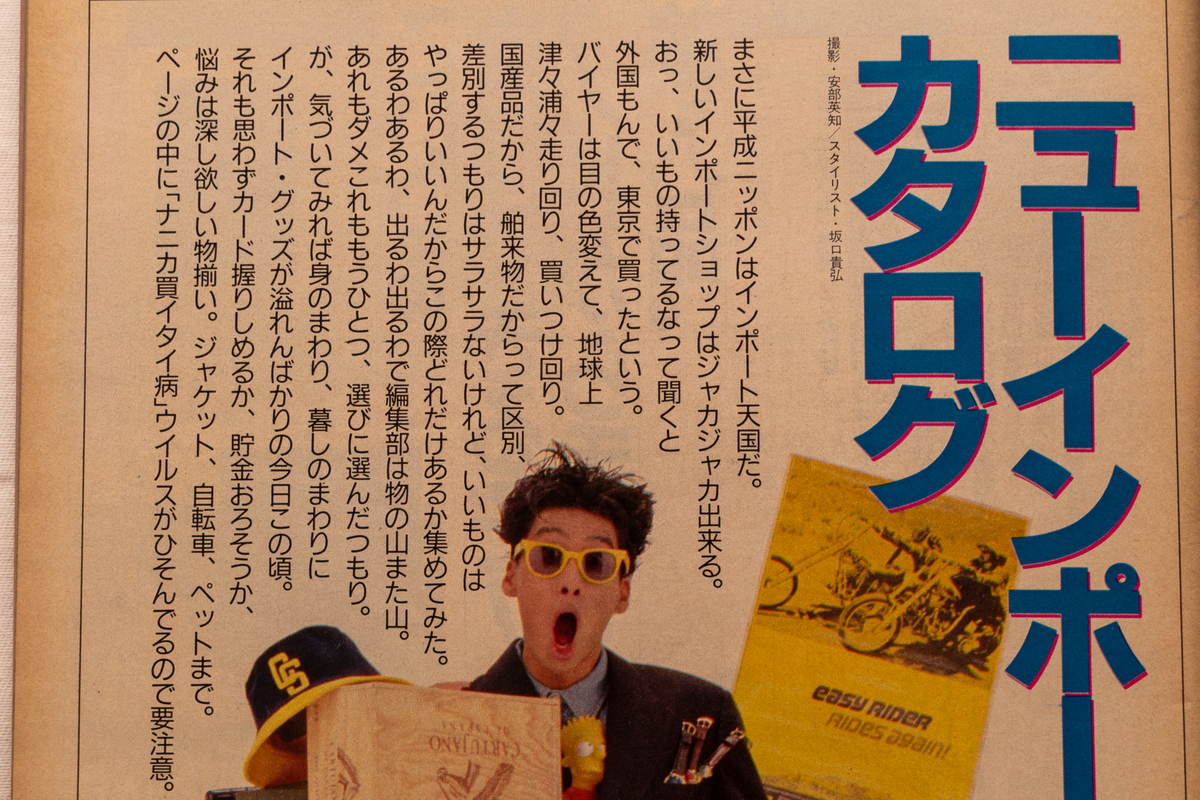 So, the one introduced at the beginning is Dahon, a folding bike brand that is still popular.
A diverse lineup of sports goods, tableware, ingredients, etc.
Jordan brand clothing.
Import even pets.
Birkenstock. Handling is BEAMS.
Nike ACG. It's insanely cool.
Breitling watch. By the way, I, who was an elementary school student at the time, had a wristwatch with a similar atmosphere. It must have been a trendy design.
Crockett and Jones loafers are 46,000 yen.
It seems to be around 80,000 yen now.
Bicycles and motorcycles.
MTB is the main American brand, GT. I used to ride a GT bicycle. This is what we now call a cyclocross bike. It looks good.
ACG with the best color and design
Sports item.
Again, Nike ACG. The color scheme and design are the best.
High-tech snow shoes.
interior. As with products, there are also products in the page design.
Grooming.
"Made in West Germany".
Food.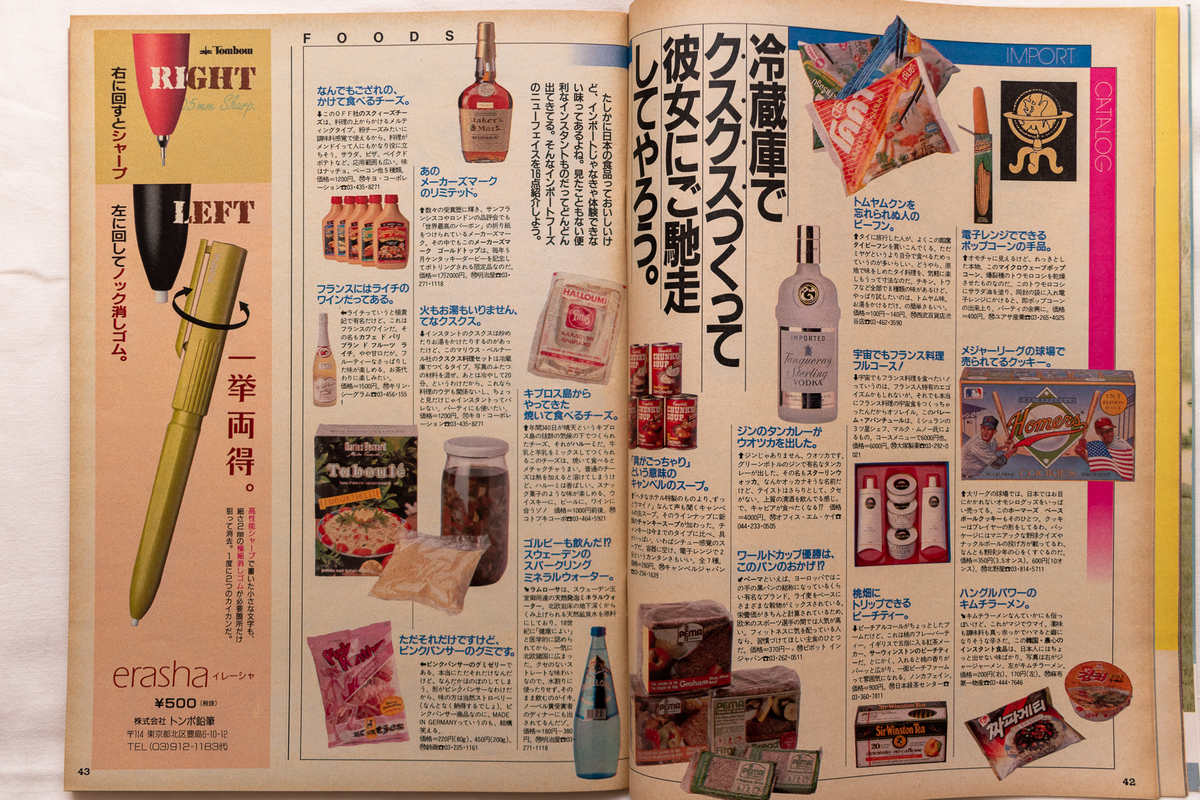 Occupation: Nightlife Planner
Sony advertising. Kome Kome Club.
Ipsa ads.
Panasonic advertising. Old car audio had a CD changer like this. The Corolla wagon I was riding when I was a college student also had about 5 CD changers.
IW Harper Advertising.
Sony phone advertising. After all, I feel that the bubble economy is in full swing.
JT advertising.
What's the page about? And, a photo and catch phrase that you can't understand at first glance.
Apparently it's a club-related article. The one in the center of the image is the title "Nightlife Planner". It's a profession with a strong sense of bubble. The other two are DJs.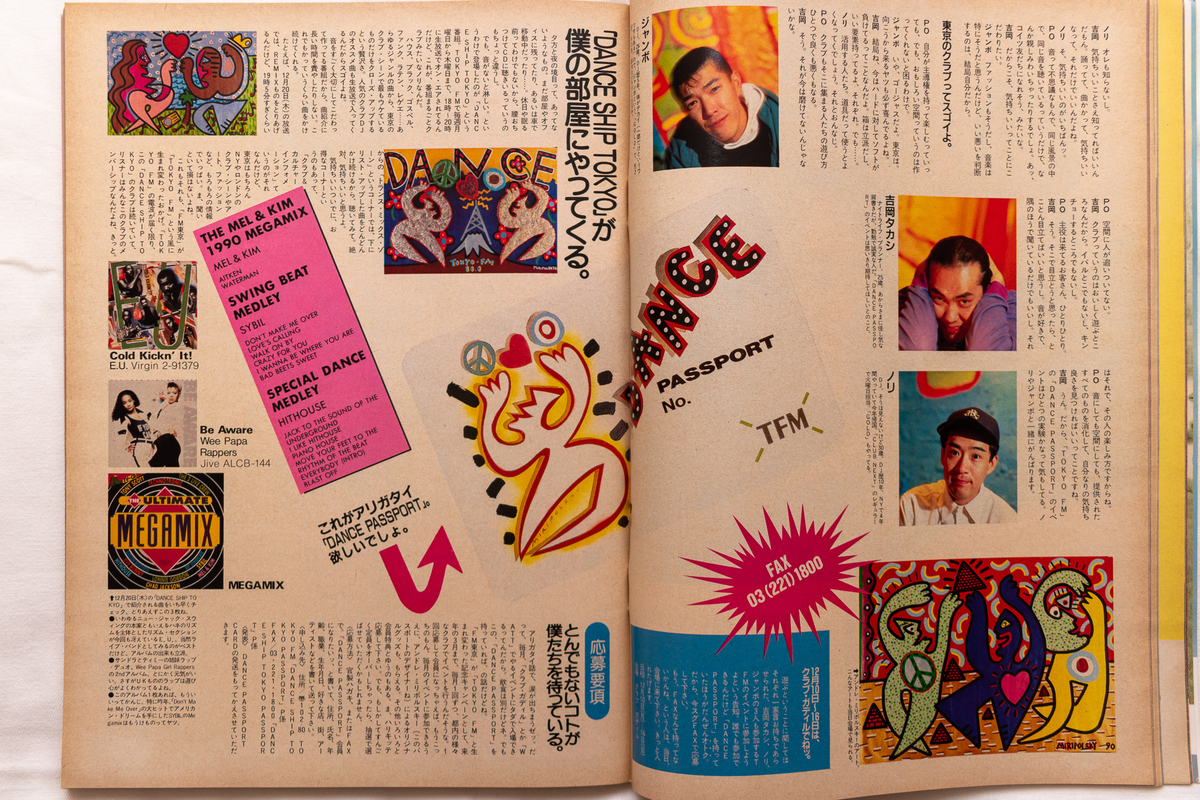 On the right page, an advertisement for Maxell with a stylish design. Overall, I feel that the visual perfection of the advertisement and the artistic impression are strong. Is it because the budget was abundant due to the bubble economy?
Hirofumi Kurino of UNITED ARROWS
Continuation of the special feature "New Import Catalog". "This is what buyers are aiming for in 1991 !!".
Hirofumi Kurino of United Arrows appears at the beginning. Young! Hairstyle as it is now!
"From next spring / summer, Italian designers Dolce & Gabbana will be doing the men's line directly. He is the second most popular buyer among buyers and is attracting worldwide attention." Do you know that Dolce & Gabbana is a duo? Notation that makes me think.
Mr. Shimizu from Nepenthes.
People such as select shops and importers.
Flipper's Guitar Favorite Import Items
"This import is for me only." This is a celebrity favorite importer item.
The top batters are Flipper's Guitar. Keigo Oyamada bought a "big spray-type insecticide" that he found at Saint-Germain-des-Prés in Paris, "I think it's a lifelong thing (laughs)", and "I also bought a cockroach hoihoi. The design was cool. is". Kenji Ozawa is an effector found in London.
"The effect of this effector is to try it with the new song" Love Train "", so this is the love train.
Favorite imported items by Asato Izumi and Masahiko Shimada.
Movie feature. As it is a special feature on imported items, it is all Western movies. Dick Tracy and Pretty Woman.
Brutus ads. Fortune-telling feature.
Left page, Reebok advertisement. Masterpiece, Ventilator.
Many variations have appeared in recent years.
I'm also interested in models such as the small Newport Crest and Rugged Walker Low.
Report of "Band Explosion, the world's largest band contest sponsored by Nestlé and Yamaha".
The judge is Masataka Matsutoya.
Shampoo and conditioner ads. Hideki Kuriyama of Yakult Swallows.
"Our Gaultier."
"A story that you can buy a Jean Paul Gaultier watch for the 10,000 yen range!" It is a licensed product of Citizen. However, was it okay for the Gaultier brand to advertise "cheapness" so far?
Estee Lauder ads.
"You can tell the nature of the component stereo by vocals."
Bataashi Kingyo, a movie starring Saki Takaoka.
Made in Italy jeans
Edwin Advertising. Well, so-called American casual orthodox jeans.
Made in USA model. 6 silhouettes.
This is Made in Italy.
メDetails of Id Inn Italy Jeans. All the shoes that match are leather shoes. Is it positioned like jeans with a sense of class that you can wear elegantly?
The proviso that "the design, materials, details and sewing were all produced in Italy".
Panasonic advertising. Headphone stereo.
It's a cassette tape.
TAG Heuer ads. It was Ayrton Senna, who was at the height of that time.
"Call me a fax secretary." ... Of course, with the current values, "FAX secretary" would be a derogatory term, but lol, it was at the cutting edge at that time. A wide variety of skiwear designs.
Helmut Lang in contemporary 60s
This is a continuation of the special feature "New Import Catalog". At the beginning of the special feature, various items such as bicycles, interiors, and food were introduced, but from here it will be a fashion item page like a fashion magazine.
The coordination on the left of the left page is Helmut Lang.
Personally speaking, Helmut Lang has a strong minimal image based on military and work in the late 90's, but "Tight cutting on a thin lapel. In a word, Helmut Lang of contemporary 60s" Was surprising.
By the way, contemporary means "modern" in the dictionary, but here it seems to refer to the contemporary suit (compora suit) that was popular in the 1960s. Originating from the warm climate of the West Coast of the United States, the contemporary suit has a thin lapel made of thin fabric and natural shoulder pads with thin shoulder pads for an active impression.
It says "MERO", but this is probably a typographical error in MELO.
It seems that a bag maker called Marushō Endo is currently developing in Japan.
The model on the left page is wearing Byblos. It is an Italian brand. In addition, European brands such as France and the United Kingdom are mainly picked up.
However, many of the brands featured here are new to me. In other words, it is likely that it does not survive now, or even if it does, it is smaller than in 1990.
Meanwhile, the bag brand Bill Amberg is still alive.
It seems that the rocket bag, which is a masterpiece, is still being developed as a signboard product.
 

 

View this post on Instagram

 
The white outerwear is Antoni & Allison.
 

 

View this post on Instagram

 
Mail order with a scent over the sea
A mail-order special feature that says, "It's exciting until the ordered item arrives ... it's irresistible."
"There are few people who know things that aren't in Japan, but you can get really good things. You have to call your friends and show them off with a" great "attitude." From the phrase, "The sense of superiority with something that isn't there is hard to replace with anything," you can feel the values of the time when "things are supreme."
Introduction of specific ordering method. An experienced mail orderer said, "I was excited when the items I ordered came in properly." "I'm happy to be able to buy things that no one has, but I'm excited when the luggage arrives at the mailbox and when I open the package. It's irresistible. The scent over the sea is punpun. " It can be seen that the people at that time had a strong admiration for overseas, which was incomparable to what they are now.
Catalog of J Crew. It seems that there was also an agency shop.
At that time, it seems that imports were also popular for pets.
Left page, Citizen advertisement. A meaningful catch phrase for half-naked women. ... I wonder if it makes sense or not.
Mitsubishi TV ads. The character is Riho Makise. 440,000 yen for 37-inch!
While saying that, the TV I'm using now was bought about 10 years ago. I don't know the price of recent TVs, so I looked it up, but the LG 43-inch is less than 60,000 yen ...
Fashion session. Is it a slightly casual Ametra of the outdoor mix?
This was an advertisement for Nautica. At that time, Taka-Q was developing.
Currently, my favorite stylist, Akio Hasegawa, is the director.
 

 

View this post on Instagram

 
 

 

View this post on Instagram

 
1990 customs and values seen in advertisements
Panasonic digital piano advertisement.
"Instead of booking a gorgeous dinner, I bought a grand piano."
"It's not like tiramisu after dinner"
"If you live alone and live a pianoless life, it's a waste. You shouldn't immerse yourself in urban life as it is."
In the phrase, you can see the customs and values of that time.
The conclusion that "authentic, high-society. I'm sure parents are happy and willing" can be said to be the symbol.
Volkswagen Golf Advertising. The second generation called a masterpiece. I have always loved this second generation design. "Run through the city lightly to the highway". And it's like going to a ski resort. The color scheme of the clothes and the overall atmosphere seem to have the atmosphere of the time when the bubble economy still remained.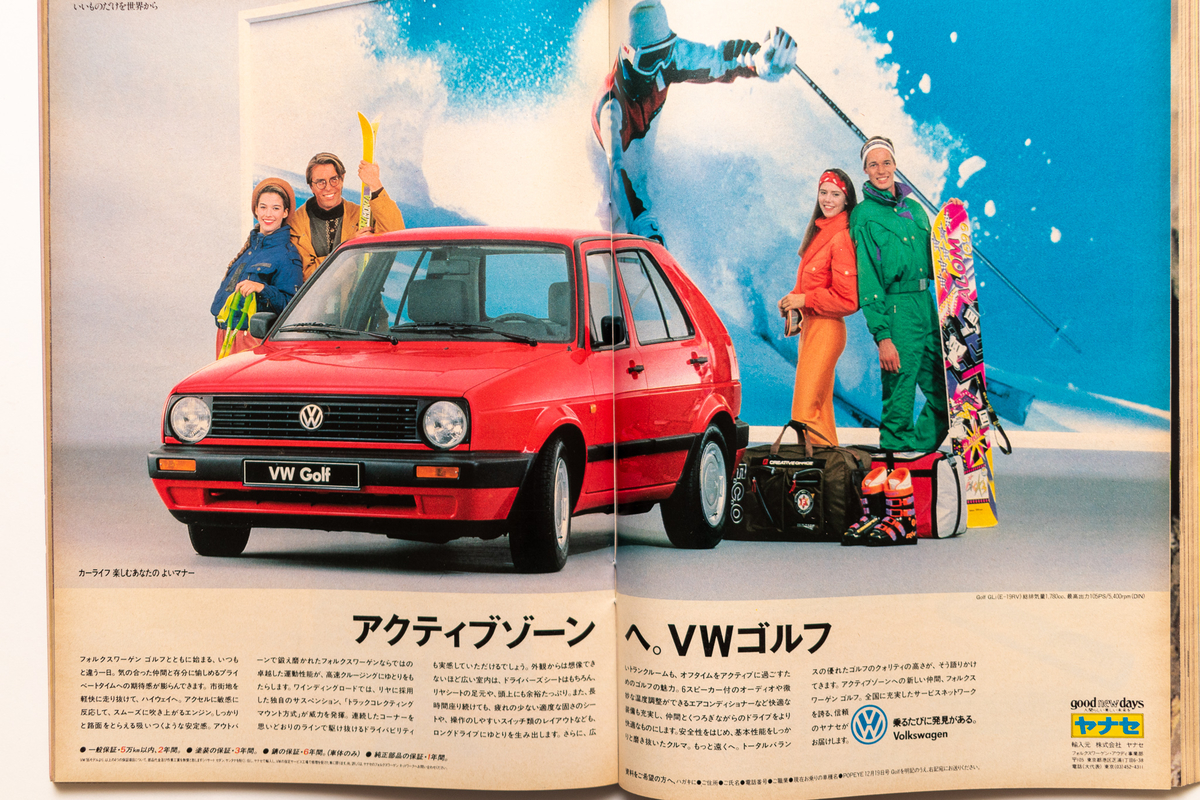 Right page, Sumitomo Bank advertisement. Yuko Asano.
A denim shirt, a denim skirt, and a wool scarf? Stall? Wrap around hers waist and a brown leather buckle belt over it. A bracelet that seems to be Native American on her arm.
This is Shibu-cazi(Shibuya casual style) that started to become popular around 1988 and became popular in the masses in 1990. The knit and suede boots worn over the shoulders express the elegance of Shibu-cazi, which originally originated from private students who go to uptown school.
When I looked it up, YouTube had a TV commercial for 1991.
Sony camcorder ads. A campaign to travel to resorts in the Caribbean, Australia and the Alps as a reporter for this camcorder. I want to go.
An advertisement for a product called Sharaku of Fuji Xerox, which can read and memorize characters and illustrations and transfer them to paper, plastic, cloth, etc.
Pioneer laserdisc player ads. Tunnels.
Introducing all lots of Blue Levis
Levi's advertisement.
"Introducing all the lots of Blue Levi's." Isn't this an irresistible material for maniacs? "It is roughly divided into two lines, <Red Tab>, which inherits the American original, and <Silver Tab>, which is the European New Standard."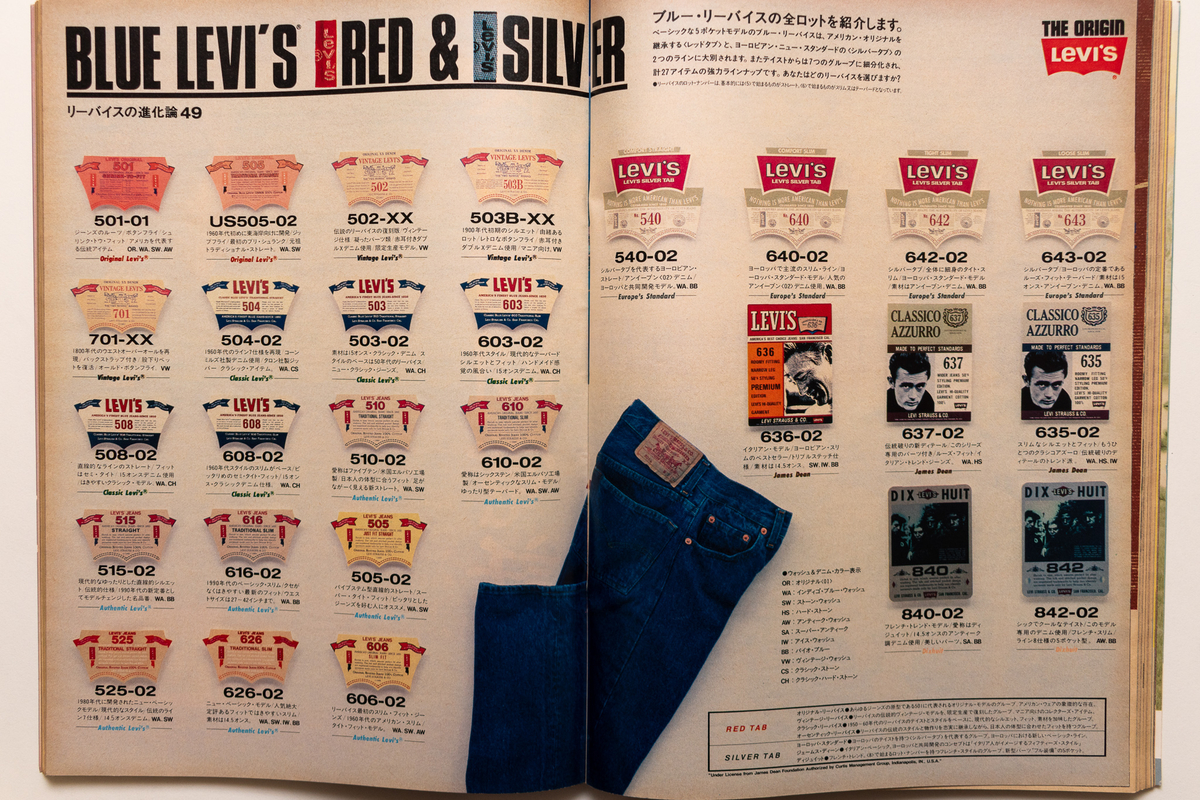 Sanyo answering machine advertisement. Miki Imai.
"Even in the middle of winter, it's tanned on a moonlit night, and it's a lovely boy." Even in winter, it's tanned, so go skiing! Is it an appeal?
Kenwood Laserdisc Advertising. Even with similar home appliances, the impression of advertising varies considerably depending on the brand. Kenwood has a strong image.
Printemps Ginza advertisement. "If you're going to spend a sweet time with her, it's basic to prepare early. But, to arrange a party, make a reservation for a restaurant ...", so it seems that dinner at the restaurant was a must for Christmas at that time. is not it.
Sony Walkman advertisement. Naturally a cassette tape. So, at that time, there were so many variations in the remote control. The remote control is wireless for the top model of 36,000 yen on the left end. I have a longing memory for this.
Lover also imported
Toray's contact lens advertisement. Riho Makise. From the right page is a continuation of the "Import Catalog" special feature, "My girlfriend is a foreigner." In other words, her lover is also imported.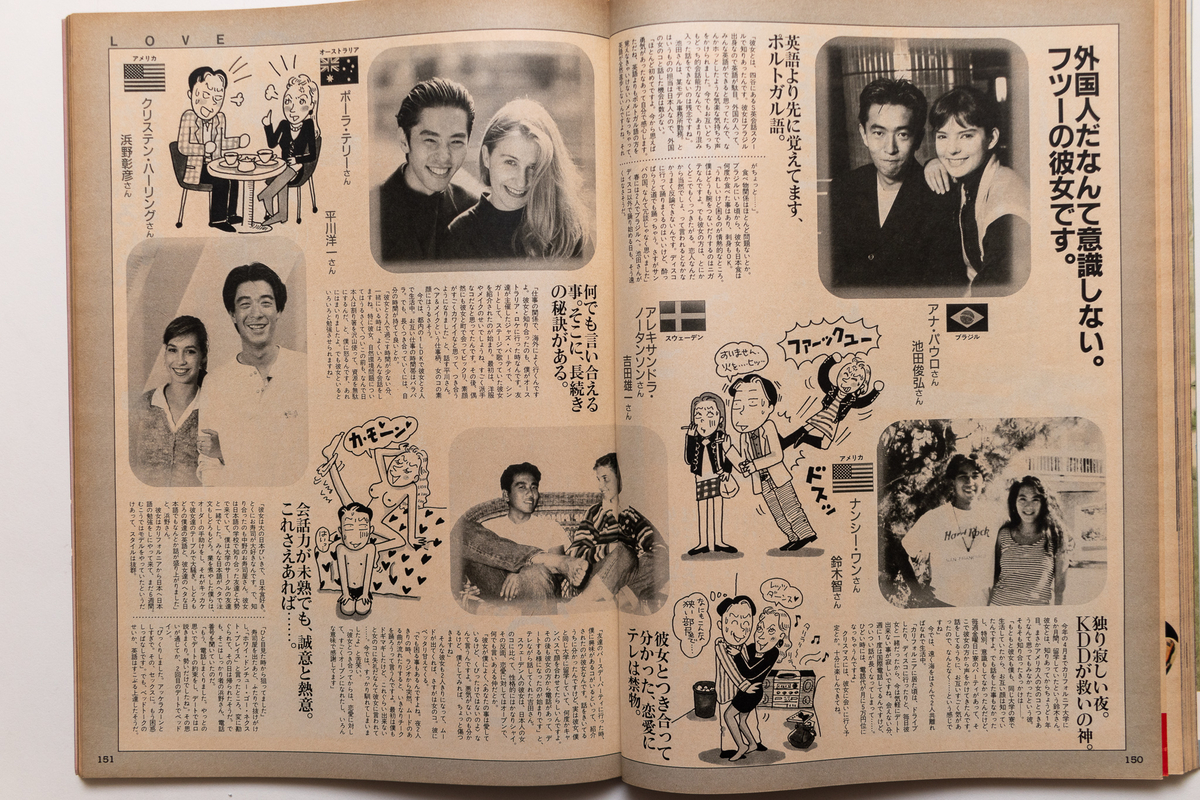 Left page, Panasonic televideo. Televideo because TV and video are combined. It may make you laugh from the current values, but at that time I wanted this lol.
Right page, Mitsubishi Motors advertisement. This model called Eclipse was produced by Mitsubishi's American corporation because it was "born in the United States and became familiar in Japan."
That's why it's a left-hand drive. This is also an imported item like the special feature of this issue.
The left page is a continuation of the import catalog special feature. "The popular anime in the continental United States" The Simpsons and Vivienne Westwood's tie.
A wide lineup from Malcolm X necklaces to alibi certification machines. It's fun to see these pages.
Vivienne Westwood here too.
LED watch on the upper right of the left page. I thought it was from Pulsar, but it was made by the Soviet Union.
ABC-Mart mail order
Mail order page.
"The second essential item catalog for this fall and winter, presented by the casual male ABC-Mart".
This is ABC-Mart from that shoe store.
ABC-Mart started from "Kokusai Trading Co., Ltd.", an import and sales trading company for shoes and clothing.
"This was the down hoodie I see in the city."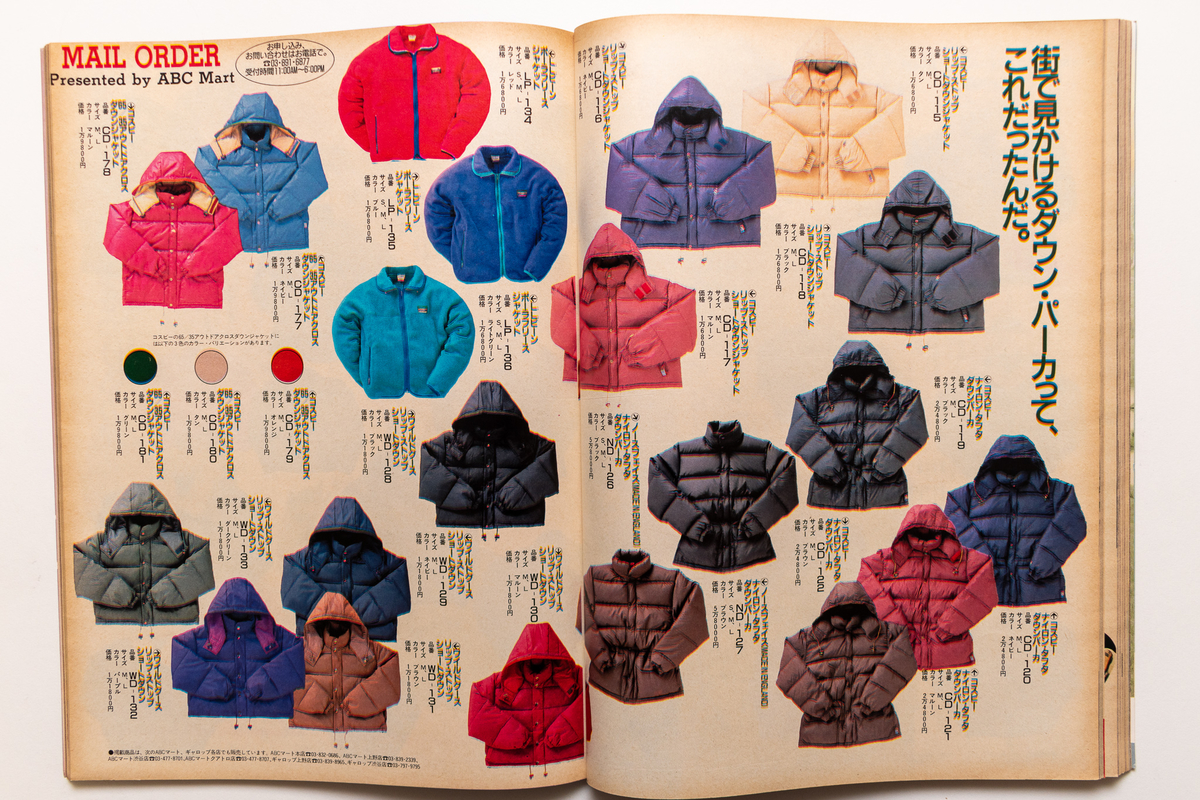 Cosby. The length is short. And the design is very simple.
The North Face is also very simple. 58,000 yen.
LLBean. The color scheme is good。
The wild goose down jacket has a color scheme that is quite similar to the 90s vintage Montbell I have.
"It's really fashionable to make a difference with standard items."
I didn't know the brand Orchard of the rider's jacket, but when I looked it up, it was a long-established store in the United States.
A long-established wear factory from New York. It is a brand with a good reputation for leather wear such as flight jackets and riders. CHP models were actually provided to police officers in the 1980s, and when the A-2 and G-1 were revived in 1984, they were actually delivered to the military, and many solid and high-quality items were deployed. I was doing it. It is also famous for being an OEM of Avirex.
https://item.rakuten.co.jp/branding/j1399/
Alpha MA-1.
"Check out the popular items from Cosby!". Cosby was especially popular in the early 90's. I also had a Cosby drum bag when I was in junior high school.
All-leather sukajan is 68,000 yen. The design is also nice.
A knit like a cow chin sweater is also cool.
Cosby is a brand that started when American ice hockey player Gerry Cosby arranged ice hockey equipment such as sticks for the team. After that, it began to comprehensively develop sportswear such as hockey jerseys and bags, and now casual items for mass as a licensed brand are also sold, and a reproduction line of past archives. It seems that lines limited to BEAMS and BEAMS are being developed.
"After all, I have to dress up with this at my feet."
Hawkins. According to the history of ABC-Mart mentioned above, the trademark right of Hawkins was acquired in 1995, so the one introduced here is probably planned and produced in the United States.
The sneakers are also Vans, which ABC-Mart will acquire the trademark right later? I thought it was Cosby lol.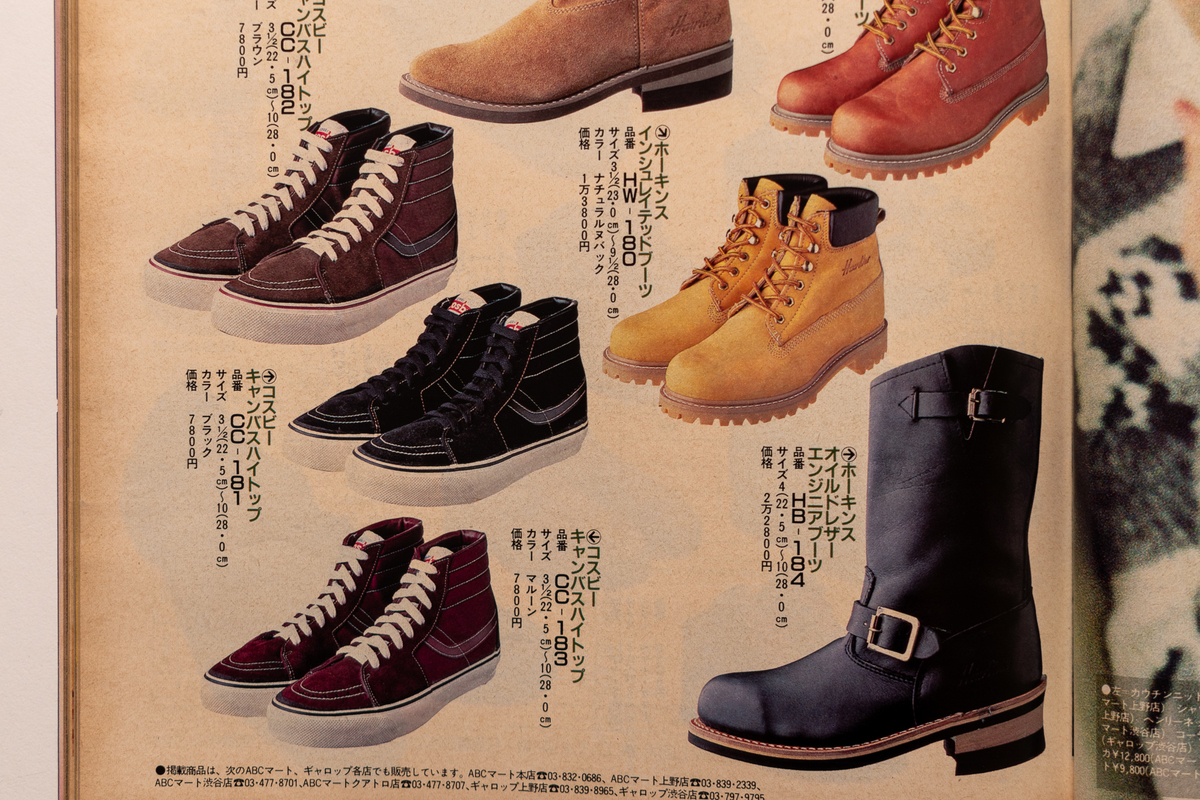 "Cosby trekking shoes are finally here!". At that time, I wore trekking shoes with a similar design and color scheme. I think it was from Hi-Tech. It must have been a popular product.
Hawkins air sole shoes, which will be talked about later in the commercials of Takuya Kimura and Nene Otsuka, are also posted. According to the history page above, this commercial was in 1996.
90sキムタク。 CGキムタク。
キムタクホーキンス。 #平成レトロ pic.twitter.com/QGgwNNVDMT

— 珍まん太 (@BOYFRENZ40jr) 2020年6月4日
"ABC-Mart Anything Opinion Table". It is an introduction of each store and staff.
As you can see from the store photos, it seems that many clothes were sold at that time.
Right page, Sumitomo credit card advertisement.
Shuzo Matsuoka. Tennis shoes are Brooks.
It seems to be a model called Overlead released in 1985, or a successor product.
The left page is a name pen that combines a shachihata and a pen.
On the right page, Kyocera's telephone advertisement is Akiho Sendo, and on the left page, the car advertisement is Kyoko Koizumi. What is Autozam? I found out that it was a brand strategy that I couldn't find the name of Mazda at a Mazda dealer.
The left page is an advertisement for the Spur train, a ski train of JR East.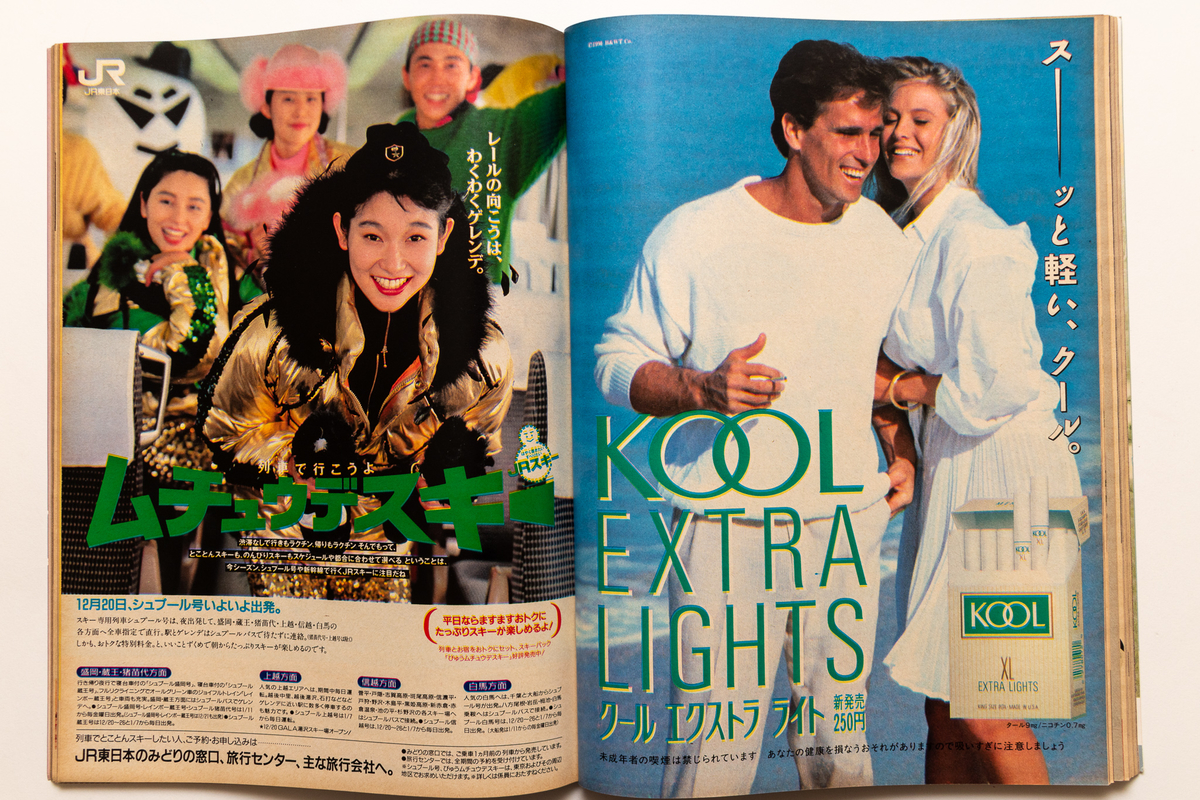 CM around 1990. I thought that the ski train was amazing, and when I looked it up, it was operated until 2005 in JR West.
Flipper's Guitar serialization
The right page is an advertisement for American shoe brand Tom McCann. You had so many stores, didn't you?
Sansui audio.
I really like this design. I especially like the shade of gray.
Right page, Yamaha's digital percussion advertisement.
And the left page is a serialization of Flipper's Guitar called "VIVA DEATH ROW Direct from The Flippers Guitar". "Oyamada and Ozawa went out with the command from Popeye saying," I'll put it on Viva Death, so buy whatever you like, "and 10,000 yen."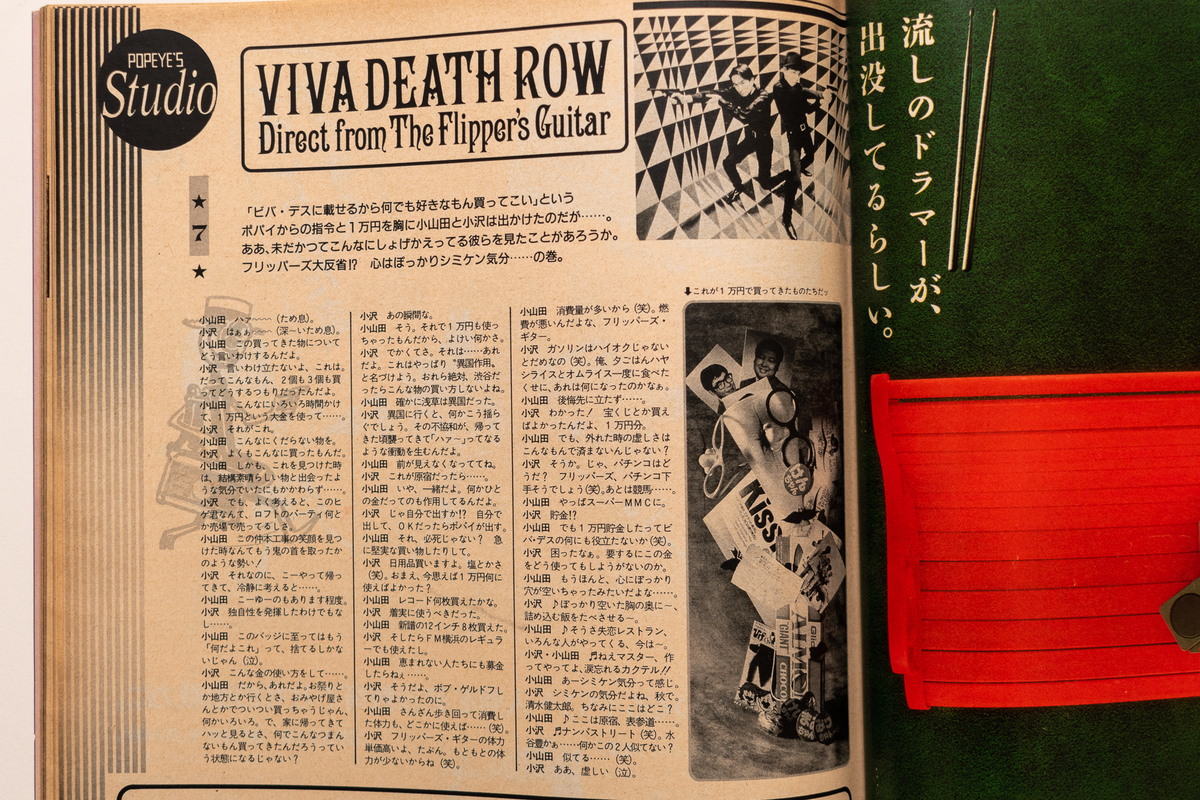 Asakusa's Western-style Lisbon, where Mr. Oyamada ate chapsui and Mr. Ozawa ate hayashi rice and omelet rice, is still open.
Beams chosen for Paul Weller's plain clothes
The left page is a serialization called "EVER GREEN SHOP STORY", and it seems that this issue was the final episode of the BEAMS edition.
This is the story of the Kumamoto store, which opened its first regional store in 1985, followed by the Kyoto store.
Paul Weller was the model for the poster when the Kyoto store opened. "The Style Council's Paul Weller was introduced by the London staff to wear BEAMS costumes both publicly and privately."
Is this an original item from BEAMS or a select item? Anyway, it's amazing that Paul Weller, the leading fashionable musician, wears it.

"Sudden ranking". You can see what was popular at that time.
Beethoven's Ninth is mentioned in the answer to the question, "What is the karaoke song that seems to be heard so much at the end of the year that makes me melancholy?" Did you sing the 9th karaoke at that time?
"What is the CM song that you can't get away from your ears?" I still remember the 1st and 2nd places even after 30 years.
Post page.
Home appliances.
Kansai special page called "Maido in Osaka". "That's exactly what Tokyo's flashiness is normal in Osaka." Compared to Tokyo, the black epidemic in Osaka was short. "
Music page.
Yumin, Flying Kids, Fairchild, etc.
Fairchild is a unit where YOU was the vocalist.
Trouble consultation, "confessional room".
A gorgeous lineup of Yoshikazu Ebisu and Shinji Nojima.
Left page, Victor's videotape advertisement.
1990 winter super classic
Mail order page.
Avirex B-3.
Gloverall duffle coat.
Schott MA-1 type suede blouson.
Gloverall is 46,000 yen.
I don't know the detailed specs, but it seems to be in the 60,000 yen range now.
"This winter's super classic, I will never lose." He seems to have great confidence.
"Our winter super classic, lambskin half coat".
Columbia fleece. This is my favorite color scheme.
Colombian down jacket. The BMX-like bicycle in the back has a similar color. It would have been a popular color for sports and outdoor items at that time.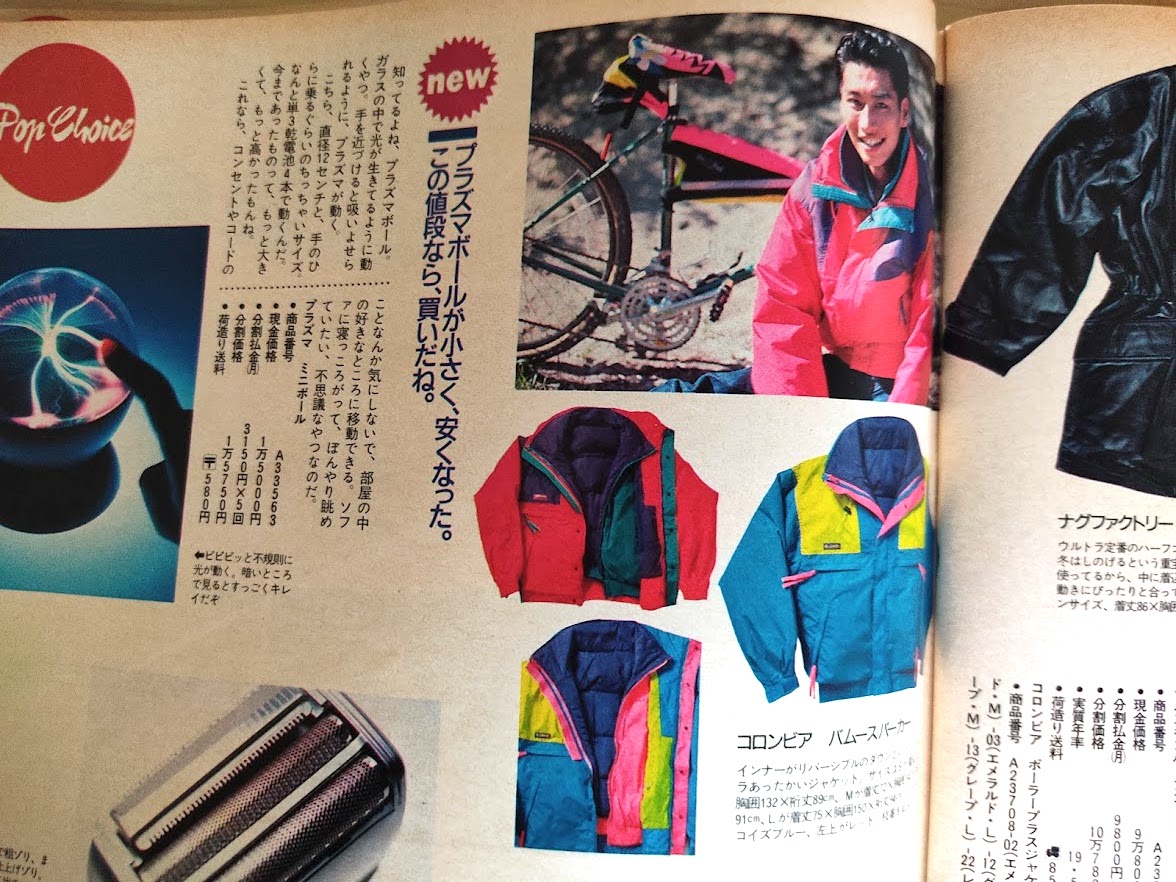 The items I have selected at the Props Store, my favorite Harajuku shop, are probably the items of this time.
素敵過ぎる90sコロンビア!#古着屋さんブログhttps://t.co/Ga6kcUnBxz pic.twitter.com/9EqVcqTmgD

— 山田耕史 書籍「結局、男の服は普通がいい」(KADOKAWA)発売中! (@yamada0221) 2020年12月15日
更に良い配色の90sコロンビア。 pic.twitter.com/GEwrC7yuOW

— 山田耕史 書籍「結局、男の服は普通がいい」(KADOKAWA)発売中! (@yamada0221) 2020年3月18日
Interior goods. The texture and color scheme of sofas and beds will also change.
Ski training machines, tanning machines, etc.
"A popular item that can be worn chicly or worn by George Michael", a double rider jacket from Schott. The inner is a white turtleneck knit. 65,000 yen.
It's over 100,000 yen now.
Future City Tama Center
Sanrio Puroland Advertising.
"Tama Center, the future city of the post waterfront" ... At that time, it was sold with such a character ...
"Batch goo in the ski season".
Left page, Fiat advertisement.
Right page, leather outerwear mail order advertisement. Here too, the black half coat is the first to appear.
Left page, Takara advertisement. Lucky Ikeda has a product called Lucky Snake.
On the left page, I didn't know what the advertisement was for a moment, but it looks like a New Year's card kit.
Left page, leather shop advertisement. It seems that leather items were popular at that time. After all black half coat has appeared.
Left page, Ellesse clock.
It's a good design.
Right page, ski shop advertisement.
Right page, jewelry boutique advertisement. "Become Eve's Heart Thief!"
Right page, brown ad. After all it is a sophisticated design. Left page, Okamoto's condom advertisement. "The love of two people is important." A good catch phrase.
Mysterious Air force
Fashion page where Lucky Ikeda was in charge of modeling and choreography. The stylist is Yoshiyuki Kitao.
Clothes are Ready Steady Go!, and Hi! Standard etc.
Elaborate visuals.
Air Jordan 6 with LA Gear sneakers.
This Nike. Neither Air Force 3 nor Delta Force ...
After a lot of research, I found out that it was a model called Quantum Force HI.
A bright red rider's jacket and an Air Jordan hoodie.
The left page, a gift-themed song selection corner.
On the right page, a professional tennis player named Nana Miyagi. He is from Washington, USA.
The WTA ranking is 51st for singles and 12th for doubles.
Left page, movie and video introduction. Almost 14,000 yen level. It used to be expensive like this.
Right page, Mitsubishi Electric telephone advertisement. Hikaru Nishida. The left page is about photos. "Now, photography seems to be in a bit of a pain, pushed by juniors such as movies, television and computers."
Right page, JT advertisement. After all motor sports are popular.
Car. "4 seater multi-use 4WD". It's a small SUV as it is now.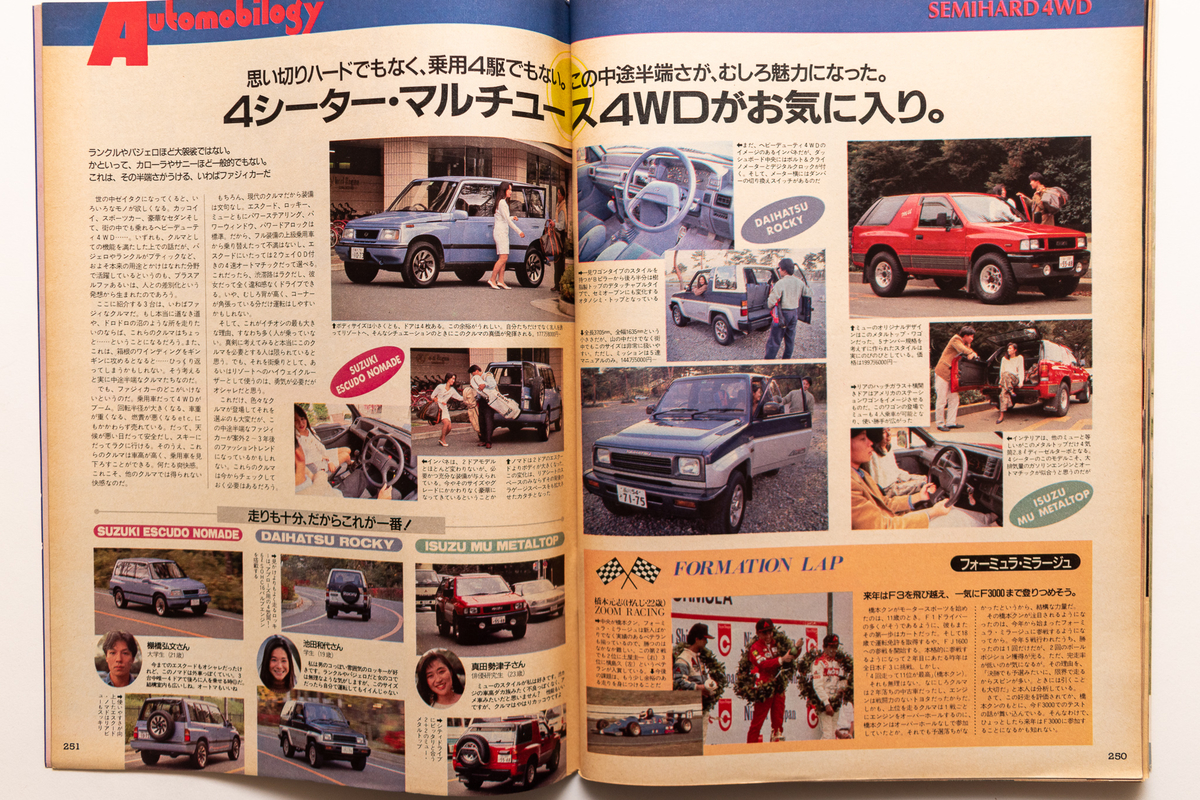 From the right, Isuzu Mu, Daihatsu Rocky, Suzuki Escudo Nomad. I like all the designs very much. Especially the color of Escudo Nomad is nice.
"Aguri Suzuki's F1 Battle". It was sponsored by Geo.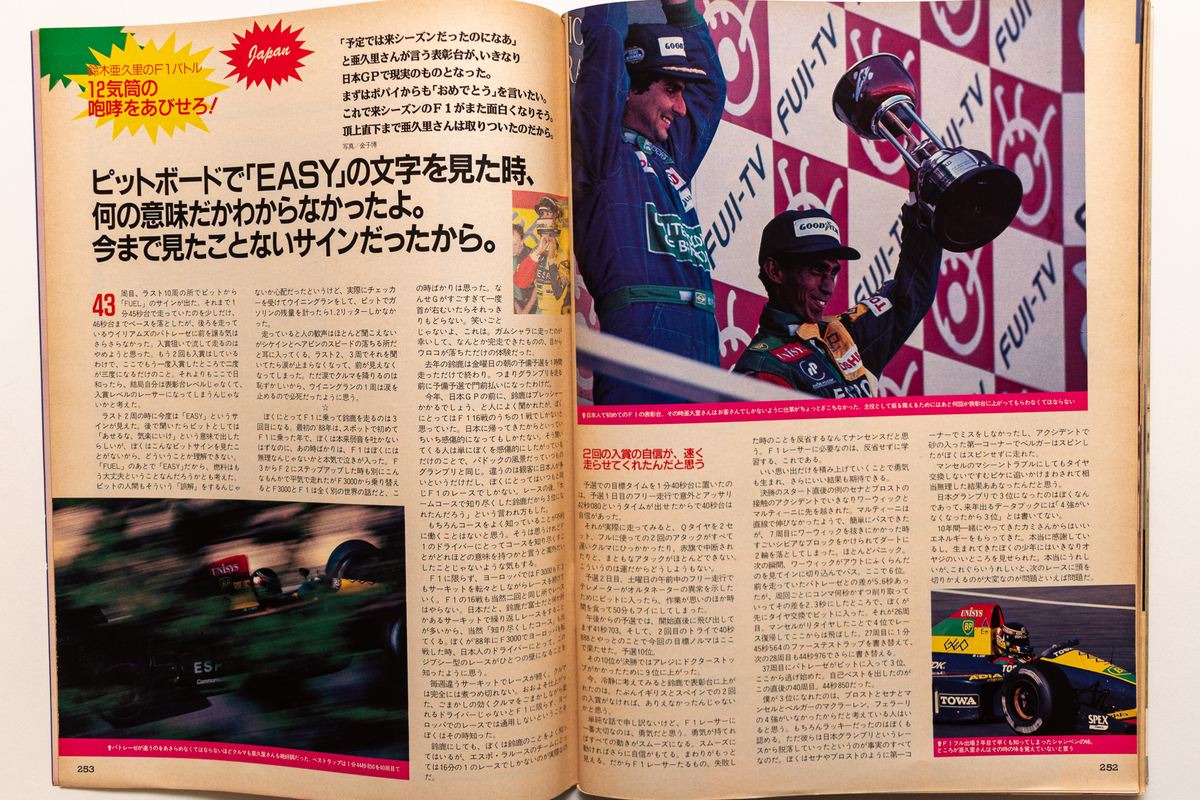 Was it a serialization by Toshinobu Kubota?
Serialized manga. Since it is said to be "read now", is it a reflection of the realistic atmosphere of the time? … Isn't the person at that time going into the bathtub and drinking beer with his clothes on?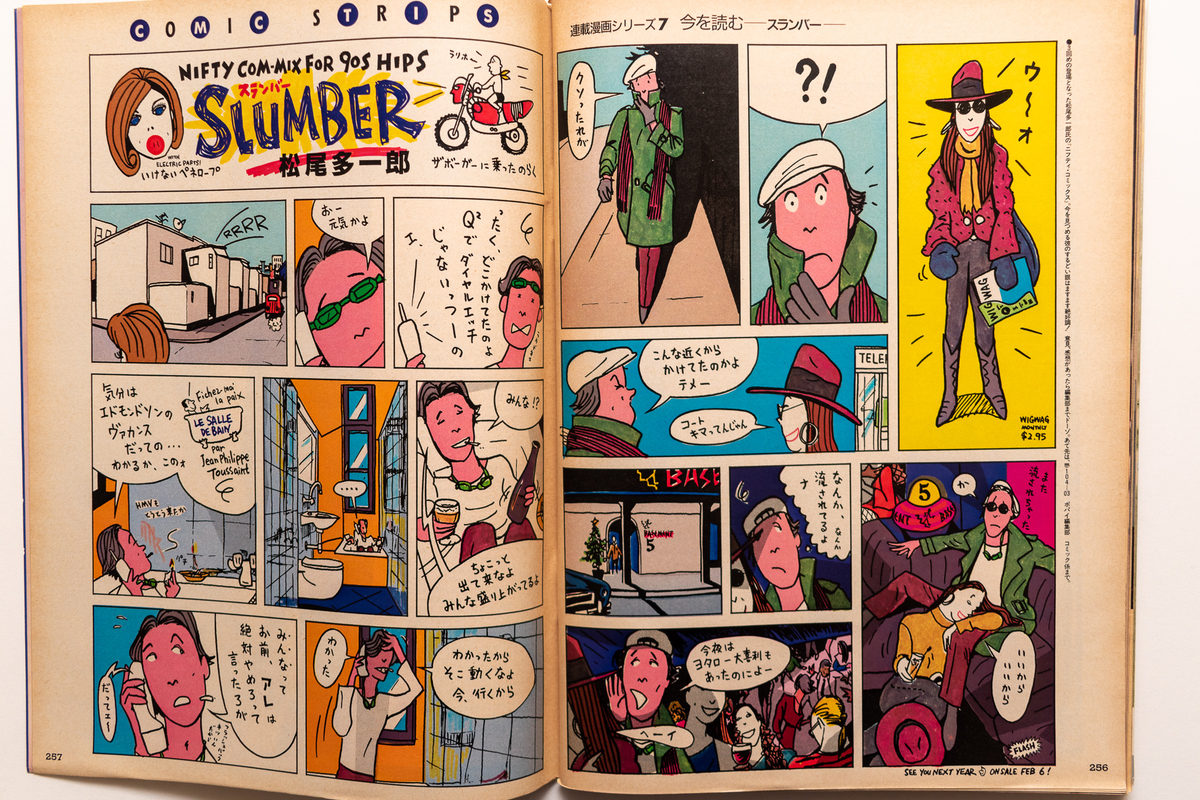 Serialization of erotic novels ... Is it?
Notice of the next issue of the rumor feature on the right page. I didn't know that "Paul Smith was a stylist of Eric Clapton long ago".
Idemitsu advertisement. Le Mans.
Back cover. Gatsby. As for the present, the special prize is a trip to the Maldives, and the Gatsby prize is an a-ha CD.
This "Gatsby, dress up" commercial was in 1994.