This time I would like to introduce the March 10, 1997 issue of POPEYE. 
What kind of year is 1997?
Before introducing the magazine, let's take a quick look at what kind of year 1997 was.
International news
・ Successful development of the world's first cloned sheep (dolly)
・ Peruvian Japanese Ambassador's Residence Occupation Case
・ Princess Diana died in a tunnel accident
・ Return to Hong Kong
・ The Asian currency crisis begins
Japanese news
・ Fuji TV will start broadcasting from the new office building in Daiba, Minato-ku, Tokyo.
・ Completed Osaka Dome and Nagoya Dome.
Culture
・ Movie "Princess Mononoke" released
・ X JAPAN announces dissolution
・ Namie Amuro marries TRF's SAM & announces pregnancy
・ Animation "Pokemon" started airing, Pokemon shock
・ Fuji TV's "Downtown no Gottsu e kanji" ended
・ Movie "Titanic" released A big hit
・ Tamagotchi boom
・ Evangelion boom
・ Kogal boom
https://www.pinterest.jp/pin/625718941982952921/
Top 5 hit songs of the year
1st place Namie Amuro: "CAN YOU CELEBRATE?"
2位 KinKi Kids:「硝子の少年」
3rd place Le Couple: "Hidamari no Uta"
www.youtube.com4th place globe: "FACE"
5th place SPEED: "STEADY"
Sports
Martina Hingis is the youngest player to win the Australian Open tennis in January, "16 years and 3 months"
Born in 1980, I was in the middle of my youth in my second year of high school.
I fell in love with the Evangelion boom, and after that I recorded late-night anime on VHS, and I became completely fond of anime.
Square toe very popular
Now, let's get back to the magazine. This is the cover of the March 10, 1997 issue of POPEYE.
Shiseido's hair wax, Geraid. Ulfuls.
table of contents.
Apple advertising. The logo is the era of rainbow.
Suddenly an item that symbolizes the 90's appears.
Casio watches and Databank. It seems that this was a limited edition. British brand YMC and Japanese shoe brand Cause were also often seen in magazines at that time.
On the right page, the advertisement for Nissan Wingroad is Ninety Nine and Makiko Esumi. 
I think the design of a car like the Honda S-MX on the right page is good these days.
A line called Edwin Sports. Was the extra-thick silhouette influenced by the Levi's Silver Tab?
Woods, a Canadian outdoor brand. Interview with Marithé Francois Gilbeau.
I saw an interview with Gilbeau for the first time.
"Fashion special daily wear has changed!"
The silhouette of the shorts is thin and thin!
All leather shoes are square toe loafers.
"Catalog of shorts by length".
Street snap. The right side is completely Ura-Harajuku.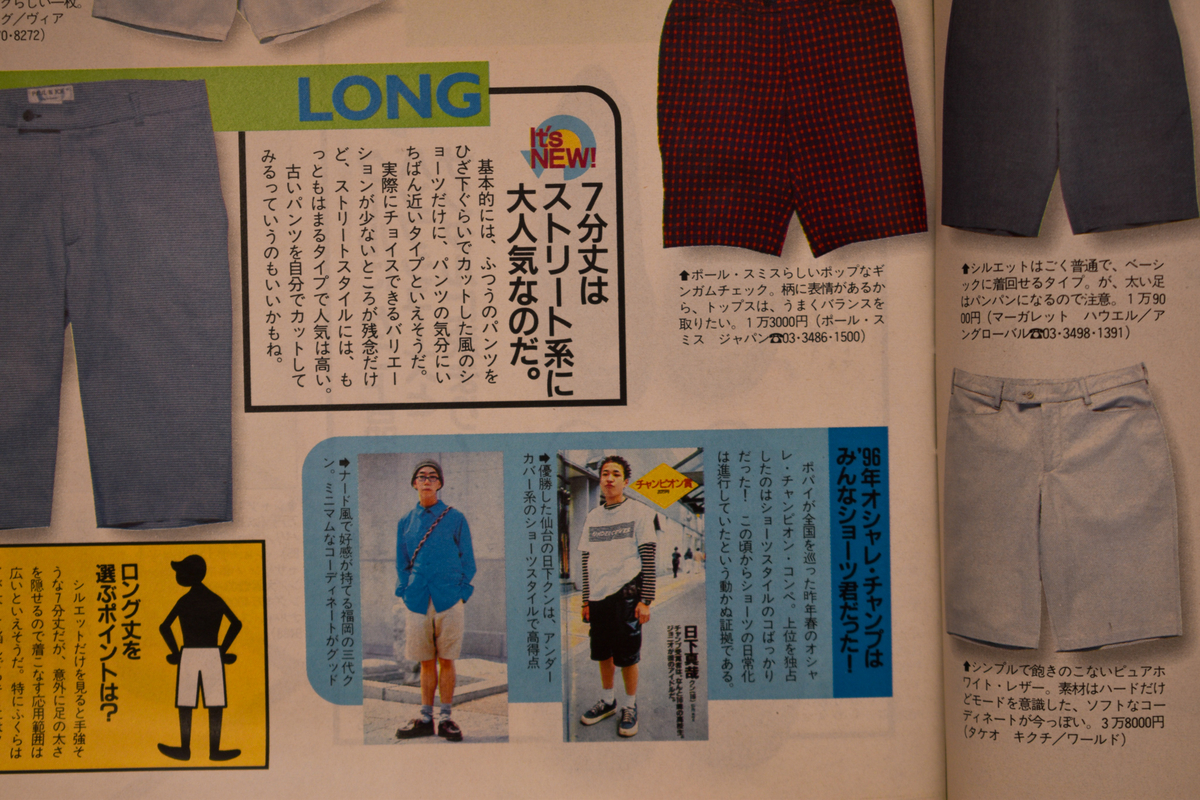 "It is important to focus on the minimum coordination"
I remember wearing shorts, shirts, and ties at the time ...
As for shoes, "square toe glamor shoes are still very popular in shape", so it can be said that square toe has been popular for a while.
"New school style should be trendy!"
The polo shirt with the yellow line is Helmut Lang.
Looking now, the color scheme is quite unique. After all shoes are square toe.
I feel that these soft colors and soft atmospheres are likely to be accepted by young people today.
Leather shirt. It seems that most of them are real leather in terms of price.
Coordination of leather shirts.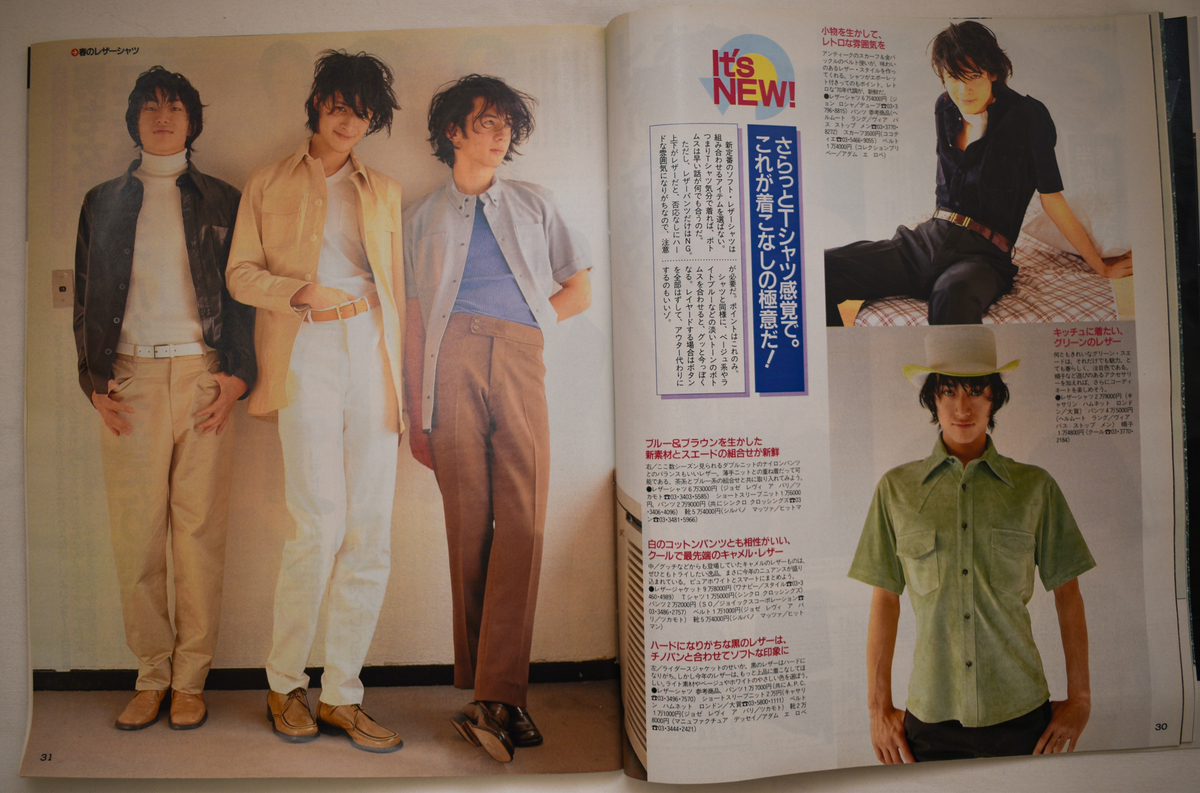 This kind of hairstyle is likely to be received by young people today. And after all square toe.
1997 unisex fashion
"Uni-style is already commonplace for both men and women." It's unisex fashion.
"Men's items are becoming more and more ladies', and the ladies'-like materials, colors, designs, and silhouettes that were used in the advanced mode until a while ago have become commonplace in men's wear."
In the current unisex fashion, it is the mainstream for women to wear men's items, but at that time it seems that men's items had a ladies' element.
The reason is that "easy-to-move stretch material promotes tightness". "Polyester-based stretch material was originally used a lot for ladies' items. For men, it was mainly mode-based, but recently it is being used more and more in everyday shirts and pants."
There is also a description that "the size like ladies has increased".
Suit.
The atmosphere here is also good. And, after all, square toe.
The light blue suit is from Torrens Continents, a brand that represents late90s.
Did the shoes only exist in square toe?
A lot of square toes. As you can see from the magazines so far, I wonder if shoes only existed in square toe at that time. "Square-faced glamor shoes born from mode are becoming more familiar!" "The high heels are the ID details of the orthodox glamor shoes. It is basic to hold this area tightly."
Messenger bag.
"Post-high tech is decided to be a" stride "!". The high-tech sneaker boom indexed by the Air Max 95 and Pump Fury was still going on, but its enthusiastic popularity had subsided in 1997. It seems that this stride was recommended by POPEYE as a post-high tech.
It's a very unique design, so it would have been difficult to gain general popularity.
All are amazing designs.
"Created by Justin Deakin, a young and up-and-coming shoe designer in London".
This is the end of the special feature.
Nike ads.
Edwin Advertising. Lee 101.
Moschino advertising.
1997, Odaiba became a symbol of cool Tokyo
"It's my first time in Tokyo! That's why a thorough guide to 100 pop playgrounds". This is a special feature of Tokyo's guidebook. Following the club, the "store where celebrities come" is introduced.
Was it true that "Kenji Haga and Anna come almost every day"?
"All-you-can-eat", "Live Cinema Art".
"Cafe & arcade", "mania shop".
1997 is the year when Fuji TV moved to Odaiba. At that time, as I was in my youth, I think there are many locals who had the image that Odaiba is a cool symbol of Tokyo.
"H spot"! It was an era when sex shops were introduced in fashion magazines. The right page is "Flea Market / Cheap Store".
Flea market is indispensable when talking about street fashion in Tokyo in the 90's. At that time, I was enthusiastic about soft tennis in Kobe every day, so of course I have never been to Flea Market in Tokyo. What kind of atmosphere was it?
Jonan Electric! President Miyaji was often on TV at that time.
"Midnight business", "Himamashita".
Right page, The American! Pickup trucks were also sold in Japan.
"Ichiro Nissan". At that time, Ichiro was appearing in a Nissan commercial.
The monochrome page is a playground map. The club edition is Minoru Ujita, and the culture edition is Tasuku Watanabe.
The food edition is × -GUN, and the customs edition is Baksheesh Yamashita.
The following the crowd edition is by Terry Ito.
"23 fresh one-shot stories". "Neil & Iraiza, a mean pop duo".
"The rumored" Ryo Fukawa "Kun will take over Shibuya FM! "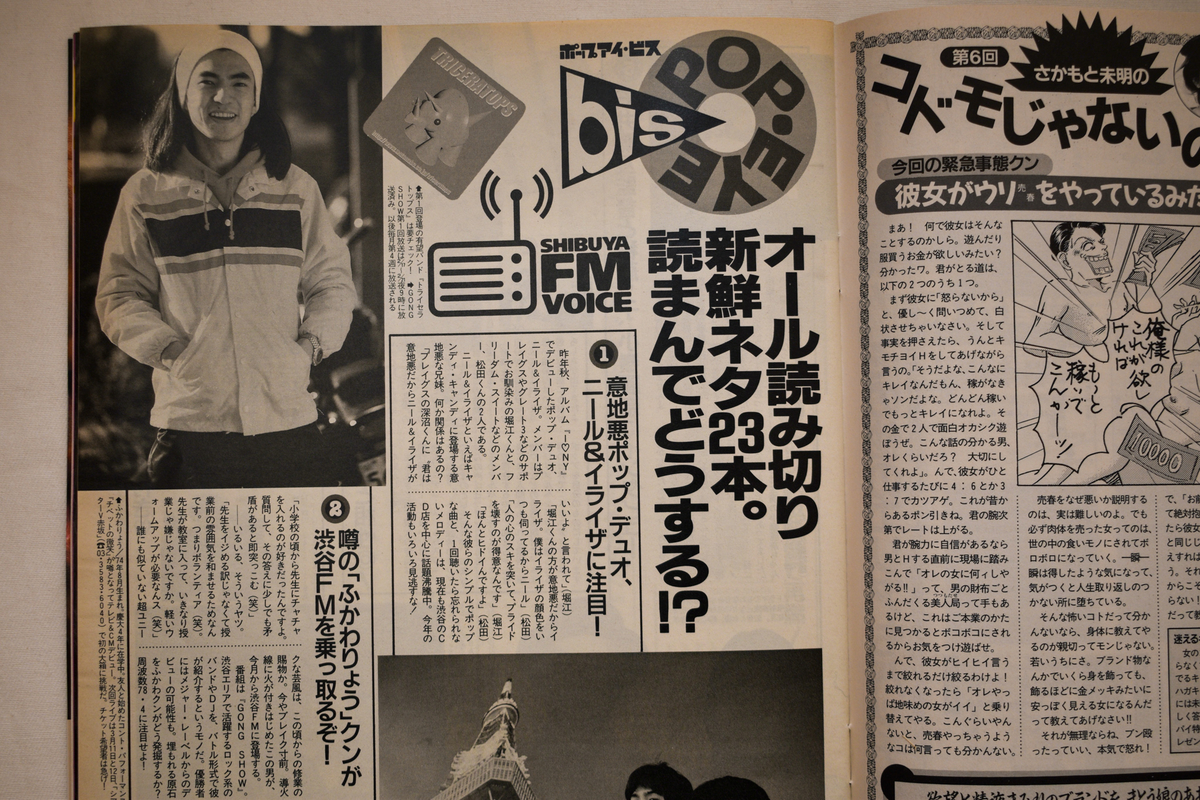 Interview with Rena Komine ...
Yumin's "Internet Page", "Dragon Ash's "1st".
Tom Cruise is young.
Interview with Nazif Ali.
Men's Bigi ads. The colors and patterns are very characteristic. The knit has a super tight silhouette.
Pioneer's MD component system advertisement ... Or maybe young people still don't know "component system"?
On the right page, the advertising character of the now-defunct Sumitomo Bank is "Kuma no Bankoo" by Masahiko Sato.
At that time, Masahiko Sato, who was sending out popular commercials such as Bazaar de Gozaru and Don Tacos.
He is also the supervisor of PythagoraSwitch.
Eiko Koike 16 years old
"Cheap travel war breaks out!"
"Will Shinjuku South Exit be Akihabara in the cheap airline ticket industry !?"
"Popeye Plaza".
"Eiko Koike, 16 years old"'s favorite type of boy is "a beautiful person who looks good with makeup like Shinji Takeda. Of course, he is older."
Column page. "The most popular photo booth is the Sanrio version."
The manga on the left page is Junko Mizuno! good old days! I had a book.
I found out that he currently lives in San Francisco.
Women's Forest, my painting from 2018 will be on display as a part of Princesses Of Power group exhibition at L'Atelier in Biarritz, France starting on 8/6.
4 sets of my drawings with cup & saucer available at the show too. 🔥👸🏻💪🏼
More info👉🏼 https://t.co/gsfrrQMFlz pic.twitter.com/Ov4pvYFPpV

— Junko Mizuno (@Junko_Mizuno) 2021年8月4日 
Close-up photos of my Rice Energy Balls painting. If you are at @LAArtShow this weekend, stop by Sally Centigrade Gallery booth (#1116) to see it in person!

If you have any questions, contact Sally Centigrade Gallery directly at: sallycentigrade@gmail.com pic.twitter.com/K2oWacF8By

— Junko Mizuno (@Junko_Mizuno) 2021年7月31日
"PHS of Astel Tokyo, which is familiar in commercials of our Maezono".
This is it. I don't remember seeing it. Probably not broadcast in Kansai.
"Me and dreads".
Visionaire No. 20 Comme des Garcons collaboration
Special feature "What is making a big break in New York now". First of all, the fashion visual magazine, Visionaire, which was very popular at that time, was introduced. "I think many people know that the Louis Vuitton issue is already out of stock, and rumor has it that it has a premiere of 400,000 yen. It's about 40 times the regular price." was.
This is it. Now it's dead stock for 148,000 yen.
And the latest issue at that time was Comme des Garcons. The cover is a gingham plaid that was symbolically used in the "Body Meets Dress, Dress Meets Body" of the Spring / Summer 1997 collection, which is a collection that has been handed down by Comme des Garcons along with "The Impact of Black".
https://www.pinterest.jp/pin/805088870862972797/
Later, when I was a fashion student, I read this visionaire at the library of the Kobe Fashion Museum. I don't remember much about the content, but I don't think it was something like "It's insanely amazing!" Well, if it was amazing, you would remember the contents. In terms of impact, I think the Martin Margiela special issue of Studio Voice, which I introduced earlier in this blog, was stronger.
Garcon's Visionaire can still be found at brand second-hand clothing stores. It is currently on sale for just under 100,000 yen.
"The street epidemic begins with Lafayette."
This is Supreme. "A skateboard shop run by James, the street maker who owns Union and Stussy. This area started from this shop." About 10 years ago, when I went to New York on a business trip to a fashion planning company I was working for at that time, it was very impressive that there was a large line.
Mars Attack. Figures were also popular in Japan.
"What's the secret of the NY rock scene?" Luscious Jackson and John Spencer Bruce Explosion.
Nike Town NY.
Reader gift.
I miss Air Penny.
This predecessor model of the Air Max Triax is my first Air Max. It was a pair that was just the first step to becoming a sneaker lover.
これが出たら問答無用で買いますけどね。生まれて初めてのエアマックス。三宮センター街の靴屋で微妙なプレ値で買ったトライアックスエクストラ。 pic.twitter.com/B94lFPG2dD

— 山田耕史 書籍「結局、男の服は普通がいい」(KADOKAWA)発売中! (@yamada0221) 2019年10月25日
"Cool playground for New Yorkers, latest information!". It would be great if you could find out about the real New Yorker clothes of the time in these articles, but unfortunately all of them are "dressed" on the tie-up page. The model is probably wearing it.
E.G. Smith, synonymous with loose socks. "I've been a sock maker since my grandfather's generation."
ARTNATURE tie-up page.
"Latest video information". Jean Reno.
Right page, Relax magazine advertisement. The magazine has a strong cultural image, but it looks like a pretty solid street fashion magazine.
Is this Andre Agassi model tennis shoe, Air flare? I saw pitch black for the first time.
Interview with Toshinobu Kubota.
It was just around the time when LA  LA  LA LOVE SONG became a hit.
Whole body Helmut Lang.
"Interesting information".
Adidas sneakers. Perhaps it's a model about five years ago. When I was a junior high school student, I wore tennis shoes with a similar design in club activities.
Porsche Boxster.
Mac powerbook. It's thick as expected.
"The authority of beauty talks about sunburn!"
Interview with DJ Kan Takagi.
Among the G-SHOCK that was very popular at that time, the "Irkuji model" had a particularly high premiere.
Gucci bit loafers are also square toe
On the left page, "Fashion Daimaou" serialized by stylist Tomoki Sukezane.
Hairstyle like a tropical country.
So, the Gucci bit loafers introduced here are also square toes. By the way, the prices are all in the high 50,000 yen range. It's considerably cheaper than it is now.
The price is a little different depending on the model, but now it's about 120,000 yen. It is more than doubled.
Donbei's advertisement is Ninety Nine. Odaiba, Fuji TV, Mecha-Ike, Ninety-nine.
Back cover. Alba's watch and spoon. It was a popular model at that time along with G-SHOCK and Databank.