Introducing this time is the March 2004 issue of Men's Non-no.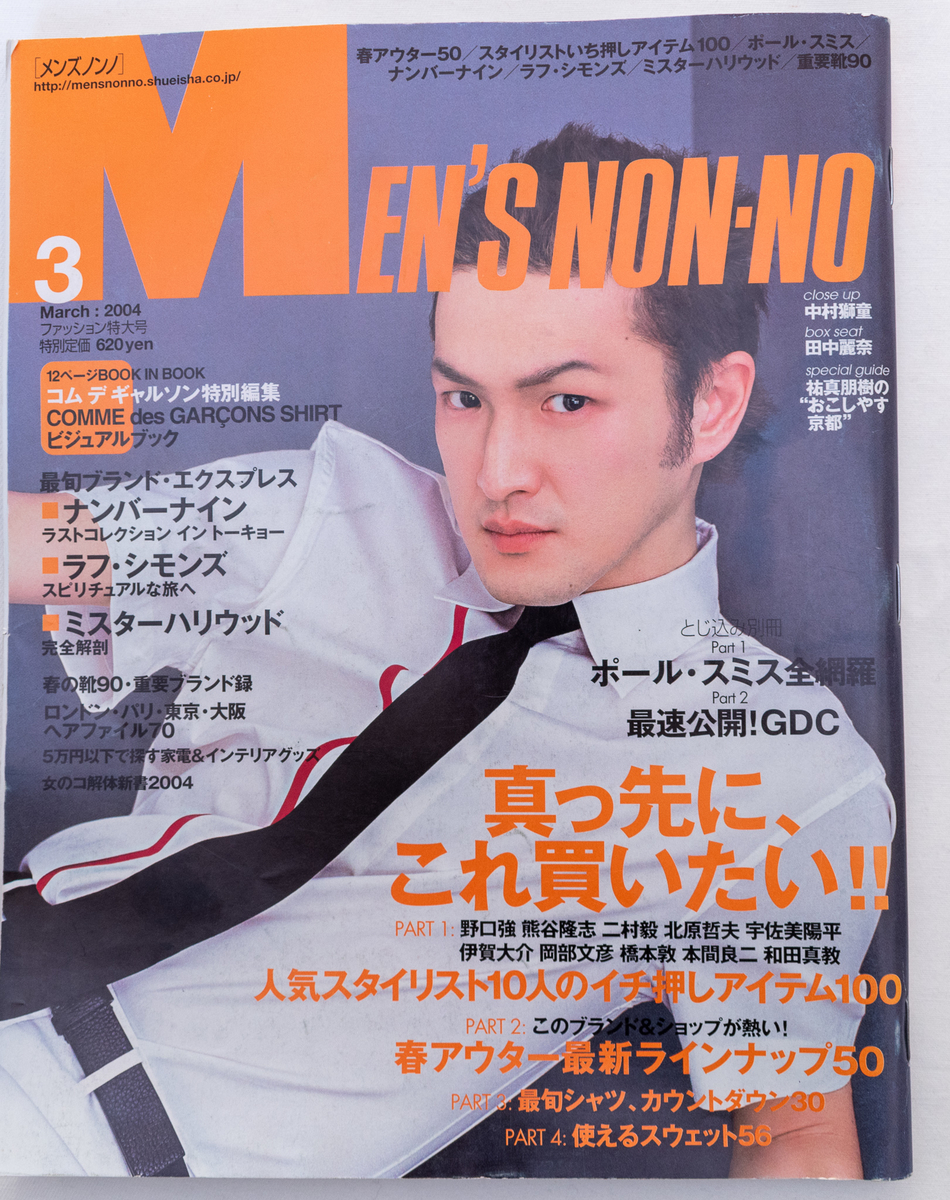 Before we get into the magazine, let's take a look at what kind of year 2004 was.
international
・ Mark Zuckerberg opens Facebook
・ Athens Olympics start
・ Seattle Mariners Ichiro breaks 257 hits, the most hits of the season for the first time in 84 years
・ Sumatra Earthquake
Japanese economy
・ From the latter half of 2003 to the beginning of 2004, as overseas economies recover rapidly, the momentum of economic recovery will increase, supported byA special feature that is very exciting personally. "Comme des Garcons special edition Comme des Garcons shirt visual book". As a Garcon lover, "Comme des Garcons special editing" is a very nice point. relatively high investment and consumption growth.
・ While there are some risk factors in economic trends such as overseas economies, crude oil price trends, and adjustments to information-related goods, there is also the strength of the economy that is different from the economic recovery seen in the 1990s.
・ As the Bank of Japan continues its quantitative easing policy, interest rate trends are generally stable.
・ The degree of deflation gradually gradually increases as the economy recovers.
・ Employment insecurity decreases due to lower unemployment rate Consumption gradually increases as the employment environment continues to improve
・ Households are increasing consumption centered on durable goods consumption, which is sensitive to changes in mindset, and housing is also increasing recently.
Domestic
・ "Winter Sonata" boom
・ Winny developer arrested by Kyoto Prefectural Police
・ Niigata Chuetsu Earthquake
・ Tohoku Rakuten Golden Eagles is a newcomer to the Pacific League
・ "Nintendo DS" released in Japan
・ Officially confirmed bird flu infection in Japan
・ "Don't say ... sorry !! ○○ slash!" (Yoku Hata)
・ "Ghost in the Shell S.A.C. 2nd GIG" started broadcasting (I personally like it very much)
Top 5 hits
1st place Ken Hirai: "Hitomi wo Tojite"
2nd place Mr.Children: "Sign"
3rd place Ayaka Hirahara: "Jupiter"
4th place ORANGE RANGE: "flower"
5th place Mr.Children: "Palm / Kurumi"
movie
Kamikaze Girls
Avoid love in the center of the world
Innocence
Steamboy
Now, let's get back to the magazine. The cover is Mr. Shido Nakamura.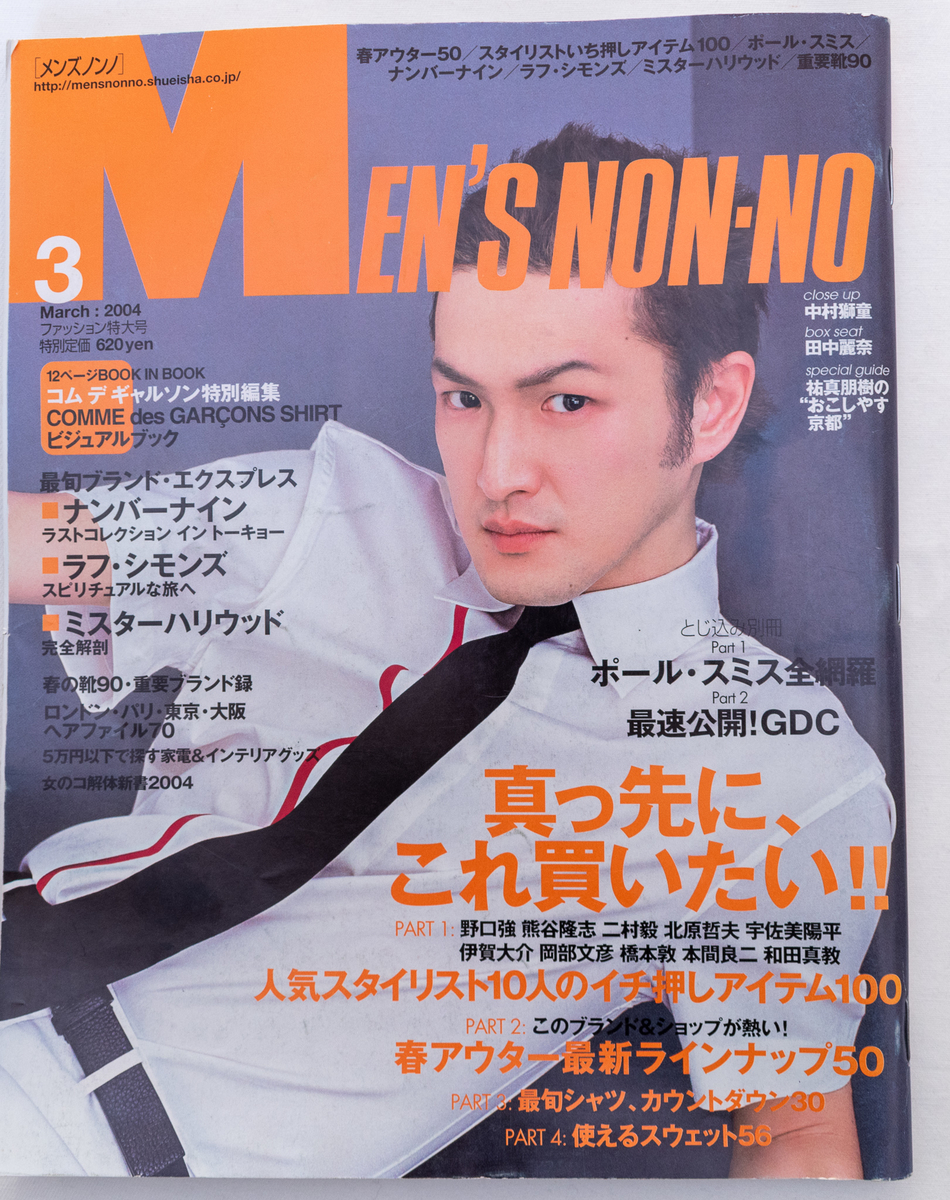 Toyota's advertisement that emphasizes safety.
Calvin Klein ads.
The perfect Dior Homme visual
Dior Homme Advertising. Dior Homme, whose creative director was Hedi Slimane, was overwhelmingly popular at the time. Hedi Slimane must have worked on the direction of these visuals. An elegant atmosphere that is typical of the Maison brand Dior, with plenty of margins. Personally, I don't like it, but I think it's a very complete visual even now.
Is the lapel snake leather? A tailored jacket that is slender and has an extra-fine armhole.
Damaged coated skinny jeans.
A brand called French Connection. There is a masterpiece movie of the same name, but this is a British brand.
Burberry Black Label, a Burberry licensed brand by Sanyo Shokai. I think it was the heyday of popularity at that time.
The brand value of the prestigious long-established store called Burberry and the atmosphere of the popular mode rock type represented by Dior Homme while being based on British Trad were moderately incorporated, and it was especially popular among Marui type.
table of contents.
Jil Sander was worn on the cover. The styling is Tomoki Sukezane.
Left page, serialized stylist communication. Takashi Kumagai. About his hobbies such as surfing and photography, which is also his work.
The rock spirit that overflows with Number Nine
The special feature at the beginning is "Number Nine, Last Collection in Tokyo".
"Overflowing rock spirit. Enlightening clothes" ... These copies are very timely. "Last Collection in Tokyo" means "From next season, they will finally move the place of presentation to Paris and send it to the world in earnest." The styling is Tsuyoshi Noguchi.
A tailored jacket with cut-off sleeves. Loose black tie for a long-length shirt with a voluminous collar. Hair is regent style.
Black skinny jeans, leather shoes like George Cox's rubber sole at your feet. It's a different atmosphere from Hedi Slimane's Dior Homme, but it's also the true value of mode rock.
The left page is a long jacket with a different animal pattern. From the current perspective of 2021, it looks like a rock band stage costume, but at that time this was the most advanced mode.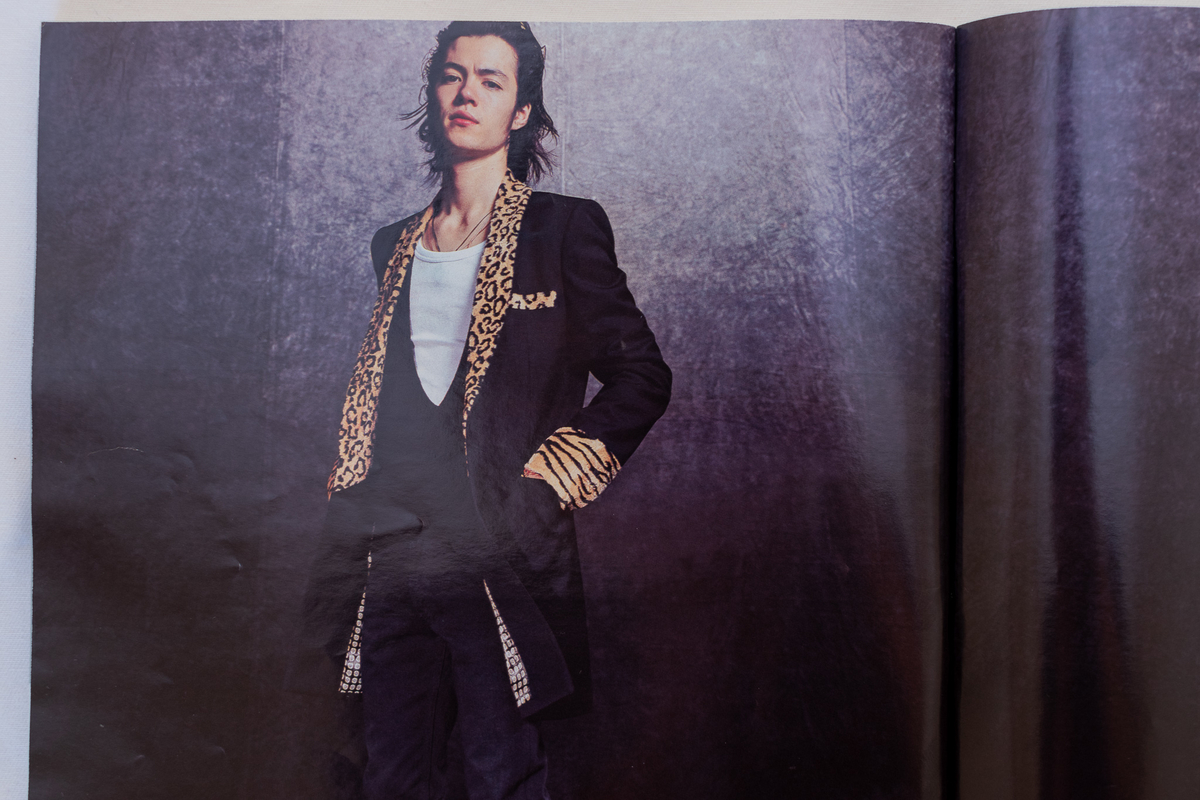 A lot of very assertive clothes.
A blouson with a map pattern that sometimes seen in old clothes. The original is a multi-colored pop design, but Number Nine prints a map of London in monotone for a rock taste.
Broken knit, one of the items that symbolizes punk.
Leather bangle with strong decoration on the arm.
This area has a relatively calm design that can be worn as daily wear.
However, the single riders jacket, which looks simple at first glance, is full of zips.
A very clear and strong view of the world has been set out. That is why Number Nine at that time was overwhelmingly popular, and now it has a large number of fans overseas.
Skull design is in the middle of fashion
A lineup of casual wear such as T-shirts and sweatshirts.
Skull design stands out after all. Skull may be the most distant design from fashion in the current sense, but at that time it was in the middle of fashion.
This is a bandana, not a mask.
Super high-top Converse All-Star style sneakers. Of course, it would have been quite difficult to put on and take off, but at that time, I feel that coolness was overwhelmingly more important than convenience.
"Sleeveless shirt that can be worn with just one piece". Nowadays, I think it's rare to see men's sleeveless outside the sports scene. However, at that time, sleeveless men's fashion was more popular than it is now. Nonetheless, not everyone wore sleeveless, only some fashion lovers, but he shouldn't have felt more uncomfortable with sleeveless men.
Raf Simons with a spiritual atmosphere
Like Number Nine, the special feature of Raf Simons, a designer representing the 2000s, continues.
Raf Simmons is a brand with a strong impression of dark tones based on black, but in the Spring / Summer 2004 collection introduced in this issue, it is described as "a light and gentle pastel color that invites the soul to utopia". Mainly soft colors
However, Raf Simons-like designs such as monotone follow prints, rock-taste fonts, and sleeveless tops continue to be used.
Skull design that was often used in the previous Number Nine.
However, Raf Simons is stitched and hand-painted to create an atmosphere that feels warm even though it is a skull that is a symbol of death.
The necklace made of natural stones and materials attached to the bare skin is said to be an "accessory that symbolizes the four major elements of earth, water, fire, and nature."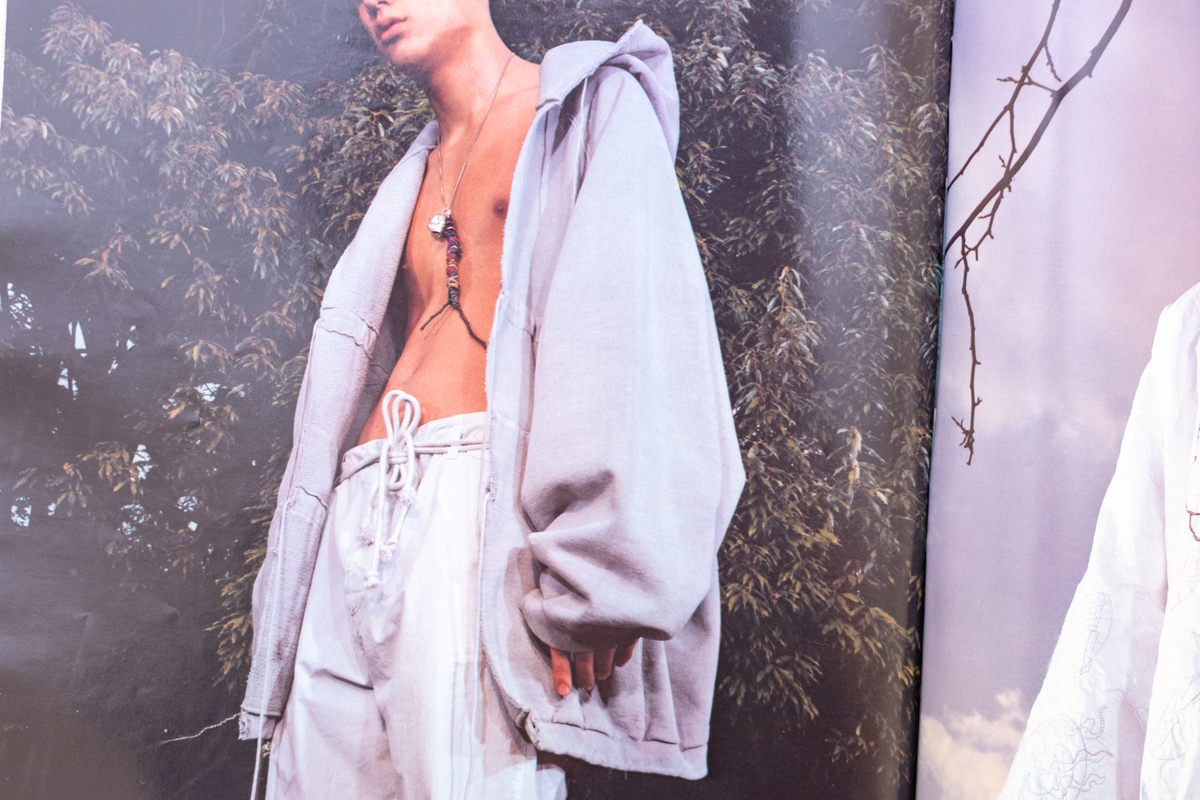 At that time, in 2004, the TV program "Zubari Iuwayo" starring Kazuko Hosoki, a fortune teller, became a hit in Japan. In 2005, Hiroyuki Ehara and Akihiro Miwa's "Aura no Izumi" was a hit, and it was in the midst of a spiritual boom.
Somewhere, the look of this page doesn't look like a religionist.
There is also the phrase "shirt with embroidered spiritual pattern", which suggests that spirituality was an era keyword.
In the center cut-and-sew, words such as "ALPHA", "MIND", and "THEORY" that make you feel spiritual are lined up.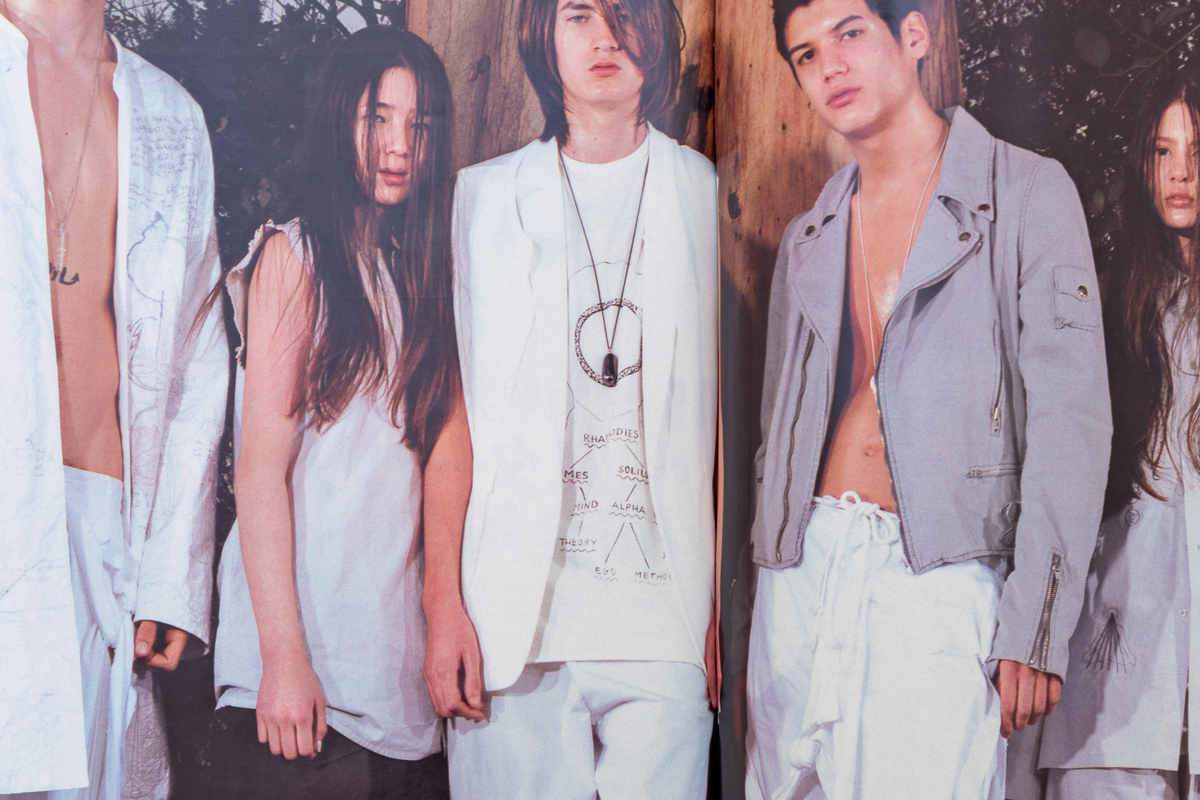 The fact that everyone is barefoot in front of a large tree has a spiritual atmosphere.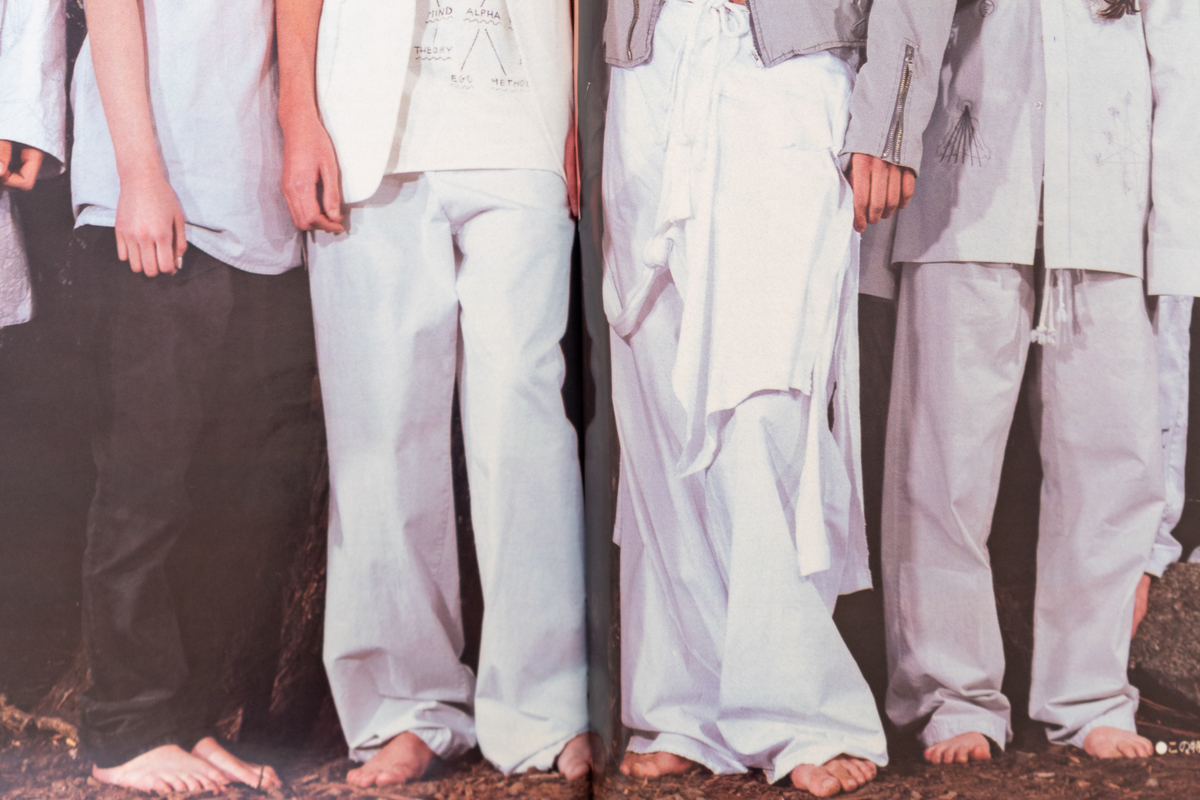 Raf Simons is a designer who is so sensitive to the times that he seems to have predicted the terrorist attacks on the United States.
This collection with a strong spiritual atmosphere announced by Raf Simons and the Japanese spiritual boom may have something in common in terms of the atmosphere of the times and the things people want.
Mr. Hollywood with a strong American casual taste
Following Number Nine and Raf Simons, the opening feature is Mr. Hollywood.
"The essence of delicate and tough clothes learned from a huge amount of used clothing". Daisuke Obana, a designer, started Mr. Hollywood as a designer after working as a second-hand clothing store Voice and Go getter.
The current brand name is "N.HOOLYWOOD". "MISTER HOLLYWOOD" is used as a store name and company name.
The brand is based on American used clothing, so naturally the taste is American casual. And from the current sense, the silhouette is quite compact.
And a neutral and soft impression. Like Raf Simons, fashion may have been required to be kind in 2004.And a neutral and soft impression. Like Raf Simons, fashion may have been required to be kind in 2004.
Although black is conspicuous, the clear colors that are typical of American casual are not used, and the main focus is on soft shades such as slightly dull green.
After all it is a fairly compact silhouette.
A long-sleeved T-shirt with a very deep neckline.
By the way, the recent atmosphere is like this. Compared to 2004, the percentage of fastball American casual tastes is now much lower.
 

 

View this post on Instagram

 
 

 

View this post on Instagram

 
The suit of Mr. Hollywood that Karl Lagerfeld once wore. This model has a zip that makes it removable.
The slacks on the right have a deep rise and a silhouette like Saruel pants.
Dior Homme & Number Nine is a stylist's favorite
The next special feature is "10 popular stylists' 100 keep and push items".
At that time, the attention to stylists was much higher than it is now.
The top batter is Tsuyoshi Noguchi. "Failure to shop is common. It's not expensive if you think of it as a tuition fee."
The items listed are all black-based rock images that are typical of Mr. Tsuyoshi Noguchi. Personally, Dior Homme and Number Nine are brands that have a very strong impression of Mr. Tsuyoshi Noguchi.
Next, Takashi Kumagai said, "I want to propose a preppy that suits the times," so in addition to the Wise striped suit, Bedwin, Bal ,Wiz, Core Fighter, and other popular brands from Tokyo at the time were introduced. Select.
Takeshi Nimura, who has been deeply involved in Mr. Hollywood, has been in charge of styling the collection for many years.
He has selected a variety of brands, but the overall atmosphere still seems to have something in common with Mr. Hollywood.
The unchanging rock soul
Personally, I was very shocked by Mr. Tetsuo Kitahara.
Damaged denim jacket with Dior Homme's super skinny silhouette and flared leather pants. Rugged belt, wallet chain. Voluminous boots. "The theme is luxury casual" and "not influenced by trends".
Looking now, it has a rock taste with a strong flavor. The slender silhouette, which is strongly influenced by Dior Homme, has the atmosphere of 2000s mode rock. At that time, there were many brands that had this kind of taste, and it would be hard for young people to imagine that clothing with this kind of atmosphere was the most advanced fashion fashion. Long knit caps were also popular. I still see people wearing it once in a while.
Looking at what it looks like about 20 years later, it seems that he still likes rock taste. After all, the fashion you like is the same as you get older.
 

 

View this post on Instagram

 
 

 

View this post on Instagram

 
Roen's pointed toe leather shoes and Mastermind's Sukajan are all designed with strong individuality, but if you wear them and complete the styling of the whole body, the impact will be an order of magnitude.
Yohei Usami and Daisuke Iga.
It's been a few years since Daisuke Iga gained popularity for his rock style of wearing long flannel shirts and cardigans with skinny jeans and boots in. Punkish designs such as tartan checks and zips stand out.
Items selected by other stylists also stand out with complicated designs such as multicolor usage and switching designs.
The items selected by Ryoji Homma are mainly American casual and have a simple design. The styling of the person himself is so timeless that it can be said that it is the current one in 2021. A very connotative comment, "If there are too many new things, things that don't feel new may look fresh."
Masanori Wada's items are mainly fashion brands.
An asymmetrical hairstyle that prevailed in the 2000s.
The Raf Simons necklace is quite spiritual.
Over-designed outerwear
Following the stylist special feature, "Spring outerwear latest lineup".
Men's non-no mainly for mode brands. Raf Simons and D & G.
The look on the far left is Hussein Chalayan.
The inner look of the border pattern is Junya Watanabe.
Military outerwear.
There are many dull shades.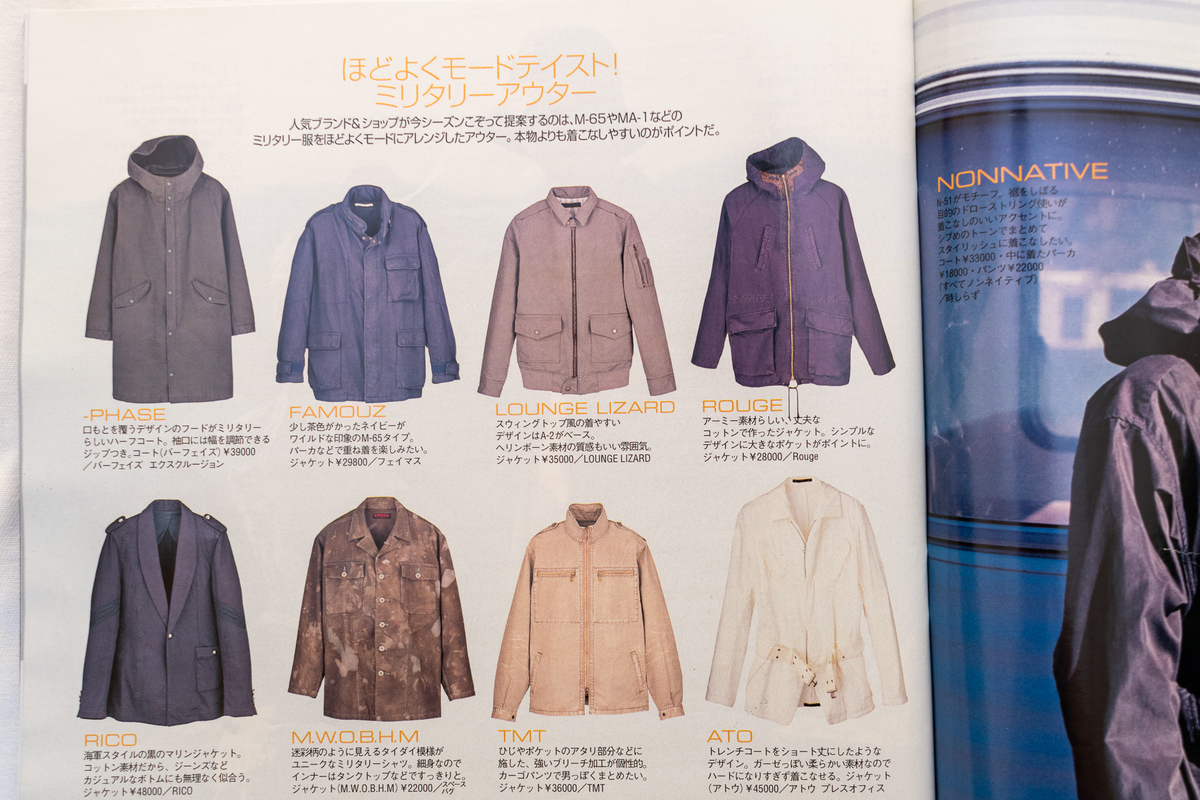 It seems that designs with stronger accompaniment, such as switching and arranging pockets, were the mainstream.
Denim outerwear.
This is also quite strong. Now in 2021, even though it is a designer brand, it is hard to see it, and it seems to be an excessive design.
Riders jacket.
こちらもかなりディテールが盛り盛り。
A wide variety of materials.
A shirt with a strong design claim
Next is "Seasonal shirt, countdown 30!". This is a shirt feature.
A western shirt that I haven't seen in a long time. A western shirt with a strong impression of being rugged. Tsumori Chisato is a cute arrangement with polka dots.
Knit hats and bandanas worn deep in the eyes. The pastel-colored shirts and the arrangement of these small items that seem to be bad are also refreshing to see now.
The color and the size of the pattern are also timely. After all, it seems that the claim is much stronger than it is now.
Is it about to revive? A little bad casual
"Usable sweatshirts, advanced selection". The design of the item itself is strongly asserted, but the styling makes it even stronger.
Large sunglasses like insects. Stronger beard and hairstyle claims.
The black look Y-3 on the left is a brand that can be said to be the forerunner of luxury streets.
Sweat pants.
Sukajan and sweat pants. This little bad casual style is the atmosphere that I sometimes see on holiday dads in their 40s, but I feel that it's about time to go around and feel the freshness. However, I think it's still a while before the revival.
The simple mode rock style around here seems to be connected to the later Marui kei.
Levi's advertisement. It looks like a line called N3BP.
A little Levi's red-like design.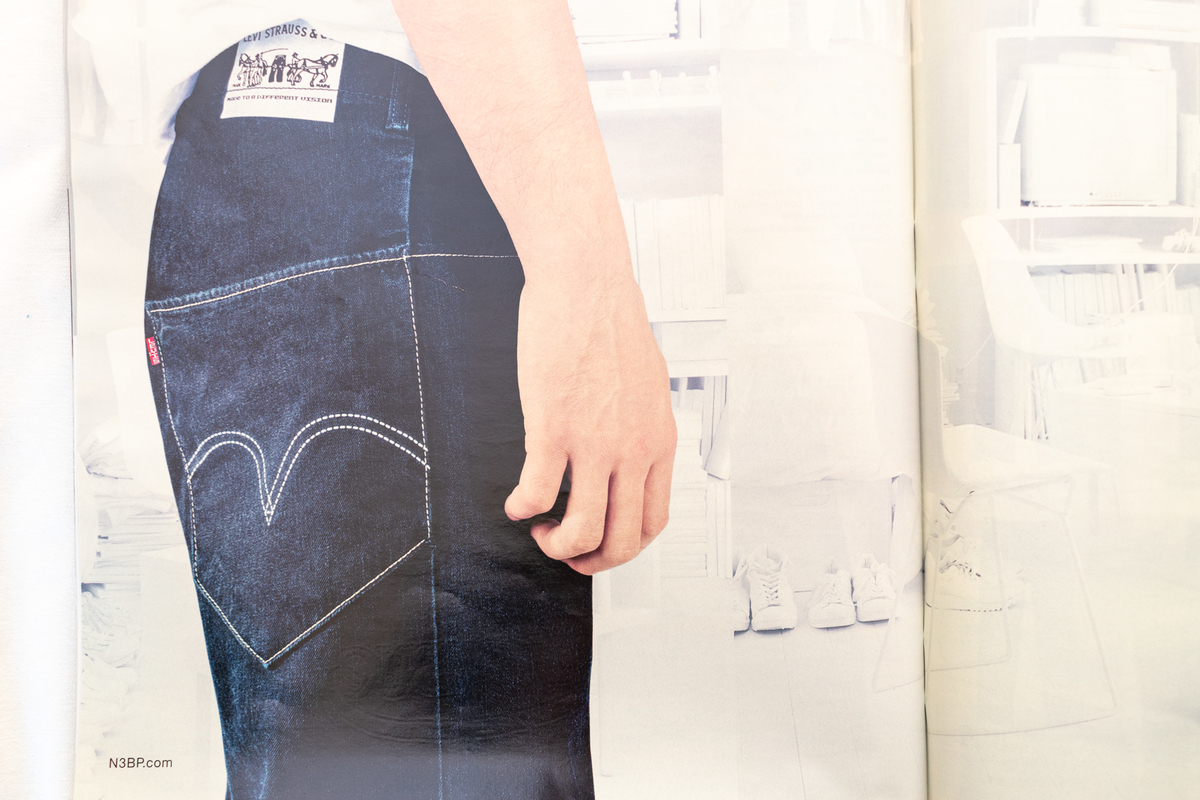 Hard design Cabane de Zucca
Cabane de Zucca. Issey Miyake's genealogy brand. The same is true for Tsumori Chisato.
The Issey Miyake brand is characterized by a more pop and cute design than the Comme des Garcons and Yohji Yamamoto brands. However, probably because Cabane de Zucca at the time of 2004 was strongly influenced by the times, we are proposing a design with a hard impression reminiscent of rock and bikers.
The hairstyle is also wolf hair and it feels wild.
There is also a 60s-like atmosphere.
Pants with a lot of key chains attached to a washed rider's jacket.
These pants are also amazing. The front zip extends to the thighs.
Quite excessive design.
The design around here seems to have influenced the later PPFM.
"Vivid debut! New Takeo Kikuchi".
"From Takeo Kikuchi to the new Taishi Nobukuni".
Taishi Nobukuni is currently active as a tailor, but his suit style seems to foresee the future. The balance of the slightly loose pants on the compact jacket is cool.
Collection report.
Tomoki Sukezane is also on the backstage.
Takeo Kikuchi and Taishi Nobukuni.
Abahouse's brand, 5351. As you can see from this visual, a fairly strong rock taste was popular, and it was a brand that could be called the leading Marui kei.
Now it's quite mild, probably reflecting the atmosphere of the times, but it seems that the manliness is still alive.
 

 

View this post on Instagram

 
"Fashion Clips".
Is it Bernhard Willhelm? I thought, but it was a diet butcher slim skin.
Recently, there was news that we are working on Bic Camera uniforms.
ダイエットブッチャースリムスキン!!

ビックカメラ渋谷東口店、販売員の制服刷新 ファッションデザイナーに依頼 https://t.co/WO2TqmBlEe

— 山田耕史 (@yamada0221) 2019年7月17日
Right page, Volkswagen advertisement.
This design is good.
sneakers.
Nike Air Force One and Dunk. Is it expensive now? Puma's racing shoes are pretty fresh when you look at them now.
Vans' classic sneaker, SK8, had a super high cut called HI-HI. Moreover, it is made of leather.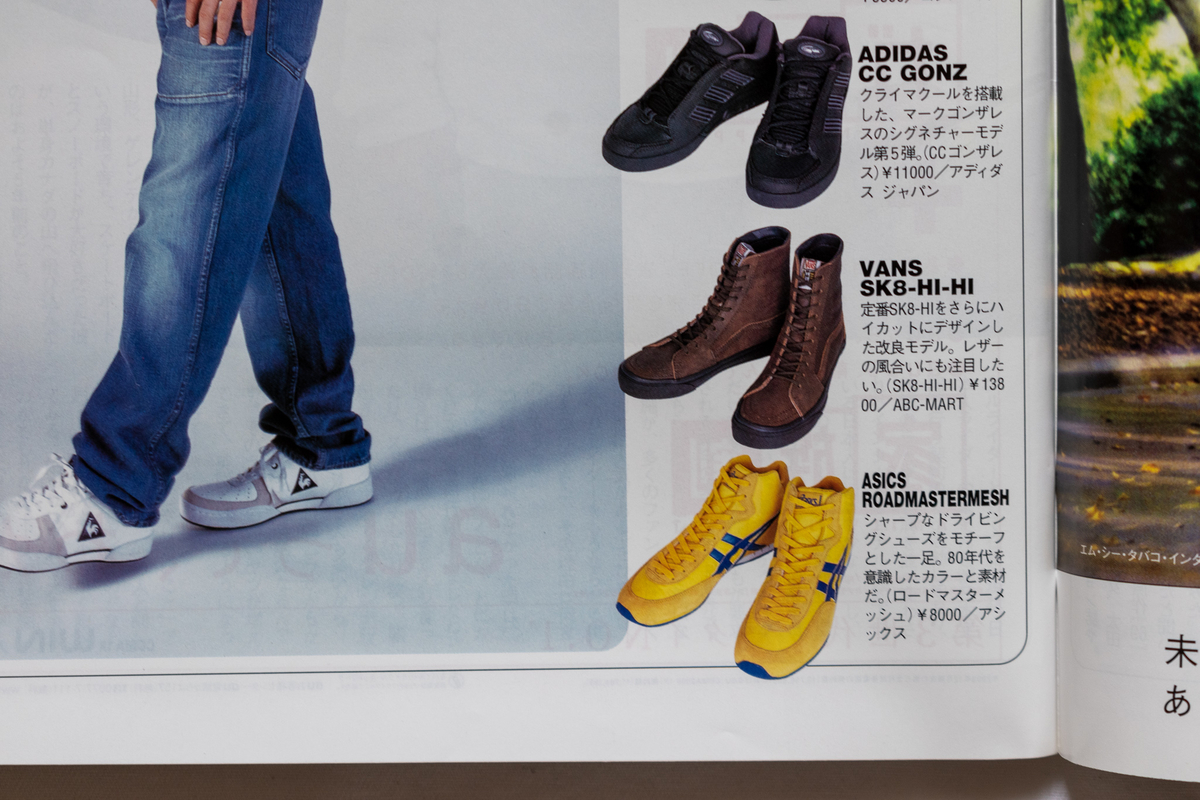 DVD & HDD recorder.
It would be interesting to summarize the genealogy of home appliance design.
The right page is an advertisement for Converse.
Culture.
Levi's tie-up page.
The boot-cut 517 is being picked up. It has been rumored that bootcuts and flared pants will revive for about two years, but at this point they have not reached a break. How about the future?
It seems that it was standard to wear a knit cap deeply.
NANA, the number one manga manga that girls love
The monochrome page is "Girl's Dismantling new book 2004".
Before that, United Arrows advertising. Madras plaid patchwork jacket with a preppy impression.
Joe Odagiri is the number one favorite male talent.
NANA is by far the number one favorite manga.
"Mobile phone" is "a must-have item for humankind now?"
Duke Saraie! At that time, he often appeared on TV.
It seems that he is still active in walking lessons.
 

 

View this post on Instagram

 
Punk rock course
"Learn the hot urge to revive now! Take the exam !? Punk rock course".
It seems that punk was reviving in 2004 because it was "the bands that caused punk revival", and "now that punk emotion has spread to other genres".
White Stripes,
Strokes,
The Libertines.
And the one that has been taken up the most is Good Charlotte. "A straight and positive message grabs the hearts of rock kids."
Number Nine presents a punk-themed collection.
Interview with Nobuhiko Kitamura, a designer of Hysteric Glamor.
"I'm not very interested in punk rock as a genre. There are many artists categorized there that I like. That's all."
"I like the style of dirty jeans, Converse all-stars, sloppy T-shirts, and long hair like Ramones (laughs)."
Punk history
The history of punk from the 1960s.
Iggy Pop, 
Patti Smith,
MC5,
Ramones,
Sex Pistols,
The Clash.
Other than that, the New York Dolls,
Brain police,
Damned,
The Jam,
Television,
GERMS,
www.youtube.comAnarchy.
The next page is from the 1980s onwards.
Red Hot Chili Peppers,
Beastie Boys,
Rage Against the Machine,
Green day.
Other than that, MINOR THREAT,
Bad Religion,
The Blue Hearts,
Nirvana,
Manic Street Preachers,
GOING STEADY.
D & G with a strong design
D & G. As it says "color stimulation, print impact", it is flashy.
This is also a deep bandana. It was popular. The coating process in the center and the pants that look like they are also time-honored.
Rugged belt. 60s atmosphere.
Or rather, this location is Izu Shaboten Park, isn't it?
Pants with elaborate details are also popular in the recent overseas Instagram market.
The blouson is also a very elaborate design.
"The latest AV mobile phone from Sony Ericsson".
Such a small button is nostalgic.
Frapbois.
Design that is easy to become obsolete, design that is hard to become obsolete
"Paul Smith Hit Item Book". Paul Smith, who has been exhibiting at the Paris Collection for many years, is a well-established designer brand, but for some reason it has an image like a representative of Marui kei, which is an interesting brand.
"The latest of Paul Smith knowing by 6 keywords", the first keyword is embroidery shirt. These feminine and decorative designs haven't received much attention for a long time, but the era of revival will come again.
Next is "monotone & stripe" and "flower print". I also had Paul Smith floral socks.
A look with a strong masculine impression. It strongly reflects the feeling of the times at that time.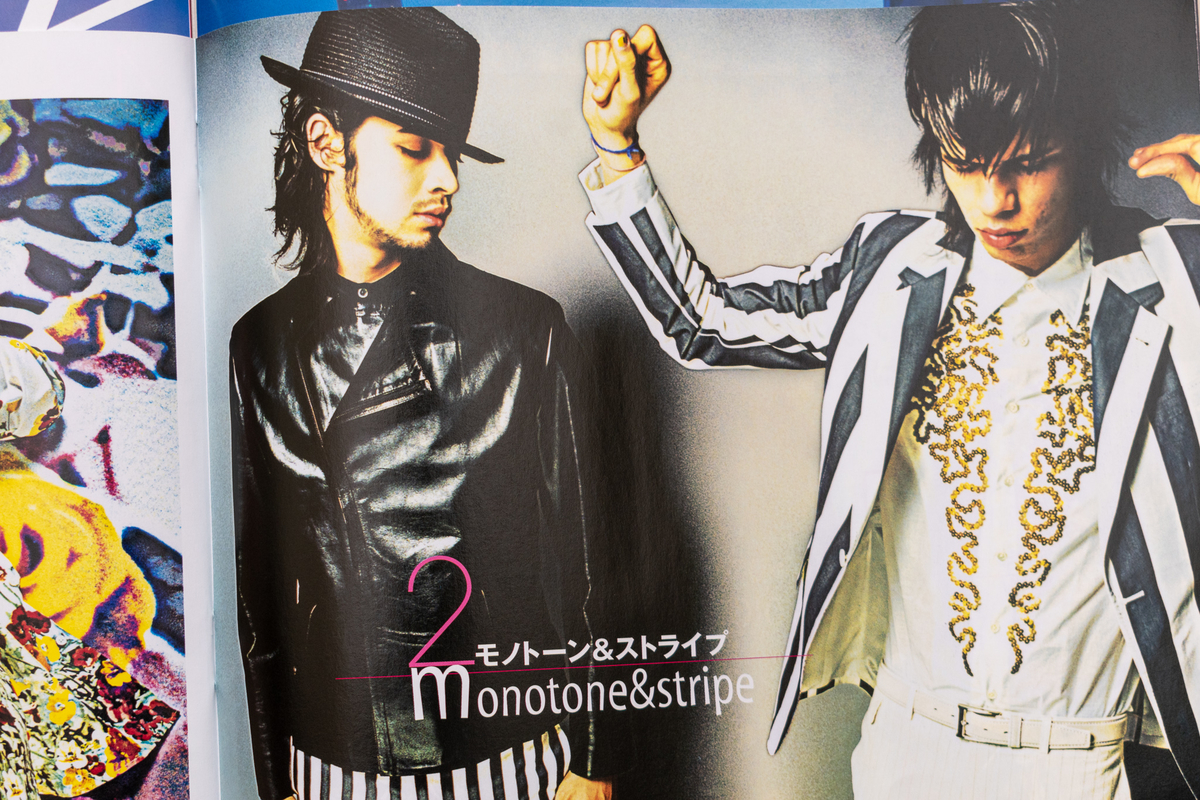 This shirt is nice. I don't see Paul Smith very often in thrift shops. Is it somewhere? Is it Mercari?
Baseball pants, swirl pattern.
V-neck knit on shirt makes me feel the times.
The collar of the shirt is large.
I thought it would be okay to wear a light blue cardigan and a purple striped T-shirt now, but when I turned my eyes to the lower body, the belt and pants were quite assertive. This kind of coordination has a strong atomospher of the times.
items.
The jacket has three buttons and is long.
Of the many designs, the one with the strongest atomospher of the times seems to be a cut-and-sew print. Is it easy to imitate print design, so it is easy to become obsolete? It looks pretty childish.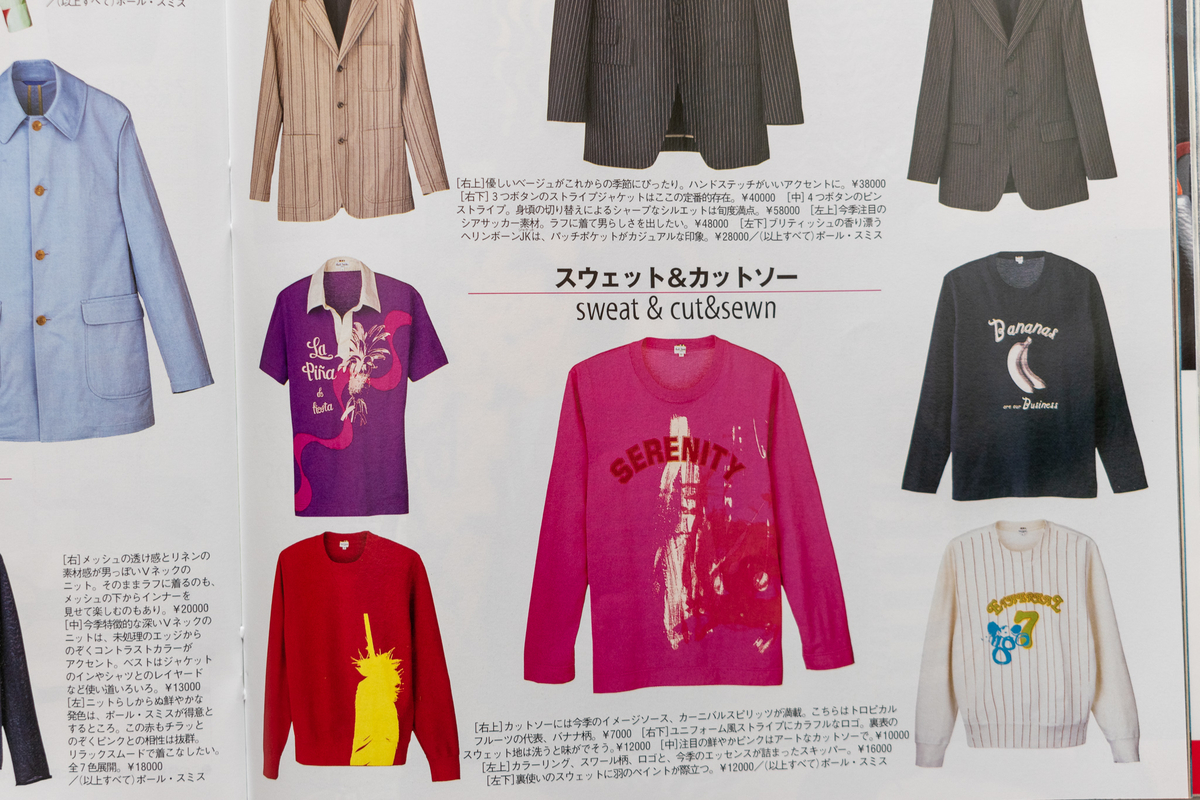 After all the impression that the pattern is Paul Smith.
Small items.
Wing tip sneakers. These decorative sneakers have become quite obsolete.
"Paul's socks with many hidden fans". I've never bought Paul Smith's clothes, but I wore a few socks.
The left page is an advertisement for Mitsubishi Motors. This design is also fresh.
Sanyo Shokai's licensed brand, EZ by Zenia Advertising.
Conceptual GDC
Following Paul Smith, the special feature of the separate volume is GDC. It is a brand launched by stylist Takashi Kumagai.
"This season is a movement that symbolizes the youth of London in the 50's and 70's," Teddy "and" Skins taste ".
At the beginning of the brand, the main focus was on print T-shirts and sweatshirts with a catchy design, and the brand had a simple street taste, but at this time it seems that the culture was a little higher.
It feels pretty British.
"The other line that first appeared this season is the" GDC icon ". Only black items are available."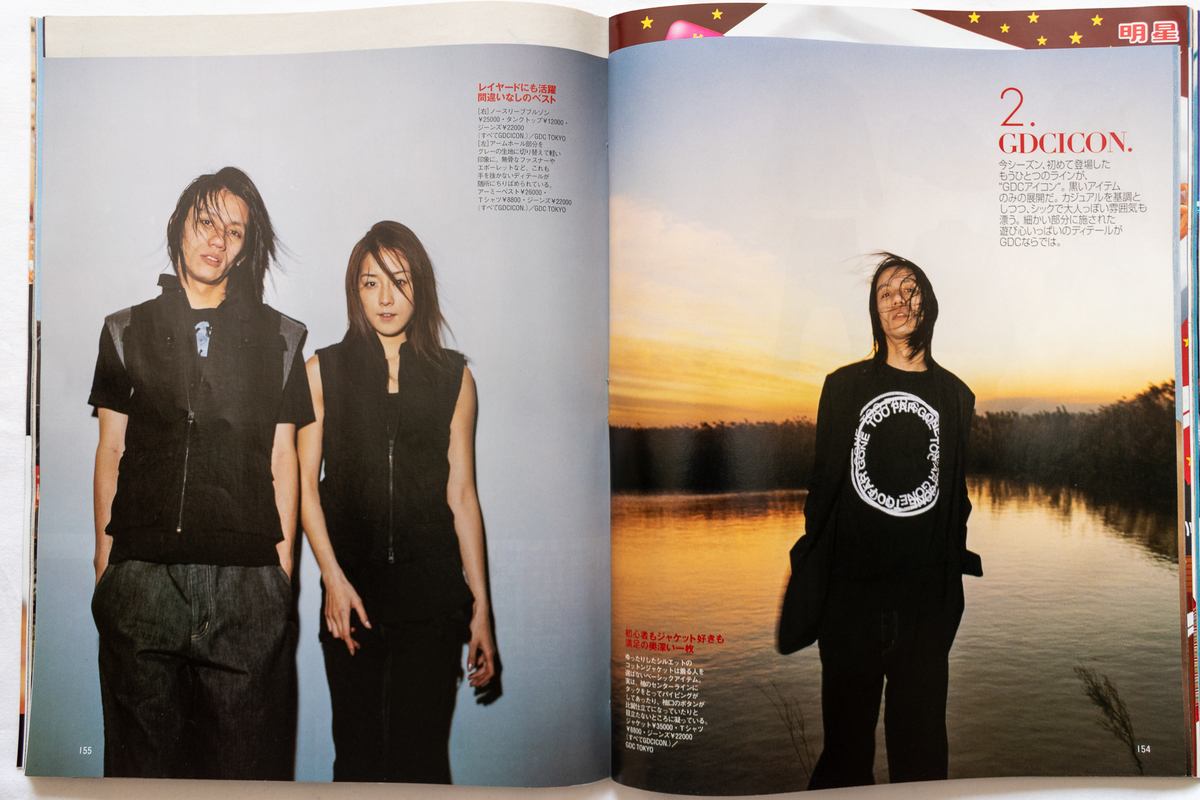 It seems that the prints with strong rock colors were the main ones, reflecting the trends at that time.
The origin of luxury street
"High casual style proposed by Isetan Shinjuku Men's Building". The top batter is Mastermind, a brand that is indispensable when talking about the 00s men's fashion scene.
Skull Sukajan which is a brand icon.
Mastermind still develops skull-designed items as it did at that time, so I personally like it.
 

 

View this post on Instagram

 
"Attention to sporty casual brands!" It can be said that this is the origin of the later luxury street.
In particular, I think Y-3 is the ancestral brand of Luxury Street. There were jeans with three Adidas lines.
The newspaper pattern of John Galliano also has a feeling of luxury street.
"Online select shop" FOOCA "opens".
"Fooca.com" is currently for sale for $ 6.
American rag cie tie-up page.
Shallow V-neck.
The sleeveless sweatshirt is also an item I haven't seen in a long time.
Like Paul Smith, the print design has the impression that it tends to become obsolete.
Sheer with a mesh. Black jeans bleached out in gray. The atmosphere of the times is strong here as well.
At that time, this kind of elegant rock taste was quite fresh, wasn't it? I also remember buying shirts at American rag cie.
Comme des Garcons Special Editing Visual Book
A special feature that is very exciting personally. "Comme des Garcons special edition Comme des Garcons shirt visual book". As a Garcon lover, "Comme des Garcons special editing" is a very nice point.
Moreover. I have this patchwork pants on the left side.
It's so flashy that my wife makes me look unpleasant when I wear it, so I haven't worn it recently. However, I'd like to wear it for the first time in a while next spring.
この春着たい服。10年ちょい前に買ったギャルソンシャツのパッチワークパンツ。ご覧の通りド派手過ぎるのでこちらも最近穿いていませんでしたが、先日ご紹介したGUのワークジャケットと合わせたらアラフォーの今でも着られそうな気がします。 pic.twitter.com/2CilBZmVYL

— 山田耕史 (@yamada0221) 2018年2月15日
Double name polo shirt with Fred Perry.
By the way, the name of the brand is Comme des Garcons shirts, but shirts are not the only items available. A full lineup of outerwear, pants, shoes, bags and more. The designer is Rei Kawakubo.
A unique pattern setup. It doesn't feel strange to say that this is the latest collection for Spring / Summer 2022. I think it has a timeless appeal. Earlier, Hirofumi Kurino pointed out that Comme des Garcons men never miss the basic point of men's clothing.
Layered polo shirts. The visual on the left page with ice layers is also cool.
It's nice to wear a crew neck white T-shirt under the polo shirt.
The hairstyles of the models do not feel old-fashioned. Not only the superficial clothing design, but also Rei Kawakubo's view of men may have the strength to gain timeless sympathy.
By the way, these patchwork pants are 49,500 yen. Comme des Garcons shirt items are basically made in France. Comme des Garcons shirts made in Japan were created for overseas customers because they are very expensive to buy overseas. So, if you buy a Comme des Garcons shirt in Japan, it's very expensive.
In 2004, I was studying abroad in Paris, and I bought these pants at a department store in Paris. Was it Printemps or Galeries Lafayette ... I don't remember how much I bought it, but I think it was about 20% cheaper than buying it in Japan.
There was also a beautiful face cake in 2004.
Isamu Noguchi special feature with solid content
The monochrome page features Isamu Noguchi, a master of sculpture.
Famous works, works that can be purchased, and chronological tables are fairly solid contents. I'm ashamed to say that I didn't know much about Isamu Noguchi, so I learned a lot.。
Musician interview.
British Sea Power of "Thom Yorke and David Bowie are highly acclaimed as fans".
Music, movies.
Kim Jones in his youth
Books, DVDs.
"London's most upcoming designer, Kim Jones".
"I didn't mean to graduate and go to the Big Maison," he said, but at that time he might not have thought he would be the creative director of a big Maison such as Dior. It is said that "PAW on the right arm" stands to the left of Kim Jones.
Columns and posts.
Horoscope.
Nakamura Shido Dior Homme
Nakamura Shido. The styling is Tomoki Sukezane.
Sleeveless tops, pants and accessories are all Dior Homme.
Is this page also Dior Homme? I thought, the jacket and pants were Marc Jacobs. The sneakers were Dior Homme and the sunglasses were Ray-Ban.
Rena Tanaka. This look is D & G.
Paul and Joe, Jill Stuart.
Tomoki Sukezane's "Welcome to  Kyoto"
"Stylist Tomoki Sukezane's" Welcome to Kyoto "". Tomoki Sukezane is from Kyoto. First of all, sightseeing spots such as temples and shrines.
Restaurants, etc.
Fast food and sweets.
Daiichi Asahi recently opened a store in Tokyo.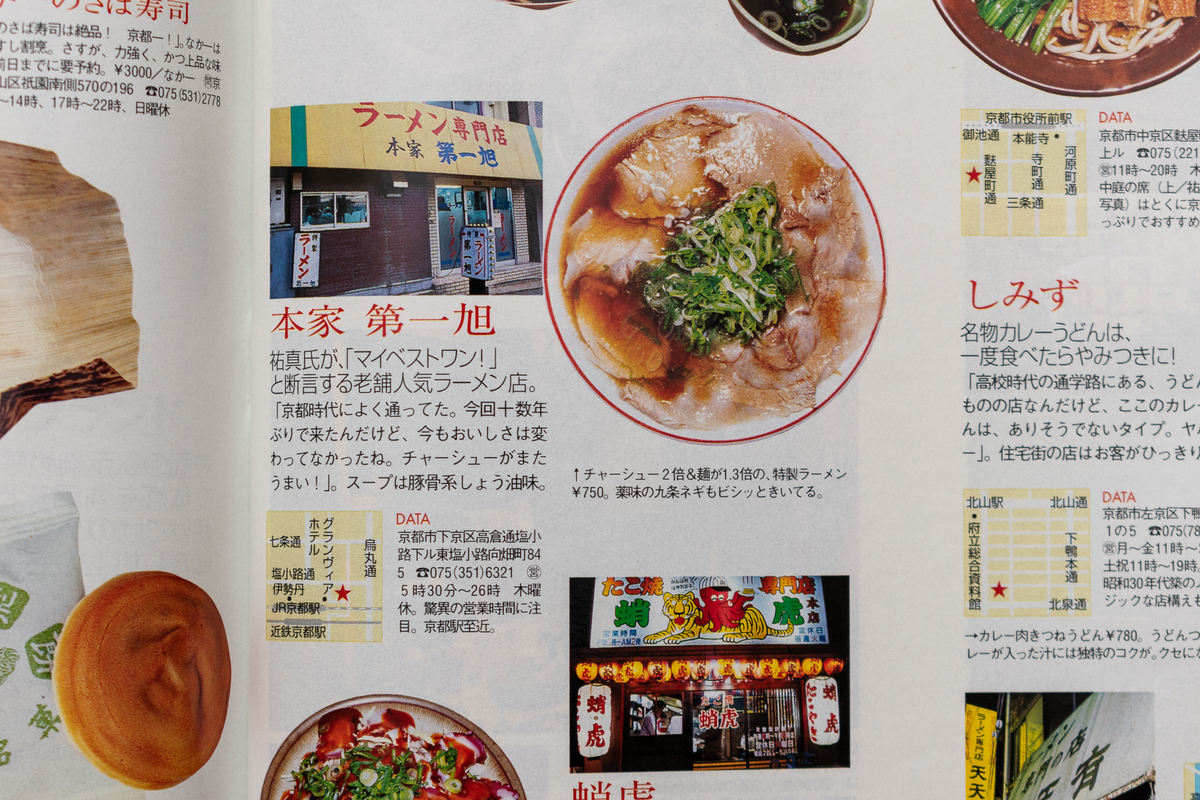 Next archive? Cosmic Wonder
"Spring shoe revolution, important brand record".
First of all, Mihara Yasuhiro started as a shoe brand.
And personally, Cosmic Wonder had no impression of shoes. What, silver metallic shoes. With such a strong personality, wouldn't it become popular as an archive? So far, it seems that Cosmic Wonder hasn't been "discovered" in the Instagram area I'm checking, but I think it's going to get a lot of attention in the near future.
Keywords. It seems that the design with a soft impression as a whole, such as "round" and "soft", was the mainstream.
Item catalog by type. First of all, "trad type".
Many models have medallions.
"Casual type".
"New century rock style Thee Hysteric XXX started!". "New line with strong rock color".
This line is still unfolding
Was it too early? Mizuno Creation
"Technology ☓ Good Design New Story Mizuno Creation, Future Development of Personal Sportswear".
"The main designer was Sebastian Buffet, who lives in Paris."
I think Mr. Taku Watanabe, who worked on ppCM for Mizuno Creation, was the designer ... This article also says so.
Anyway, the early 2000s was the dawn of collaboration between sports brands and fashion designers, such as the Y-3, which Adidas appointed Yohji Yamamoto. I think it's commendable that Mizuno was on the move early on. At that time, I used to set up a roadside store on Meiji-dori. I personally liked the brand because there were many interesting items unique to Mizuno, such as leather accessories used for baseball gloves, but as mentioned in the article above, it was suspended in 2012. It may have been a little too early.
"Latest Street Hair File 70". Isn't this a very valuable material?
"ロンドン、パリ、東京、大阪でチェック"。
It's my prejudice that Japanese people have a strong atmosphere of the times, but foreigners rarely feel it ...
Mohawk has become very popular since Beckham of the 2002 Japan-Korea World Cup. In 2004, it seems that it had become "a classic hairstyle that boasts an immovable position."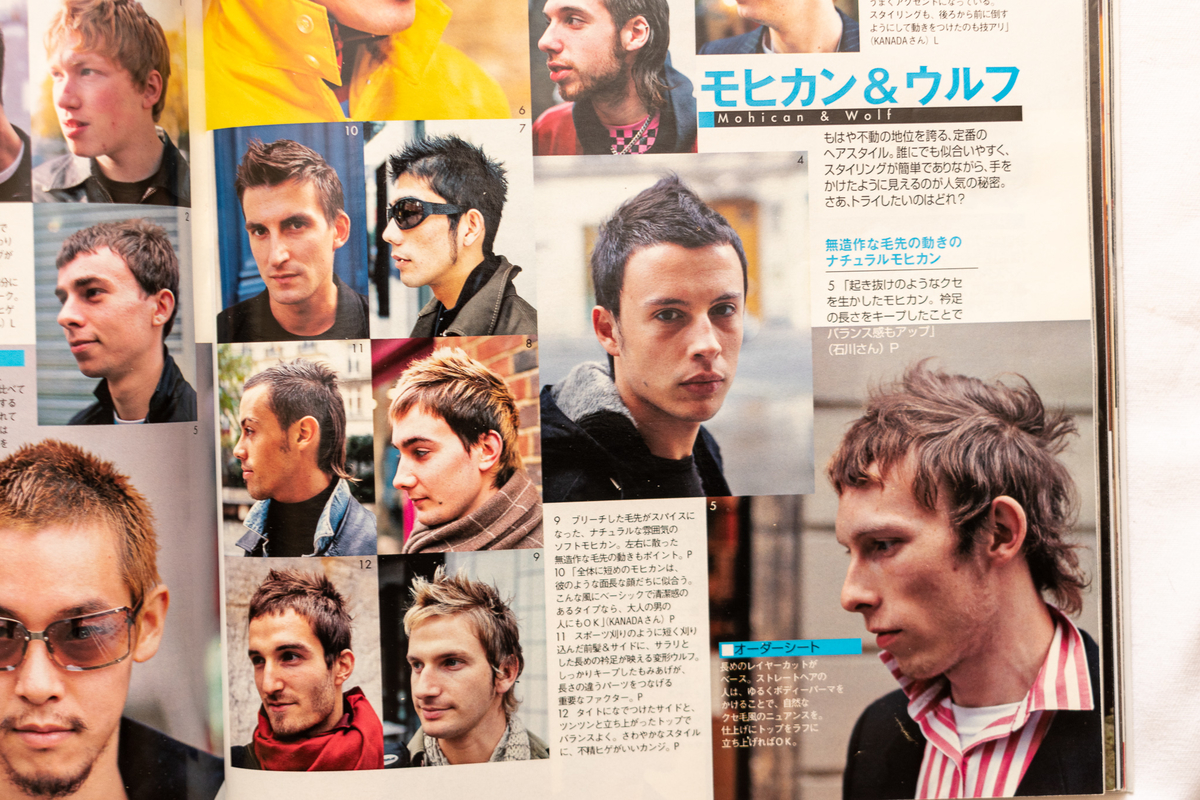 "Styled interior goods".
"Shibuya PARCO's seasonal outer selection".
Final Home, an artistic brand by Kosuke Tsumura. Archives are still popular.
Marui kei has a lot of ups and downs and changes in taste, but the tornado mart on the right is one of the few brands that continues to develop while maintaining the atmosphere of the time.
Also Marui kei, Custom culture. Apparel maker, Pazzo develops.
I thought I hadn't seen it for a long time, and when I looked it up, it seemed that the scale had shrunk considerably, but it was still being deployed.
 

 

View this post on Instagram

 
Paul Smith's licensed brand, Paul Smith Underwear. This is still being sold at department stores.
Below, the Marui kei  tie-up page continues.
Alfred Banister, a solitary world"
"Alfred Banister, a solitary world".
Alfred Banister, a shoe brand that represents Marui kei. The silver pointed toe, a design full of individuality that is perfect for the catch phrase "the solitary world".
This is also a very challenging design, such as a belt made of metallic material and transparent parts.
Marui kei, including PPFM, is currently gaining enthusiastic support from enthusiasts overseas.
Alfred Banister seems to be valuable as a next archive like Cosmic Wonder, but the problem is how many individuals at that time remain in the first place. 
Talking About The Abstraction
Jewelery advertising.
"Collaboration between pioneers of different genres, a car of interest, a brand of interest".
Volvo and Attachment.
Peugeot and Lad Musician.
New Beetle and nonnative.
Fairlady Z and Sasquatchfabrix.
Harrier and Julius, Grandis and Talking About the Abstraction.
Sharp eyes.
Talking About The Abstraction, a brand whose denim transfer print pants have been a hot topic. I also remember going to a roadside store on the back street of Aoyama for research at that time.
https://www.pinterest.jp/pin/48835977181921496/
By the way, I thought that I haven't seen it for a long time, and when I looked it up, the blog on the official website was not updated at the end of 2017, and the same is true for SNS, so the brand may not be active now. Hmm.
HF fascinated by AIBO
"Hiroshi Fujiwara's a little knowledge".
HF picked up Sony's AIBO this time.
"Since I was a kid, most heroes have been robots, and I feel that the toys I pick up have always been robots."
"I was fascinated by AIBO and arrived at this special feature this time."
At that time, HF seemed to be very attracted to AIBO. Does HF still own AIBO?
HF holding AIBO. It's a good photo.
"MY FAVORITE WEAR" is a Good Enough sweatshirt, ELT shirt, and VISVIM sneakers.
"GROOVE HUNTING" is Prince's AROUND THE WORLD IN THE DAY.
SOPH's designer, Hirofumi Kiyonaga's soccer series.
"Bali & Lombok surf trip".
Select shop rise and fall
New store.
Y's in Roppongi Hills.
Ciaopanic opened on Meiji-dori in Harajuku.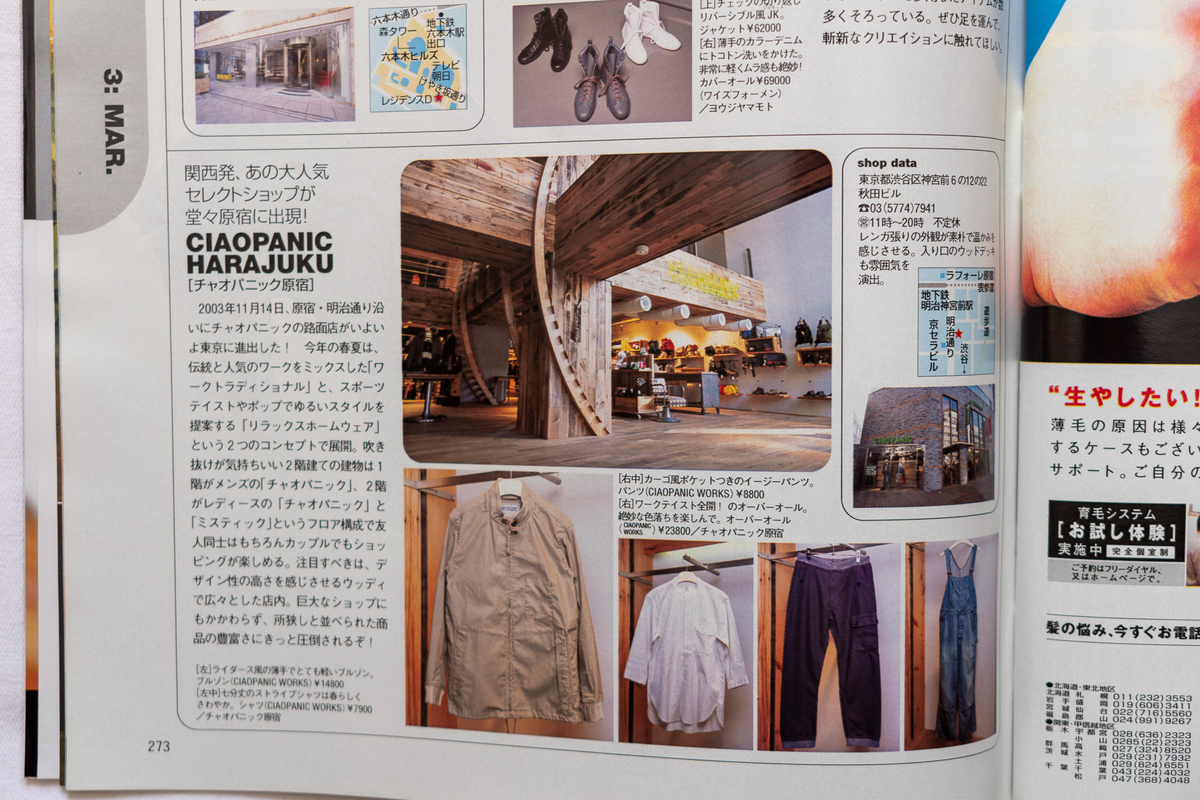 Not long ago, I was surprised to hear the news that this store will become a 300-yen uniform shop.
ここ、以前はチャオパニックの旗艦店があった場所ですよね…それが300円均一になるってのは時代の流れを象徴してる感ありますね。

破竹の「スリーコインズ」 原宿に初の旗艦店 - WWDJAPAN https://t.co/c1OyMfo6TK

— 山田耕史 (@yamada0221) 2021年10月22日
This trend is likely to continue in the future.
そういや2ヶ月前に半分冗談で「明治通りにくら寿司」って言ってましたが、まさか実現するとは。 https://t.co/SlEraNK8mr pic.twitter.com/O0epqpit6i

— 山田耕史 (@yamada0221) 2021年12月21日
Agnes B. shirt, Paul Smith's pen.
Mid00s street style with strong personality
Fashion snap. Kochi. Earth color atmosphere as a whole.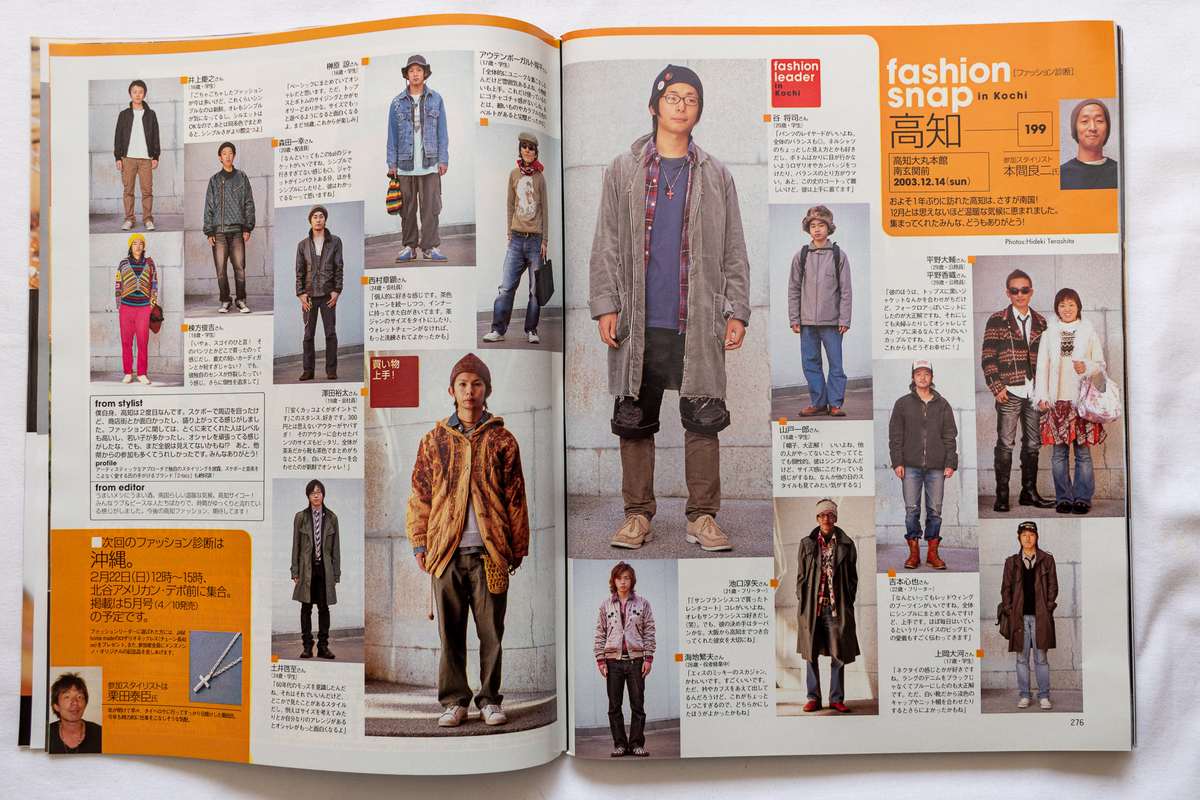 Layered shorts and long trousers.
Knit double riders and black narrow tie.
He in the lower right cap is a coordinate with a strong sense of mid00s. There is no mention of the brand other than "Helmut Lang denim", but I strongly feel the number nine atmosphere or the atmosphere of stylist Daisuke Iga.
I think that Daisuke Iga became popular a little later in my memory, but I don't have the materials to support it right now, so I definitely want to get the materials and clarify them. 
It seems that designs with strong acuity were generally popular, such as layered and small items with claims of patterns and materials.
Cosmetology advertisements will increase at the end of the magazine.
Comme des Garcons Parfum was a licensed brand
information.
Post pet. I also used it. How long have you been using it ... I don't remember at all.
WiLL. It was a brand jointly created by various manufacturers, and there were also automobiles.。
Comme des Garcons Parfum, the perfume line of Comme des Garcons. The contact information is Puig Japan, not Comme des Garcons.
Puig is a company that contracts with fashion brands, obtains licenses, and manufactures and sells fragrances.
When I looked it up, there was also a Comme des Garcons Parfum page on Pooch's site.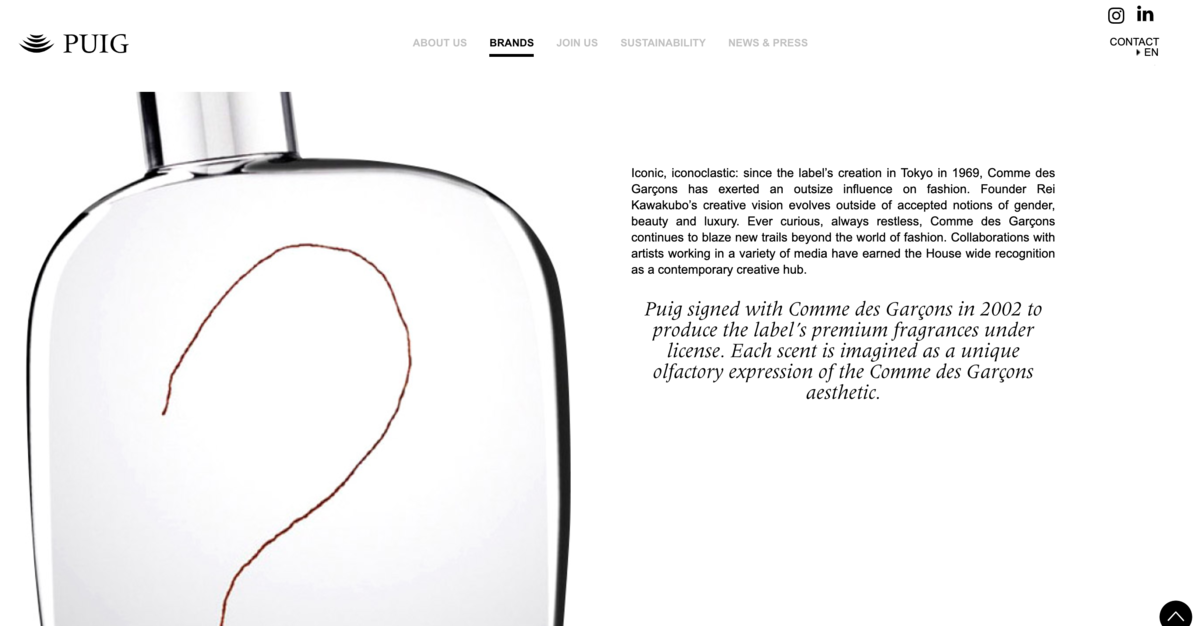 Presents, JINS ads.
Men's Non-no G, a high-end magazine that mainly published collection brands.
Notice of the next issue.
Marui kei brand, Men's Tenoras.
The back cover is Seiko. Tomoya Nagase.