This is the July 2001 issue of Men's Non-no.
What kind of year was 2001?
Before introducing the magazine, let's look back on what kind of year 2001 was.
Economy
The dot-com bubble, the so-called IT bubble, which started in the late 1990s, mainly in the United States, headed for collapse when the short-term interest rate was lowered by the Federal Reserve Board at the beginning of 2001, and the world economy slowed down in 2001.
After that, the terrorist attacks on the United States occurred on September 11, but the stock price of the United States recovered early due to the government's aggressive financial and fiscal policies.
The Japanese economy, which had been recovering since the beginning of 1999, crossed the peak of the economy in October 2000 and entered a recessionary phase.
Although the first Koizumi Cabinet, which was established with the aim of structural reform, decided on a so-called bold policy, the unemployment rate exceeded 5% and personal income remained sluggish throughout the year due to severe employment and income environment, and consumer prices. The downward trend continued, and the deflationary trend became stronger.
event
・ Inaugurated as US President George W. Bush.
・ Universal Studios Japan opens in Osaka
・ Sakura Bank and Sumitomo Bank merged to form Sumitomo Mitsui Banking Corporation
・ The first Koizumi Cabinet was established
・ Opening of Tokyo DisneySea
・ September 11 terrorist attacks in the United States
・ The first mad cow disease (BSE) infected cattle in Japan are discovered
・ Apple announces iPod
・ JR East launches Suica service
・ Ichiro is elected as the new king of the American League
・ The 1st M-1 Grand Prix will be broadcast on TV Asahi
Top 5 hits
At that time, I was a 21-year-old third-year college student. Looking at the lineup of this hit song, I strongly feel that it was a youth. I remember very well that I put "Naminori Johnny" in the MD that I played in the car going to the summer seminar camp.
1st place Hikaru Utada: "Can You Keep A Secret?"
2nd place Ayumi Hamasaki: "M"
3rd place CHEMISTRY: "PIECES OF A DREAM"
4th place Keisuke Kuwata: "Naminori Johnny"
5th place Morning Musume. : "Love Revolution 21"
Other hit songs
Miki Dozan: "Lifetime Respect"
B'z: "ultra soul"
Minimoni. : "Minimoni. Janken Pyon! / Spring, Summer, Autumn and Winter!"
ZONE: "secret base ~ what you gave me ~"
BUMP OF CHICKEN: "Astronomical Observation"
Top 5 Indie Hits
1st place Hi-STANDARD "Love Is A Battlefield"
2nd place 175R "From North Nine States"
3rd place Yamaarashi "WIDE VISION"
4th place SHAKALABBITS "Let's PARTY !!"
5th place POTSHOT "SMILE"
Top 5 hit movies
1st place Spirited Away
2nd place A.I.
3rd place Pearl Harbor
4th place Jurassic Park III
5th place Dynasaw
If you look at it now, it's a fresh shade of 00s.
Well, first of all, the cover page. Tadanobu Asano, one of the leading fashion leaders in the late 90's.
The back cover is an advertisement for Shiseido uno's bleach and bleach return. Masahiro Nakai.
TAG Heuer ads.
Seven Star Advertising.
Right page, Nissan X-Trail advertisement. It appeals to the good compatibility with outdoor sports such as surfing and MTB where you are concerned about getting wet and dirty.
Right page, Toshiba mobile phone advertisement. An email service with an image and music called "Paramelo!". By the way, I didn't know that there was such a service.
Special "Border & Stripe 2001". The T-shirt on the right page with a fresh border pattern in a thick and crisp color is from Caban de Zucca. The designer is Akira Onozuka. It is a brand of the Issey Miyake family, and although it was not very popular at that time, I have the impression that it has gained a certain amount of support. At the moment, I do not feel that it is being re-evaluated both in Japan and overseas, but it may be possible that it will be re-evaluated in the future.
Striped.
The wallet chain is number nine.
A Bathing Ape T-shirt.
The denim jacket and T-shirt on the right of the right page are from Freedom Leaf Cosmic Wonder Jeans, one of the Cosmic Wonder lines.
Cosmic Wonder is a Japanese designer brand that was popular at the time, especially jeans.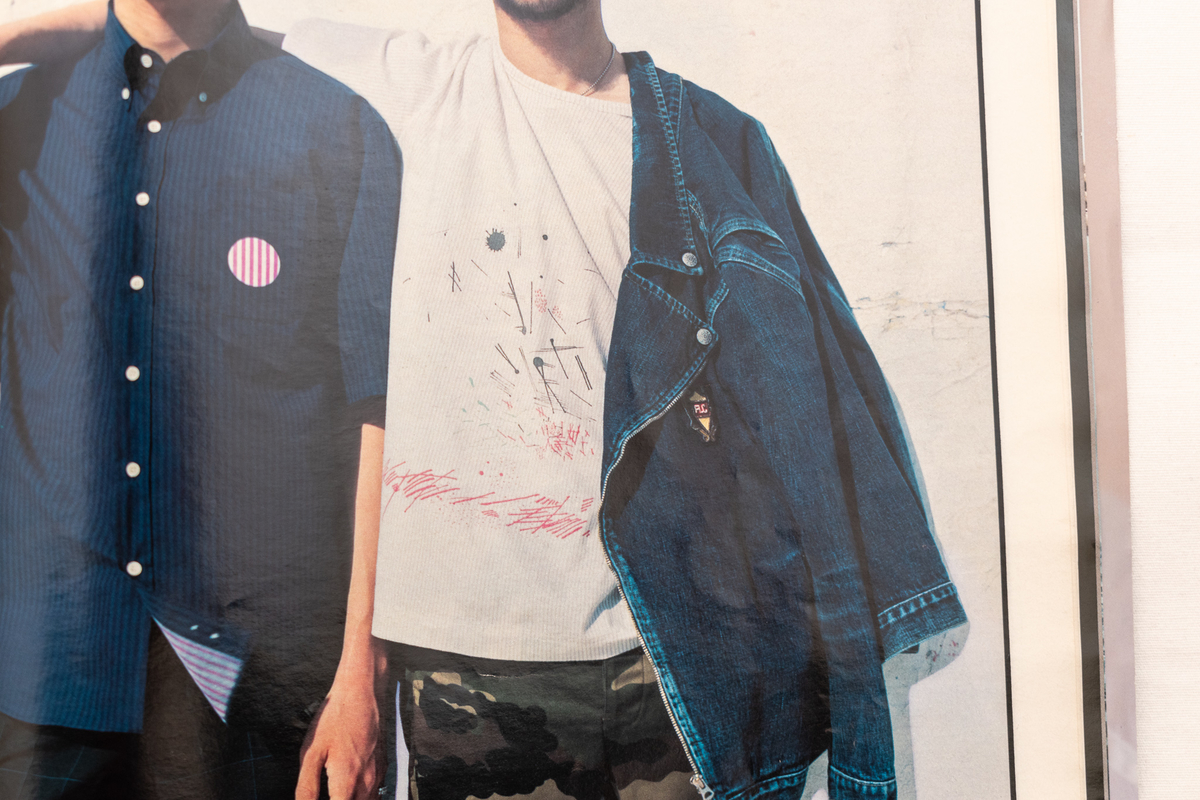 Speaking of which, I thought that I hadn't seen it for a long time, and when I looked it up, it seems that the brand is now quite Japanese. It seems that the production base is an old folk house in Kyoto.
N.HOOLYWOOD's three-quarter sleeve T-shirt with a fairly deep neckline and eye-catching flashy colors. The multi-colored striped pants are Paul Smith.
A collection of items with border and stripe patterns. After all, the color and pitch are quite fresh from the current sense.
Is it a little expensive? Cheap coordination
"Cheap & Peace! Mastering summer style" is a "fashion special feature". First of all, "Coordinating battle with tricks of 6 up-and-coming stylists from 12300 yen to 23500 yen". It's a special feature on super-discount coordination because it says, "It looks fashionable even if it's cheap, and I'd like to recommend this summer's style." ..
At that time, fast fashion brands were not major, and UNIQLO, which is a symbol of low-priced brands, made a break with the fleece boom, but at that time it was still far from fashionable.
So, most of the low-priced items used in this special feature are used clothing and military items. At that time, there were only so many clothes that were cheap and fashionable.
Men's sleeveless
"Cool & stylish sleeveless capture manual".
In 2021, I don't think I see many sleeveless men in the city. As you'll see on the Street Snap page later in this issue, men's sleeveless wasn't as rare as it is now.
However, it was not widespread and common. At that time, I was just sleeveless and never went out.
Will the era of men's sleeveless reinstatement come in the future?
The latest version of Sports Mix
This is a continuation of "Fashion Special Feature: Cheap & Peace! Mastering Summer Style".
"Three popular stylists are the best! Sports mix latest version". First of all, "Football Remix". The model is Takahiro Okazawa, who later marries Ryoko Hirosue.
Shoes for futsal have been picked up. It's a vague memory, but I think futsal was becoming more popular at that time.
Next is skateboarding. It's a skater fashion with a beautiful impression because the mode is mainly men's non-no, but this atmosphere is still cool even now. The colors based on beige and navy are also nice. The skater's style has the goodness of evergreen.
This page focuses on outdoor brands such as Montbell and Gramicci. The black T-shirt was also one of the outdoor brands at the time, and it was Moncler's luxury, which had no shadow or shape. 9,800 yen.
Buffalo Bobs from the used clothing store era
Next is a special feature on how to dress, but the way you dress is very timely. The first thing I noticed on this page entitled "Casual Chic" was wearing jeans with a long roll-up and a waist. It is unique to this era that showing the rugged belt gives a slightly masculine or rather aggressive impression.
This is "real mode". However, I feel that the impression is not so different from the previous page ... This one is characterized by a cushion at the hem that has a fairly dull feeling without roll-up.
Next is "used clothes mix"
Items for used clothing and remakes of used clothing are from Buffalo Bobs.
Buffalo Bobs, which later became synonymous with Onii kei, recently learned that it was a vintage second-hand clothing store at the time. 
Buffalo bobs are also camouflage pants. The leather shoes on the right are Paul Harden, which I was longing for at the time.
"Sports mix". The axis is the blue track pants and orange work shirt of Lonsdale, England, which started as a boxing brand. These shades are also fresh.
The red Nike sneaker is a model called ROTATIONAL.
The successor model is still on sale today. It's like sneakers for hammer throws, shot puts, and discus throws.
Matching the track pants is the square toe of the Italian shoe brand Silvano Mazza, which was very popular at the time.
And "monotone". The rugged atmosphere is also fresh here.
Air Presto was a sneaker that symbolized Nike at the time.
The sneakers designed like the trimming in the center are from the British brand Royal Elastics. The mainstream brand had a relatively flashy design, but it's relatively simple, so it looks like it can still be worn.
Reasonable special feature that is quite expensive
"High quality and high design at this price! BEAMS style! Real reasonable style", BEAMS special feature with an emphasis on price. However, as mentioned in this issue of the article so far, in 2001, before the appearance of the fast fashion brand, short-sleeved shirts cost 19,000 yen, which is a fairly high product lineup considering the current price.
tops. When you look at it now, you can see the distinctive fresh colors such as yellow, orange, and blue. It seems that large plaids and border patterns were the mainstream.
Pants, shoes.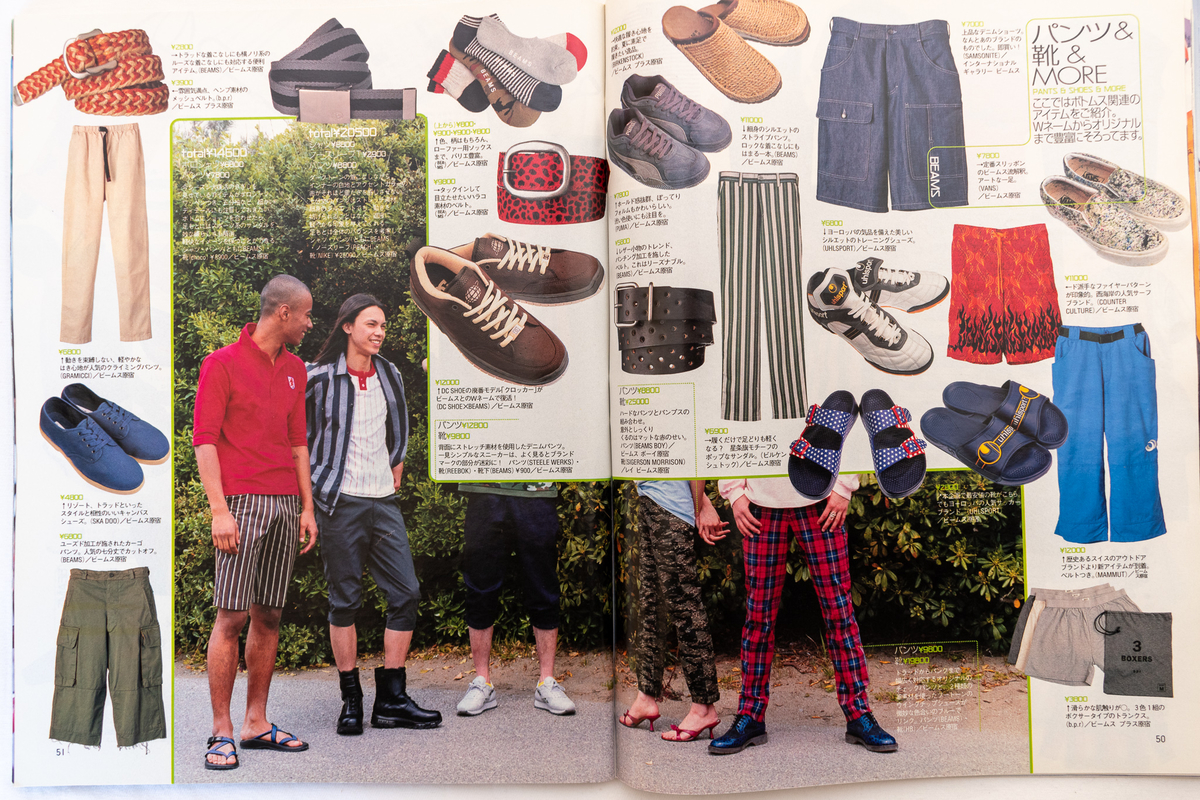 UHL SPORT brand soccer training shoes.
It is a German football equipment manufacturer and seems to be currently developing as a "specialty keeper brand".
 

 

View this post on Instagram

 
 

 

View this post on Instagram

 
Small items and miscellaneous goods. Compared to other select shops, BEAMS still seems to be focusing on miscellaneous goods, but I remember that the assortment of BEAMS miscellaneous goods at that time was quite diverse.
A multi-colored wallet chain is good, isn't it? The Arc'teryx bespoke beam scalar backpack is likely to add value if it remains.
Sony Vaio advertising.
Sony's advertisements at that time were pretty cool. This is an advertisement that appeals to the internet of replaceable speakers.
Rock taste that has already spread
"Summer fashion Q & A15".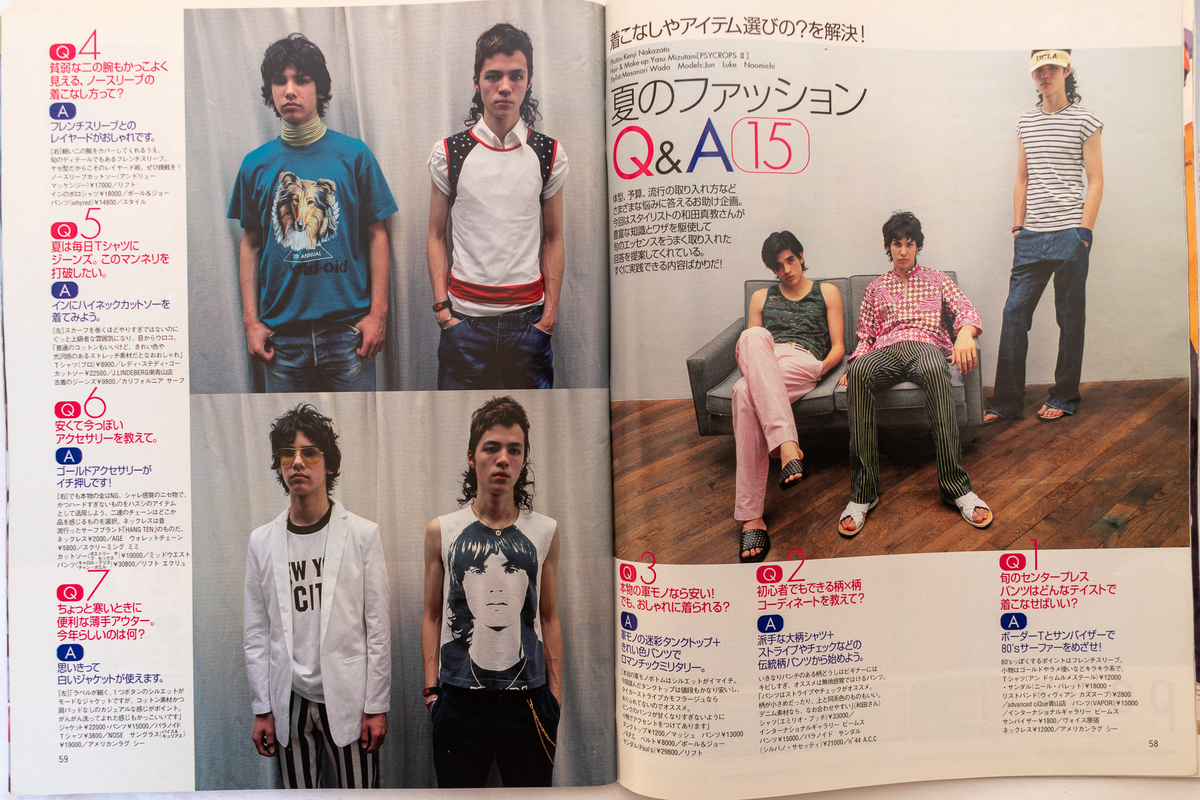 It's still a while before Eddie Slimane's Dior Homme and Number Nine, which swept the 2000s, became very popular, but as of 2001, this kind of rock-taste styling has already appeared. The sleeveless cut-and-sew is Dior Homme, and the "NEW YORK CITY" print T-shirt is a synonymous item for Number Nine.
High-impact belts and low-rise jeans seem to have been popular items as of 2001.
COMME CA DU MODE Advertising.
Kanebo NUDY Advertising. Shingo Katori.
Air Presto, a model that represents Nike in the early 00s. Along with the catch phrase "Do you express it?", The image of the feature phone and the address of the site for the feature phone are written.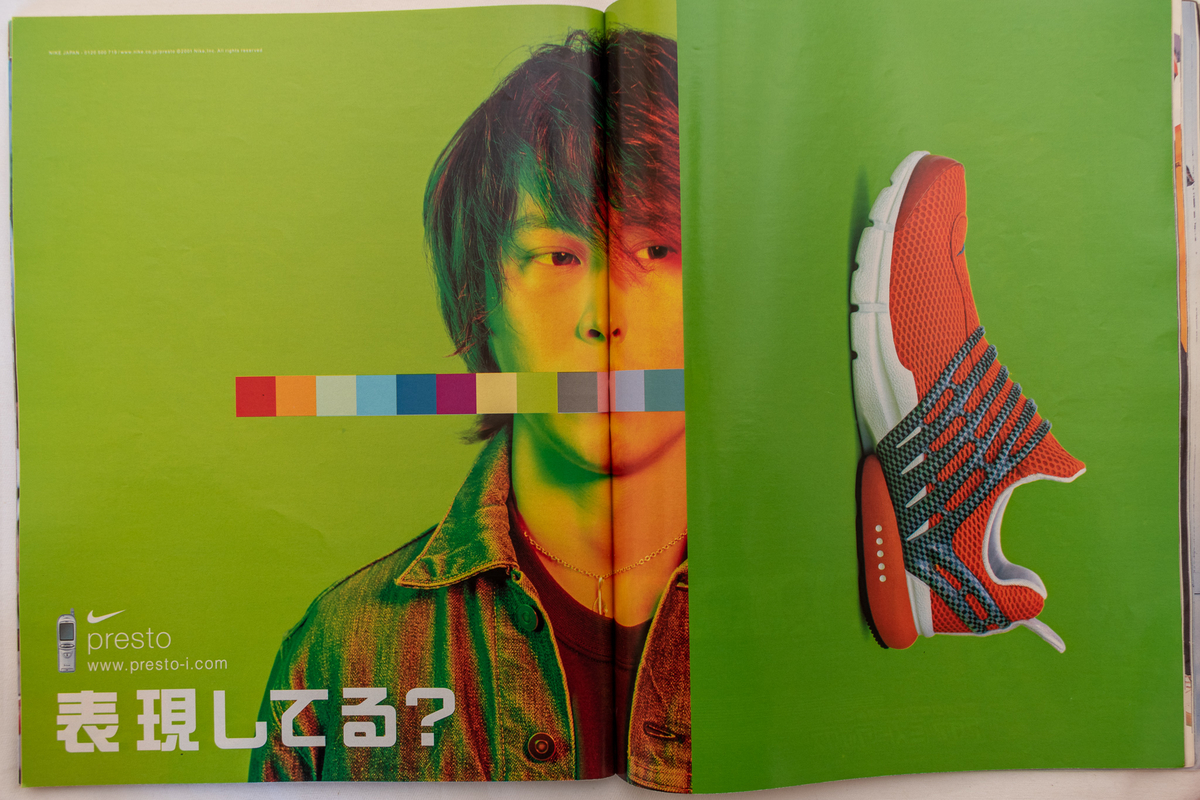 The monochrome page is "Our" Money "White Paper".
The average monthly spending is 26,738 yen for high school students and 85,259 yen for college students at home. Clothes, communication, books, magazines, etc. are likely to change considerably compared to now.
Fashion-related spending.
"Average price that can be put out for each item". T-shirts are 7,565 yen even for high school students, and shoes are 24,594 yen. Isn't this considerably higher than it is now?
Reader posting page.
Interview with Takehiko Inoue. Regarding the legendary last scene of Slam Dunk, "That last did only what I really wanted to do. I really appreciate it (laughs)"
The left page is Paul Smith's watch advertisement. It is a licensed brand by Citizen.
Berluti leather shoes are 98,000 yen
"Fashion Clips".
Etro, a long-established Italian brand, sells sneakers, and the number 44, a popular select shop at the time, handles it, and the price is 24,000 yen, which is a surprisingly simple dish.
Berluti shoes, a brand synonymous with luxury shoes, are 98,000 yen!
Looking at the current Berluti site, I could not find the same model as ↑, but there are many models with similar models that cost at least 230,000 yen or 300,000 yen. In other words, it has risen two to three times in the last 20 years.
Moreover, the general theory is that the quality of leather was higher at that time, so from now on, it can be said that Berluti at that time was a considerable bargain.
Casio watch with digital camera. Moreover, men's bigi bespoke. I want the design to be good.
"This month's girlfriend" is Ai Fukaya.
The left page "Sneakers of the Month" is recommended for shoelace replacement.
At that time, such petite customs were also popular, but I don't think I've seen them much these days.
Replacing running shoelaces such as Saucony and New Balance is fresh。
Right page, COMME CA DU MODE's brand, COMME CA BOYS advertisement. This is an illustration by Kazuo Hozumi, which is indispensable for talking about the history of ivy fashion.
Right page, Wrangler advertisement.
The left page "Vehicles of the Month" is the Honda Step WGN. Actually, when I bought a new car, I personally wanted to ride this Step WGN the most.
I thought it would be nice if the linear design was for business use. I gave up because the number of bullets was small, but it looks good even now.
On the left page, "Goods of the Month" are sunglasses. Popular eyewear brands of the time such as Christian Roth, Wolfgang Proksh, and Alain Mikli are lined up. It was an era when eyewear attracted a lot of attention, which was incomparable to what it is now.
The unique sunglasses in the lower left are from Oakley.
"Culture of the month". A collaborative exhibition between the Kyo-Yuzen company, Hysteric Glamor Nobuhiko Kitajima, A Bathing Ape NIGO, and stylist Tsuyoshi Noguchi.
Of course, NIGO expresses the camouflage pattern of Ape in Yuzen.
"Digital of the Month" is a T-shirt that you can find on the Internet, which was not yet commonplace.
The sites of many people who appeared in fashion magazines at that time, such as Masatoshi Nagase and Caol Uno, are introduced. The body of Mr. Nagase's T-shirt is that of Shanti.
Right page, smart advertising. I still see it in the city once in a while.
In the introduction to Sony's notebook PC, VAIO, on the left page, it is said that "the fact that the camera is attached to the computer was just shocking."
Afghan stall popular background
"Jeans style of the month".
Afghanistan is symbolically used because "the aim was to create an image of the earthy soil of the Middle East and deserts."
On September 11, 2001, the terrorist attacks on the United States occurred, and then the Afghanistan conflict broke out. The Middle East will be the center of attention around the world.
I was born in 1980. The oldest memory of the conflict in the Middle East is the 1990 Gulf War.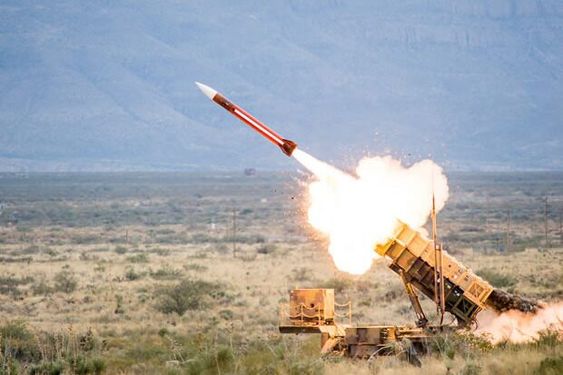 https://www.pinterest.jp/pin/326862885460382734/
After that, tensions continued in the Middle East, but there were no major conflicts in the living room.
However, it may be combined with the increased chances of seeing people in the Middle East wearing Afghan stoles in the newsreel of the 2001 terrorist attacks in the United States. The number of people wearing Afghan stoles has increased.
https://www.pinterest.jp/pin/598275131733650592/
At that time, there was a brand that launched an Afghan stall. Raf Simons Fall / Winter 2001 collection.
https://www.pinterest.jp/pin/344314334015356880/
https://www.pinterest.jp/pin/579064464590129032/
https://www.pinterest.jp/pin/177118197834820754/
Did Raf Simons foresee the terrorist attacks on the United States?
As mentioned above, the terrorist attacks on the United States occurred on September 11, 2001. And since Raf Simons featured the Afghan stall in the Fall / Winter 2001 collection, it may seem like it was after the 9/11 terrorist attacks in the United States.
However, the men's collection is held more than half a year before the product is actually delivered to the store.
Raf Simons' Fall / Winter 2001 collection was unveiled in Paris on January 7, 2001. In other words, it is a collection that was announced before the 9/11 terrorist attacks in the United States.
Was it a coincidence, or was Raf Simons foreseeing the future?
The Spring / Summer 2002 collection continues to make me think that it may be the latter.
"Terrorist period" announced before terrorism
The Spring / Summer 2002 collection is a collection that truly symbolizes the era of terrorism, with men wearing masks reminiscent of terrorists walking on the runway with torches. It is called the "terrorist period" among fans.
https://www.pinterest.jp/pin/74802043802219513/
https://www.pinterest.jp/pin/74802043802257684/
https://www.pinterest.jp/pin/177118197836653771/
https://www.pinterest.jp/pin/692780355185267368/
This seems to be a collection that reflects the global keyword of the time, terrorism, but the Spring / Summer 2002 collection was announced in July 2001. This was also before the 9/11 terrorist attacks in the United States (it took a long time to identify each collection schedule).
Raf Simons gained popularity due to their high creativity, and the archives at that time are now soaring to the point of being unprecedented, such as being worn by Kanye West.
However, this kind of creation that looks ahead to the times is also supporting its immense popularity.
Now let's get back to jeans styling. A wallet chain with jerky attachment.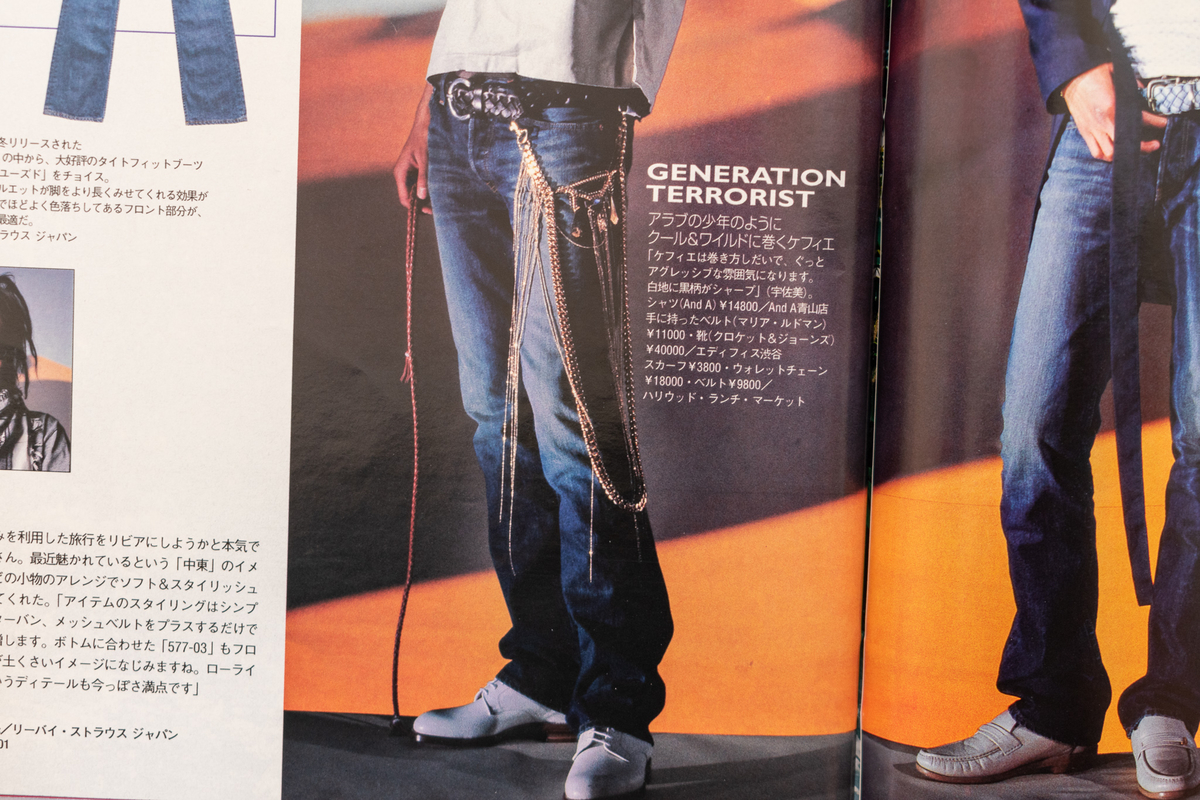 As of 2021, the wallet chain has become far from the trend due to the subsequent expansion of rock taste, the spread to the masses through older brothers, and the obsolescence.
 
A.A.R. Advertising. This is a collaboration line between Durban, known for men's clothing, and Yohji Yamamoto.
A four-page, fairly aggressive ad.
Foresee LINE? au chat function
au chat function.
It's completely the current LINE. I don't remember it at all, but was it popular at that time?
Jil Sander perfume ad. A free sample may have been pasted in the margin on the left page.
Nike winter era
"Sneakers Perfect BOOK 216 pairs!".
Unlike now, Gucci sneakers with a simple design. It's probably based on Converse All-Stars and German trainers.
Designers. I'm more interested in this fun playset than sneakers. It's in Tokyo, but where is the park?
Each styling has the same brand for clothes and sneakers. Issey Miyake is on the far right.
Nike at that time seems to be a winter era.
I don't think the Air Presto Phase, the successor to the hit Air Presto, was a hot topic at the time.
Speaking of Gravis, Hiroshi Fujiwara, Speaking of Hiroshi Fujiwara, Gravis
Instead, Gravis was gaining popularity. As it says "Nike, Gravis, and Adidas", it is introduced in the second position after Nike by suppressing Adidas in the sneaker special feature, so you can see the high popularity at that time.
Speaking of Gravis, Hiroshi Fujiwara, Speaking of Hiroshi Fujiwara, Gravis. Hiroshi Fujiwara probably pushed the biggest reason why Gravis became a popular brand. Popular brand Hiroshi Fujiwara has a high-quality shade based on clean gray.
At that time, I wasn't interested in Gravis at all, but now that I see it, I want it. I think it's a good design that won't fade over time.
Gravis was originally launched as the footwear line of Burton, a brand known for snowboard wear.
Hiroki Nakamura, who is currently working on visvim, was also enrolled in Gravis at that time.
 

 

View this post on Instagram

 
Visvim is currently developing various items centered on clothing.
 

 

View this post on Instagram

 
However, at the beginning, it was a shoe brand that developed sneakers and boots.
https://www.pinterest.jp/pin/483785184945325883/
With collaborations with Comme des Garcons, the scale has grown steadily, and visvim is now like a luxury brand. The high popularity of Gravis in the early 2000s is probably due to Hiroki Nakamura's achievements.
 

 

View this post on Instagram

 
Interesting because of the winter era
Let's go back to the magazine. Adidas is mainly reprinted items.
Sports sneakers. After the frenzy of the Air Max boom, it's no exaggeration to say that 2001 was a winter era, not just for Nike, but for the entire sneaker. Even though Gravis was popular, it was limited. There were some sneakers that were reasonably popular, but no sneakers that could be called a blockbuster were born.
But that's why I now know that there were so many interesting sneakers. Looking at it like this, all the sneakers have a unique design. I completely forgot about ASICS'Apomixis, which is the second from the bottom left, until I saw this issue.
Brands such as Colombia, Timberland, Merrell and Oakley that don't have much of an impression of sneakers are also quite unique and attractive. It was probably unpopular and could not be reprinted, and even if the dead stock of the time was miraculously found, it would not be practical to hydrolyze. So, the only way to enjoy it is to look at the magazines of that time and think about it.
Casual type.
The second item from the right on the second row is MUJI. The design is quite strongly inspired by the popular shoe brand Ludwic Reiter  at the time.
Oh, the second from the right in the second row here is the Ludwic Reiiter. It seems that ASICS was developing the airwalk at that time.
This would have been difficult to collect. Gradation of 100 colors of sneakers.
The Puma Mostro on the far left of the second row was reasonably popular at the time.
Nike's Air Zoom Haven on the far left of the third row was a little popular in collaboration with Junya Watanabe, but at that time it was usually lined up at outlet stores.
とはいえ、デザイナーズブランドで初めてナイキとコラボしたのはギャルソンなんですよね。2000SSジュンヤワタナベのエアクキニと、宇多田ヒカルがPVで履いたズームヘイブン。
そういう意味では相当先見の明があったとも言えるかも。 pic.twitter.com/sNcySvt7dj

— 山田耕史 (@yamada0221) 2020年3月1日
Puma California, the second from the right on the third row, was popular in the late 90's. The impression that the girl matched with color skinny pants such as Cimarron is very strong.
The leftmost Montrail on the first stage is the first look. The design and the color gradation from black to gray are also wonderful.
collaboration.
There was a collaboration between Paul Smith and Reebok.
An exhibition in which Dunlop collaborated with the creator. It seems that it was held at the select shop, Agost shop, which was popular at that time.
Poetry of sex
Edwin Advertising. You can see that low-rise jeans were popular.
Right page swatch ads. From the left page is "T-shirt special edition".
The left is Caban de Zucca. I thought the female print T-shirt on the right was Hysteric Glamor, but it was from TMT, an American casual brand that was popular at the time.
It seems that this brand is still developing with the American casual taste as it is.
 

 

View this post on Instagram

 
Collaboration item.
On the left is the Poetry of Sex, a brand that often appeared in fashion magazines at the time.
I remember the name, but what kind of brand was it? Even if I try to google it, there is almost no information. The outline of the brand is as follows.
Poetry of Sex is a fashion brand founded in Japan by Shinji Chiba. Shinji Chiba himself is also involved in the concept and design of the brand.
In collaboration with art director Junichi Tsunoda, popular illustrator Tomoo Gokita and other artists from various genres designed T-shirts and started under the brand concept of connecting the world of fashion and art.
According to this 2010 article, Shinji Chiba seems to have died.
The print design is generally simple.
Artist collaboration. This page also picks up 3 Poetry of Sex T-shirts.
The stylist and model are the original influencers
The feature at that time was that the presence of the stylist was overwhelmingly stronger than it is now. As a proof of that, T-shirts by stylists were released so that pages could be assembled in this way.
And there are many model collaboration items. The central non-native, which later gained popularity as a domestic brand, was mentioned as the model Satoshi's brand at that time.
Nowadays, the number of stylists and model brands has decreased considerably. Instead, influencer brands such as Instagrammers and YouTubers are becoming more popular. The stylists and models at that time were probably the forerunners of today's influencers.
Fashion brands were originally originated by fashion designers, but in 2000, stylists and models connecting fashion designers and consumers began to work on fashion brands.
And now consumers are working on fashion brands as influencers.
Where will the origin of fashion move in the future?
Next is sports. In addition to surfing, skating, BMX, etc., there are also many martial arts. At that time, martial arts were also gaining unparalleled popularity. That influence has spread to fashion in this way.
Music, movies. Here and there, there may be some that are now overpriced.
What is more worrisome than that is Takuya Kimura's clothes. Wristband on a shirt with a pattern like the 1960s.
Interview with Tadanobu Asano.
The content of the interview is about the movie that appeared. First of all, "Distance" directed by Hirokazu Koreeda. It was a work I didn't know, so when I searched on YouTube, a full-length video was uploaded.
Next is "ELECTRIC DRAGON 80000V" directed by Satoshi Ishii. You can also watch the full scale on YouTube.
He also talks about "Ichi the Killer 1" directed by Takashi Miike. I read "Ichi the Killer 1" from the original manga, and I went to the theater to watch the movie at that time. You can also watch this on YouTube, but please be careful when watching it as it is quite shocking.
At that time, Tadanobu Asano appeared in many fashion magazines as a fashion leader, but it turned out that he was also a fulfilling actor in his main business by continuously starring in works where famous directors take megaphones. increase.
16-year-old Anna Tsuchiya
Right page, Mazda Roadster advertisement.
From the left page, "7 girls at home. Featured girl models gather!". Rei is wearing Bernhard Willhelm, a so-called Antwerp designer who graduated from the Royal Academy of Fine Arts in Antwerp. The avant-garde style was popular.
"Jessica" on the left page is Jessica Michibata, who is currently active as a talent. The right page is Anna Tsuchiya, who was 16 years old at the time.
Of course, I never imagined that I would work with Anna Tsuchiya 20 years later.
 

 

View this post on Instagram

 
Left page, Asami Imajuku.
Isn't it one of the representative models of late90s ~ early00s?
Why are there so many mini pouches in street snaps?
"Tokyo / Osaka T-shirts & accessories, coordination examples". It's a street snap feature. Men's Non-no is basically a magazine with a strong mode color, but the snaps picked up here have a rather strong street color.
What is interesting is that many people have a small pouch on their waist. Brands include Yoshida Kaban Porter and outdoor brand Gregory. I think this is probably to put in a mobile phone.
The feature phones that were mainstream at the time were thicker than today's smartphones, so putting them in your pants pocket would get in the way. In particular, jeans sometimes get stuck in the form of a feature phone, so people who like clothes probably put it in the pouch like this. In other words, it changed the fashion of communication devices.
By the way, at that time, I had a feature phone in my pants pocket, and when I kept the strap attached to the feature phone out of my pants, the pocket was worn out.
Also, I don't think it's irrelevant that there were more young people smoking at that time than they are now. Perhaps these mini pouches contained feature phones, cigarettes and lighters.
The heyday of low-tech sneakers
And it's pretty impressive that everyone is a printed T-shirt.
I think there are more plain T-shirts now. By the way, at that time, almost all T-shirts I wore in the summer were printed T-shirts.
All shoes are low-tech sneakers. It's easy to see that 2001 was a complete high-tech sneaker boom.
The green T-shirt is an undercover cows collaboration. It's summer, but everyone wears long pants. And 5 out of 6 people are jeans. In retrospect, shorts didn't have much citizenship as a fashion item at the time. The silhouette is neither thick nor thin, and is a regular silhouette.
Even if there are so many people, there are no shorts. Zero high-tech sneakers. Mainly Converse and Adidas.
The silhouette of the pants is still regular, but there are few flares, and skinny seems to have been worn by a unique (advanced?) Layer.
At that time, I was addicted to Comme des Garcons, so when I saw Garcon's items such as ↑ dot T-shirts and ↓ studs shoes, I got excited. Not only the mini pouch but also the wallet chain stands out around the waist.
Sun visor popular source
There are many hat variations such as straw hats and pork pies.
The sun visor was a big hit because it was worn by Ayumi Hamasaki's back dancer at that time.
TAの皆様の引RTがなければ、あゆダンサーってことに気が付かなかったです😂 教えてくれてありがとうございました!(皆さん優しい!)
ちなみにこの特集は当時渋谷で人気だったストリートパフォーマンス集団の特集なんだけど、改めて見ると世の中全体が陽気な時代だったよなぁ~としみじみしてます💫 https://t.co/Eozs1YM8Uz pic.twitter.com/Nq5gk6pqAZ

— Tajimax🌺平成ガールズカルチャー論。 (@rainbow_wool) 2021年10月10日
Shop staff snap. At that time, Mr. Doiji of BEAMS, who frequently appeared in magazines as a press, is also young. Since it is summer, there are many accessories such as bracelets. Mainly those with a masculine atmosphere such as Native Americans and studs.
After all the street color is stronger. He is wearing Adidas Taekwondo shoes, wearing a poetry of sex T-shirt with a high-impact female illustration print in the center of the left page.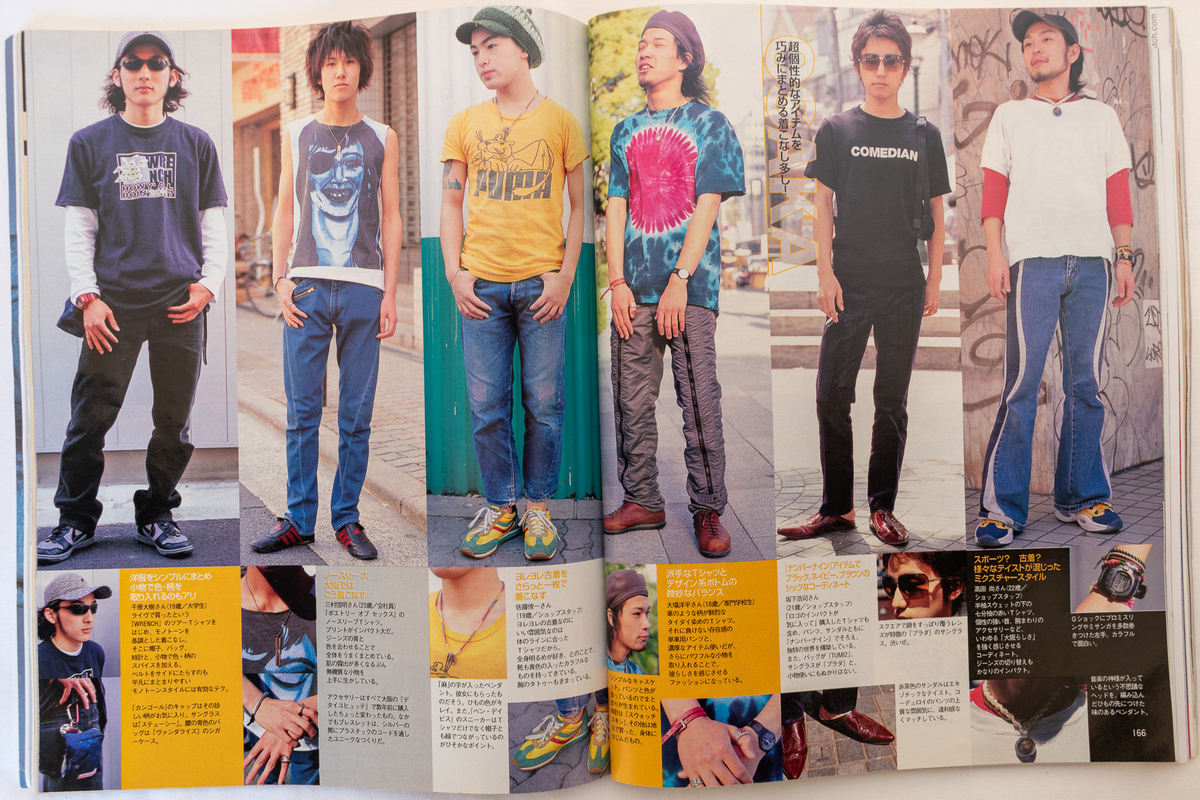 At that time, I used to use similar sneakers.
あった。これだ。懐かしい。軽くて好きだったなぁ。 pic.twitter.com/NrMu56dc85

— 山田耕史 (@yamada0221) January 9, 2019
"Comedian" T-shirts are from Number Nine. There was such a thing. I want a little.
The necklace stands out after all.
On the far left, he has a short-sleeved T-shirt on a long-sleeved T-shirt, jeans, and Nike's Dunk, which has a strong Ura-Harajuku taste.
And, after all, there is a mini pouch on the waist. It is from Vandarise, a brand created by Hironori Ichinose, who launched the undercover while attending Bunka Fashion College with Jun Takahashi.
"Look at the changing street fashion of Osaka every day!", So this page is like a snap in Osaka.
The total pattern items and flashy colors are like Osaka.
Shop staff in Osaka. Chitchat Chot and Mamborama are select shops that represent Osaka at that time. I think that Urban Research had not yet expanded nationwide at that time.
Men's biore ads.
Lacoste ads.
BICO is an Australian accessory brand.
Left page, Fred Perry advertisement.
I didn't know the episode with Queen Elizabeth.
The words of photographer Nobuyoshi Araki."The photo is about living, isn't it?"
Remarks that I did not notice at that time
"Travel goods for masters released !!". In this era, there were various choices of music playback equipment such as MD players and CD players. I also customized it with stickers.
Music page. Fuji Rock special feature.
Of these, my personal favorite is Squarepusher.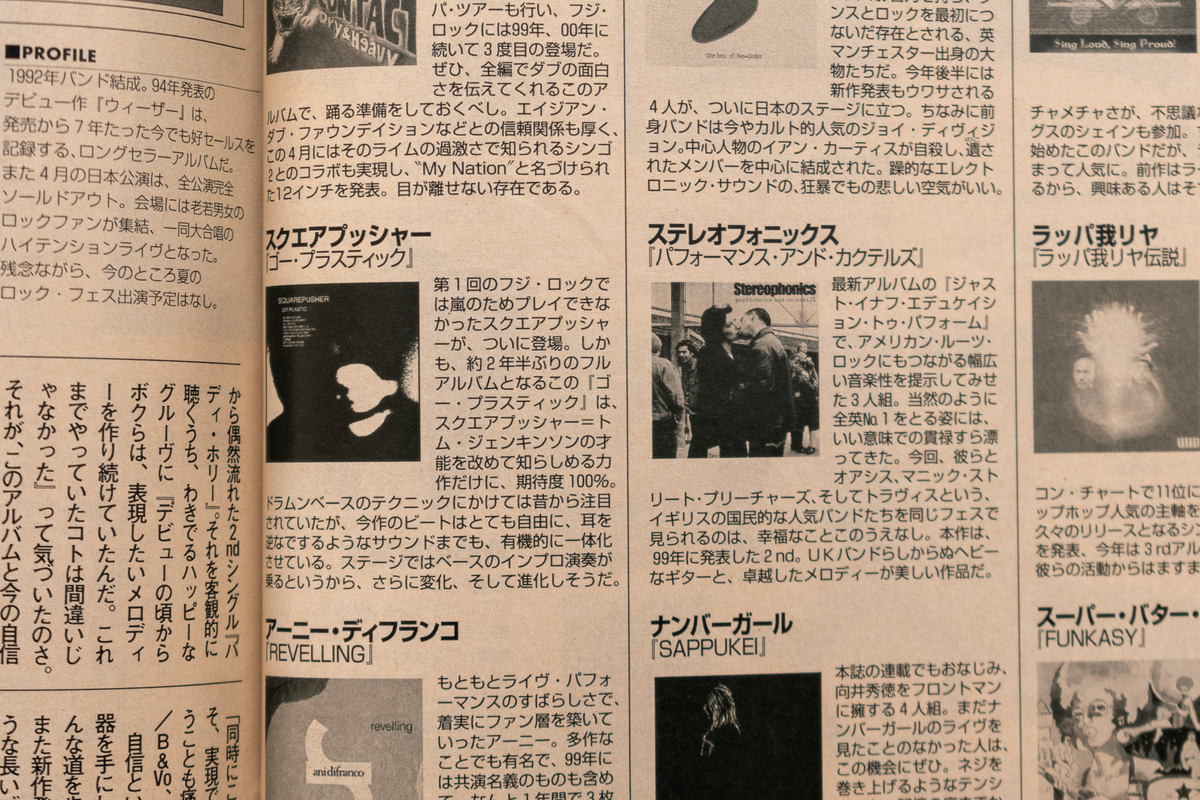 The left page is an interview with Weezer.
ACO interview.
Interview with Kimihisa Senju at the bottom of the right page. He was a buyer at the popular boutique ELT, and at the time also worked on the brand Swipe on the Quiet, and was a frequent feature in fashion magazines. "We woven space stones that emit negative ions and adjust the wavelength of the aura. The theme for the next fall and winter is water. We will try to reflect special water that detoxifies anti-allergies and electromagnetic waves in the material. That's a very unique statement ... I didn't notice it at that time.
movie.
Books, reader posts.
Horoscope.
Left page, Gunze advertisement. hitomi.
The last year, he released his representative song LOVE 2000.
UNIQLO tie-up page. Stretch T-shirt. Compared to now, I don't really feel the fashionable atmosphere.
Reader gift. Mihara Yasuhiro ☓ Puma was a pioneer in the collaboration between designers and sneakers.
On the left page, Sony's Net Walkman is a prize for the tobacco campaign.
Masaki Matsushima's fragrance bottle design is cool
perfume. Givenchy and Issey Miyake.
Jil Sander.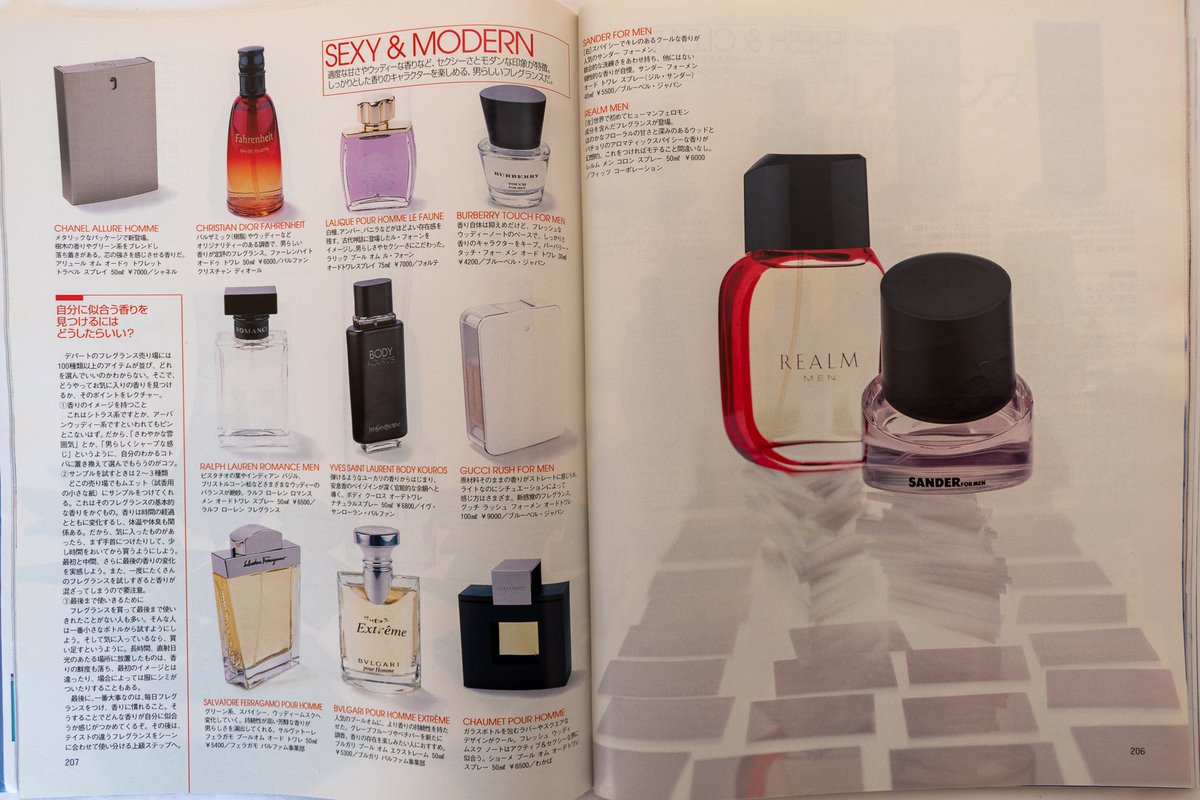 "40 best swimwear selections of the year". Mode brands such as Lad Musician, Cabane de Zucca, and Keita Maruyama also put out swimwear.
Division rei. I feel that Osaka's bag brand has released bags with an avant-garde atmosphere, such as Beauty Beast and 20471120, which were popular at the end of the 90's. In 2001, it seemed to have shifted to a pretty beautiful eye.
cK watch ads.
Special feature on cars that have disappeared
"My car. I like this, this is special!"
It is an introduction of favorite cars such as models and stylists.
I see a special feature on my car in recent fashion magazines, but I think it's mainly limited to magazines in their 40s and above. Men's Non-no, whose main target is in their 20s, has almost disappeared from the special feature on their cars. It's a trend of the times.
Licensed brand advertisement of Suit Company.
"Since its debut in 1998," Freaky "has been insisted on the theme of hip-hop style unique to Japanese people. The elite line "Eliteism" "advertisement. YOU THE ROCK as a model.
Cosmetology advertisements will increase at the end of the magazine.
Hiroshi Fujiwara's Bontiji Pants
"Hiroshi Fujiwara's a little kinouledge".
The right page is a head porter plus shirt. Headporter is a brand developed by Yoshida & Co., Ltd. and produced by Hiroshi Fujiwara, and Headporter Plus is its apparel line.
Also head porter plus cargo shorts. Loafers are Hermes.
"For some reason, I want to get tired periodically. Bontiji pants". The pants are from Vivienne Westwood, who has a close relationship with Hiroshi Fujiwara. Punk can be said to be the root of Hiroshi Fujiwara's fashion, so I think he has a special feeling.
SOPH's Hirofumi Kiyonaga's soccer series. The guest is Seigo Narazaki.
Left page, serialized by stylist Daisuke Iga. It was only a few years later that Mr. Iga became popular with boot-in skinny pants.
"Model site report special everyday". Model Satoshi who was already developing nonnative at that time.
Right page, hp PC ads. The era of Pentium 3.
Left page, Lee's bush pants. No, I haven't seen bush pants for a long time.
Rina Uchiyama on the right page, Seventeen advertisement.
Punkish Union Jack print, low-rise camouflage pants and studded belt.
Right page, Goro Inagaki's book. The atmosphere doesn't change at all.
The only high-tech sneaker to vomit air presto
"Fashion diagnosis". This is the Kyoto edition. Overall, the street feeling is stronger.
The checkered flag pants are from Comme des Garcons Homme Plus' Spring / Summer 2001 collection.
And most of the sneakers are low-tech. The wallet chain that often appeared in the snaps of Tokyo and Osaka in the previous article is also popular.
Is the low-rise flared jeans with the belt layered on the leather jacket on the left of the left page a prelude to the rock taste that will expand after this?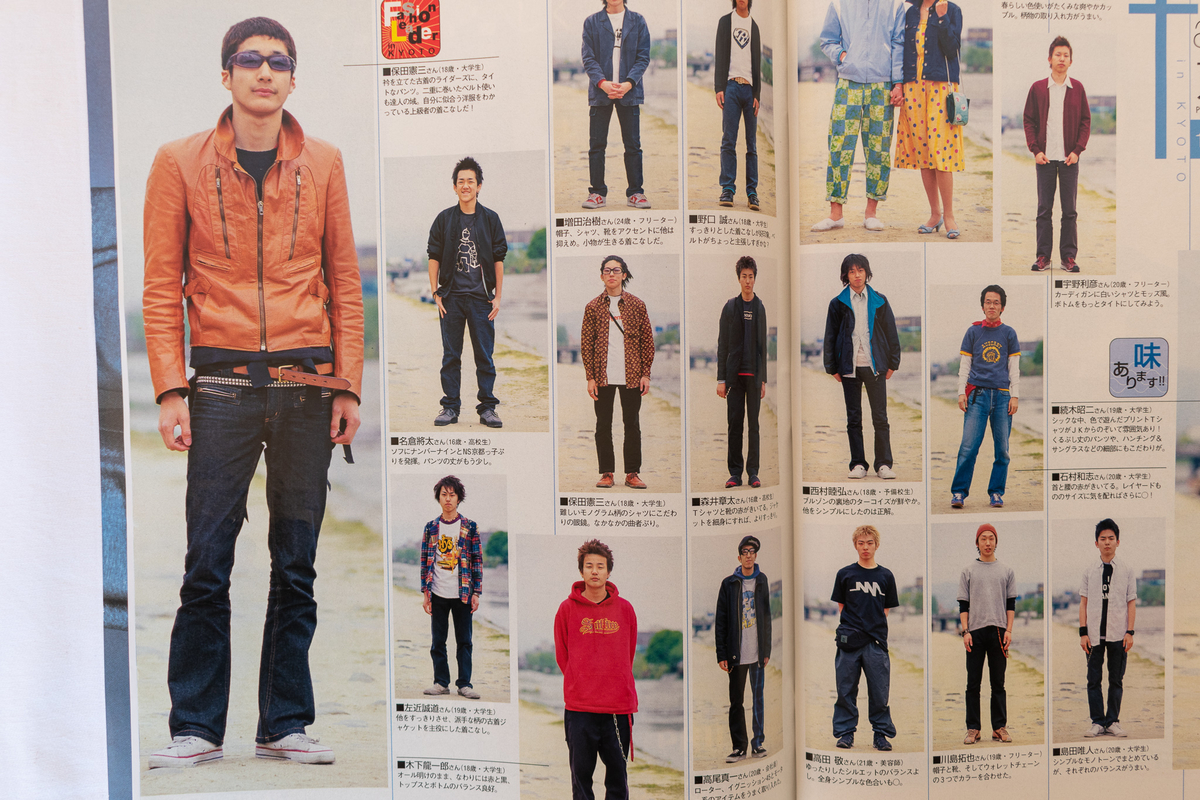 Nike's Air Presto is the only high-tech sneaker favored.
This woman also seems to be Air Presto.
"Information of the month".
Raf Simons limited edition T-shirt. The prints in Antwerp, Belgium are a little fascinating.
Notice of the next issue.
"Present of the month".
Takeo Kikuchi's licensed brand advertisement.
Back cover.ALBA's Wired developed by Seiko.