Introducing this time is Studio Voice July 1998 Vol.271.
The special feature is Martin Margiela.
A challenging cover with a collage of newspaper clippings. This large amount of margin is a Martin Margiela atmosphere.
Martin Margiela is one of the leading fashion designers of the 90's for me. For the 90's-themed roundtable discussion, I wore Martin Margiela's AIDS T-shirt, which I bought at the time as a symbol of the 90's.
So in the content. Levi's advertisement. Tracker slim jacket.
A mini designed by Paul Smith. At that time, Paul Smith was one of the most popular men's designer brands.
Benetton Group brand, Sisley Advertising.
J-PHONE advertisement. Made by Kenwood.
Shiseido's hair styling product untied advertisement. Kazuma Suzuki.
Table of contents.
Article that Narciso Rodriguez was appointed as a designer of Balenciaga.
This is the current Balenciaga ... I don't think it's the same brand lol.
 

 

 

View this post on Instagram

 

 

 
 

 

 

View this post on Instagram

 

 

 
Fiat Panda ads. The completed design.
Trans-Continents watch! This kind of retrofuturism design was popular at that time. Not only the product design but also the visuals of the advertisement are quite high level.
Martin Margiela, the royal road and the core
So, here is the Martin Margiela special feature.
"Margera's creations are surprising, but they are the royal road and the core."
Is this ... a mailbox in Martin Margiela's atelier?
Fall / Winter 1998 collection.
A commentary on the Fall / Winter 1998 collection by novelist Sydney Picasso.
Margiela's review by four questioners on the later Q & A page.
I was most sympathetic to the text by Hirofumi Kurino of UNITED ARROWS.
"It's not just the design of clothes, but sometimes the act of thoroughly pursuing the structure itself, opening clothes from the perspective of their relationship with society, and all of that, creating clothes and doing that. It's Martin Margiela for me that gives me the tremendous love and courage for the human beings I wear. "
As expected, Mr. Kurino.
I bought a photo book of Martin Margiela, which was released as a separate volume of the fashion magazine Street in the lower right, and I still own it.
Visuals for the Fall / Winter 1998 collection by avant-garde photographer Mark Borthwick.
Visuals taken in Antwerp by Belgian photographer Ronald Stoops.
Ronald Stoops has also shot other works by Helmut Lang.
Q & A with blank answer
"66Q&A to Maison Martin Margiela"
Questions and answers to Martin Margiela by four people including Mr. Kurino and the editor of Studio Voice. What's interesting is that some questions have blank answers. For example, Mr. Kurino's questions such as "Would you like to go to a rock band live?" Or "Are there any classical composers or songs?" Are unanswered.
"Q: What do you think is the most epoch-making invention in fashion history?
A: Clothing "
A recent attempt to color clothing at the Martin Margiela exhibition.
As I learned from the Martin Margiela movie I watched before, it seems that this exhibition was not done by Martin Margiela himself.
List of Martin Margiela dealers in Japan. It's very nostalgic, like advanced ciQue.
Reborn nothing but beautiful things
A collage of past archianal productions. This is a collection that I personally think is the most Margera-like.
A number of works that break down preconceived ideas, such as vests made by joining pieces of porcelain and clothes made of human stand.
At that time, it was this page that literally surprised me. It is a work that looks like a dress with rich drape by wearing a see-through material T-shirt over the tank top of XXXXL size (not a typo).
I was impressed by the fact that something that is not ubiquitous can be reborn as a beautiful thing.
What is fashion, what is beauty, and what is creation. Seeing this made me think a lot and was strongly influenced.
Martin Margiela is the fashion designer who influenced me after Comme des Garcons' Rei Kawakubo, and I think the essence of that creation is on this page.
The season stamp is also a design that symbolizes 90s Margera.
Legendary Margera Hermes
And at that time, I couldn't imagine that Martin Margiela, who had such an avant-garde style, would be appointed as a designer by Hermes, a long-established Maison who can be said to be a symbol of French tradition.
And it is these wonderful works that have been sent out to the world. It is a collection that could only be realized by the miraculous combination of Margera and Hermes, which has avant-garde design while being sophisticated and beautiful clothes. This is the end of the Martin Margiela special feature.
Encounter with Cowboy Bebop 
Swatch ads. Swatch is also one of the leading brands in the 90's.
This is an article about artist Joan Fomberta.
Casio watches, advertorials for data banks. There is a reading response.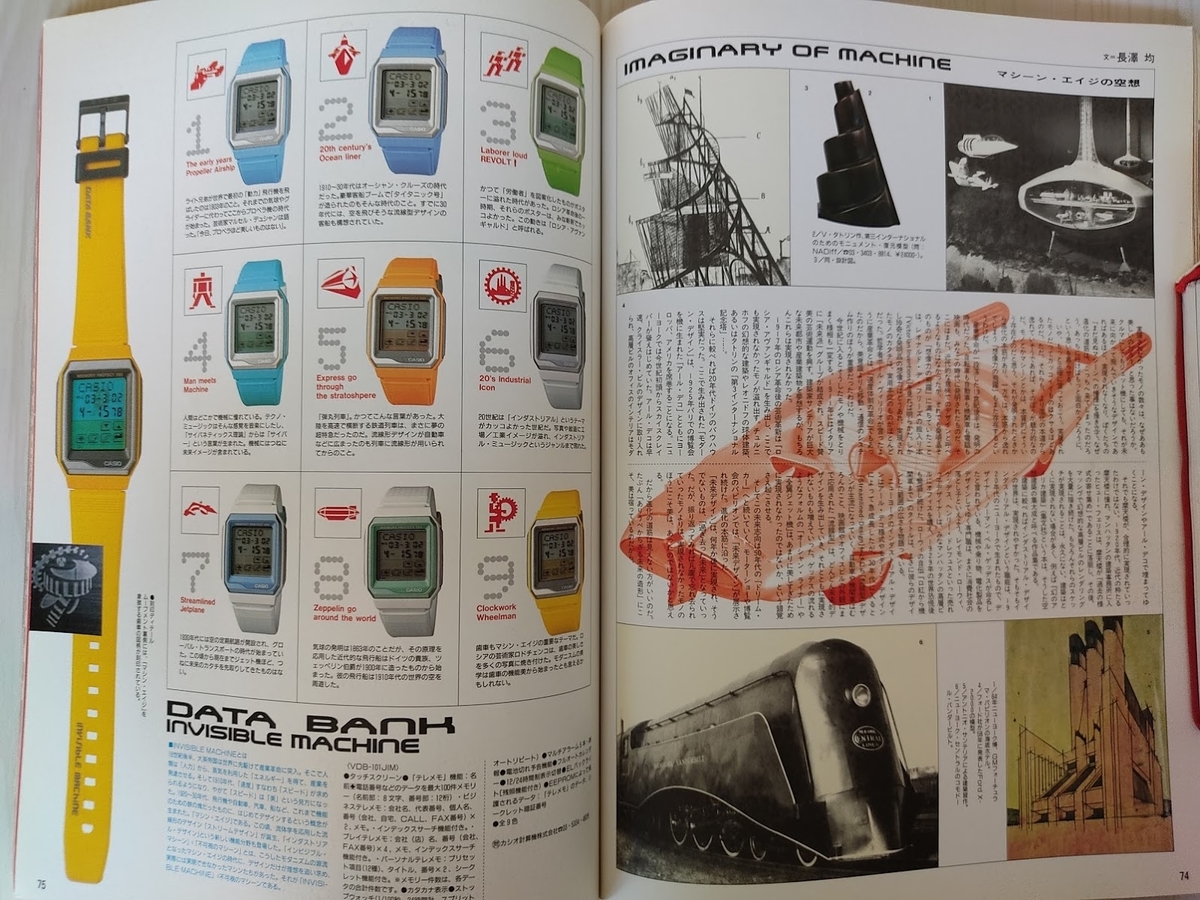 Culture introduction page. I learned about the existence of Cowboy Bebop here. I was so addicted to it that I bought all the soundtracks.
I just searched on YouTube, but now I can see the main story normally ... I think it's likely that it will be erased soon. It is a very interesting recommended work.
Movie introduction.
Art introduction.
MISIA right after the break
Music introduction. MISIA, who was a big break at that time, came to the school festival of Kwansei Gakuin University that I was attending. I remember hearing that it was realized because I offered it before the break.
An outdoor concert at a large lawn open space called Chushiba. It was free, so it was a great number of people.
https://www.zoukei.net/kobe/kwanseichushiba.html
It is also published in the  MISIA official history.
10/18 ~ COLLEGE TOUR '98
School festival at 6 universities. The audience exceeded 10,000 at the first outdoor live at Kwansei Gakuin University outdoor special stage! Audiences who couldn't fit in the ground leaned out from the window of the campus to see MISIA at a glance, and another climbed on a tree.
Music.
PlayStation game ads.
Introductory article about the game. "Guitar in Hotei and Synchro Experience".
A dialogue between Naohiro Ukawa and Eye from Boredoms.
Interview with a supercar.
This is a tie-up article about G-Shock's variation model, G-Cool.
Interview with artist Shinro Ohtake.
Advertisement for hair make-up events.
I'm not sure, but it's an experimental page.
Tama Art University advertisement.
Zazi on the subway.
A CD-ROM, not a movie starring Takeshi Kaneshiro, a DVD of Fuyajo! It looks like a photo book. The privilege of "Takeshi Kaneshiro Screen Saver & Wallpaper Collection" makes you feel the times.
The back cover is a Heineken advertisement with a lot of margins, which corresponds to the cover of a newspaper collage.