Introducing this issue is the September 1999 issue of Thrill.
This magazine was donated by a follower on Twitter, but I don't remember reading it at that time.
The publisher is Bauhaus. It is a company that published KERA and so on.
This issue is the third issue. In other words, it has just been published. Inferring from the brands featured, it was probably planned for the readers of smart and asayan, which were popular at the time.
What kind of year is 1999?
Before introducing the magazine, let's take a look at what kind of year 1999 was.
Japanese economy
・ Consumer sentiment, which deteriorated due to the bankruptcy of financial institutions in 1997 and the effects of the Asian currency and financial crisis, is recovering.
・ Personal consumption has been recovering moderately, but it has been stalled in the fall.
・ The unemployment rate has remained at a high level even after reaching a record high of 4.9% in June 1999.
・ The unemployment rate of heads of households rose to a record high of 3.5% in June.
・ Many young people voluntarily leave their jobs, and many middle-aged and older people leave their jobs due to company reasons.
Domestic events
・ I-mode service started
・ Hiroyuki Nishimura opens 2channel (currently 5channel)
・ Sony launches puppy-type pet robot "AIBO"
・ GLAY holds "MAKUHARI MESSE 10TH ANNIVERSARY GLAY EXPO'99 SURVIVAL"
・ Noriyuki Makihara arrested for violating the Stimulant Drug Control Law
・ Tokai-mura JCO criticality accident occurred
・ "ONE PIECE" starts broadcasting
・ Idol group Arashi debuts
・ Year 2000 problem
・ Nostradamus's prophecies and the boom at the end of the century
Top 5 hit songs
1st place Kentaro Hayami, Ayumi Shigemori, Himawari Kids, Dango Chorus: "Dango 3 Brothers"
2nd placeGLAY:「Winter,again」
3rd place Ayumi Hamasaki:「A」
4th place Ryuichi Sakamoto: "Ura BTTB"
5th place Hikaru Utada: "Automatic / time will tell (12cm)"
movie
Shark skin man and peach butt woman
You Got Mail
Life is beautiful
Railroad worker
Kikujiro's summer
Buffalo '66
Star Wars Episode 1 / Phantom Menace
My Neighbors Yamada
matrix
Six sense
Fight club
By the way, the cover page is Issei Ishida.
table of contents.
Advertisement for a fashion brand called Bivouac.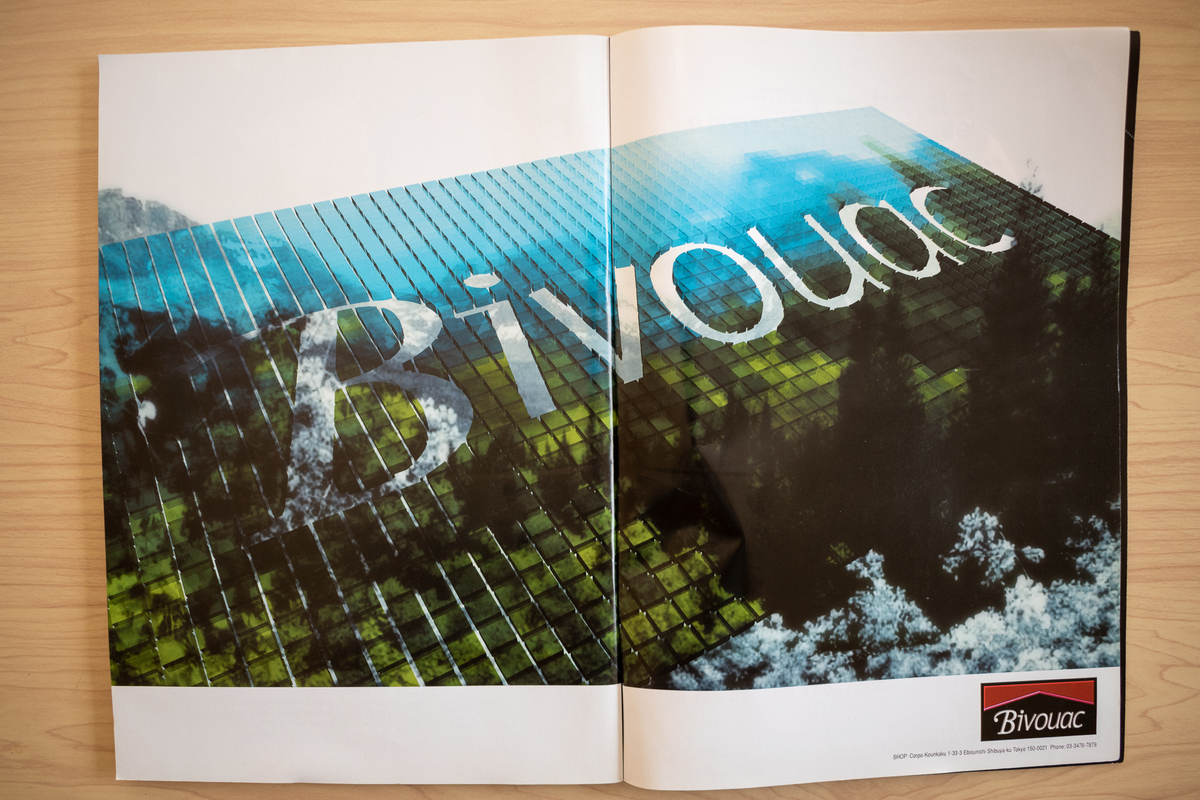 The brand that musician Naohirock was a designer for.
 

 

View this post on Instagram

 
 

 

View this post on Instagram

 
The special feature at the beginning is Milk Boy.
Many typical punk motifs such as bondage, tartan plaid, and transfer prints. It's Tokyo style to match DC skate shoes with bondage pants.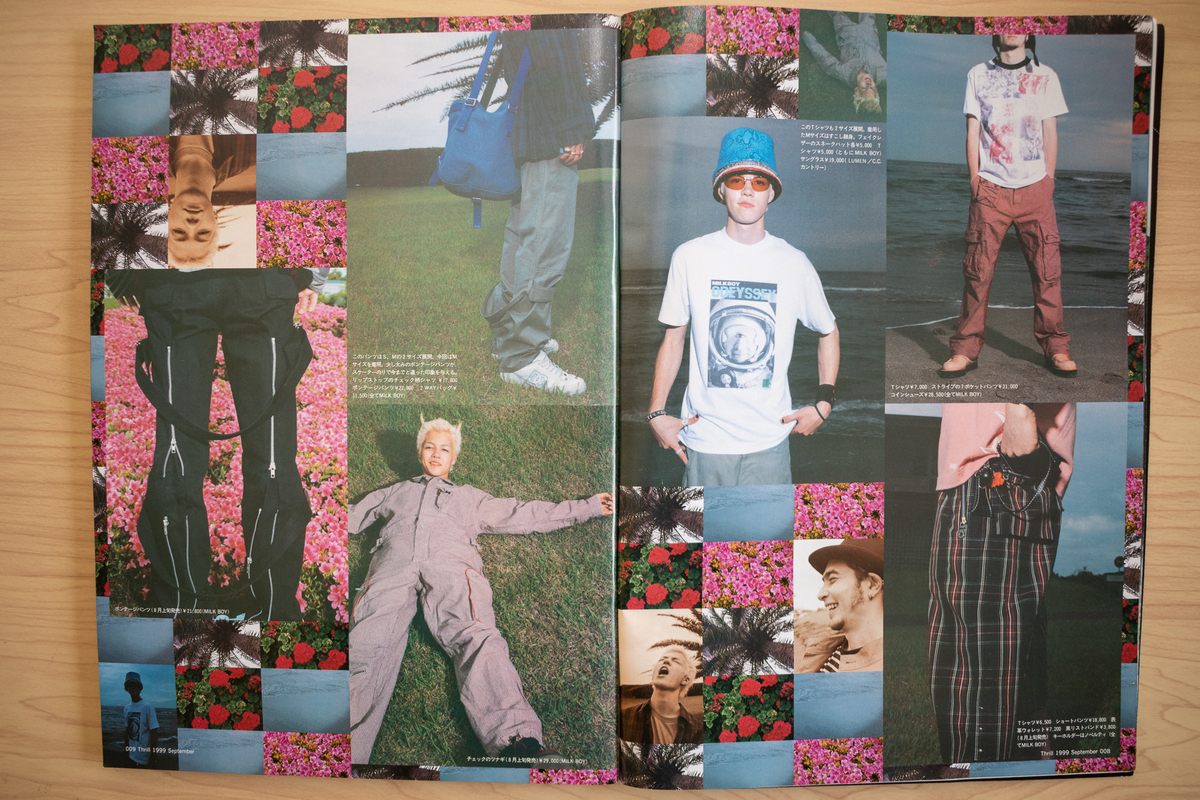 Hawaiian Ray is also fresh in punk style.
Number 44 that proposed the Euro style
"Popular shop thorough guide BEST50". The top batter is BEAMS.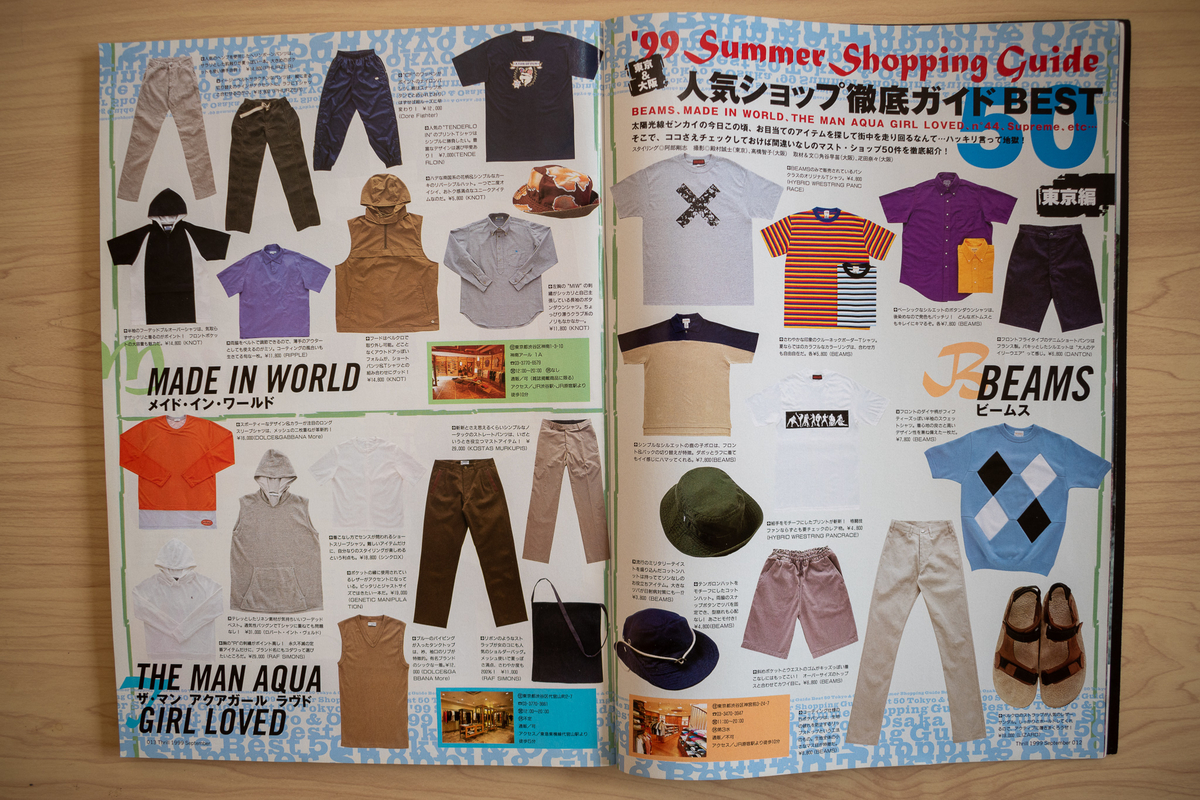 The Man Aquagirl Loved, which mainly deals with designer brands. Raf Simons and Dolce & Gabbana.
The select shop, number 44, which was very popular at that time.
The elegant casual style centered on European used clothing such as France and Germany, instead of the United States, which was the mainstream of used clothing until then, such as the Euro military such as the German army introduced here, was fresh and gained support. 
Number 44 proposes European brands such as Patrick and Birkenstock for shoes. I lived in Kobe at that time, and I went to the Osaka store in Minamihorie.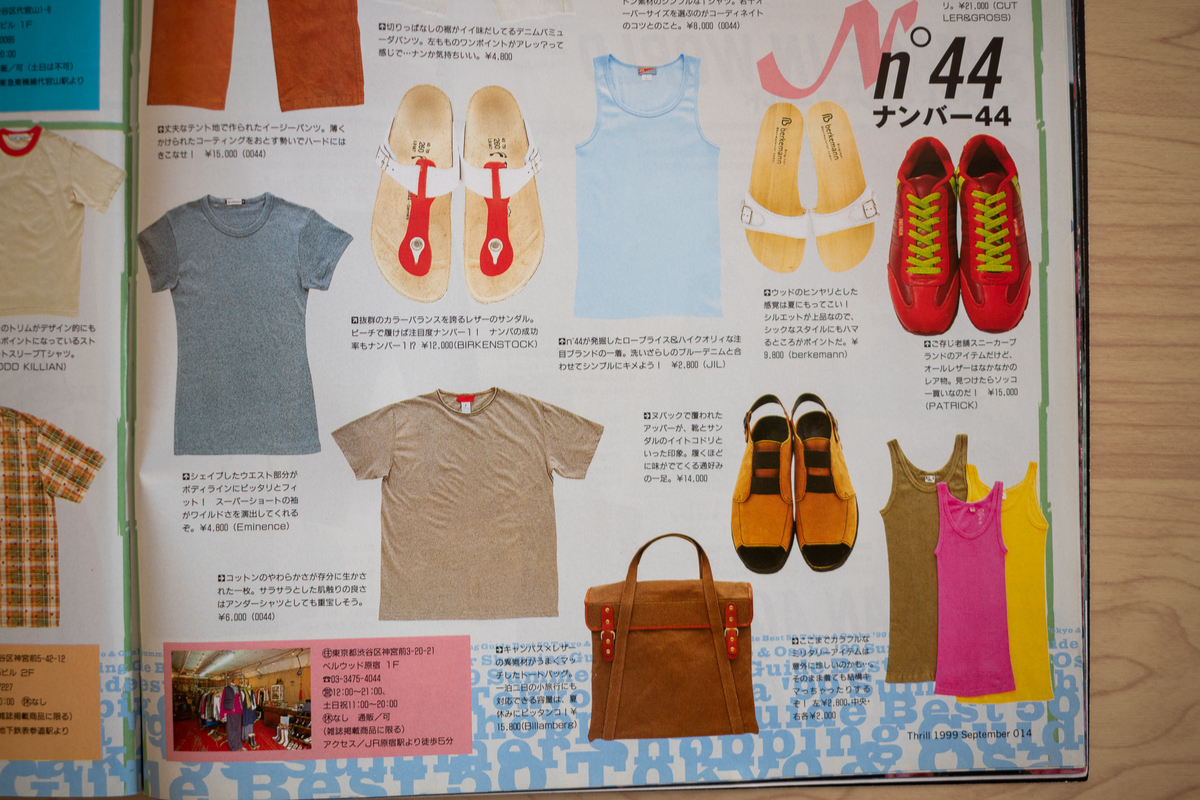 I think that many people around the age of 40 like me like not only American clothing but also Euro vintage clothing, but it is the reason why Euro vintage clothing has taken root as a general fashion item in our generation. I think it's definitely the achievement of number 44.
Unfortunately, it seems that all stores were closed in 2014.
This is Supreme. At that time, you also handled the London skater brand Cyrus. There is also a product under the brand Onegram. Onegram was Supreme's distributor in Japan, but was it also a brand at that time?
Supreme is still very popular with archived items from the 90's, but now it's been talked about a lot, such as Bivouac, which was advertised earlier on this page, Pied Piper and A New Shop. There are many brands and shops that are not available. To be honest, I have little knowledge about these brands, so I wonder if someone who is familiar with them will archive the information.
There was an agost shop in Kobe at that time, and I remember buying something like Keita Maruyama.
The British brand Burro was sold at the agost shop.
I thought I hadn't seen it for a long time, but the brand is still ongoing.
There was also a Twitter account. It seems that you haven't tweeted in the last two years ...
Shop in Osaka. I remember Mamborama. I miss Edifice, which was in Galle Osaka, a shopping mall directly connected to Osaka Station.
1999 used clothing mix style
"Midsummer resort fashion completed with a mix of used clothing".
It is a proposal of a mixed style of used clothing with designer brands such as Dsquared.
"Denim in summer". This is a special feature of denim items with a wide lineup from work brands to designer brands. The first is tops.
The zip-up blouson on the center is Dsquared. Nowadays, the brand is characterized by its rugged design, but at that time, the minimal mode represented by Prada and Helmut Lang was popular, so it has a very simple design.
"Plain & work style".
The print on the roll-up is Andrew Mackenzie, a London designer brand that was popular at the time. I am also interested in it, and I remember trying it on at that time.
Design item.
W & LT has a design that incorporates the elements of the military item on the upper left.
Number 44 original brand, 0044 remake shorts. Used jeans are cut off and printed with a red cross and font. These small remakes were also popular at the time.
The top brand in 1999 was Raf Simons
Raf Simons is listed at the top of the four major brands in the "Latest Fall / Winter Bulletin of the Four Top Brands!" Personally, I like the simple style of the 90's the most among Raf Simons.
A long, long zip jacket costs 110,000 yen. After all clothes at that time are cheaper than now.
Four major brands, followed by Shinichiro Arakawa.
Currently, he is mainly engaged in motorcycle wear, which he has been proclaiming to be a hobby since that time.
 

 

View this post on Instagram

 
Next is Paul and Joe, who recently collaborated with UNIQLO.
And finally, Dolce & Gabbana's diffusion line, D & G.
A brand called D-b-NO.
The brand I first learned about this time. I didn't know the details even if I googled.
Interview with Toshio Nakanishi.
Perhaps the most well-known face is the vocals of the techno-pop band Plastics.
He talks about the impact of the Sex Pistols.
Toshio Nakanishi passed away in 2017.
"Popular brand & design shop big bargain '99".
Left page, Doarat advertisement.
Interview with Issei Ishida.
Air mock, Helmut Lang paint jeans
"Thrill Street Fashion Grand Prix". It's a street snap.
He in the lower right, slender pants (yes, we shouldn't have called them skinny pants at the time) and Nike's Air Mock. At that time, girls used to do this coordination. I think there were many men who matched air mock with more street or outdoor clothes such as shorts.
He on the bottom left, Super Lovers T-shirt and Hysteric Glamor jeans. I think that many people at that time matched Hysteric Glamor with these unique brands.
His jeans on the upper left are Helmut Lang's popular paint jeans. Simple coordination of gray sweatshirts and Converse All-Star. At that time, I remember that many people were wearing more beautiful mode-like clothes, but it's also nice to wear them casually like this.
His platform shoes in the center are Koji Kuga. The bottoms are also Koji Kuga. A domestic brand that represents late 90s. It is also popular in the current overseas Instagram market.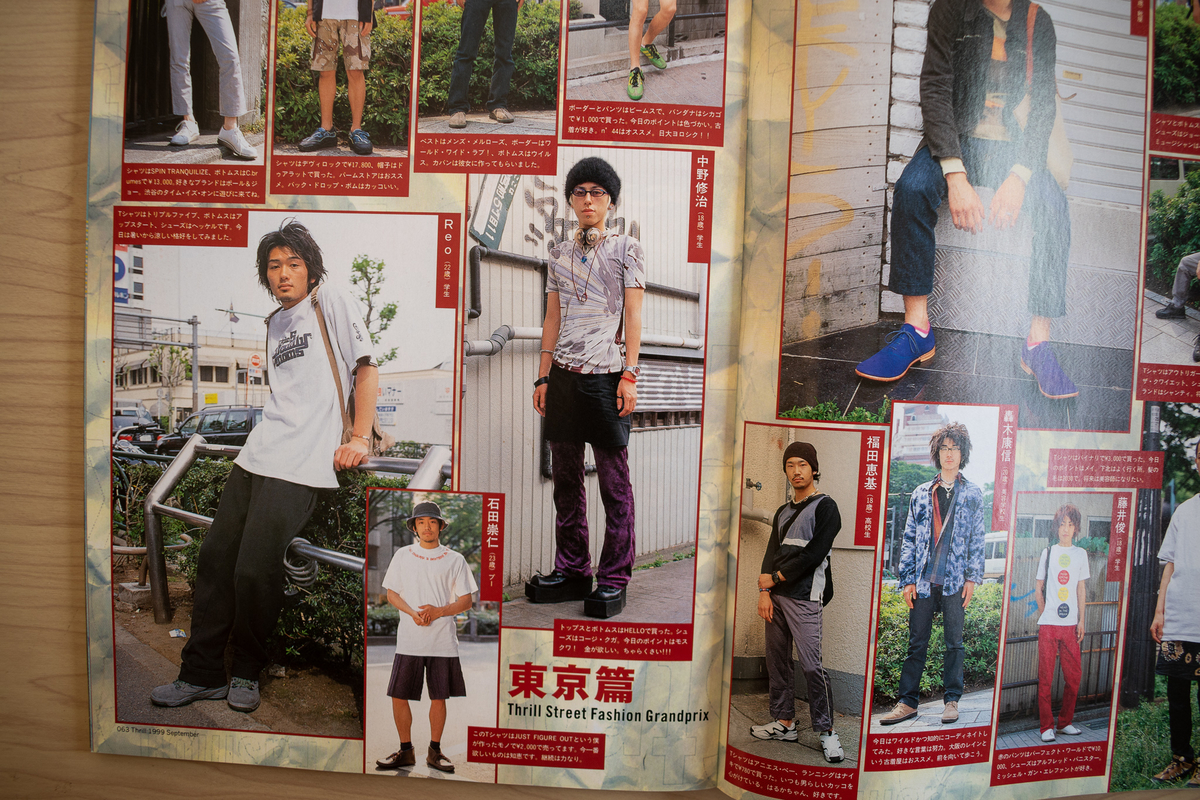 Layered plain short-sleeved T-shirt with striped long-sleeved T-shirt. At that time, I coordinated exactly the same.
His leather necklace in the center is probably the Hermes clochette by Martin Margiela. I think there were many people like him who matched casual clothes. I also miss the layered short-sleeved T-shirt and short-sleeved T-shirt.
Osaka edition. The location is like Amerika Village and Minamisenba. Two people wear air mock. There are also two Clarks Desert Treks.
The Desert Trek I still use is the one I bought at this time.
今日履いてた20年物のクラークス。脱いだときに「お、こんな格好良かったっけ」って思った。 pic.twitter.com/ZvzvFIIU4v

— 山田耕史 書籍「結局、男の服は普通がいい」(KADOKAWA)発売中! (@yamada0221) 2018年11月30日
A silver accessory brand of "That silver-loving entertainer K also praised! Many celebrities visit the store". Who is K ...
Sandals are also square toe
"Summer item large set 500".
hat. A lot of CA4LA.
sunglasses. Color lenses that were popular at the time, such as yellow and blue, stand out. At that time, the narrow frame type that NIGO and Jun Takahashi often wore, and the bounty hunter Hikaru's trademark Brico are sunglasses that symbolize this era in particular. Especially, it is an item unique to this era. By the way, I feel that sunglasses were the most popular fashion item in this era.
Sandals.
Brown leather sandals with straps are Trans Continents. Square toe even with sandals.At that time, the popularity of square toe, which was driven by Sylvano Mazza and others, had spread to sandals.
Vans sandals with a switching design, nice feeling. ABC-Mart acquired the trademark right of Vans in Japan in 1994, so this sandal may be a Japanese project.
The camouflage pattern on the upper left is from Maharishi, a London brand that is still being developed. Did you also put out footwear?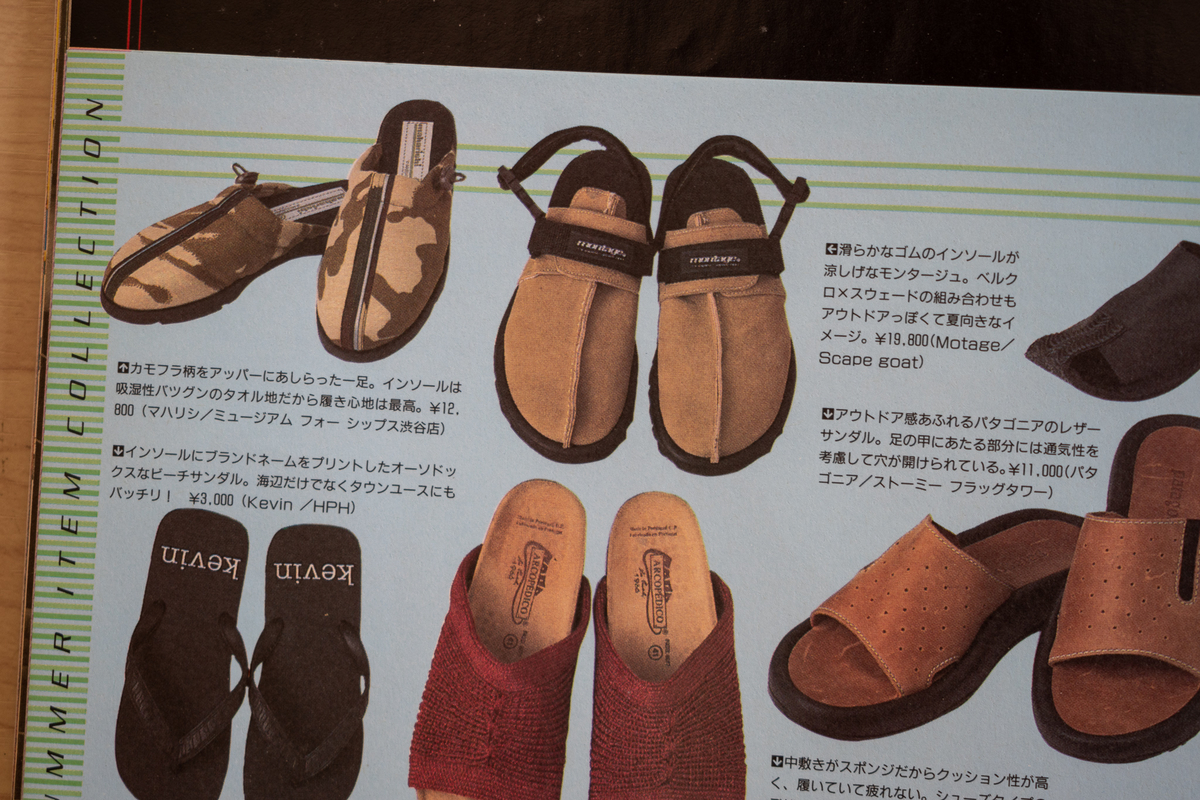 sneakers.
World Wide Love!'s checkered flag pattern sneakers with the color scheme of the toes, the original story is probably Comme des Garcons Homme Plus.
Red sneakers are Camper. It was popular at that time.
The lower center is Salomon.
The third from the top left is also Salomon. At that time, the attention should have been much lower than it is now, but the design is quite good.The current sophisticated design of Salomon is good, but I personally prefer to wear it in the 90's.
bag. The shade of red and navy is 90s.
Silver accessories.
I like the "pleasure" and "freedom" earrings from the Hollywood lunch market. I don't have pierced holes ...
The skull bracelet is a beauty beast.
Comment from the staff of Beauty Beast.
Other accessories.
Flip flap! It's a twin duo.
At that time, they often appeared in fashion magazines, but this time I heard the song for the first time.
Perfume mail order.
"SILVA x Nobuyoshi Araki". It seems to be a serialization of Araki.
I think she often appeared on TV variety shows.
Beauty advertising.
This is also a dialogue between Naohiro Ukawa and YOSHIMI from Boredoms, who were often seen in fashion magazines in the 90's.
The topic is mainly Indian movies.
It seems to be a tie-up article with the movie "Arunachalam Dancing Superstar".
News and posts page. Buffalo '66, "TOKYO TRIBE, and other cultural news that symbolizes the late 90s. 
"Gal slashing exemption".
Creative hairstyles that are fun to watch
"Popular hair salon encyclopedia" "Harajuku hair picture book". Various styles, from shaved to dread.
It's fun to watch. The number of young people with unique hairstyles has increased in the last few years, but it seems that not only fashion but also hairstyles will be influenced by the 90's.
Hair salon, Tokyo edition.
The hairdresser has a relatively simple hairstyle.
He in the upper right wears Martin Margiela's AIDS T.
Osaka edition. I miss the fiber zoom.
There are still many stores.
A unique beauty:beast even now
"beauty: beast research".
Currently, beauty:beast is very popular in overseas Instagram markets. The armor-like items on the right page are unique even now. The blouson with a flower-like ruffle on the left page is also interesting.
Square toe shoes that look like they are deformed on a coat with interesting buttons and fabric texture. It's an atmosphere that only Japanese designer brands in the 90's can have. Since it is unique, it is no wonder that there are still people all over the world who are attracted to this atmosphere.
"Summer dressing technique".
A fairly minimal and modest atmosphere. The center of the right page is John Smedley's sleeveless knit, Raf Simons' wide slacks, and Converse All-Star, the late 90s mode.
Coordination with a sense of mix, such as used clothing from designer brands.
Beauty advertising.
Cibo Matto, interview. "This time, Sean Lennon's full participation is also a hot topic."
Interview with "Hardcore Ultimate Weapon WRENCH" and "KEMURI, now the number one ska punk band in Japan".
Introducing the new album on the right page. Hi-STANDARD's masterpiece "MAKING THE ROAD". Besides, Hideki Kaji, Takako Minekawa, Issei Ishida, etc.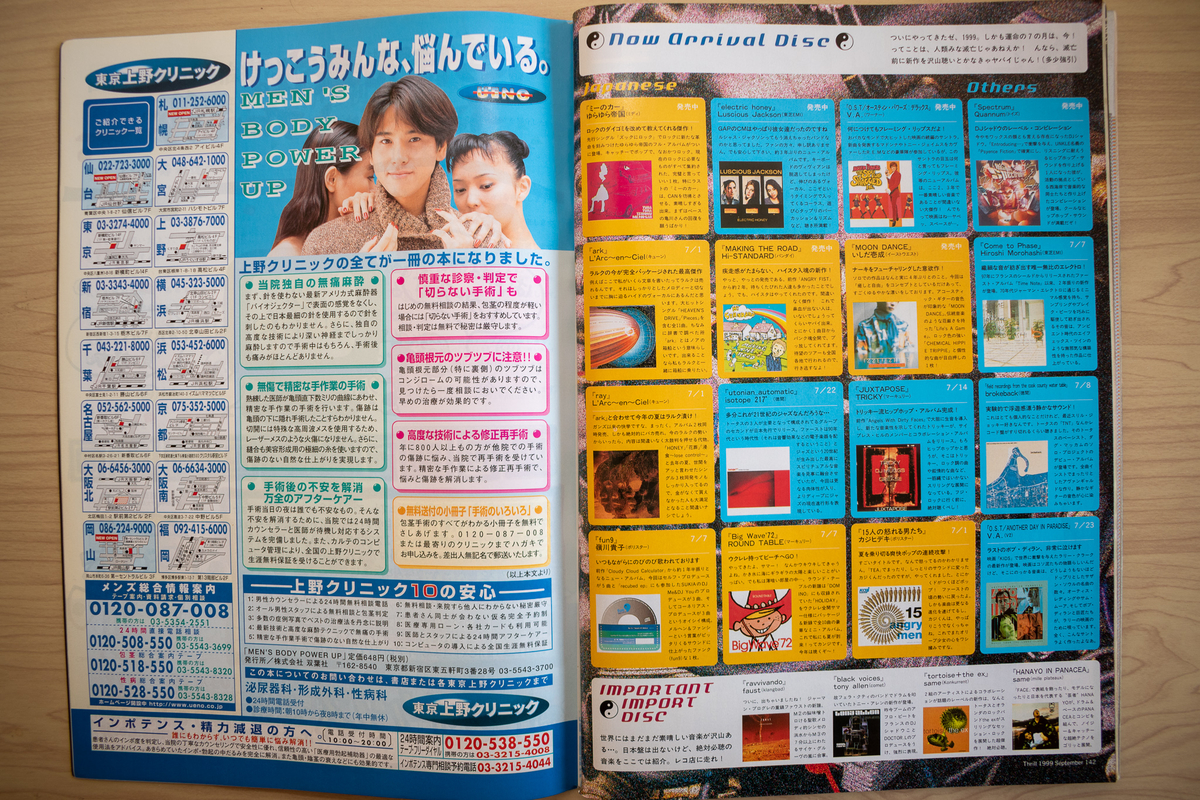 "Japan's oldest. Internet provider". The URL posted does not seem to be used anymore.
Top right, Men's Hairstyle Beauty Magazine, Bidan.
When I looked it up, it seems that the magazine was published until 2011, although the name of the magazine changed.
"Fashion release".
A 90s feeling full of popular portable CD player, loop master Edifice's bespoke, Lad musician's bespoke watch, independent, etc.
It was Alexander McQueen's watch. The price is quite good at 88,000 yen.
"Kansai Special Information".
Harada expert!
Personally, the logo of the legendary comedy show, Yoshimoto Chogokin, left an impression on me.Many projects that can never be broadcast now. I was laughing and watching.
"Yasuhiro Suzu (singer / songwriter)".
A T-shirt gift designed by Toshio Nakanishi.
The back cover is fashion brand BA-TSU.