smart September 7 1998.
The cover is Cornelius and Aiha Higurashi (SEAGULL SCREAMING KISS HER KISS HER). Higurashi is staring diagonally below lol.
The advertisement on the back of the cover is Denim, one of the popular Japanese vintage jeans replica brands at that time.
The next page is an eye-catching sideways 20471120 ad.
This is a fake alert advertisement. This ad alone will give you an idea of how popular 20471120 was at the time. There are quite a few dealers as well.
The first feature is General Research & N.W.O.
The special feature at the beginning is General Research. Is it okay to use the Ura-Harajuku brand? Originally, Setsumasa Kobayashi, who was active as a shoe designer, is working on it. I haven't bought it, but it's a brand that I've always liked, and I still always look at the shops along the Meguro River when I visit Nakameguro.
Roughly speaking, outdoor ☓ punk is the brand concept. This brand with a ton of small pockets is a popular design on Instagram these days.
Mohair knit, tartan plaid, and other motifs that symbolize punk are incorporated.
Along with General Research, N.W.O is featured as the "two major charismatic brands." It is a brand of Mr. Hironori Ichinose who launched an Undercover with Mr. Jun Takahashi while attending Bunka Fashion College.
N.W.O was later renamed VANDALIZE. We also exhibited at the Tokyo collection. I couldn't find out what kind of activity I was doing now.
Old Marui brand, Abahouse is usually cool
Next, "New Large Anatomy" by Marui brand Abahouse.
Recently, the old Marui brand has been attracting attention on Instagram, but this Abahouse is also quite nice. The color scheme and material of the material, Bal collar coat, like the MA-1 on the left page, are fashionable, aren't they?
The coat worn by the woman on the right page is also good.
Item catalog. At that time, I was buying Marui products including Abahouse at Kobe Vivre, so I should have seen the products here. At that time, I remember having an Abahouse Olive ☓ Red reversible long Tshirt, but the atmosphere may be this season's product.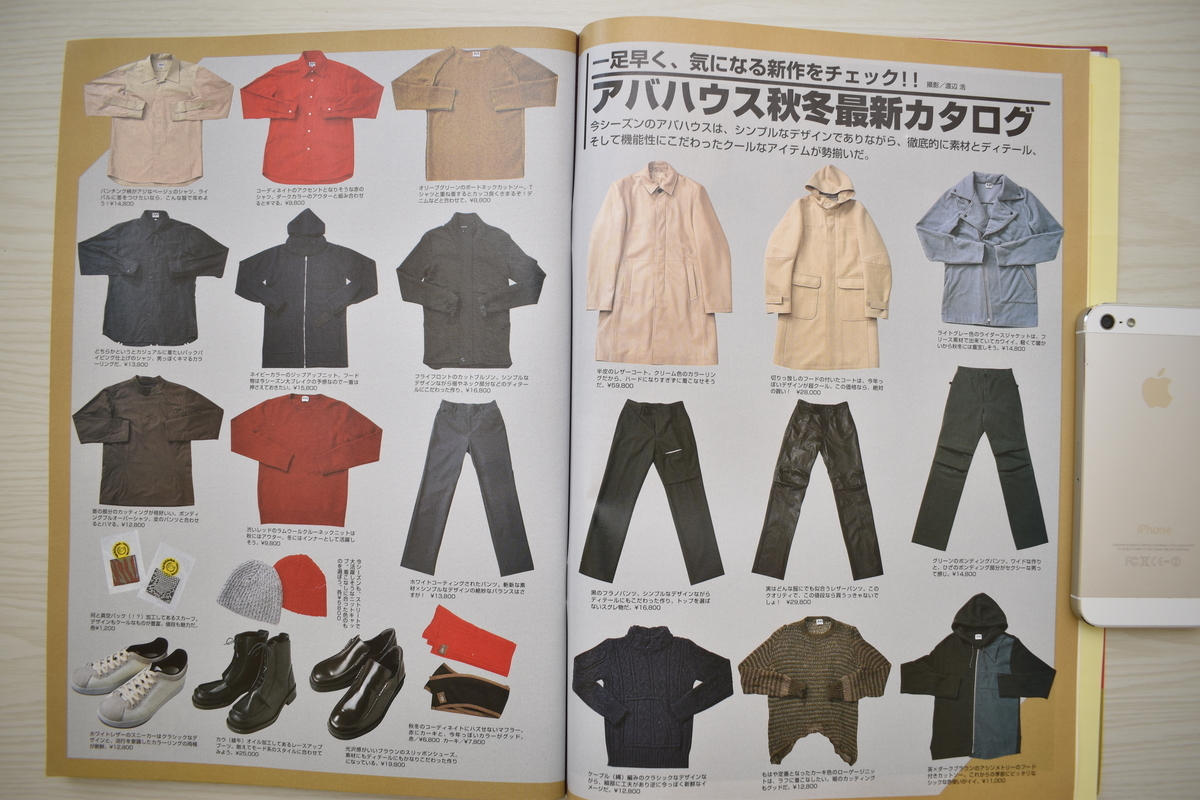 The long length rider's jacket is made of fleece. This looks pretty good.
Knits are also nice. The old Marui brand seems to have more treasures sleeping.
Christophe Lemaire and Jose Levi,I was addicted to at the time
Next is a special feature on shirts with items. A.P.C., Helmut Lang, PPCM, Number Nine and popular brands of the time are lined up.
Christophe Lemaire's shirt with an exquisite color scheme. At that time, I loved Lemaire's design like this. In Kobe, it was sold at select shops centered on designer brands, Baudelair, and Bshop, which are now select shops nationwide.
I also liked Wim Neels, who had a lot of twisted designs. However, it was too expensive to buy because of the elaborate construction.
The beige shirt in the center is Number nine. I miss the blue tag.
Jose Levy's shirt with a beige body and nice mustard-colored piping. It is a French designer brand.
The knit with colored sleeves is also Jose Levi. I want to wear it normally now.
The military-like knit is Helmut Lang. It's 23,000 yen, which is quite reasonable when you think about it now.
Beams Boy.
The model on the right is Rinka, if you think you're familiar with it.
When it comes to monochrome pages, the content suddenly becomes shocking, with "poisonous contamination! Indiscriminate murder".
It is a social problem.
The Glico Morinaga case, which is the motif of the movie "The Voice of Sin," in which Shun Oguri and Gen Hoshino co-starred.
Interview with Naoto Takenaka. Mr. Takenaka is known for his love of Comme des Garcons, but the inner T-shirt is also from the Comme des Garcons shirt.
The left page is a Marui brand called Les Vis a Boa. Pants that look like a combination of military and punk are also designed to look good overseas.
20471120 shifted to mode
20471120, which also had a fake arousal advertisement at the beginning.
LICA, one of the designers, is working on the styling.
Aggressive hair makeup using hairpins.
20471120 has a strong image of kitsch design with neon colors and characters, but it seems that it was shifting to mode at this time.
Trattoria Night Live Report
This is a report article of Trattoria Night with the participation of Cornelius, Hideki Kaji, Seagull Screaming Kiss Her Kiss Her and others.
Trattoria is a record label by Keigo Oyamada, and in addition to the members who participated in this live, Kahimi Karie and the popular photographer HIROMIX at that time also belonged to it.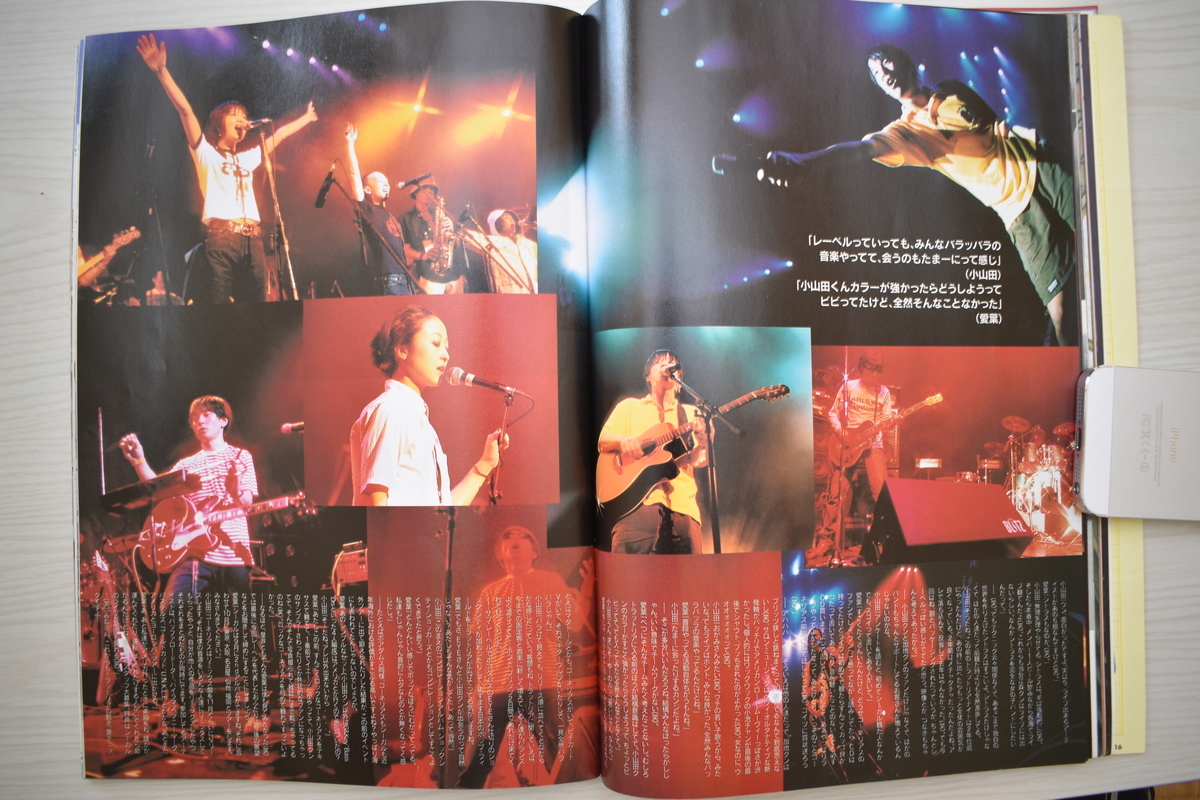 I was quite addicted to Kahimi Karie for a while.
Marui brand, Michael Klein Homme advertisement.
KJ changed college fashion
Kenji Furuya of Dragon Ash is also advertising for Marui brand Rupert.
"Hi Wa Mata Noborikaesu" has already been released, so I think it's after the break, but I've also been in such advertisements.
The appearance of KJ had a great influence on men's fashion at that time. I remember the surge in KJ fashion at my university after the break. The New York Yankees cap was a landmark.
After a while, there were many people dressed like this PV.
There are really many advertisements for Marui brands in smart.
The silhouette of leather shoes is timely
Smart Girl's File is Yuka.
The saddle stitch project is the definitive edition of "shoes" in the fall of '98.
The slackness of the hem of these pants is fresh when you look at it now.
Various boots are lined up.
In fact, leather shoes have a very timely silhouette. At this time, the fluffy toe stands out.
Masaki Matsushima! An aggressive design called Velcro on the wing tip.
Kojikuga was also popular. Velcro on the shark sole. At that time, there was an only shop in Minamihorie, Osaka.
This is also a beauty beast that was very popular at that time.
Jose Levi also pipes his shoes. It is as particular as Tom Brown's tricolor color tape.
The three major decisive battles for comfort shoes are Camper, Birkenstock, and Trippen. Birkenstock is still popular, but Camper and Trippen are almost gone now.
I wanted this trippen at the time, but I couldn't afford it. Certainly, it seems that it was placed in a select shop dealing with Dries van Noten, which was next to Comme des Garcons Homme Plus on the top floor of Kobe BAL. I forgot the shop name ...
Street snap of shoes main.
Garcon's clothes and trippen shoes. At that time, I was like this。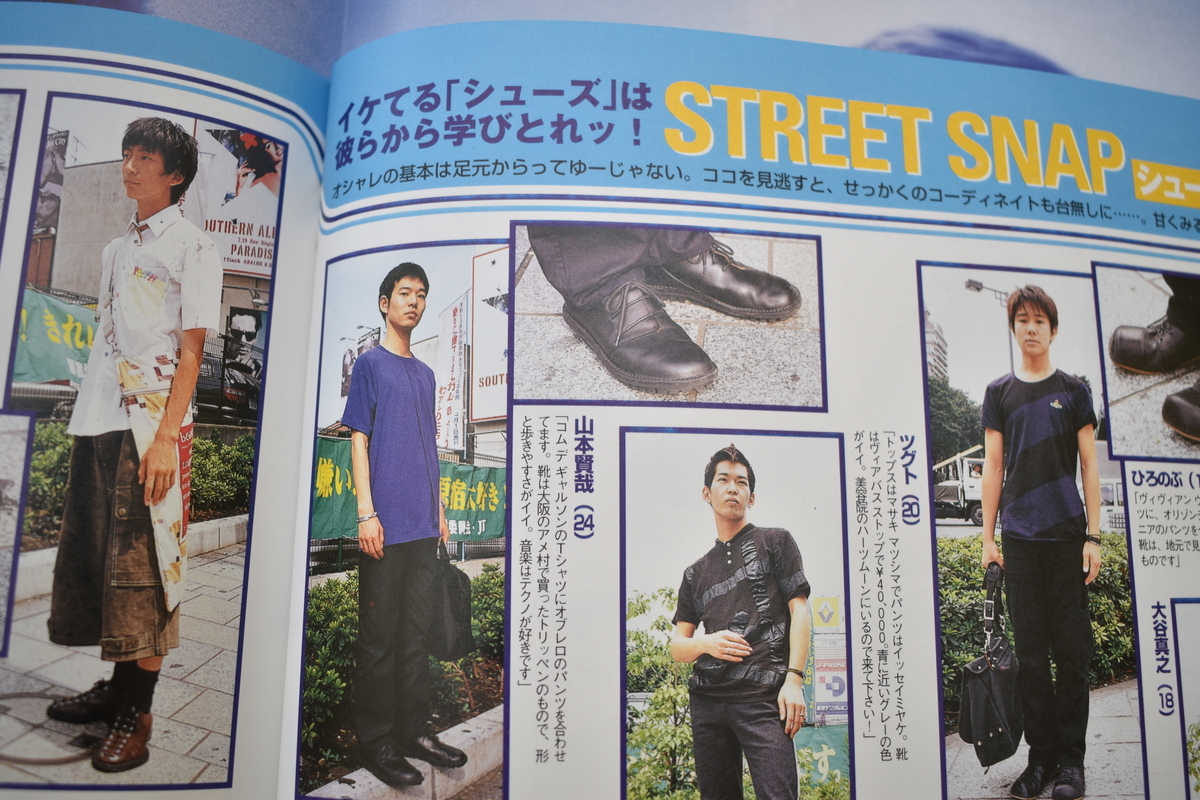 I used to wear this kind of ridiculous look once in a while.
Saddle stitching is over. Yuka's continuation.
Mihara Yasuhiro in the Yasuhiro Mihara era
Fashion news page.
Not Yasuhiro Mihara, but Yasuhiro Mihara. Was it the opposite at that time? I remember being Mihara Yasuhiro for a long time. Mihara Yasuhiro is also a brand specializing in shoes at first. In Kobe, it was handled by the above-mentioned Baudelair.
Loop master for portable CD players.
I think the vintage jeans boom has come to an end, but there are advertisements for vintage second-hand clothing stores.
Jeans roll up too long
Street snap in Harajuku.
Takashi Kumagai and Daisuke Iga snapped as teachers and pupils.
Rolling up jeans that are too long was also a trend at the time.
There was a shelter! It was also in the American Village in Osaka. Certainly ... a select shop? I think it was, but I remember that the printed T-shirt with the design influenced by Martin Margiela was also popular.
When I looked it up, it seemed to be a domestic designer brand.
Tornado Mart that hasn't changed in the past
Marui brand Tornado Mart is still alive.
Here ↓ This is the latest image of Instagram Tornado Mart, but the overall atmosphere hasn't changed from 25 years ago.
 

 

 

View this post on Instagram

 

 

 
Changing Times. I wonder if this was also Marui brand.
Irregular, the second brand of Alfred Banister, a shoe brand developed by Abahouse. A fairly aggressive design.
Monochrome news page.
Jenny from Shinichirou Arakawa collaboration.
Culture page.
A special feature of Takuya Angel's enthusiastic fans, who were called angels. The first answer to the question "What if Takuya Angel is gone?" Is "I don't mind if it's gone" lol
Recruiting friends & lovers on the monochrome page,
There is also a corner to sell and buy. It's quite interesting, but since the real name of the address is exposed, I will refrain from uploading it.
Shop index.
"Popular brand research". Lowrider. I know the name, but honestly, it's a brand I don't remember very much.
This kind of switching design is fresh now.
Rupert that KJ was advertising earlier.
Advertising page for Hankyu, Shijo Kawaramachi, Kyoto.
Helmut Lang jeans.
It seems that designer brands and Marui brands were open.
Select shop, Lui's advertising. Oh yeah, it was in Gare Osaka. I used to go there at that time. I bought a masterpiece backpack with a design and material very similar to Prada's V135 and used it for college.
Speaking of smart's specialty corner, "Chinkame" is not found in this issue. Didn't it start yet? I don't know if it's a substitute, but there is a photo page like this.
Photographed by stylist Takashi Kumagai in the name of a photographer, Lake Tahoe.
It's artistic.
I'm also wearing Penicillin Chisato!!!
Isn't it the best power word in this issue?
Also wearing Penicillin Chisato!!!
It's the official T-shirt of the band Sick Of It All.
Perfume ads.
A brand called biopolitics, which is scheduled to be announced in the Osaka and Tokyo collections with the theme of "100 years of foolishness of humankind."
Upon examination, it seems that the brand is still active.
"The wings have become wings. Let's go."
"Check out the latest mode street casuals from the Greek interior with pale light." All you have to do is check.
High-Lows ads.
New Balance made in England is under 20,000 yen
Brand used clothing store advertisement. Since the price of Vivienne Westwood is not listed, you can see that it was a popular item.
New Balance made in England is under 20,000 yen. It's a price you can't think of now.
Heaco advertisement, DJ KRUSH interview.
There was a popular program of NHK at that time, DJ KRUSH times of Top Runner.
Pillows ads. Album introduction page.
Model, Arata (Arata Iura)'s fucking on. Interview with Stereophonics, The Montrose Avenue.
N.W.O present.
information.
Independent watch, Gaultier's wallet. It was also popular here and there.
The back cover is a men's brand of As knou as ,called nuphile. I don't remember.