POPEYE September 16 1987
Biweekly Men's lifestyle magazine
Special feature
I want to wear clothes that look good in style
What caught my eye was the catchphrase "Pants have a loose silhouette and goodbye."
Loose silhouette is in the middle of the trend right now in 2021, but this issue is the trend fashion proposed next to such loose silhouette, and it may indicate the direction of future fashion trends. not.
ad Tom McCan
65 years of history in America
No. 1 brand in the United States in both name and reality
New style FDG
FDG Futur Directeur General
FDG is a fashion term, and roughly speaking, it feels like an elegant French casual style.
80's fashion trends
Here, I would like to briefly introduce the flow of Japanese fashion trends in the 1980s. Comme des Garcons and Yohji Yamamoto made their debut in the Paris collection in 1981, and a full-body black fashion called the crows appeared.
https://www.pinterest.jp/pin/350717889708494500/
After that, the DC brand boom came. DC is an abbreviation for Designers and Characters, and small but innovative brands by young designers based in a studio apartment in Harajuku called a condominium maker are gaining popularity.
The "'80s Girls Fashion Book", which was introduced earlier in this blog, makes it easy to read the archives of such DC brands in the 1980s.
そんな80年代のDCブランドのアーカイブが手軽に読めるのが、以前当ブログでもご紹介した「'80sガールズファッションブック」です。
The DC brand boom started with the crows, who had a black and stoic atmosphere, but in the latter half of the DC brand boom of 1985-86, it became a pop atmosphere with various colors and patterns.
In addition, the avant-garde and sophisticated silhouette in the first half changed to  loose silhouette in the second half.
After such a flow, EDG appeared.
What the fashion trends of the 80's and now have in common
The atmosphere is quite different, but I think that the style with a strong impact of the DC brand has elements that are a little closer to the luxury street style that was popular a while ago.
ラグジュアリーストリートな人たち、みんな頭が痛くなっちゃってるのなんでだろ… pic.twitter.com/TX8R2KWQZW

— 山田耕史 書籍「結局、男の服は普通がいい」(KADOKAWA)発売中! (@yamada0221) 2021年4月2日
Also, in 2021, the loose silhouette is booming.
 

 

 

View this post on Instagram

 

 

 
I feel that this is quite similar to the fashion flow when Ehudeje appeared in the late 80's.
So, I expect that Fudeje fashion will revive in the 2020s.
By the way, Ehudeje in the 1980s did not become a big boom after all, but it became the cornerstone of the Shibu-Caji(shibuya casual) style that became a big boom in the 90s.
The penetration rate of print gocco is 1 in 9
Now, let's get back to the magazine. Renown brand called GARA pour HOMME.
This is the first time I've seen staff on these advertising pages.
Panasonic car audio.
As a "graphic monster", it seems to be a product featuring this display.
Advertisement for Fujifilm cassette tapes. The fact that cassette tapes are advertised in this way is refreshing.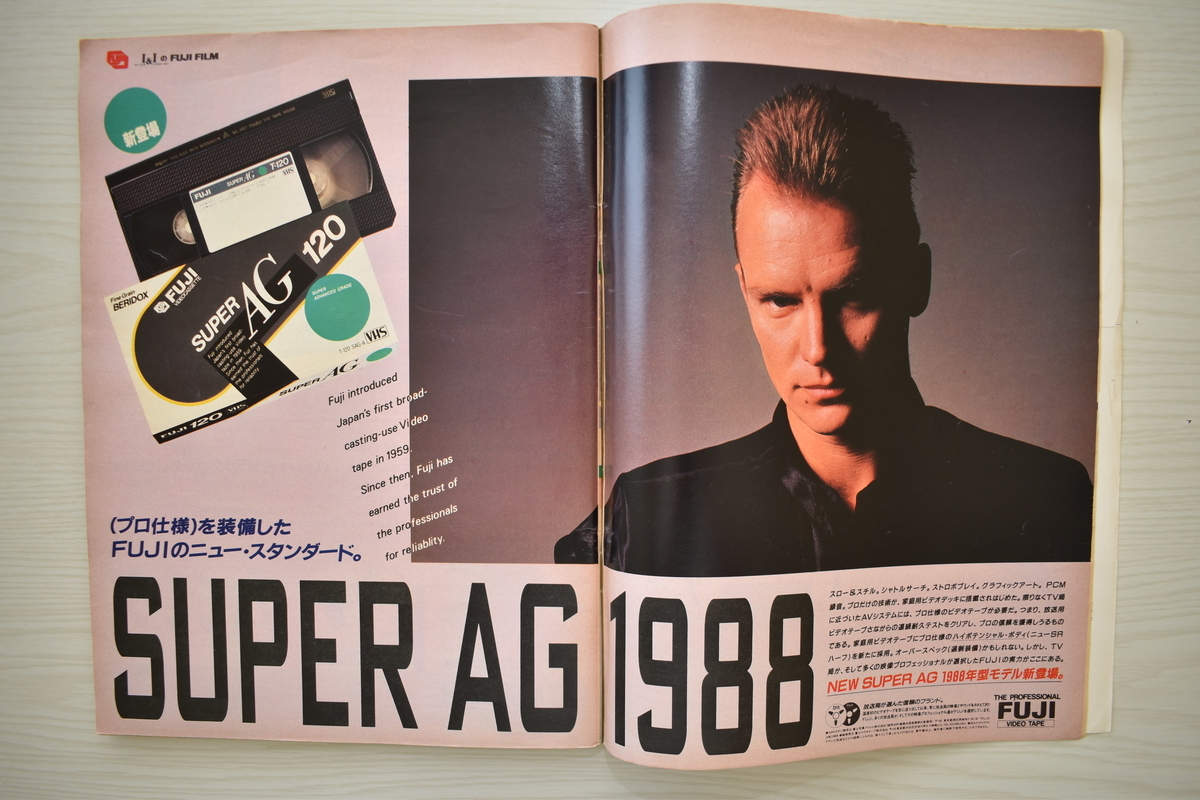 The right page is a Yamaha scooter advertisement.
It is a Mondrian pattern.
A gift of a bag from Flandre,Japanese apparel maker. It is a French motif.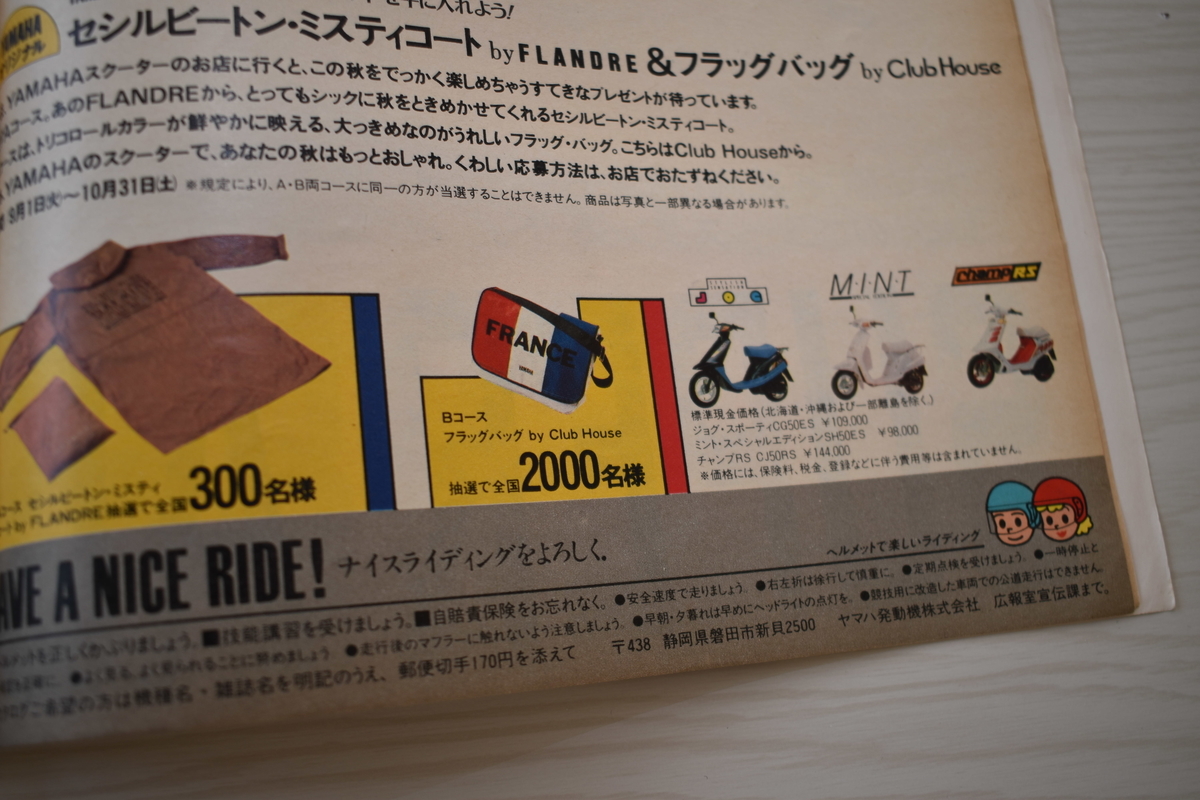 Agnes B. "Print shirts are popular instead of print T this fall."
Panasonic camera ads. At that time, F1 was also popular. I also remember having various goods such as stickers and shitajiki.
Fully automatic zoom.
Print Gocco! "The penetration rate is 1 in 9". I also used the printed Gocco that I received.
A good time. Kiyosato is a representative resort area in the 1980s.
The relocation of afternoon tea is in the news. It must have been popular.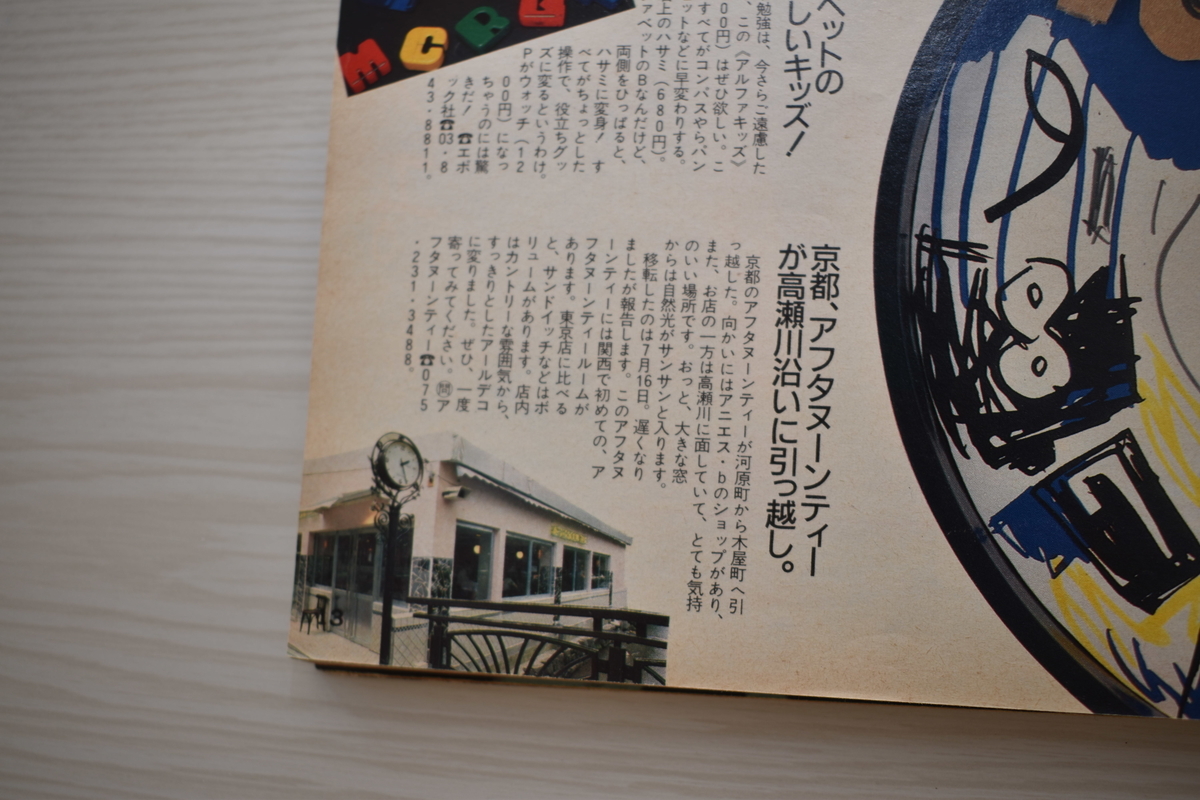 The Gatsby advertisement is by Yusaku Matsuda.
Bubbles, aren't they flying too much?
"Adult swatch". It looks good. It looks good to have such a design and revival.
Michael Jackson's World Tour.
"Marui's staff blouson to be worried about".
The right page is a DC brand advertisement called Scoop Boys.
Branded sneakers called "Exara Indoor Soccer".Available at the Hollywood Lunch Market.
A card that allows you to listen to the weather forecast for 100 yen each time. It's amazing ...
Toshiba TV on the right page is also F1.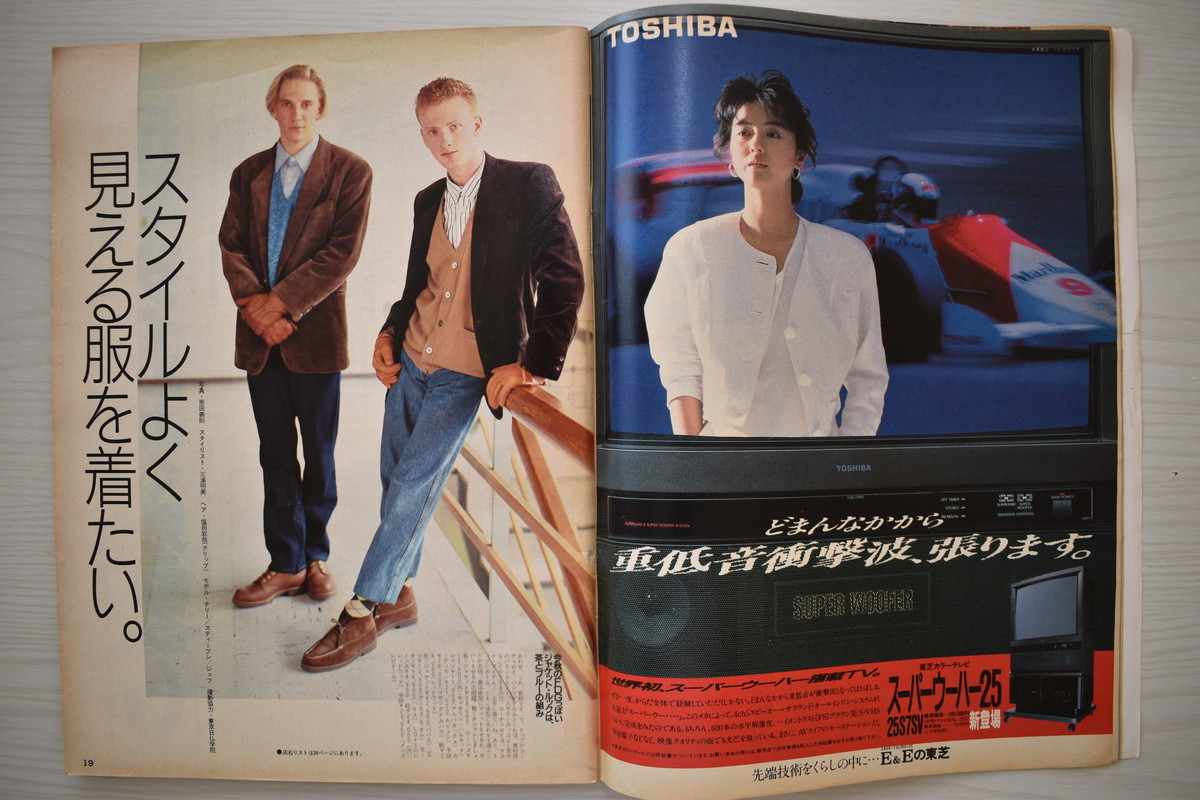 "Heavy bass shock wave".
The most important point of EFD is size
So, from the left page is the EFD special feature. Coordinating jeans with a tailored jacket.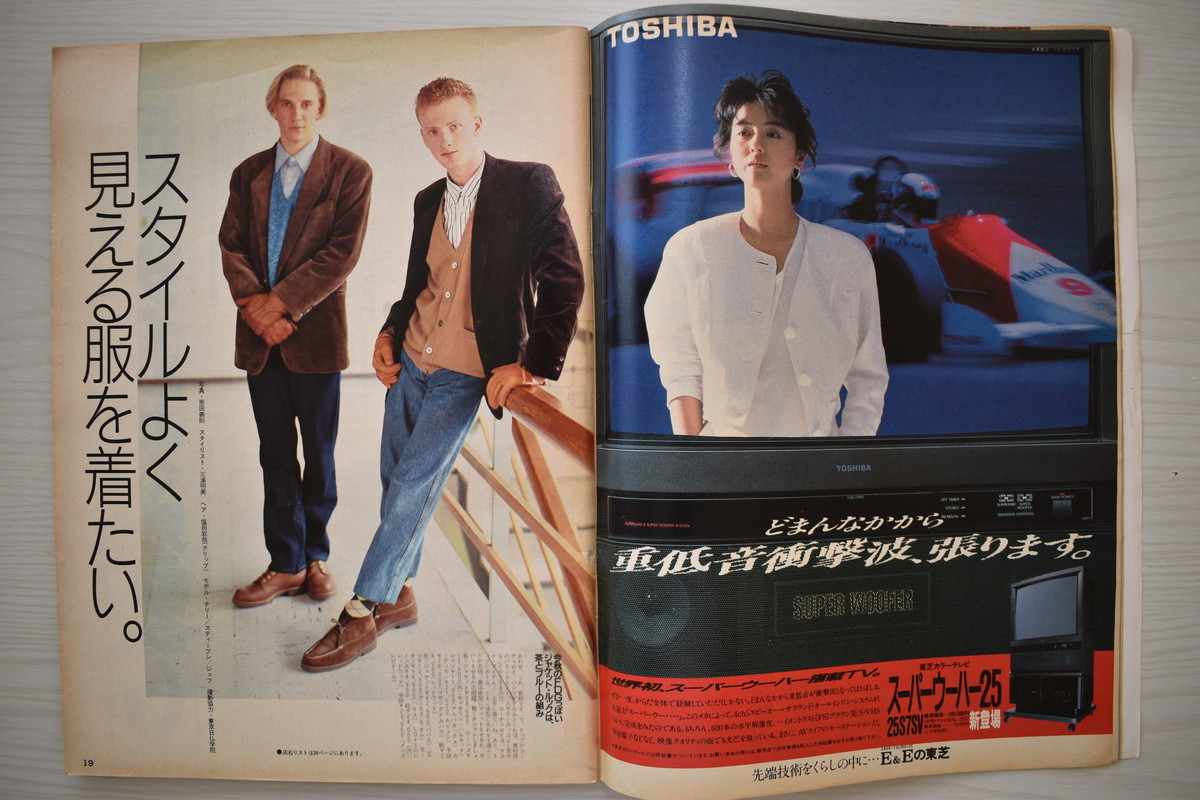 Brands are Katharine Hamnett, Papas and Agnès B.
"This looks good in style!"
"Choose delicate clothes based on knowing each size of your body, which is an important point to show your style well. It's a tough choice when choosing things with a conventional DC feeling. After all, you need an FDG feeling. . "
So, we can see that it is a new fashion that is different from the DC brand style.
The trend of "I just want to throw away the idea that oversize is good" is likely to come out this year or next year.
"The basis of coordination is pants".
"Levi's 501 or 505, I can sit on my waist without a belt."
"Old England or Beams F Chino, press and refine."
On the left page, "I will tell you the points that look good in style" by a fashion industry person, Mr. Hirofumi Kurino, who was a director of BEAMS! It is said that "smart manners are also part of the style".
So, the actual coordination. The right page is a jacket and a tie-up shirt. The emphasis is on the length of the jacket and the silhouette of the pants, as it "looks good in style when attracted in a well-balanced manner". The left page is a French shirt and scarf.
The coordination of the hoodie under the tailored jacket on the right page still seems to be natural.
I like the turquoise polo shirt.
The coordination of slacks on this cardigan is uncle, or is it like an old man? However, I feel that it would be nice if the young child now wears it.
After all scarf is a point item.
Coordinated with a natural atmosphere of Alan knit, urban striped shirts, polo shirts, and scarves.
Like this page, it seems that you can still wear it in a casual atmosphere.
Baseball cap, hoodie, check shirt. This is cool.
Elegant flight jacket in FDG style
"CWU-45P inevitable fashion". Is it the influence of the movie Top Gun released the previous year that it is so recommended that "If you wear this, this fall and winter will be okay"?
CWU-45P is a US military flight jacket. There are many affordable consumer products as well as used ones.
80s U.S.NAVY CWU-45P
¥13,440(記事執筆時の価格です)

|画像タップで楽天市場商品ページへ|
Rothco CWU-45P Flight Jacket
¥7,160(記事執筆時の価格です)

|画像タップで楽天市場商品ページへ|
The FDG style is to coordinate such a wild military outerwear with a shirt with a strong formal feel and an elegant item called a cardigan.
Coat coordination.
I feel that this style is likely to be accepted now.
Brand credit. Mainly DC brands such as Y's, Tokio Kumagai, Nicole Club, etc.
The advertisement after the EDG feature at the beginning is Toyota Land Cruiser. Super cool. I want super.
This graphic is also nice.
The font is also nice.
The EDG feature continues.
"EDG dressing course: Wearing ordinary clothes normally. This is quite difficult."
It's similar to the title of my book, isn't it?
"Basic items" are "white BD shirt, bal collar coat, and flannel two-button jacket".
"A white BD shirt that is sure to be a big success" is "choose one with a high broad count".
So, coordination of white shirt and jeans. The button that is fastened to the top is also a way to create elegance.
French casual style, white ☓ black coordination.
Looking at the credits, Brooks Brothers shirts and Lee jeans are the main American brands.
Bal collar coat and P coat.
Where is the coat with a plaid lining? I thought it was BEAMS F.
Coordination based on white.
The V zone of the blazer is quite deep.
"Traditional blazer is fresh" "But I don't want to make it a trad". 
It would be interesting to coordinate and revive like this.
How to wear a white shirt
Monochrome page. Overall, the quality of the magazine is very high. There are no omissions in the photos and texts. Incidentally, the quality of the advertisement is also high.
Wearing a white shirt. Sting, Paul Smith, Paul Weller.
Paul Weller is said to be the "FDG Grand Prize Technique".
Woody Allen, Warhol.
FDG Group Curiosity Killed the Cat
"Exactly the 80's FDG group, Curiosity Killed the Cat" ... I didn't know, so I looked it up.
A successful British pop band in the late 1980s, they released hit singles such as "Down to Earth", "Misfit" and "Ordinary Day" from their first debut album, Keep Your.
That's right. If you check it on YouTube, the fashion is cool, but the music seems to be cool now.
Margaret Howell. At that time, it seems that the element of French casual was strong.
Loafers and white socks are nice.
A 60's movie that is quite familiar with FDG
"The fashion concept around 1960 has something to do with FDG," he said.
Jean-Luc Godard's "Breathless", Jean Seberg's "Nice Stupid", and Alain Delon's "Plein Soleil" are mentioned.
It seems that you can watch "Nice idiot" and "Plein Soleil" on YouTube.
Beams advertisement page composed of Tomoki Sukezane
"BEAMS NEWS". It's the BEAMS advertising page.
The composition is Tomoki Sukezane. Probably when I was in the POPEYE editorial department.
The leather shoes are Hawkins with a classic look and the avant-garde Dark Bikkembergs. … Both are really cheap. Dirk Bikkembergs had a strong image of the 90's, but it has been popular since the 80's. Hawkins has a strong image of ABC-Mart now, but it was a long-established store founded in 1850, and was an authentic shoe maker that made military boots and mountain boots.
Is the table clock Brown? If you think, Timex. Good looking.
Socks are Easy Smith, which caused the loose socks boom in the late 90's.
Corduroy button-down shirt.
There are 10 stores in total. At that time, in addition to Tokyo, it was only in Kumamoto, Kyoto, and Sapporo.
Sony advertising.
380,000 pixel video camera. 240,000 yen.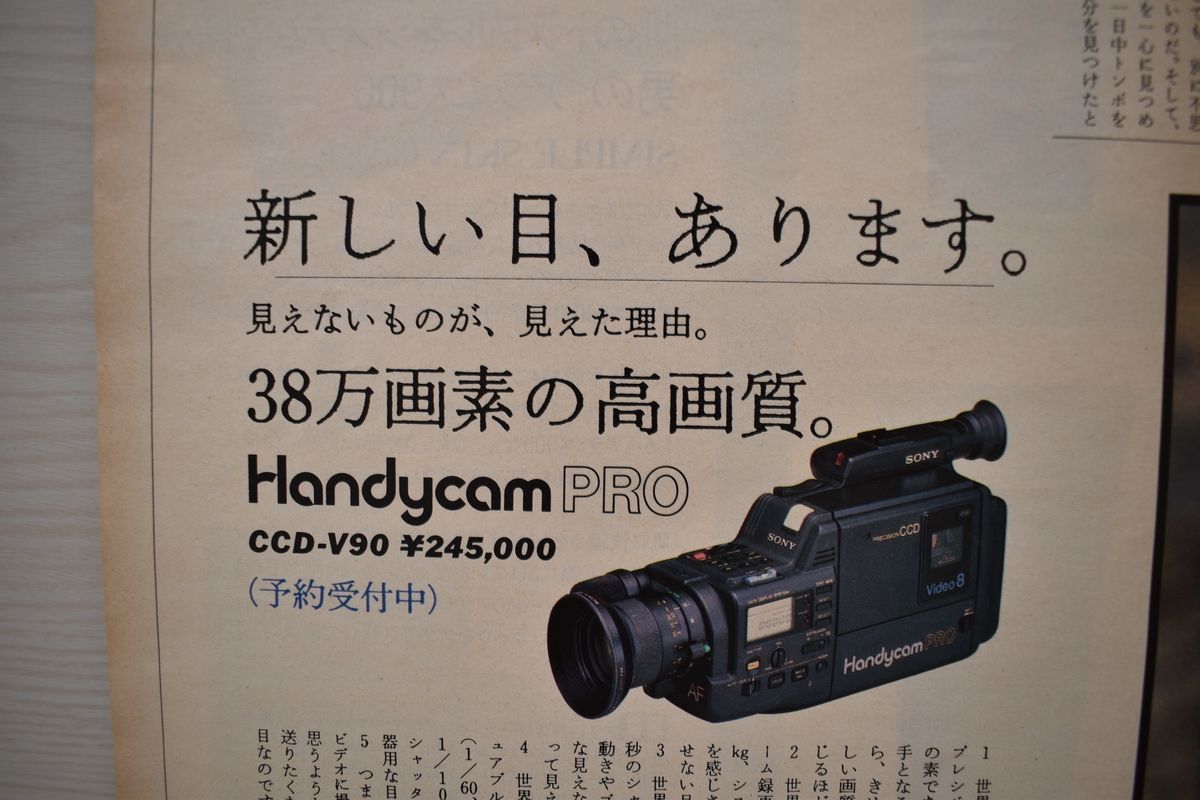 By the way, the number of pixels of the smartphone I am using now is 48 million pixels. It is in the 20,000 yen range. Technological innovation is amazing.
Very high quality design and content.
Aramis skin care.
Lee advertisement.
"FROM U.S.A"
DC brand style with large logo and loose silhouette
From here, the brand's advertising page follows. The first is the DC brand Karl Helm. The model is Hiroshi Mikami.
EDG is a new style proposed by POPEYE, but the stadium jacket with such a large logo is a design peculiar to the DC brand that was popular at that time.
The silhouette is quite loose.
The duffle coat also has a loose silhouette. As I introduced in the previous article, EDG is proposed as the next fashion of these existing DC brand styles.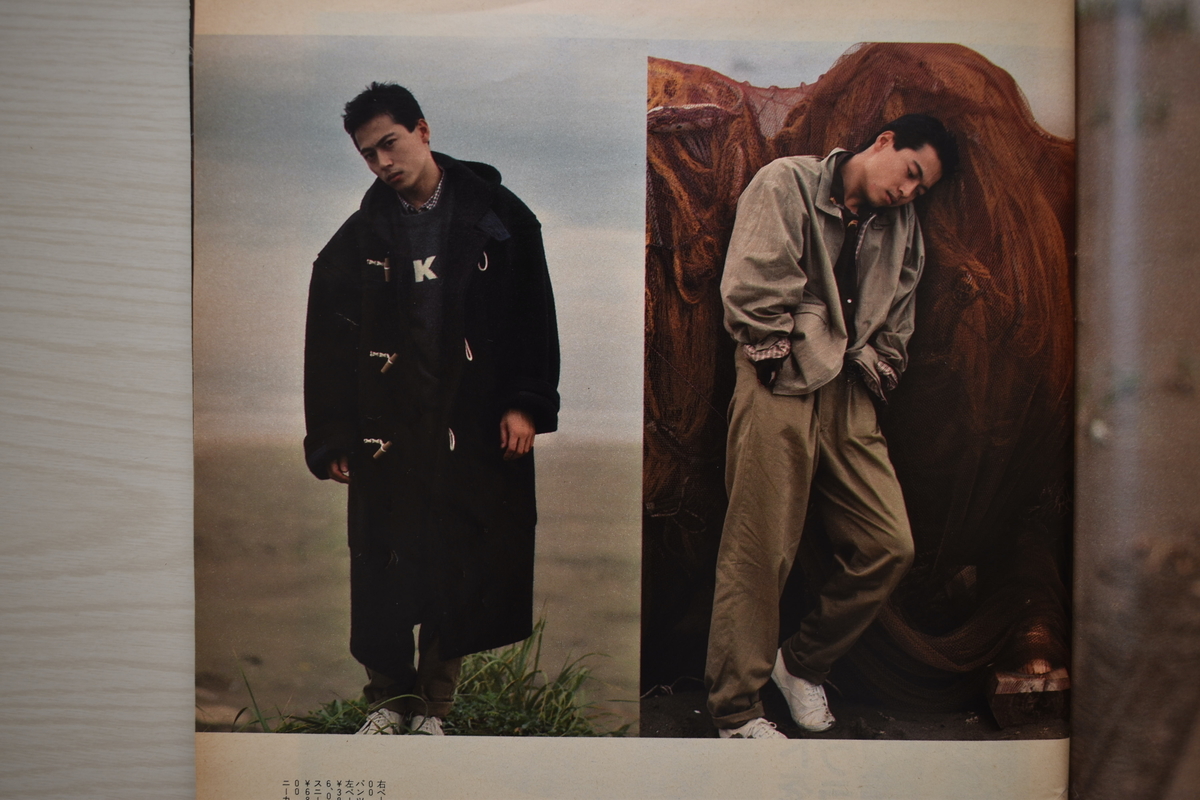 Later Marui brand (although it was sold at Marui at that time), Men's Melrose.
A pretty formal impression.
Next is a brand called Inspire. The outdoor color is stronger.
Currently, a men's casual maker called Gifutake has obtained a license and is developing it.
 

 

 

View this post on Instagram

 

 

 
FDG outdoor
Arranged versions of FDG are also proposed.
"FDG coordination" "This is how we combine outdoor clothing."
"This FDG outdoor wear. The difference from the heavy-duty ivy of the 70's is that you can simply enjoy the color variations and make it look like a trad."
The "Heavy Duty Book" published in 1977 by the scriptures of Heavy Duty.
Heavy duty was a style that emphasized functionality centered on full-scale American outdoor brands such as LLBean and Kelty.
Fashion-based FDG outdoor is a fairly elegant outdoor style that is completely different from heavy duty.
The design of the cassette tape is good looking.
Takeo Kikuchi Styling American FDG
"FDG is the most wonderful thing to wear with some ingenuity"
The styling is Takeo Kikuchi.
Is it an FDG based on American sports styles such as stadium jackets and college sweatshirts?
Pretty mixed coordination.
Baseball cap, suede blouson and tweed pants.
A novel coordination that puts out the collar of the shirt from under the MA-1.
The right page is a Timberland advertisement.
"Authentic heavy-duty shoes" and appealing quality.
And the left page is still a special feature of FDG.
The expression FDG = Uptown.
This is not clothes, FDG in the interior.
"A bookshelf is an overview of a person's cultural background. Exposing it to others is like showing nakedness. However, it is a common situation. Too much consciousness, foreign books, philosophical books It's best to lose friends in a bookcase full of books. It's a casual, glimpse of a cultural life with a good balance of intelligence and fashion. "
This passage, "Cultural life with a good balance of intelligence and fashion," feels like a keyword for FDG.
Also, "Literature is a pain in life, and it smells like a serious youth that is easily hurt. Torahiko Terada, Chuya Nakahara, the depth of intelligence is deep and I want to hide it in the inconspicuous top row." In that sentence, I feel the literary character that I can't think of as a fashion magazine.
The copy, "It seems that the space is also full of intelligence," tells us that EDG needs not only superficial clothing but also internal elements.
"What you need to know, what you should see, visual arts book" includes photographs of ancient ruins and teddy bears, drawings of Leonardo da Vinci, and so on.
"Yamanote Shonen has grown up in good emotions and sensibilities, so he can't stand it with an easy-to-use audio device. However, he is not a maniac enough to occupy space with expensive components," he said. Appeal with audio.
The bookshelf called "Cultural Vessel" is an Italian designer and costs 480,000 yen. You can buy a car.
Next is "Preparing for a man's trip with love, courage and aesthetics".
"If the trip is a drama, of course, the main character is a traveler, and the hero still cares about fashion," he said. So, Shetland knit and LLBean bandana are mentioned.
The footwear-related belongings are amazing. Indoor shoes on deck shoes. And a total of 5 brushes and lots of cream puffs. It is also difficult to appeal the goodness of growing up.
"My favorite sports goods become my resume"
A variety of sports items are lined up, saying, "FDG sports boys must be fashionable. They are enthusiastic about fashionable events and naturally stick to equipment and clothing."
Skateboarding, Frisbee, basketball, soccer, tennis and much more.
"And now, I'm crazy about motorcycles", so the road bike of the long-established Italian brand DE ROSA is 500,000 yen.
And, "FDG's" relaxing on the grass table on weekends ", a truly upper class hiking set.
Keio University student is a symbol of FDG
"It's more about things than fashion that the spirit of commitment is most explicit and honest," he said.
"What kind of taste is FDG hobby? What is FDG-like item !? Based on Keio University student, who is considered to be the most mountainous person now, thorough research to clarify the secret of his commitment", Keio University student Seems to have been a symbol of Ehudeje.
"After all, avoid the first-class products that are too major. Well, if it's a watch, you should lose Rolex and buy a simple Jaeger-LeCoultre Riverso (650,000 yen)."
"Domestic products are reasonably priced for Seiko's spirit (35,000 yen) and mecha (25,000 yen)."
The car is "The dream is already announced BMW 750 (13.58 million yen), but on the actual route it is a legend (3.99 million yen). I can not give up the hobby of the car."
And finally, the punch line "What is FDG after all ...?"
Brand advertising page.

A brand called Peyton Place For Men.
For short、PPFM!
Yes, it is PPFM that is now gaining cult popularity overseas as an old Marui brand.
The stadium with a large logo is a characteristic item of the DC brand boom.
Although it will continue to appear, staff jumpers with such a back logo were also popular items in the DC brand boom.
Also a brand advertising page.
It is Abahouse that is still being developed.
The composition is Tomoki Sukezane.
Axia cassette tape. I mean, young people don't know about Axia, huh?
Isn't this design quite excellent?
Right page, Oronamin C advertisement.
The illustration is Mayumi Yoshida, a shojo manga artist. "It's a good love triangle for me," 
The manga "Find the Idol" based on Mayumi Yoshida is a movie starring Momoko Kikuchi.
Matching loafers to jeans is the basis of FDG
The monochrome page is "Wear denim this year!"
FDG denim coordination instruction page.
Teaching the points of wearing casual denim elegantly in uptown style, such as "off turtle under the blouson" and "tighten the neck of denim jacket with a scarf".
"This is the decisive factor. How to dress in denim"
It's interesting that London is labeled as "London punk",
"Match loafers with jeans. This is the basis of FDG fashion."
Jeans catalog.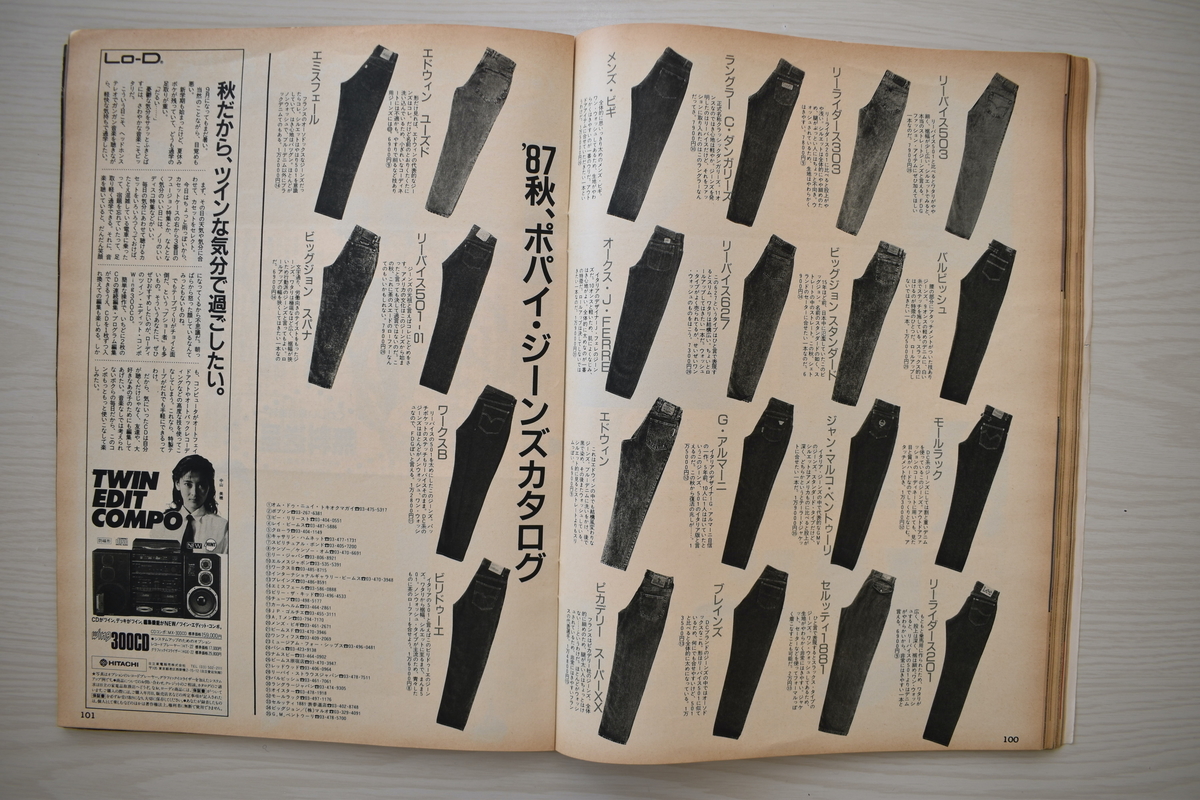 Following the royal roads Levi's, Lee and Wrangler, DC brand Men's bigi.
Armani's jeans were "5 years ago, 1 in 10 people wore" and "501 Italian version". I would like to analyze fashion here and there in the future.
The advertisement for the component stereo is Miho Nakayama.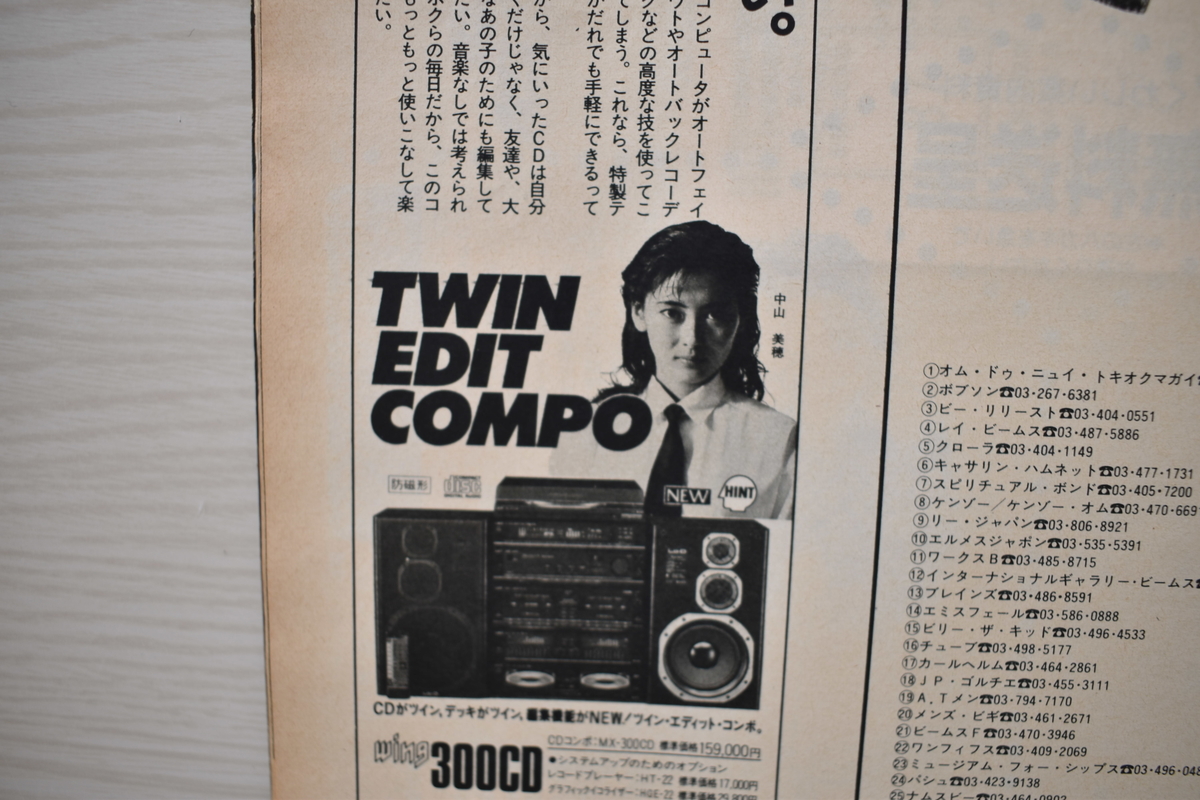 Correspondence course advertisement gives a glimpse of popular fashion at that time
What does "Our Discerning Declaration" mean? If you think
Correspondence courses are recommended according to fashion taste. Perhaps the four fashions listed here were very popular at the time. First, the DC brand.
Next is body conscious. I had the image of body conscious women in the bubble era, but there were also men's. It may have been the most advanced fashion in 1987 because it says, "A sense that is outstanding among my friends. The power to challenge and wear any clothes." I would like to continue to investigate this area as well.
Next is London fashion.
At that time, the buffalo style fashion from London was popular in Japan.
 

 

 

View this post on Instagram

 

 

 
Quoted from BEAMS'book "WHAT'S NEXT? TOKYO CULTURE STORY".
It's a multiplication of "mode x sports" that has become commonplace, but at that time, London stylist Ray Petri was proposing it. "Buffalo" in the style name is a creative group that he was the center of. The UK street magazine was imported and influenced the Japanese scene. In addition to this, he had announced how to wear boxing pants and jerseys from that time.
And finally, second-hand clothing fashion. Is this feeling like Yutaka Ozaki at that time?
Bass is staple of loafers, both now and in the past
From the left page, there is a special feature "Do you have a proper pair of loafers?"
"The basics are American Bass weijan."
"Speaking of the originator of loafers, these shoes".
G.H.BASS's Weejans is a standard item that is still being developed.
Cole Haan and Alden are listed as high-end brands, but Cole Haan is 22,000 yen and Alden is 52,000 yen, which is considerably cheaper than now.
"FDG Loafer Catalog".
Not only shoe brands but also DC brand loafers are introduced.
"This Timberland has a reputation for making outdoor shoes"
Ralph Lauren at that time can be said that he was not as familiar as he is now because of the word "designer in New York".
Toshiba EMI advertising page.
BOOWY's album, Psychopath.
Converse Cons
Advertising at that time. It's cool.
https://www.pinterest.jp/pin/3096293481249626/
Super DJ Hiroshi Fujiwara
The words "URBAN LIFE GALLERY", "Executive and very fashionable!" And "Experience a wonderful urban life party" are lined up, which are unique to the times when the economy was good.
"A lot of swanky people gathered in the art gallery decorated and created by space artist Kotaro Nakamura to enjoy an executive night party to the fullest," it would be a page that you can usually skip.
But. The words "Wait for the next, Super DJ Hiroshi Fujiwara"!
"Hiroshi Fujiwara (right), who is very active in scratching and dancing"
When HF was young, he used to DJ at the "Executive and very fashionable!" "Grand Urban Life Party".
Onward Kashiyama Advertising.
Victor's VCR ad.
Floating remote control.
A DC brand advertisement called Crossing For Men.
Brutus ads.
I want AKIRA to be animated firmly
National Handy Steamer Advertising. It's not much different from now.
Column page.
Movies and music.
It feels like there are pages for cars and motorcycles.
"Charlie Chaplin series" glasses. This is good.
RAGTAG ads. The store is like a room in an apartment.
Manga etc.
It was the time when AKIRA's 4th volume came out, that is, the time when it was not completed yet. I think I read AKIRA when I was a college student.
I enjoyed reading it very much, but I think it was fun to read it in the series.
Of course, anime is also a timeless masterpiece. At that time, you probably didn't expect it to be so "animated". It is recommended to watch both manga and anime, as the contents are quite different.
Reader page.
In the old days, I had to buy such a ticket to get on the train.
The next issue will be "You will shine for this 10,000 yen !!".
The left page is a Suzuki advertisement.
Insanely cool ... It's a super favorite design.
POPEYE launches a fashion that denies it even though there are many DC brand advertisements
This is where DC brand ads follow.
Later Marui barand,Atelier Sub for men.
Play load.
Pacino.
Marui Shinjuku Young-kan advertisement. "I wanted a blouson like this. A 100% original new face. I have to wear it already."
Issey Miyake's sports line, I.S. designed by Tsumori Chisato.
Later Marui brand, Jun men.
It seems that there was also an original Marui Shinjuku Young-kan.
"Introducing a lot of excellent collection items."
I personally like this styling very much. The outer is Michiko London, and the knit is Peyton Place For Men (PPFM).
The fun of this issue of POPEYE is that despite the fact that many DC brands are advertising in this way, they are launching fdg as if they were denying the DC brand.
Is this a sign that the editorial department was more powerful than the advertiser at that time? Or maybe there was a spirit to send new fashion to the editorial department.
I'm most happy to be told that the style is good
The new uptown tribe has a reputation for "Edwin" to look good in style. "
"It's not very avant-garde, it's not very elegant, it's fashionable, but it's shining for some reason, such FDG boys and girls."
Jeans have a smooth discoloration with no shade. Her hem rolls up to show white socks. And it is a shirt and a turtleneck knit to match.
"I'm most happy to be told that the style is good, we"
DC brand advertising from here again. Allegro Bibache.
Hiromichi Nakano.
Lesvis Bois.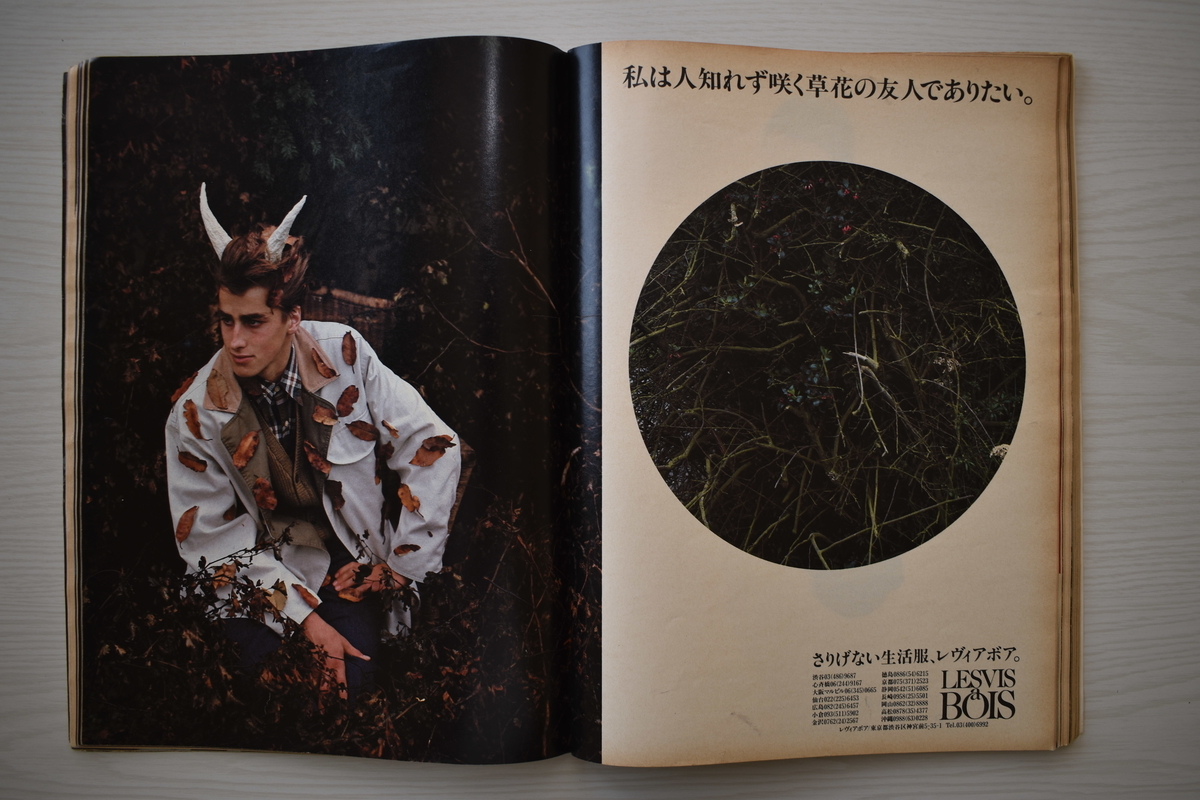 1987 jeans trends in Levi's and Big John ads
Levi's advertisement.
A new product called "Classico Azzurro" with a "sharp and modern Italian feel".
"I wish I had Levi's."
Flandre collection. When I was a college student, I had a part-time job at a Flemish women's brand.
Left page, Pro-Keds advertisement.
A model called Mercury. A wide variety of high, middle and low cuts.
Big John ads.
Deep and not muddy. Like Levi's, jeans at that time seemed to have a beautiful color as an appealing point.
valuable! Comme des Garcons Homme Plus in the 80's
"I will keep these three pandemics down this fall." First of all, the peak lapel.
However, when I look at the product credits, the characters of Comme des Garcons Homme Plus are! You may not see the styling page that uses 80's plus for the first time.
It seems that these jackets, pants, and gloves are plus ... To be honest, the design doesn't look good ...
The leather shoes on the left side are also Comme des Garcons Homme Plus.
"Comme des Garcons, Y's announced at Paris Fashion Week this fall and winter, and the A-line was very popular."
This woman is a full-body Comme des Garcons.
The left side of the left page is the whole body Comme des Garcons Homme Plus.
This woman's knit is Comme des Garcons Homme.
Even in this styling, Comme des Garcons products are used for socks and gloves.
What was interesting was that Hermès also offered products alongside these DC brands. What kind of position was Hermes at that time? Perhaps the brand's position should be different from what it is now.
Smooth hair is the decisive factor for uptown hair
On the right page, the Gatsby advertisement is Yusaku Matsuda.
And from the left page, FDG special feature again. "Smooth hair is the decisive factor for uptown hair."
Very short and side short.
The thick-pitch striped T-shirt is Agnes B.
Neck scarf.
Right page, Isuzu Gemini.
It's cool.
The logo is also nice.
Speaking of Gemini, after all CM. I also remember it well. If you haven't seen it yet, please definitely watch it. It's amazing. It's not CG.
"Morning rinse" and "weekend treatment".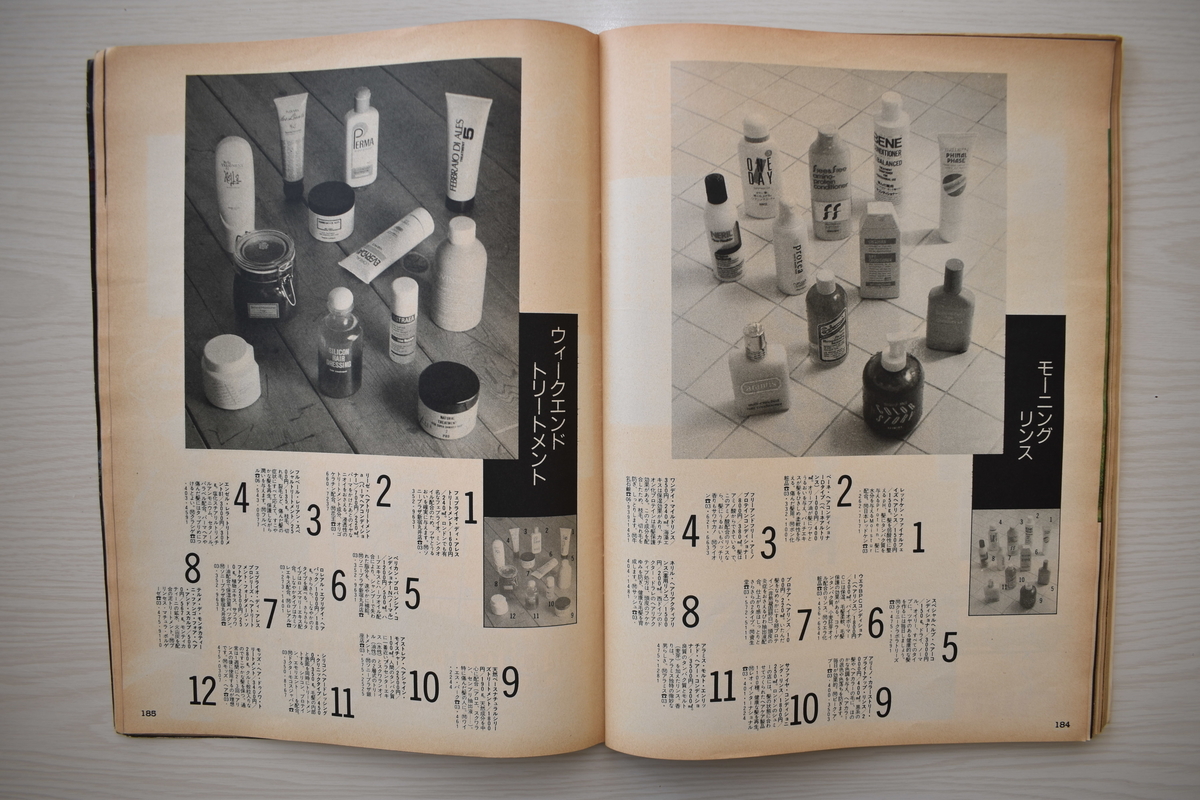 "Early rising 5 minutes in the morning gives birth to smooth hair."
"Yasuo Tanaka's University Examination Course".
"It doesn't matter what the deviation value is ... believe me."
Aoyama Gakuin University and Rikkyo University are very FDG-like.
Restaurant introduction.
Pazapa in Yotsuya was still open.
cheese.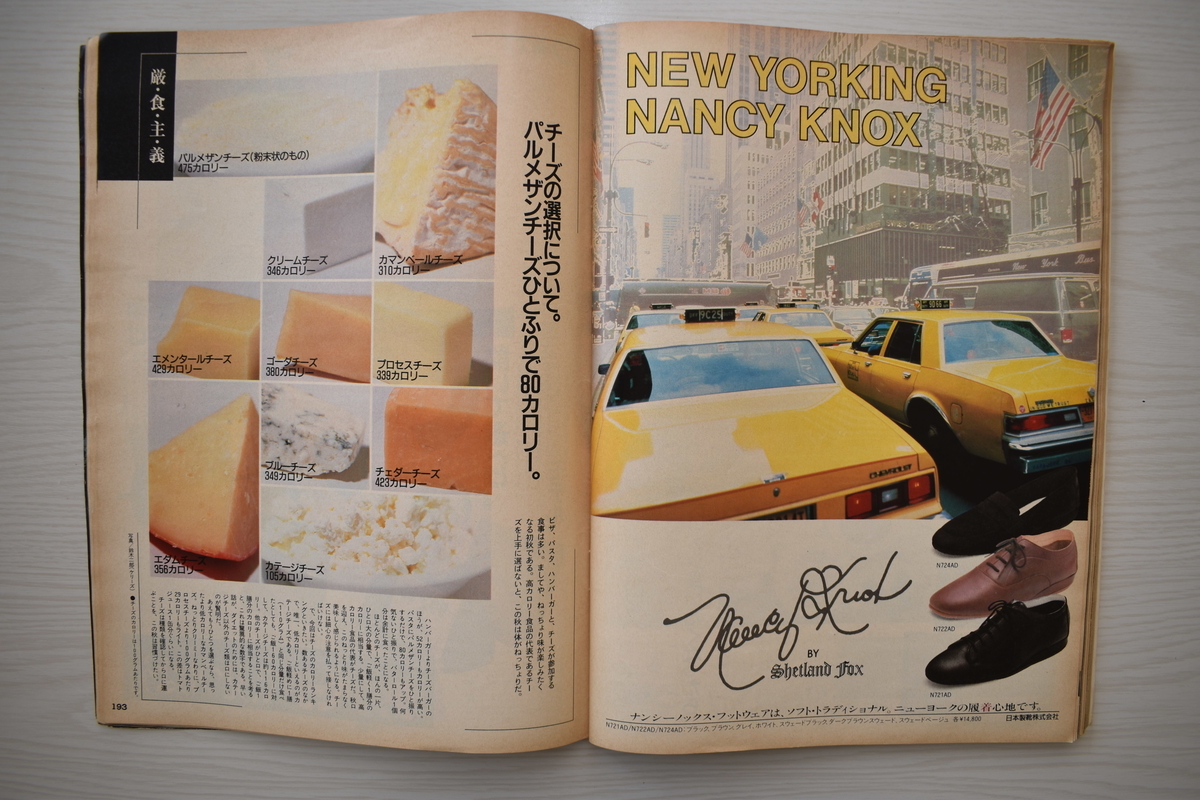 The town page advertisement is a young general.
A popular DJ at the time?
When I looked it up, Mark Cummins
It is thanks to him that he helped raise Madonna to become a top-notch musician and gain her position today, which is absolutely unforgivable because she does not know Mark Cummins when talking about the club scene.
On the right page, Issey Miyake's brand, Odds On, by Akira Onozuka, who later worked on Zucca and CABANE de ZUCCa.
The advertisement on the right page, Aiwa, looks good.
Nice font.
The latest information on condoms.
Daihatsu Charade.
Safari rallies were also popular in the past. If you think about it now, the momentum in the automobile industry is probably the reason for its popularity.
Movie page. Sid and Nancy. Gary Oldman plays Sid Vicious of the Sex Pistols.
Swatch.
This kind of Mondrian-like stationery set was popular. I also had it at that time.
Mail order page.
The price of Kauchin knit is more than doubled between hand knitting and machine knitting.
Zero Halliburton, Dr. Martens, etc.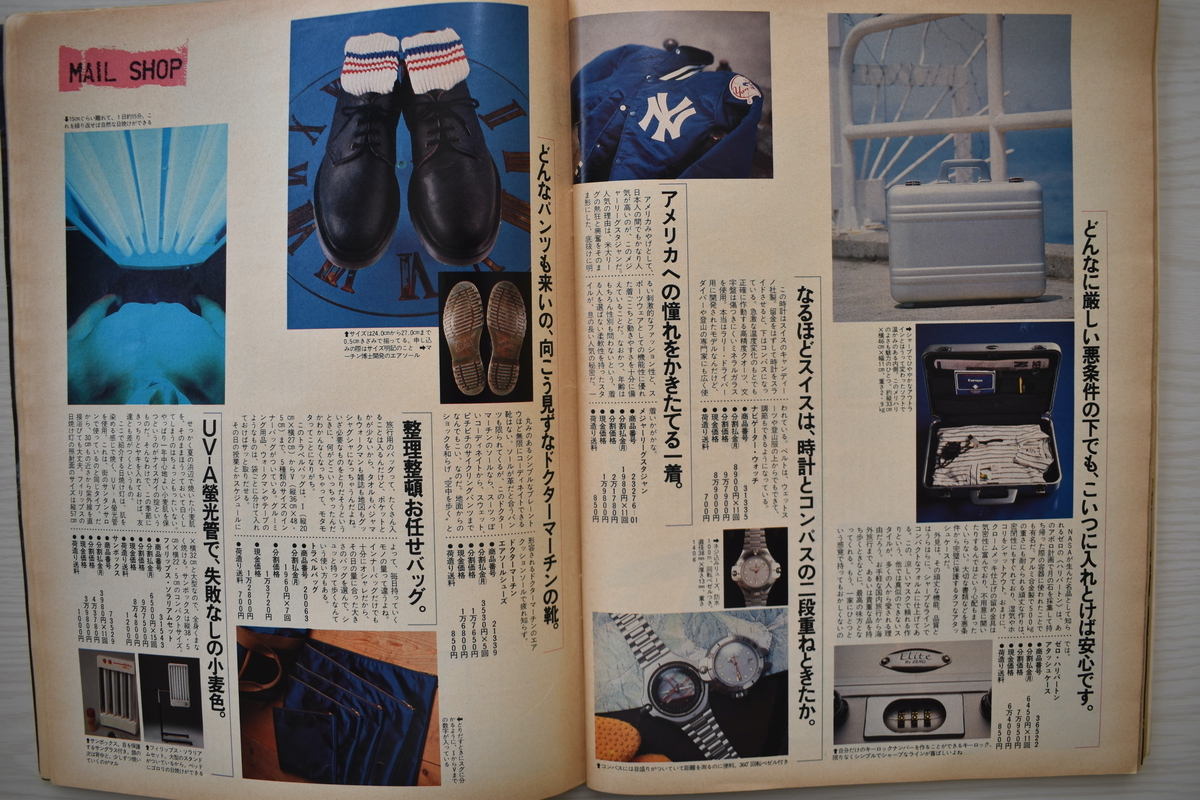 "With this Dr. Martens sole, everything from suit-like coordination to sweatshirts and tight cycling pants is perfect."
"Band flower shape, saxophone training set".
"Now, most of the powerful American bags such as Eddie Bauer are licensed," but Eastpak's daypack is "made in the United States, of course, tough and dependable."
"Rock Encyclopedia Best Hit 160".
"It's also fun to listen to good songs and spend time in tears."
"If you want to be a hustler, don't go and buy it."
"Santa Barbara Polo and Racket Club" of "Sophisticated watch with polo nobility" is not Polo Ralph Lauren.
Wool mark tie-up page. It seems to be an item using the wool mark by a famous DC brand.
It seems that the designer of Abahouse was Mr. Kiyohiro Hara.
As of 2019, Kiyohiro Hara is a director of Abahouse International Co., Ltd. and general manager of the product division.
Atelier Sub for men.
Akio Kurokawa couldn't find the latest situation even if he googled.
"D guitar".
It's a guitar-type MIDI player.
The left page is a Wrangler advertisement.
I had a strong image of Osawa Shokai as an importer of fashion brands such as Lacoste, but I also did audio.
On the right page, Marukin at Ame-Yoko. An item from a manufacturer called Flight Suits Ltd is available as a "large new face for flight jackets".
Is this the current site? I feel like something is different.
Alpha is a standard treatment.
A refreshing shampoo,New type on the right page. The mysterious vehicle BRIKE on the right page.
The atmosphere is quite different from FDG.
BRIKEはこうやって乗るらしいです。ウエストコーストの風とともに。
After all, there was a muscle training machine.
Rad Racer, a NES game by Square.
"The work of Nasir Gebelli, a genius programmer of Square."
I used to do a lot of Nintendo F1 races.
Special thanks.
The back cover is NCAA.