The true value of Helmut Lang
smart, Japanese men's fashion magazine
April 20 1998
It was an era when the popularity of designer brands, centered on avant-garde brands such as Vivienne Westwood, Beauty Beast, and 20471120, was unimaginably high.
The cover is Kazuma Suzuki. Designer brands such as Raf Simons, Helmut Lang jeans and Comme des Garcons shirts stand out.
The spread is a Levi's advertisement.
Suzuki motorcycle advertisement.
Advertising for Ined Homme. It is a now-defunct Marui brand developed by Flandre.
The special feature at the beginning is "Three popular brands thorough research". First of all, Raf Simons.
Sleeveless cut-and-sew was also popular at that time.
It's pitch black and has a pretty modest atmosphere.
Raf Simons' credits include the names of the popular select shop at the time, The Man Aqua Girl Loved (Aqua Girl Men's Shop), and the importer ONE DAY.
The flat material of the tailored jacket gives the impression of Raf Simons.
Next, Helmut Lang jeans.
A blouson based on Levi's third type G Jean. Helmut Lang's essence is the technique of slightly arranging such rugged workwear and military wear to create a sophisticated design.
simple. But it's not too minimal.
While retaining the symbolic element of a work shirt, I think that this shirt, which has been finished with a sophisticated impression, is also an excellent workmanship.
Helmut Lang Jeans Complete Catalog
"It's like Lang to make simple items look cool with a little accent."
This kind of monotone mode military is still fresh even now. It's understandable that archives are currently being bought and sold at high prices.
Every item has a very high degree of perfection.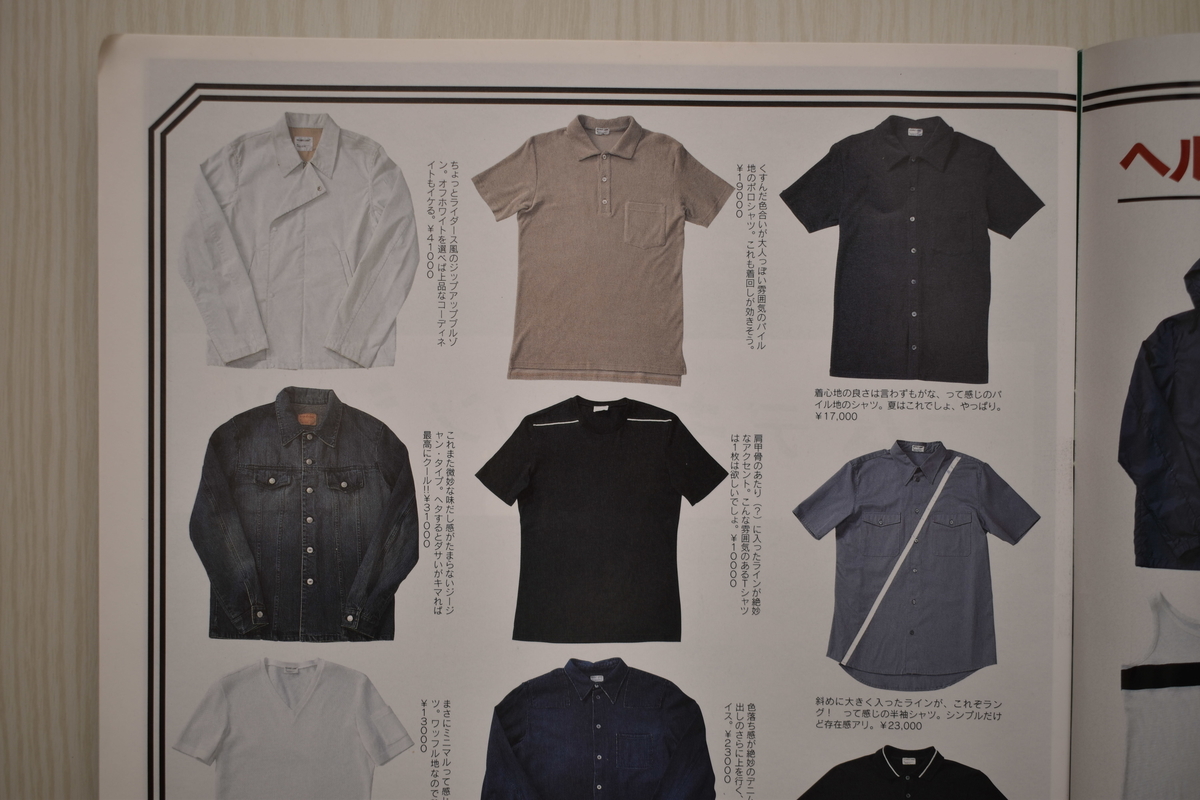 Comme des Garcons shirts worn by skaters
And the last is the Comme des Garcons shirt. The designer is Rei Kawakubo. Other Comme des Garcons products are basically made in Japan and can be quite expensive to buy overseas. Comme des Garcons shirts are made in France and are a line that started to make it easier for overseas customers to buy. So, when I try to buy a Comme des Garcons shirt in Japan, it's very expensive.
The inner is not a Comme des Garcons shirt, but a snowing T-shirt, a masterpiece of Comme des Garcons Parfum on the perfume line. It was also at the premier price at that time.
The visual of the skater wearing a Garson shirt looks good.
What's interesting is credit. I've read an article before that the editor-in-chief of smart at the time commented, "Comme des Garcons didn't lend clothes to smart." It seems that the Comme des Garcons shirts on this page are not provided by Comme des Garcons, but by a branded second-hand clothing store like the current RAGTAG.
Asami Imajuku x Hysteric Glamor
"Camouflage style complete domination".
Beauty Beast's digital camouflage pants.
Mixed-up confusion, which is recently popular in overseas Instagram markets.
The combination of Asami Imajuku and Hysteric Glamor is a combination that makes me feel 90s.
"Camouflage item complete item 100".
Beauty Beast digital camouflage that is also picked up here. By the way, "2" is read as "also". It was the second line of Beauty Beast.
This is a milk boy.
Military pants and shirt.
This is also an also beauty beast.
Goods.
Maharishi, a British brand that still exists.
Camouflage Converse All-Star. This is also now called a vintage item.
Takao Yamashita's recommended photo book
The monochrome page is "Current Photobook".
Recommended photo books of various people are posted.
Recommendations from beauty beast designer Takao Yamashita are here. I also collaborated with Go Nagai's Devilman who was picked up, but did that happen after this?
Recommended by bookstores such as Aoyama Book Center and Shosen Grande.
The charisma of late 90s fashion, Kenichiro Kameishi of the three Kameishi brothers.
Interview with Ai from Boredoms.
A fashion page called "Cool LA Style".
The styling is Takashi Kumagai.
A lot of information.
I feel 90s in the use of red color.
A "cool item picture book" with a "L.A. taste". We have a wide lineup of motocross and skate brands, as well as designer brands.
Puma's skate shoes are pretty fresh when I look at them now.
Advertisement of Hiromichi by Hiromichi Nakano, a licensed brand of Hiromichi Nakano.
The "Popular Brand Research" page is like an advertisement for a Marui brand.
This is a design that seems to be strongly influenced by Helmut Lang.
Rupert.
This is also an advertisement for Marui brand Barbish.
Kiriko Nananan I also had
Mirei Kuroda's gravure. She was the 1996 Fuji TV Visual Queen. From the right page, there is a special feature "Street accessory super catalog".
A street snap "Please show me the contents of your bag!" That carefully specifies the shooting location and time of "Harajuku / Jingumae early March".
Kiriko Nananan's manga was popular.
I also had ↓.
It has also been made into a movie.
Magazine fruit in the bag of W & LT.
CD player and notebook.
After all mobile phones stand out.
Super Lovers was also popular.
"Street accessory catalog".
I think there are few people who have Zippo now.
Mobile phone case. At that time, there were various things.
Survival goods ... knives.
"Look at the contents of that person's bag !!"
Kenichiro Kameishi customized the body of the mobile phone transparently.
Music player, camera, etc. Now all of this is enough with one smartphone.
A custom body for a mobile phone that Kenichiro Kameishi was also doing.
Variety goods and Mirei Kuroya's gravure continuation.
Ozone Rocks Advertising.
Japanese designer brand popular in overseas Instagram market
"A large gathering of new individual brands".
Shinichiro Arakawa.
Recently, he is widely active in motorcycle wear, goods, store interiors, etc.
 

 

 

View this post on Instagram

 

 

 
 

 

 

View this post on Instagram

 

 

 
 

 

 

View this post on Instagram

 

 

 
Keita Maruyama has a much more modest atmosphere than it is now.
Ryuichiro Shimazaki is also occasionally seen in overseas Instagram markets. There was a theme of "hardcore sick person".
Shinyanomoto, Prix de beaute.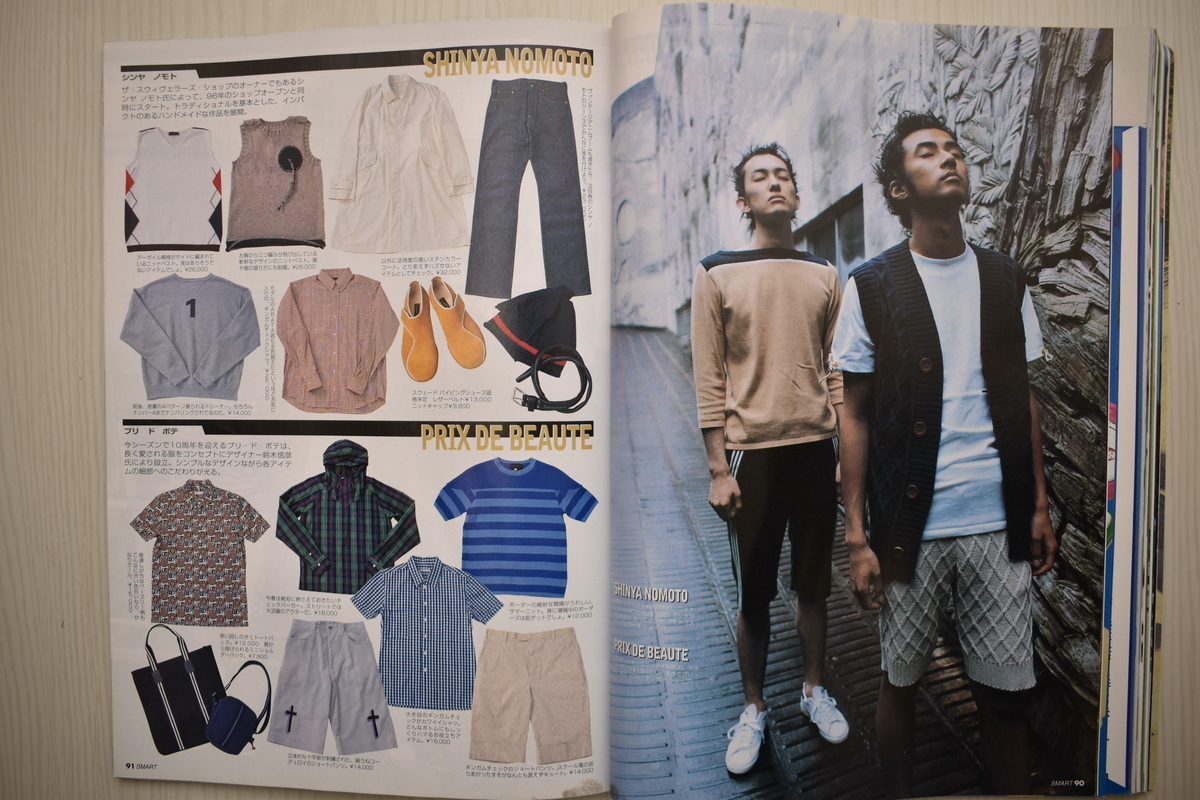 Mixed-up confusion with avant-garde style is also popular in overseas Instagram markets.
I think I was wearing this brand of Capsule at that time, too ... It looks like a gauze-like shirt with a punk atmosphere ... Of course, I don't have it anymore.
Interview with Kazuma Suzuki.
"Fashion news".
T-shirt-based brand, "Over the Stripes". Later, I also worked on Noriyuki Makihara's tour T-shirt.
I wanted a lip watch, but it was too expensive to buy.
Marui brand, ABX.
Is this also a Marui brand? L.D.B.
It's like I've been to a store in Paris while studying in France ...
"Alexander McQueen of the attention stock" that did not end with a temporary epidemic
Monochrome culture page.
The left page is a page for buying and selling fashion items between readers and recruiting friends.
"Alexander McQueen of the attention stock" did not "end in fashion".
Shop index.
There was a PC version of Tamagotchi ...
Christopher Nemeth is very popular on the street
Street fashion revolution.
Miharayasuhiro's shoes on the outer of Helmut Lang jeans. Avant-garde brands tend to attract attention in the 90s mode system, but this kind of atmosphere is also unique to this era.
What brand is this sneaker ...
Christopher Nemeth, 20471120, Berry Button. Many people coordinated these brands.
Plaid flared pants are from the ozone community.
Undercover blousonand knit.
Christopher Nemeth is popular.
At that time, I also put wax on it and had a squishy hairstyle lol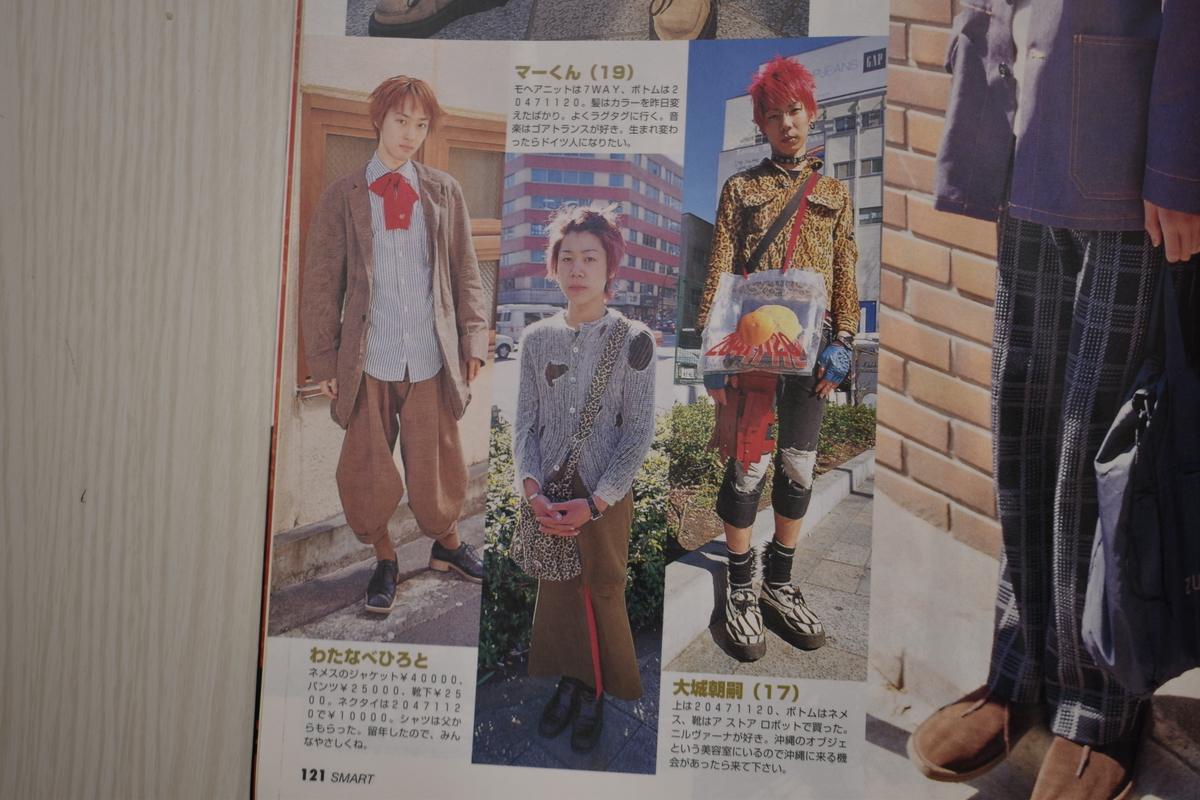 Takuya Angel.
Is it Marui brand? I'm Wilky Rodriguez for the first time.
Smart's famous gravure page, Chinkame. The next page was very nude, so I omitted it.
Interview with Scha Dara Parr.
Music page.
"Discerning my room". Introducing the rooms of the WARP staff led by game creator Kenji Eno.
Introducing Kenji Eno's room.
Vantan Design Institute Advertising.
I'd like some goods with the CUTiE and spring logos.
Serialized by the current Arata Iura.
"Milk Boy new work total 500,000 yen present".
On the left page, I thought it was Clarks Natalie, but a brand called Double H.
Back cover.