CHECK MATE July 1998
Men's Magazine Bimonthly
The cover is Masahiro Matsuoka of TOKIO. Will such sleeveless tops, which I haven't seen in a long time, ever come back?
Advertisement of watches and spoons that were very popular at the time.
Big John ads.
Like the Spoon, the brand AKA developed by watchmaker Alba. I feel the times from the fact that there are many advertisements for watches like this.
The right page is an advertisement for Yves Saint Laurent's perfume.
An introduction to used clothing from Adidas and Lacoste, which is rare on these pages. The dealer is a Bshop.
Kumiko Endo in the advertisement for Lacoste on the right page. Enkumi.
Number nine in the blue tag era (do you say that?). It is a simple design that does not yet feel the grunge and rock atmosphere that became very popular later.
Uno a must-have item for young people at the time.
Right page uno advertisement Issei Ishida. I think uno was a must-have item for young people at that time. I remember using this facial cleansing foam at that time, and I had many friends around me who used uno. I used to go to a drugstore in the school city on my way home from high school to look for facial cleansers.
Like this product, it was popular with scrubbing. When I think about it now, I'm worried that I might have hurt my skin.
Vivienne Westwood's climax
The first feature is Vivienne Westwood. As I will introduce later, Vivienne Westwood was at its peak at that time.
Helmut Lang T-shirt is 1,800 yen!
This is a special feature on T-shirts. The style of tucking a gray T-shirt into white pants is fresh when you look at it now.
Along with Vivienne Westwood, the most popular designer brand at the time, Helmut Lang's T-shirt. It is divided into two brands: Helmut Lang Jeans and Helmut Lang Underwear.
The Helmut Lang jeans above are around 10,000 yen, and the underwear is 1,800 yen. The reason for this price difference is that underwear is a licensed product.
The dealer is Via Bus Stop, which was reported to be closed the other day. At that time, Viabas appeared in magazines and was really popular. I used to go to the shop at Genius Gallery, the former settlement in Kobe, so I was deeply moved by this news.
A number of T-shirts centered on designer brands such as CABANE de ZUCCa and A.P.C.
The left page is Raf Simons.
I think there are many brands that people who do not know those days are not familiar with. There aren't many brands that are still going on, such as Alexander McQueen and Dries van Noten.
There are many fresh styles when you look at it now
The next feature is pants.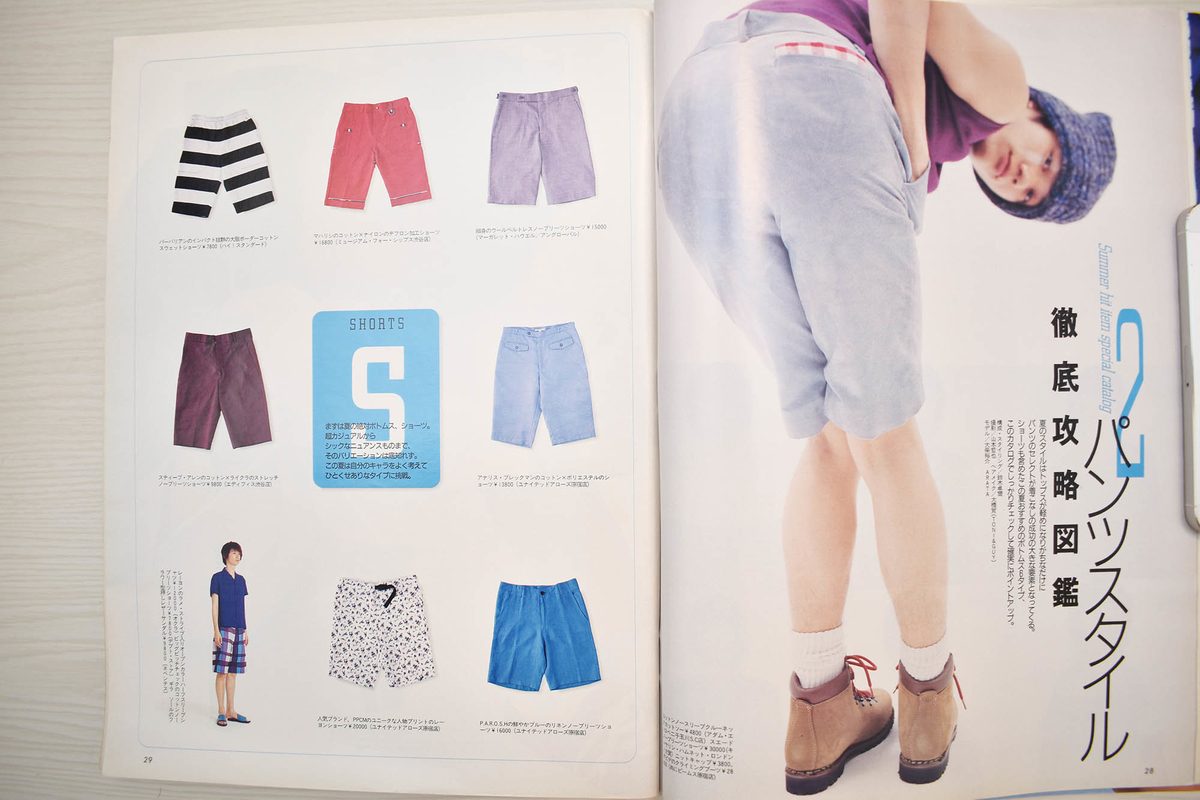 The makeup of ARATA (Arata Iura) is quite fresh when you look at it now.
Short sleeve shirt.
The patterned shirt with this kind of atmosphere, and the silhouette and length of the pants are also fresh.
On the right page, Asami Imajuku is cute.
Coordinating jeans on the check shirt on the left page, I feel like I was like this at the time.
"Must-have cut-and-sew total".
Coordinated with Martin Margiela's jeans and Nike's pocket knife.
You wore Dolce & Gabbana's beige and white cut-and-sew, a very similar cut-and-sew at that time.
My favorite brand at the time, Fake London.
Helmut Lang cut-and-sew with a minimalist design.
Sleeveless cut and sew that also appeared on the cover.
The color scheme of olive ☓ red was also popular at that time.
The outer page is a proposal for both designers and used clothing.
knit.
This atmosphere is also fresh, but it seems that it will take some time even if it is restored.
Summer shoes.
Sandals with a fairly high design.
Speaking of sunglasses, Brico
sunglasses.
Speaking of sunglasses at that time, it was Brico. Hikaru, Bounty hunter, used it habitually.
Brico still exists as a sports brand.Goggles for skis and sunglasses for bicycles seem to be the main products.
Loree Rodkin Gothic. Garni, A & G ...
Accessories. In addition to the classic Chrome Hearts, brands such as Loree Rodkin Gothic, Garni, and A & G were also popular at the time.
A window-wiping gang appears!
The now-defunct Kobe Port Pierland is a recommended date spot! I'm sure I've been to this attraction, but unfortunately I don't remember.
No, there was also a wine boom.
Mini Paul Smith model. It's a good color. I saw him running in the neighborhood the other day.
This month's recommended girl is Koyuki. She was Nonno's exclusive model.
Casio's META brand. Is it a derivative model of the databank?
Is the monochrome page posted by the reader? Experience story.
I'm curious about the hot dog press advertisement on the right page, "V-kei artists start with Kenichi Mikawa!"
中綴じはブランドもの時計。
The brand lineup that hasn't changed much at that time.
Carrozzeria car audio.
Favorite blue live at the party of women's fashion magazine ViVi.
I had an image that it was something like Every Little Thing or PAMELA, but I didn't remember listening to this song, which has the most views on YouTube.
Did it make me want to become a designer? Customized feature
So, a special feature on customization.
At that time, I used to do DIY a lot. I feel like I used this coloring print. It seems that this kind of experience did not seem to have inspired me to become a fashion designer later.
US counterculture talked about by hypermedia creators
"The best of the attention creators!" Hirofumi Asamoto, who produced UA and others.
Since it became a convenient world, all the listed sound sources were uploaded to YouTube. Personally, I really liked this SHY FX.
Hisao Saito, who is still active as a TUBE designer.
Hypermedia creator! Introducing Eagles and Easy Riders as representatives of American counterculture.
Next Generation Media DVD
DVD introduced as "next generation media beyond LD and CD". Even if the player is cheap, it is in the 60,000 yen range.
Movie introduction. It seems that there were many topical works such as L.A. Confidential and Maharaja dancing Mutu.
Games, music. I miss Chocolat and Sean Lennon.
Contact list. It seems that there are many places that do not exist now.
Sakura Uehara.
Fashion championship
National 6 major city fashion championships. This is very memorable. I haven't checked it in detail, but I think there are people who are currently active in the fashion industry.
The 10 best brands in Japan. Vivienne Westwood is in the import category, and Masaki Matsushima is in the domestic category, and the avant-garde mode system is very popular. Of course, checkmates have mainly dealt with mode-related products, but looking at the other faces, I think it's clear that designer brands with high design are strongly supported.
District winners of the 6 major cities.
In particular, he in Fukuoka has a strong sense of the unique atmosphere of the time, with W & LT, Christopher Nemeth and forehead shoes.
There are 4 categories: beautiful, street, pointy, used clothing mix and style.
As I introduced in the past article, this kind of fashion is classified as pointy. Let's call it Japanese mixture mode. This fashion is building a unique world.
Mode system is also overwhelmingly popular here. Ura-Harajuku system where the afterglow of the boom still remains. Mods were also popular.
Straight Bangs Orb T-shirt Girls
女の子スナップ。
Vivian Westwood orb embroidered T-shirt on straight bangs. At that time, there were so many girls like this.
The overwhelming number one thing young people want is a car
A questionnaire about female talents who want to have sex, which I can't think of from now on. Then, when asked "What do you want?", Cars are number one in all cities. Motorcycles are also popular. If you take the same questionnaire in town now, the results will be completely different.
Favorite shoe brands are Dark Bikkemberg & Mihara Yasuhiro
Items etc. The number one favorite shoe brand ranking is the overwhelming classic Converse, but the avant-garde designer brands Dark Bikkemberg and Mihara Yasuhiro continue.
Dirk Bikkemberg is still very popular on Instagram. I also wore it a little at that time. It's not comfortable to wear lol
 

 

 

View this post on Instagram

 

 

 
 

 

 

View this post on Instagram

 

 

 
 

 

 

View this post on Instagram

 

 

 
I also miss Mihara Yasuhiro on the far left.
A snap of each city. First of all, Sapporo.
Sendai.
Nemes pants and platform boots.
There are many Nemes and Vivian.
This guy from Sendai, Comme des Garcons Homme Plus, is the blouson of "THE MAGIC OF BIAS" in the fall and winter of 1996!
Tokyo.
Abahouse is a popular domestic brand.
John Moore boots.
Nagoya.
Beauty beasts are popular in Nagoya.
Beauty Beast's digital camouflage was also popular.
Osaka.
Via Bus Stop is the most popular shop!
Sup girls found!
Fukuoka.
Comme des Garcons Homme logo T-shirt. At that time, Keiichi Tanaka, who I love, was working on it.
Nemes, which is also popular in other cities, seems to have been particularly enthusiastically supported in Fukuoka.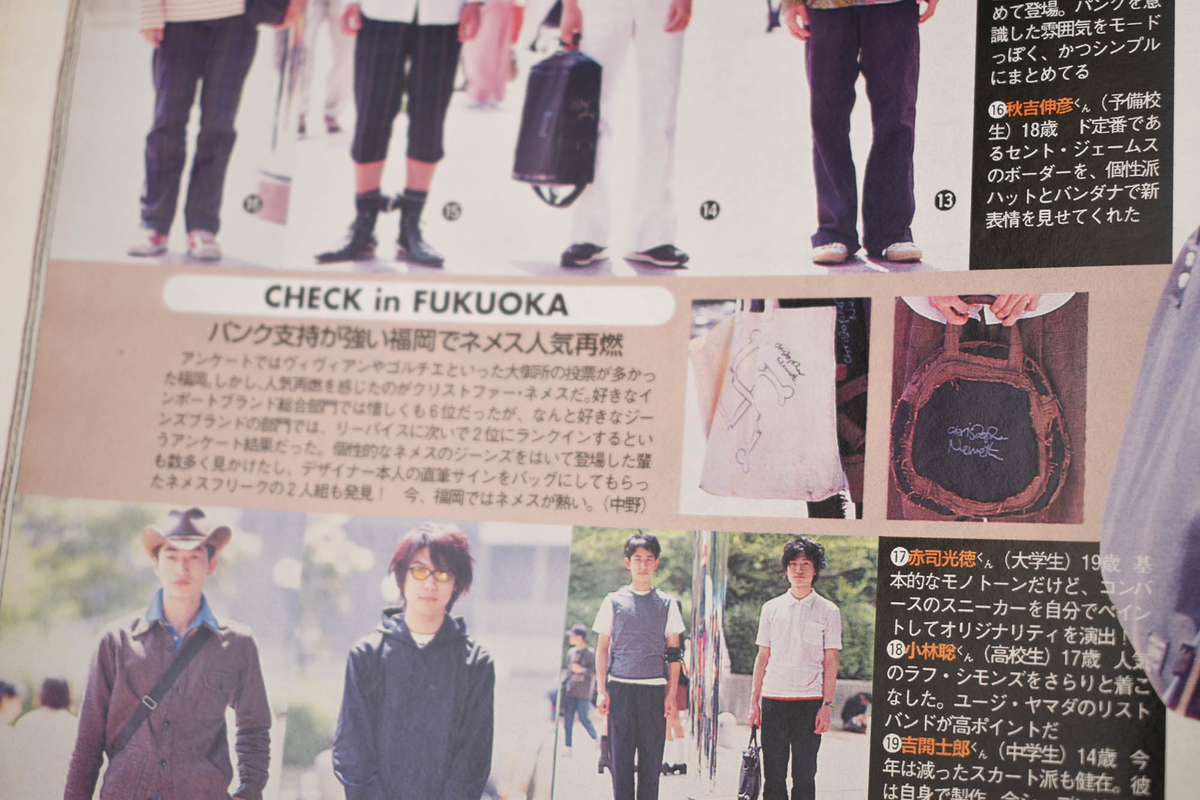 Supreme box logo T girl. Simple and nice.
Takuro Ogasawara is young!
Tokyo collection special feature.
The commentary is by Takuro Ogasawara from Senken Shimbun! young!
Lad musician and General research.
Beauty Beast and 20471120.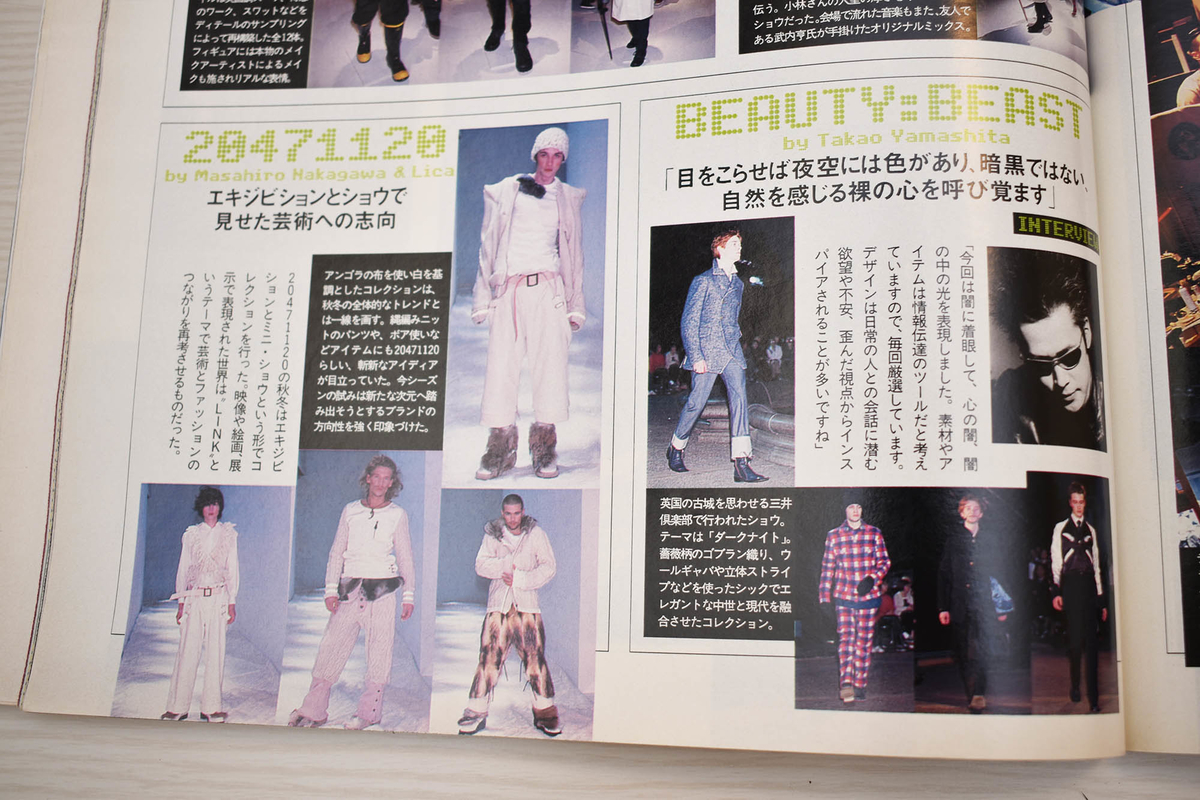 Ryuichirou Shimazaki has recently become popular on overseas Instagram. It seems that the dark world view is supported.
I feel that ato seems to be popular overseas now.
Milan, Paris collection.
Raf Simons and Jil Sander.
Christophe Lemaire. It is an urban sports style that reflects the trends of the time, which is completely different from the current style.
A special feature of the brand Prix de Beaute, which was also exhibited in the Tokyo collection.
It was a brand with a traditional and cute atmosphere.
I think I bought a shirt or knit of this brand at a select shop in Osaka, but ... hmm, what was it like ...
The latest digital camera has 1.51 million pixels and 100,000 yen
Like DVDs, digital cameras are in their infancy.
The latest model. 100,000 yen for 1.51 million pixels! 80,000 yen for 350,000 pixels! There was such an era lol
As for the introduction of the New York brand, "I feel that having people buy a ready-made T-shirt with a little graphic on it is no different from selling merchandise of a bogus religion." If so, the idea of "OK" deserves it. But is that the "charisma" that is now called in Japan? ?? A strong message.
Perfume special feature.
It was an era when so many pages were used in perfumes.
British brand, 6876. These UK brands were also popular.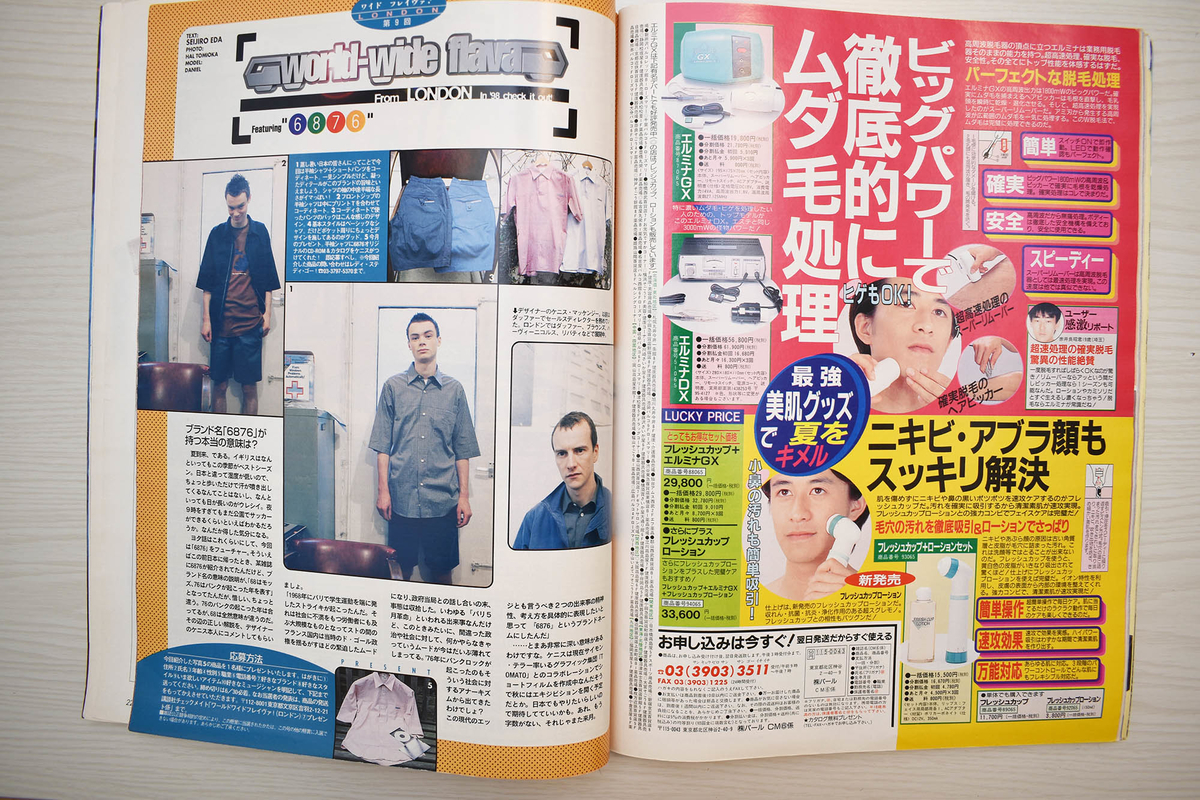 Reader-submitted photo booth! The referee is Hikaru Ijuin.
Terry Ito's gourmet page.
Culture.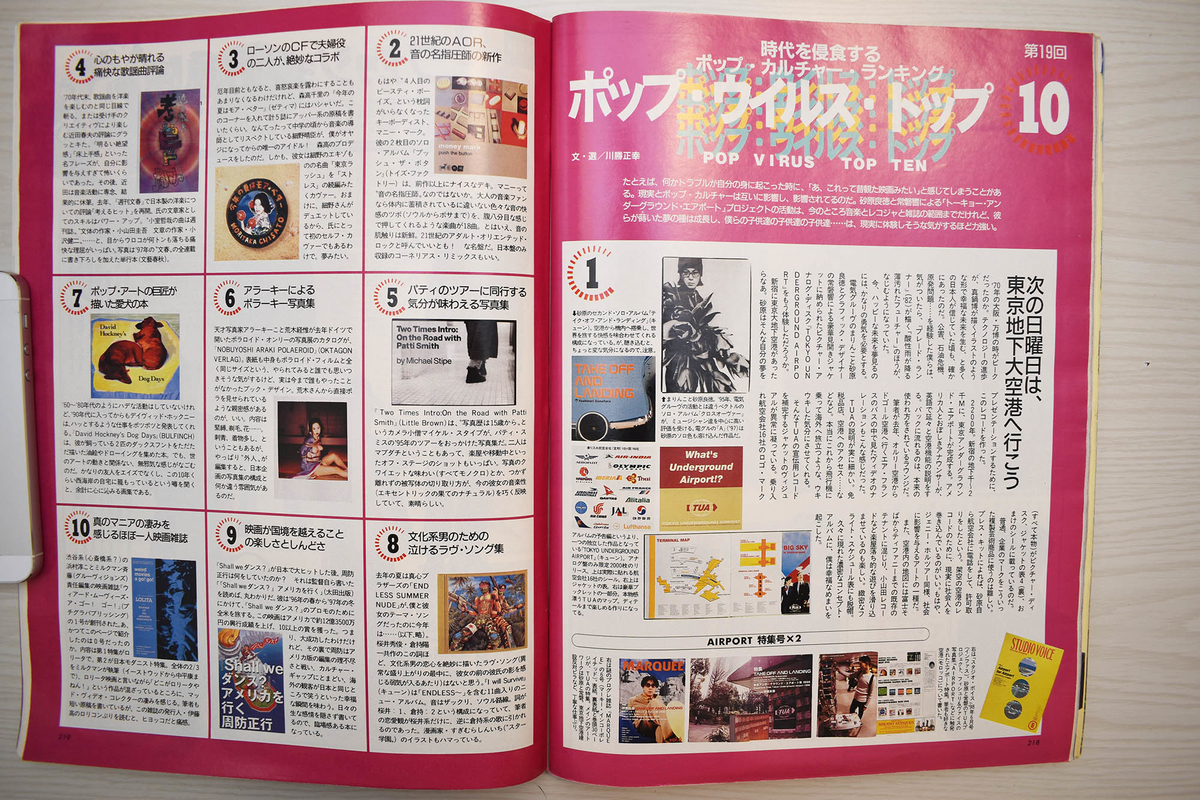 New product information.
At that time, Benetton was controversial due to the aggressive advertising.
Knock-type ballpoint pens, which are now commonplace, were probably beginning to appear at that time.
Mail order page. From that time, I had a strong impression that the products on this page were subtle ... lol
Reader gift. 1998 was the France World Cup.
Elisha La'Vern.
The back cover is Brad Pitt's Edwin.
It was cool.